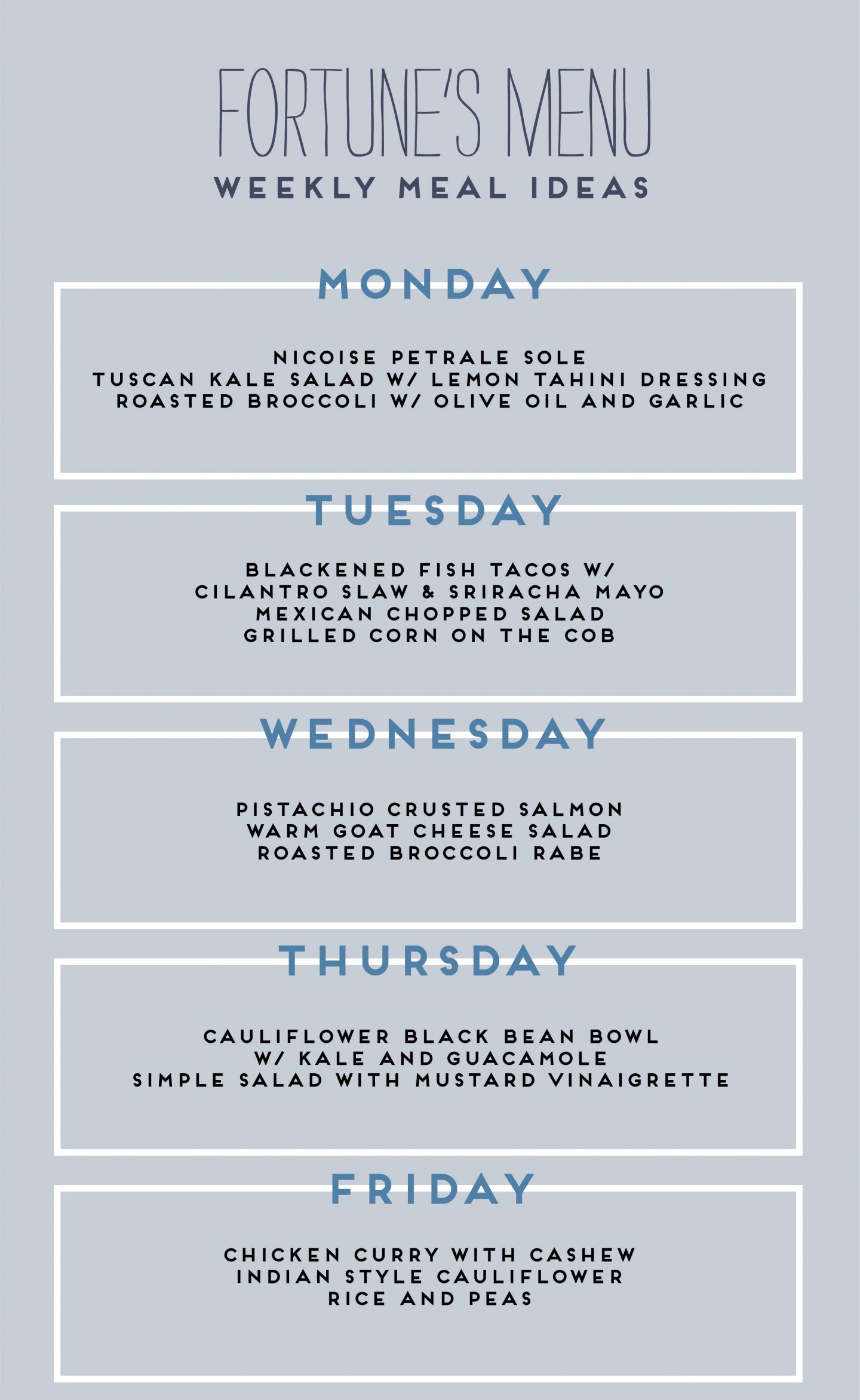 Many of us are always on the lookout for new delicious recipe ideas, therefore I created a sample dinner menu for the week with delicious recipe ideas that I hope inspire you for your next meal(s).
Important to note…When it comes to the kitchen, my week consists of 5 days only. On Saturdays and Sundays, the kitchen is and will always remain closed, unless it is summertime when I occasionally host a Saturday lunch or Sunday evening bbq.
Each night we eat in, which is basically every night these days, I try and prepare a protein, a cooked vegetable, and some type of salad – think healthy, tasty, and satisfying.
I created the menu below by first writing down my all-time favorite recipes, then categorizing them by type of cuisine ie, Italian, Mexican, Indian, etc…
All the recipes have received a thumbs by the majority of my family members, ya can't please everyone all the time. Am I right?
Though I can pretty much follow any recipe to perfection that comes my way (not including desserts), creating a dish from scratch has never been my forté.
All the recipes below I either found online, in cookbooks, magazines, or were generously passed along by a friend.
I am so excited for you to try these delicious recipes and hope you enjoy them as much as I do!
Monday
Nicoise Petrale Sole
Tuscan Kale Salad with Lemon Tahini Dressing
Roasted Broccoli with Olive Oil & Garlic
Tuesday
Blackened Fish Tacos with Cilantro Slaw & Sriracha Mayo
Mexican Chopped Salad
Grilled Corn on the Cob
Wednesday
Pistachio Crusted Salmon
Warm Goat Cheese Salad
Roasted Broccoli Rabe
Thursday
Cauliflower Black Bean Bowl with Kale & Guacamole
Simple Salad with Mustard Vinaigrette


Friday
Chicken Curry with Cashews
Indian Style Cauliflower
Basmati Rice With Peas & Cumin
Bon Appétit!