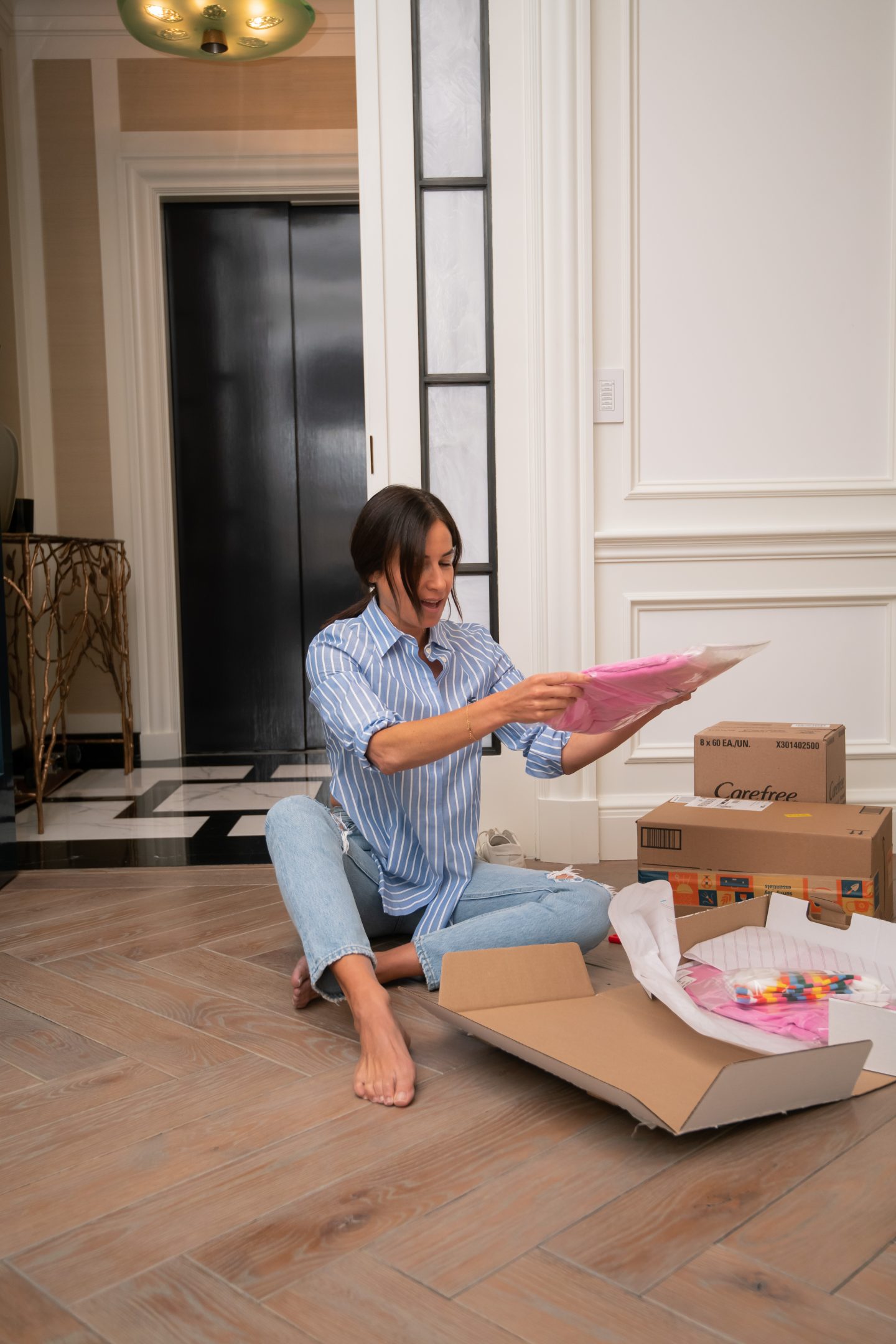 Welcome to my May round-up!
For those of you who are new to the blog, at the end of each month, I share some new & noteworthy purchases. I also highlight any new hot spots I've visited, plus shows I've watched, books I've read, recipes I've made, and exhibits I visited.
Basically, it is my month in review!
How many times do you walk into a boutique searching for a specific item and walk out with something entirely different than you intended?
Just this past Friday, I was at the Prada boutique, searching for a dress for my nephew's bar mitzvah. Though I had no luck with a dress, I did come across this Prada tie-dye floral print cropped top. My brain, wallet, and husband (in my brain) said no, but I was sold! I will wear this sweet "going for dinner/drinks" blouse, dressed up, dressed down, and all around!
Another favorite purchase of the month is this Alex Mill cotton short sleeve utilitarian jumpsuit in their oat milk color. It's lightweight which is a must for summer and I am all for the relaxed style.
I also scored these white canvas hi-tops by Novesta which I am obsessed with. These European-styled sneakers hit at the perfect spot. Even though they're technically called a hi-top, they hit below the ankle bone which is more flattering on the leg.
For those of you who are unfamiliar with Alex Mill, it's worth checking out this timeless brand, launched in 2012 by Mickey Drexler's (J. Crew founder) son, Alex. I'm all for their cool and effortless aesthetic not to mention their easy wearability and affordable price points.
Some other pieces from this brand on my wish list are these soft, easy everyday overalls
and this striped collared short-sleeve sweater.
Speaking of classic and timeless, you must check out the recently launched brand Salie 66. Think elevated & luxe cashmere, knits, and the perfect button-downs. I recently visited their très Parisienne showroom and got to appreciate their collection in person – simply divine. Need I say more?
As most of you may know by now, I am a sucker for any type of stripe so I also came away with this Zimmermann colorful striped wrap crop top with long balloon sleeves.
This month's accessory was all about the sunnies. I've been sporting this vintage "Nilos" style and this classic unisex "Ollis Sun" style.
Shop fashion here:

Things I've bought on repeat this month include my favorite facial foam cleanser by La Prairie, my must-have makeup remover by Bioderma, and a jar of smoked chili flakes by Daphnis & Chloe that I sprinkle on everything I eat at every meal (except fruit).
Some new discoveries are these wand wine purifiers which I spotted on the Lone Star Southern blog site. They are said to remove histamines and sulfites from wine which are known to cause those dreadful morning headaches/hangovers.
While I'm on the topic of alcohol, how sweet are these Ketel One Botanical Vodka Spritz cans? The cans are pretty to serve if you plan on entertaining this summer and they come in unique flavors such as peach & orange blossom, cucumber & mint, grapefruit & rose.
I'm embarrassed to say I am still reading the same book, The Last Summer At The Golden Hotel that I started in April. I finally had a chance to pick up the book this past weekend and I am halfway through and loving it!!! A friend recommended The Lions of Fifth Avenue so this is next on my list.
Shop lifestyle here:

Also new and noteworthy…
Ate dinner with a friend a couple of weeks ago at the newly anticipated opening of Veranda, located at Modern Haus Hotel in SOHO. The cocktails are fab. You must order the falafel and any and all of the desserts. American Bar is another must. We ate there on Mother's Day and it was a great vibe.

David and I watched Becoming Bond documentary this past weekend and I just bought tickets to see The Roof Garden Commission at the Met commissioned by Alex de Corte – think Big Bird made out of 7,000 aluminum feathers.
On my to-do list for June will be visiting NYC's new floating park "Little Island". Be sure to purchase tickets in advance. I tried to get there this past weekend as well, but tickets were sold out. I think weekdays will be a better bet!
Last but not least, this beyond delicious seitan Vegan Pepper Steak made with seitan has been a family hit. So darn tasty.
Stay tuned for June's new and noteworthy highlights!
xoxo,
Shop the post here: