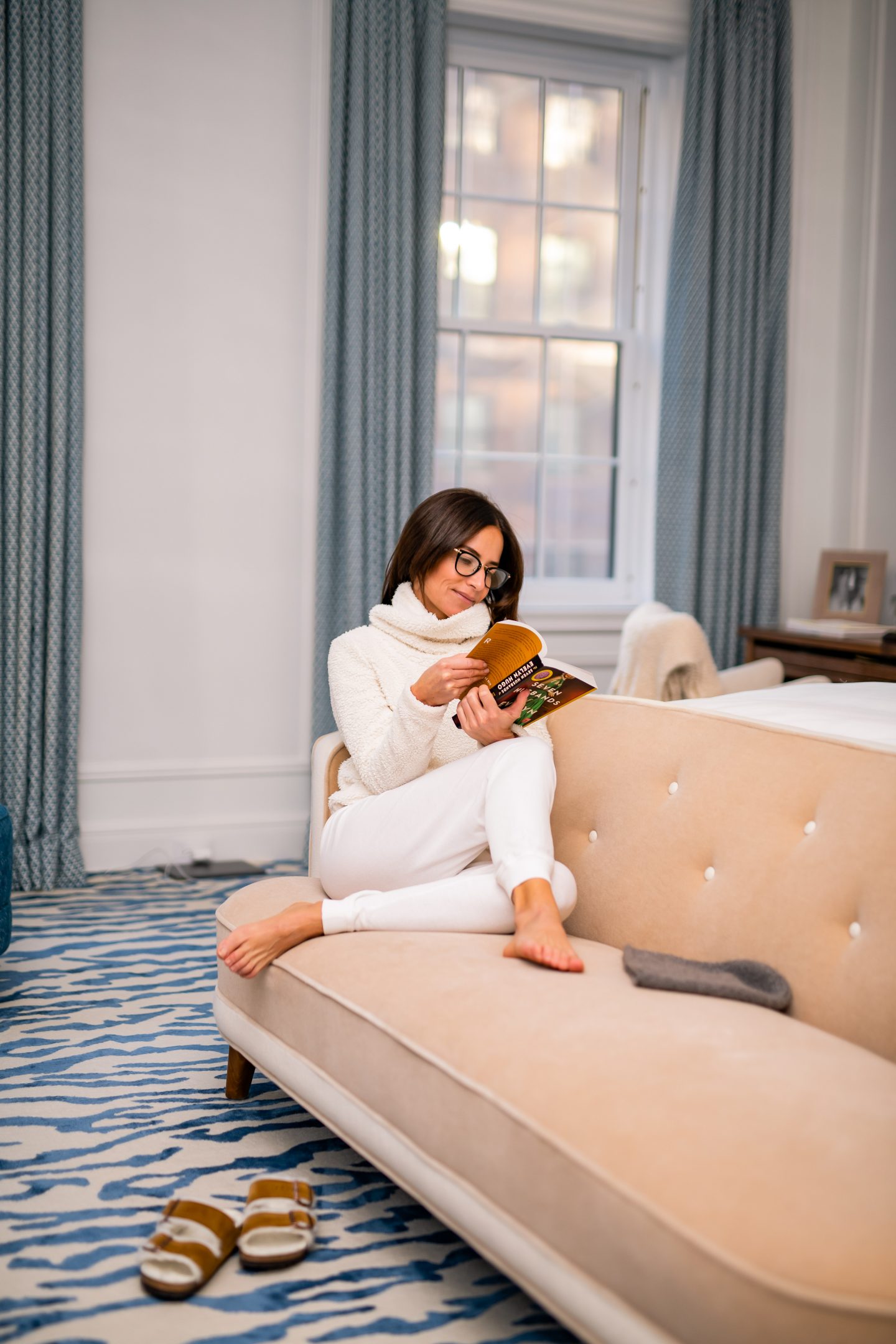 Over the past several months in quarantine, I have embraced the sweatshirt.
Pre covid, I wore sweatshirts as part of my athleisure/workout lewk only, but have since incorporated this relaxed article of clothing into my everyday wardrobe as it pertains to lounging at home, running errands, or perhaps a quick coffee date with a friend.
Sweatshirts are definitely a thing and continue to trend. Believe it or not, they can also elevate an outfit when styled the right way.
Let's begin with the hoodies…
For an effortless look, I prefer to wear the hooded sweatshirt layered underneath a blazer or statement coat. Always let the hood show. Nili Lotan does it best styled here.
The hooded sweatshirt also works really well with a jean or moto jacket.
If you'd like to dress down an outfit, try pairing the hoodie with leather pants or a cool pair of trousers. Add a pair of kicks or combat boots and you're golden.
Shop hoodies here:

I wear almost all of my crewneck sweatshirts loosely tucked into my jeans for a more styled/put-together look. Sometimes I'll add a scarf or bandana for a bit of personality. If I'm feeling preppy, I will layer a cotton polo underneath that is stolen from my daughter Sonia's closet, but mostly I wear the crewneck pre and post-workout.
As an FYI, I love any style sweatshirt worn with a matching sweatpant.
Shop crewneck sweatshirts here:

Shop sweatsuits here:

I typically wear the cropped sweatshirt with baggy sweatpants or high waisted jeans as a way to balance out the peek-a-boo belly action. The cropped sweatshirt also looks great layered over a midi dress.
Shop cropped sweatshirts here:

The turtleneck sweatshirt is probably my favorite kind of sweatshirt. I feel the most put together, in a relaxed sort of way. With the turtleneck detail, there is a retro vibe to it which I dig. Most importantly, the turtleneck sweatshirt keeps me toasty. I pair the turtleneck sweatshirt mostly with a tapered or cropped pair of jeans or my workout outfits.
Shop turtleneck/funnel neck sweatshirts here:

Before I sign off, there are 2 special sweatshirt brands I'd like to make mention of – Mad Happy and Phat Buddha x Honestly Kate. Oh yes, and check out Pangaia too!
Mad Happy is an LA-based brand whose mission it is to make the world a more optimistic place. Does it get better than that?
Definitely check out their site regularly as they constantly release uber-cool limited collaborations which you will not want to miss out on.
Next is Phat Buddha x Kate Sands of Honestly Kate. I love that Kate designed this collection based on audience feedback and…the designs are fresh and cool just like Kate!