I thought I'd share some salad inspiration to "lighten" up our meals in celebration of Spring Forward Day!
Today is Daylight Savings Time which basically means we're one step closer to spring break, family vacations, and the perfect warm-weather sundress. Check out a few of my favorite healthy and delicious salad recipes that are sure to make everyone in your house (including your waistline) happy!
The Warm Goat Cheese Salad is simply perfection and a staple in our home. As a matter of fact, I prepare extra goat cheese patties and freeze them so that the salad is quick to assemble. The vinaigrette is delicious and can be used on any salad.
I fell in love with The Kale Salad with Parmesan and Lemon at the Mark Hotel (Jean-Georges). I order it every time with out fail. Delighted to have found this recipe on line so I can enjoy it at home as well.
Two new additions to my repertoire are the Jicama Salad with Lime Juice and Fresh Mint and a Lebanese Fattoush Salad.
Jicama is one of my favorite vegetables as it adds a crunchy, sweet and refreshing flavor to salads. This Mexican inspired dish will be my warm weather go to.
The fattoush salad is a unique take on the traditional recipe. There is no bread, yet the addition chickpeas and olives make this hearty version a meal in itself.
Would love to hear your favorite salad recipes!
Warm Goat Cheese Salad (Bon Appetit June 2002)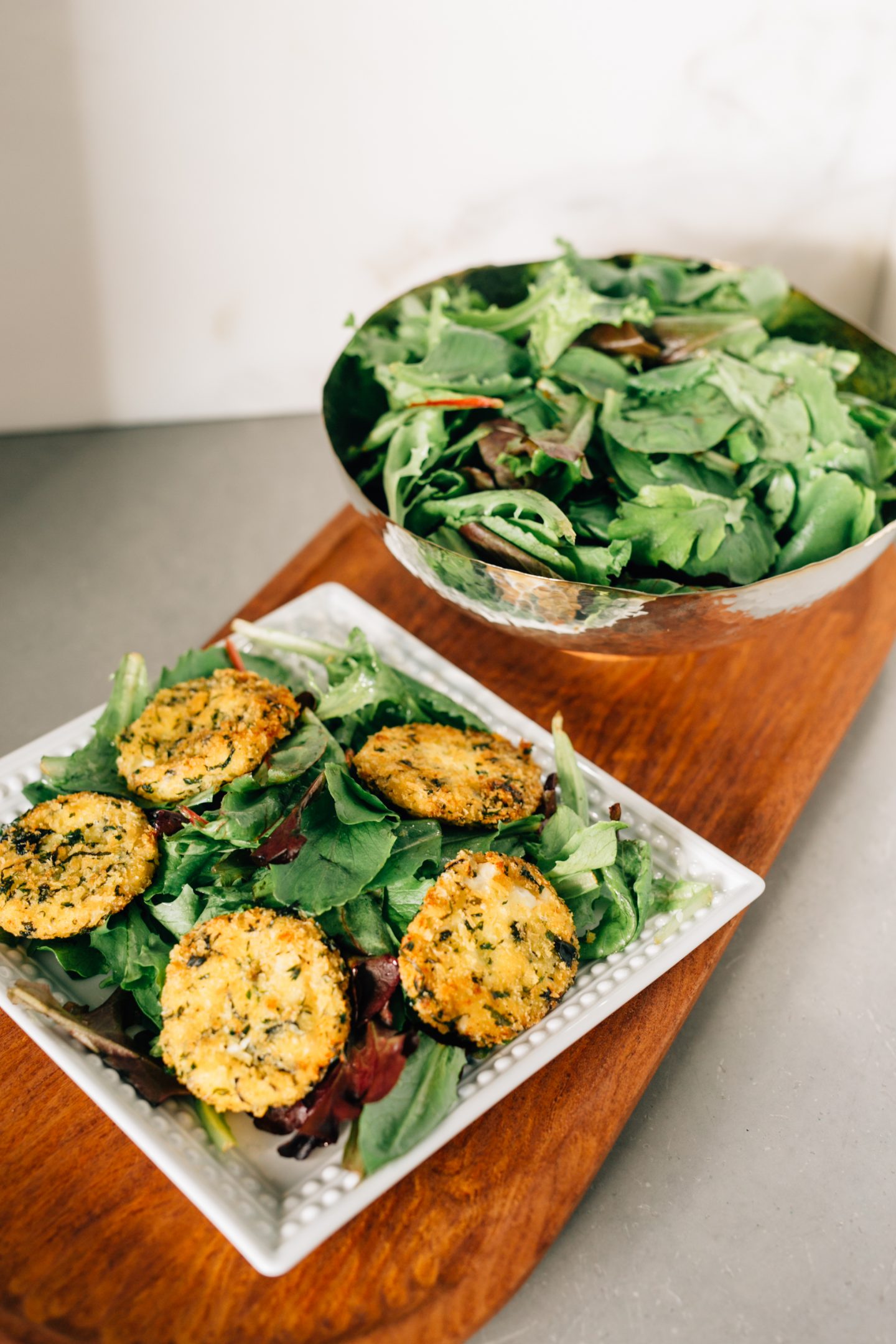 Vinaigrette:
2 garlic cloves, peeled, halved
1/4 cup extra-virgin olive oil
1 tablespoon chopped fresh basil
2 tablespoons red wine vinegar
2 tablespoons Dijon mustard
Salad Ingredients:
1 cup panko (Japanese breadcrumbs)
1 tablespoon chopped fresh thyme
1 tablespoon chopped fresh parsley
1 tablespoon chopped fresh basil
1/2 teaspoon ground black pepper
1/4 teaspoon salt
3-4 ounce logs soft fresh goat cheese, each halved crosswise, half pressed to 1/2 inch thickness
2 large egg whites, lightly beaten until foamy
1 tablespoon olive oil
2 5-ounce packages mixed baby greens
For Vinaigrette:
Place garlic and oil in small glass measuring cup or ramekin. Cover tightly with plastic wrap and microwave for 30 seconds. Transfer garlic to small bowl. Reserve oil. Using fork, coarsely mash garlic. Add basil, vinegar, and mustard to mashed garlic. Whisk until smooth. Gradually whisk in reserved garlic oil. Season to taste with salt and pepper. (Can be made 1 day ahead. Cover and refrigerate. Let stand one hour at room temperature and rewhisk before using.)
For Salad:
Mix first 6 ingredients in medium bowl to blend. Dip each cheese round into egg whites, turning to coat. Coat each with breadcrumb mixture. Transfer coated cheese rounds to plate. Cover with plastic wrap and refrigerate at least 1 hour and up to 8 hours.
Heat 1 tablespoon olive oil in heavy large nonstick skillet over medium-high heat. Add cheese rounds and cook until golden and crisp, about 3 minutes per side. Transfer to plate.
Place greens in a large bowl and toss with all but 2 tablespoons vinaigrette; season to taste with salt and pepper. Divide salad among 6 plates. Top each with 1 cheese round. Drizzle cheese rounds with remaining 2 tablespoons vinaigrette and serve.
Jean-Georges Vongerichten's Kale Salad with Parmesan and Lemon
Ingredients:
4 tablespoons fresh juice and 1 tablespoon zest from 2-3 lemons
1 tablespoon red wine vinegar
1 small clove garlic minced (about 1/2 teaspoon)
1 anchovy filet, finely chopped
1 tablespoon dijon mustard
1 egg yolk
1/4 teaspoon red chili flakes
2 ounces Parmigiano Reggiano, grated on a microplane grater (about 2 cups)
3/4 cup neutral oil (such as safflower or canola)
1/2 cup tablespoons extra-virgin olive oil
kosher salt and roundly fresh pepper
2 cups finely cubed sourdough bread
12 ounces kale leaves, large stems removed, sliced into think ribbons
1/2 cup fresh mint leaves, sliced into thin ribbons
1 serrano chili, thinly sliced
Preparation:
Combine lemon juice and zest, vinegar, garlic, anchovy, mustard, egg yolk, chili flakes, and cheese in the bowl of a food processor. Process until homogenous, about 10 seconds. With processor running, slowly drizzle neutral oil through feed tube, stopping the processor to scrape down sides as necessary until a smooth emulsion is formed, about 20 seconds.
Transfer to a medium bowl. Whisking constantly, slowly drizzle in 1/2 cup olive oil. Season dressing to taste with salt and pepper. Refrigerate until ready to use.
Heat remaining two tablespoons olive oil in a large non-stick skillet over medium heat until shimmering. Add bread cubes and cook, tossing and stirring constantly until golden brown and crisp, about 3 minutes. Transfer to a paper towel-lined plate and season with salt and pepper.
To serve, combine kale and mint in a large bowl with 1/2 cup dressing (more or less as desired). Toss to coat well and sit around 3 minutes. Transfer to a large serving bowl and top with croutons and sliced chilies. Serve immediately.
Jicama Salad with Lime Juice and Fresh Mint  (Self Magazine July 2009)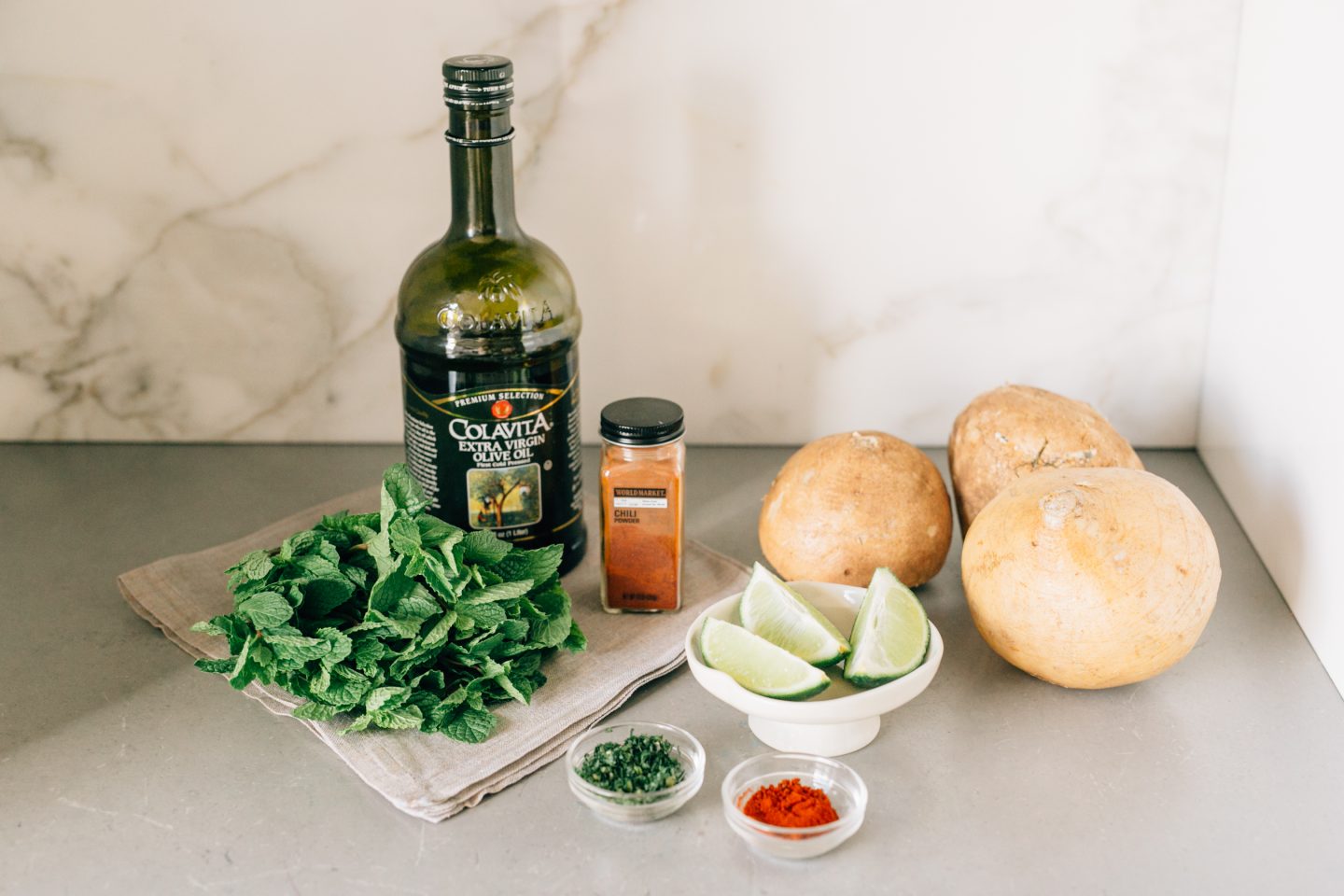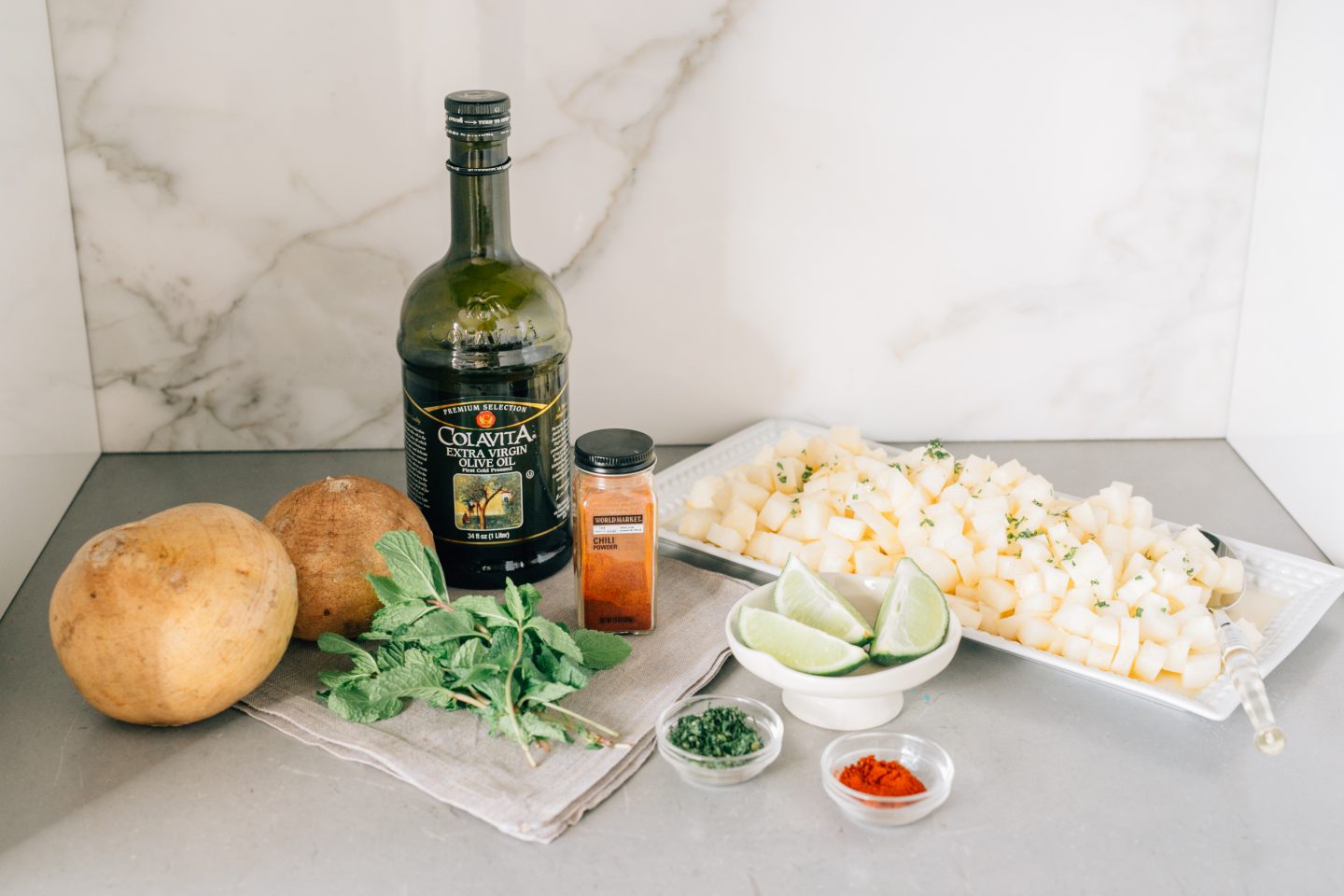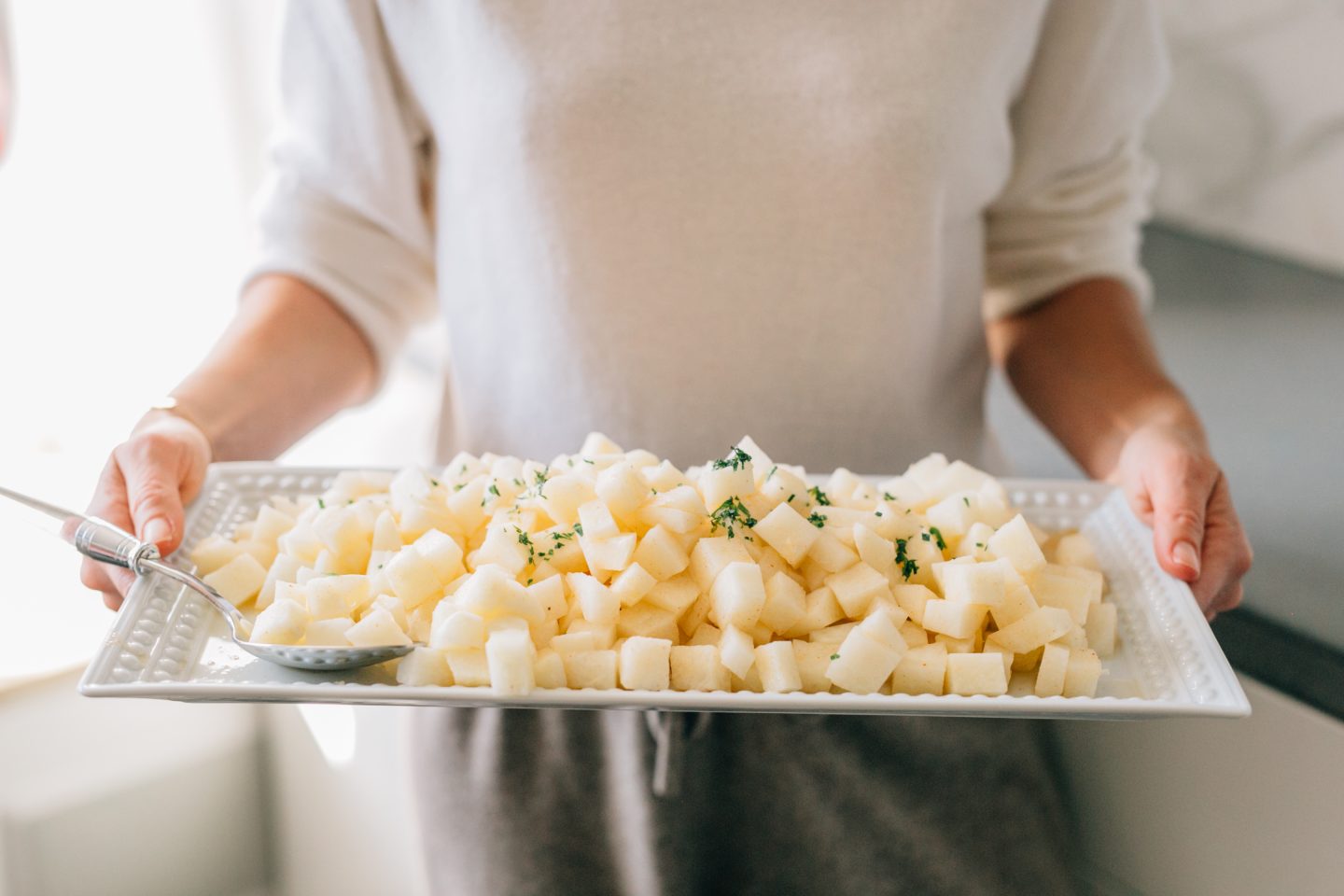 Ingredients:
1 medium jicama (1 1/2-2 pounds), peeled and cut into 1/2-inch cubes
2 teaspoons extra-virgin olive oil
3 tablespoons fresh lime juice
3/4 teaspoon chipotle chile powder (or 1 1/2 teaspoons ancho chile powder)
1/2 teaspoon salt
25 fresh mint leaves, cut into thin strips
Optional: 2 tablespoons queso añejo (or feta or goat cheese)
Preparation:
Combine jicama and oil in a bowl and toss well. Add lime juice, chile powder, and salt.
Toss to coat. Divide salad among 4 small bowls, then sprinkle each with 1/4 of the mint and
cheese right before serving.
Lebanese Fattoush Salad (Bonberi.com)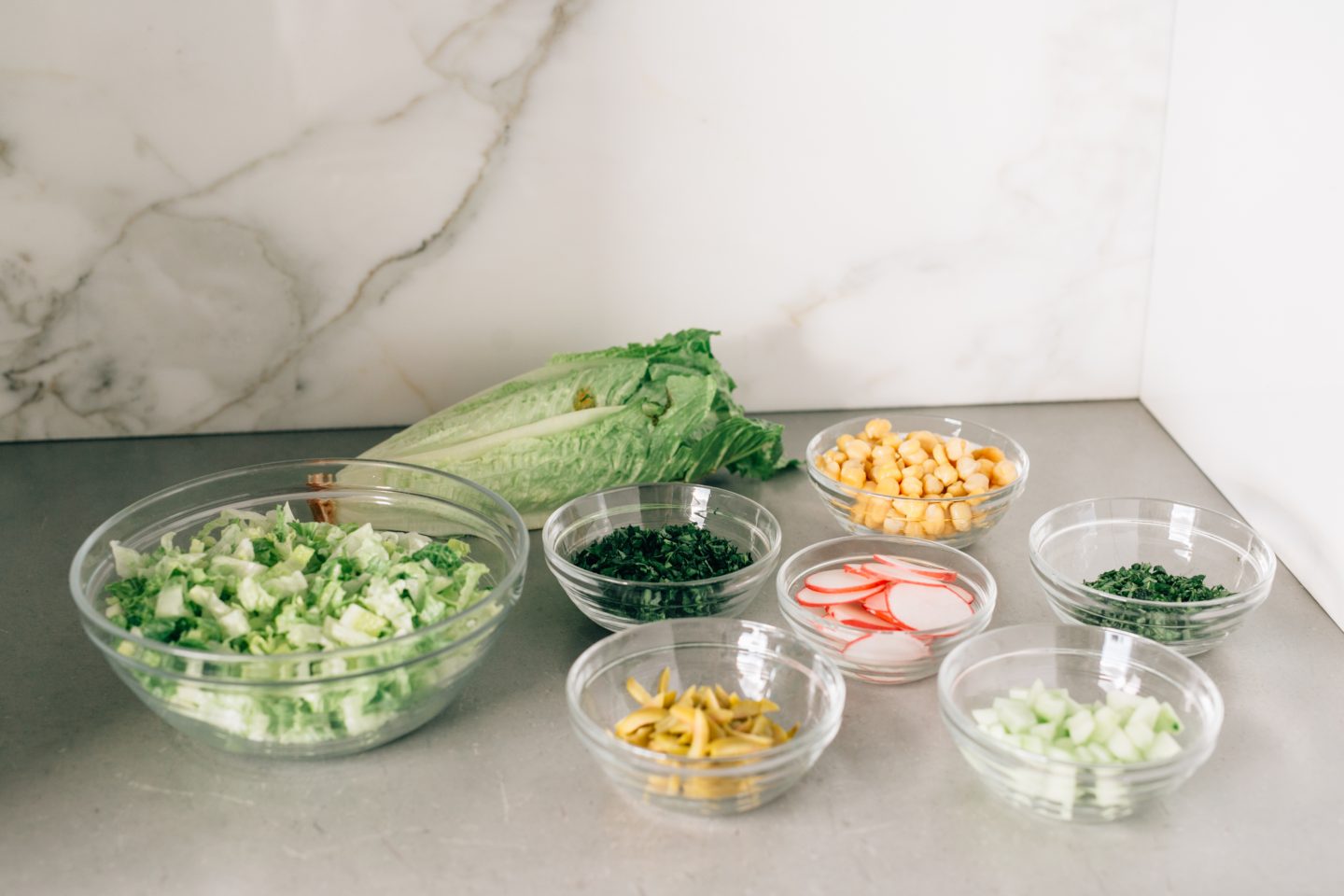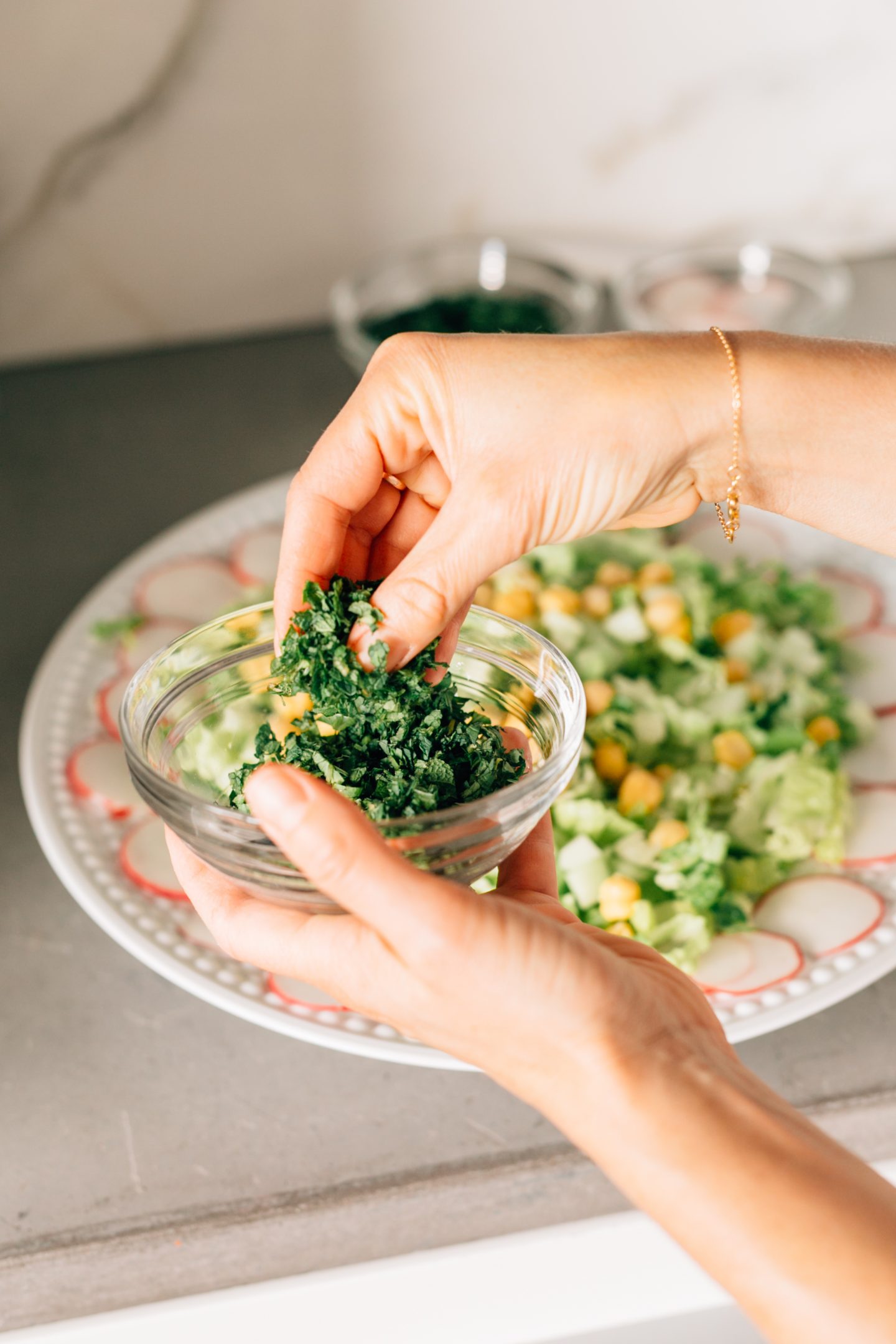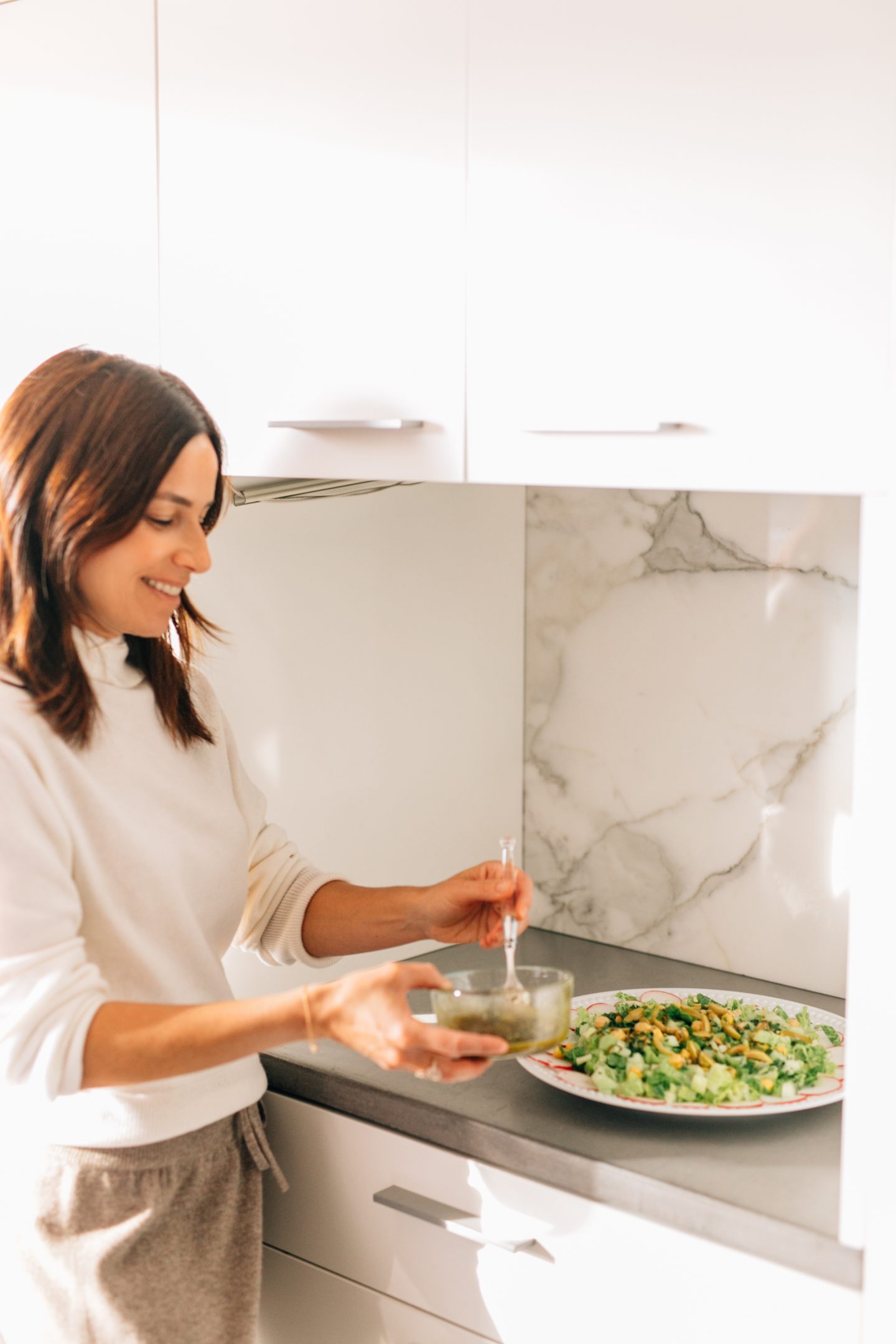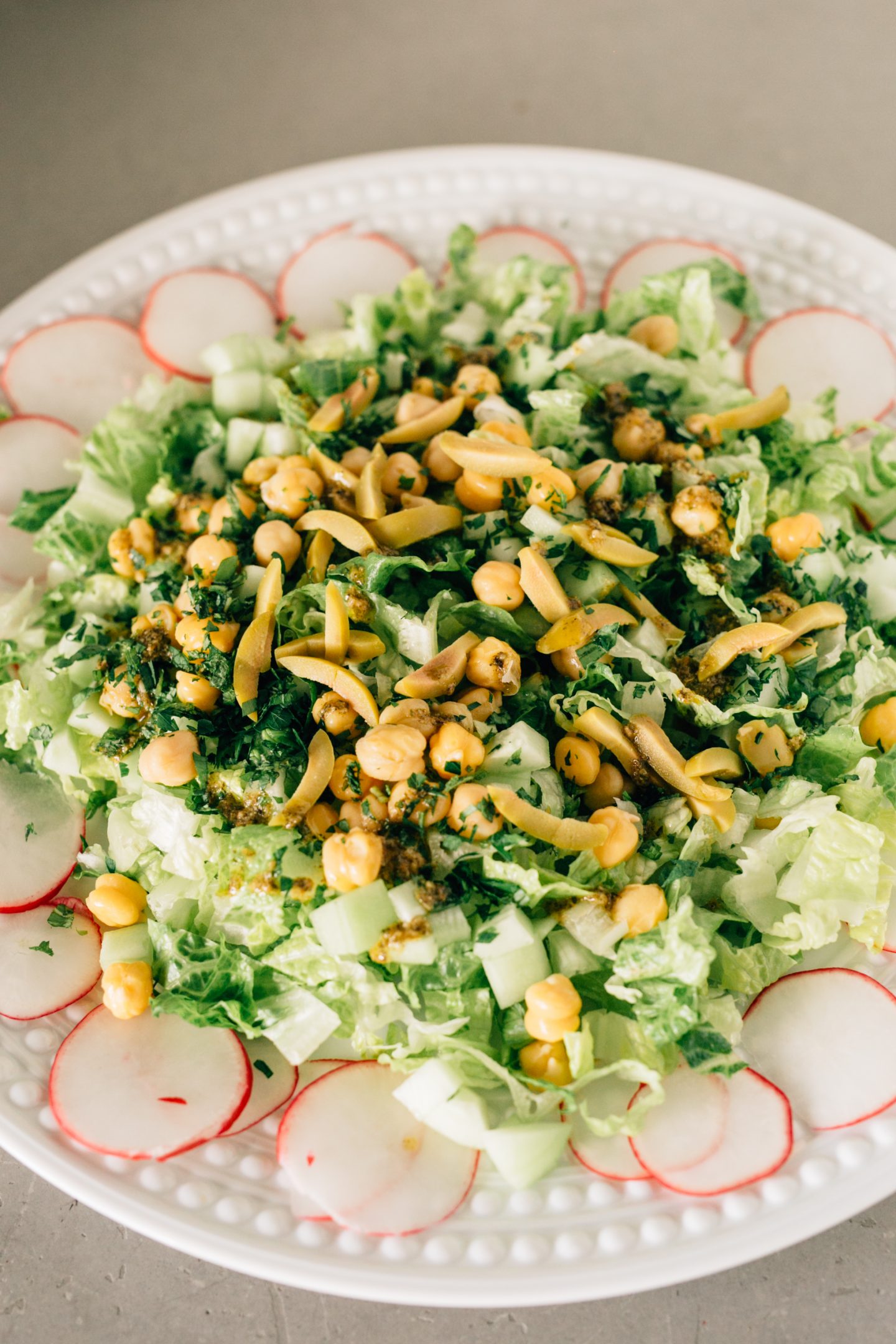 Salad Ingredients:
2 romaine hearts, ripped into bite-sized pieces
4 large radishes, sliced thin with mandolin
1 bunch of parsley
1 bunch of fresh mint
4 mini Persian cucumbers, peeled and chopped into bite-sized pieces
1/2 red onion, sliced thin with mandolin
1 jar of pitted green olives, rinsed, drained and chopped roughly
1 can of organic garbanzo beans (chickpeas), rinsed and drained
4 scallions, thinly sliced
Dressing Ingredients:
1 clove garlic
2 tablespoons of apple cider vinegar
1 tablespoon of fresh lemon juice
2 tablespoons of za'atar
1 cup of goat's milk yoghurt
Sea salt/black pepper
1/4 cup of extra virgin, cold-pressed olive oil
1 teaspoon of dried mint
1/4 teaspoon of cayenne pepper
Preparation:
Assemble all vegetables into a large salad bowl. In small food processor or small bowl, blend all dressing ingredients, seasoning to taste. Dress salad and serve immediately.