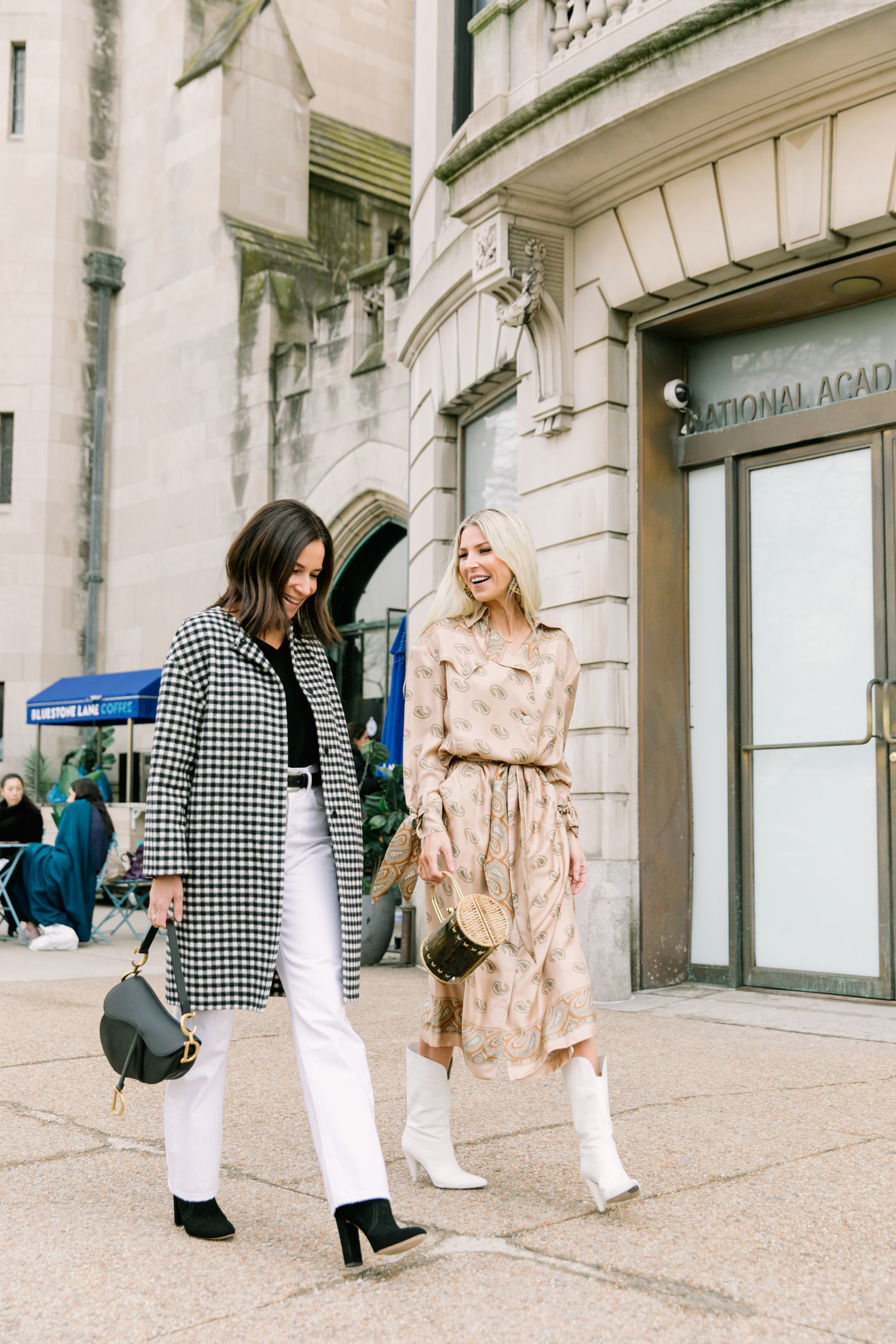 I began following Adi Heyman on Instagram about a year ago. I love her style and while this may sound contradictory, I can only describe it as cool, fashion forwarded, understated yet effortless. What I find intriguing is that she has an air of mystery about her. She's mastered the art of showing us parts of her life but not too much – the perfect balance.  When I discovered that Adi is a modern Orthodox Jew who dresses modestly for religious reasons, I was proud and excited to know that Adi is out there, fashionably representing this often overlooked niche.
Her real talent lay in her ability to dress in a way where fashion is at the forefront and modesty is a byproduct. Her backstory further adds to her allure. Adi was born in Texas as a Christian and she and her family converted to Judaism when she was in her preteens (see full story here).
I had the pleasure to meet up with Adi for some tea, as I always enjoy getting to know my interviewees and let's just say we have tentative plans for a second date.
As soon as she walked into the café, I immediately needed to know details of her outfit which she so generously shared. What I found particularly beautiful (besides her piercing blue eyes) is her spirituality and her desire to dress modestly which does not come from some expectation, but rather from a choice that she has wholeheartedly embraced.
Adi is smart, savvy and grounded and has a clear vision of what she wants next. Nothing like a woman with a vision.
In addition to her social media feed @adiheyman, she launched Faith in Fashion, a platform that rallies industry support for the Jewish community within the fashion and design space.
Here Adi shares her inspiration for Torah, fashion and life!
You certainly have a unique niche. How are you received by the fashion world?
Adi Heyman: In 2010, I launched a Jewish lifestyle and fashion blog to fill a void; to start a new dialogue and upend the white space surrounding my personal community within my professional industry. Now, modesty has a global, multi-billion dollar foothold in fashion and a talented collective of religion-focused influencers and designers celebrate Judaism in their work. Paradigms have shifted, times have changed! As a pioneer, I attribute much of my success to continued support from the fashion world. My commitment to an orthodox Jewish existence has been absolutely respected, even saluted. IMG President Ivan Bart, street photographer Adam Katz Sinding, Vogue's Liana Satenstein; all have served as incredible motivators in my journey. I am humbled
and grateful for the encouragement and opportunity. Lesson learned: If you work hard, stick to your values, hone your viewpoint and craft, others will respect your individuality. Be so good they have to look.
Are there specific fashion-forward designers who you rely on for modest pieces?
A.H.  As modest fashion has evolved, established and emerging designers alike have become recognized for conservative silhouettes. In terms of foot-forward, my eyes are on Scandinavian style. Designers and influencers are setting the bar for a covered, cool-girl vibe.
Personal go-to labels include Ganni, Lake Studio, Rixo and The Vampire's Wife for romantic day-to-night dresses. Attico, Alessandra Rich, Paco Rabanne, and Magda Butrym slay at statement glamour. Newcomers Rowan Rose and Rotate have my attention.
Amy Smilovic's Tibi continues to redefine modern modesty with a clean, tomboyish femininity. Balenciaga supplies statement skirting with a luxe, street edge. Gabriella Hearst, Jacquemus, and Nanushka offer elevated basics and Blazé Milano does impeccably tailored jackets.
Do you ever come across pieces that you love but don't meet your standards of modesty? How do you make them work for the sake of fashion?
A.H. Absolutely. Fashion is fun and creative and expressive. I readily reimagine existing designs to work in personal wardrobe. I purchase doubles or match fabrics for the ability to add sleeves or elongate hemline. I have even opened pant legs to reconfigure as a skirt.
Similarly, I bend the existing wardrobe to meet the trend. I update classics like the trench coat and slip dress with contemporary details or consult with modest brands to create progressive pieces. In the spirit of Lagerfeld, we must "embrace the present and invent the future."
Who are your style icons?
A.H. So many influences! Gucci's Alessandro Michelle is a creative genius. His magpie magic recharted modesty. I admire Lee Radziwill and Carolyn Bessette for elegance with absolute ease, and Jackie Onassis for skillfully understanding and trading on the currency of fashion.
Mick and Bianca Jagger for their eccentric influence. And Patricia Field for the styling revolution of weekday midi skirt-paired-Manolo Blahnik circa Sex and the City.
What are your 3 top fashion trends for spring/summer? Any pieces you are coveting?
A.H.  1. Feathers: Plume-accented pieces are everywhere this season and I am all about vibrant colors and feathers for days!
2. The 80s: I am forever obsessed with exaggerated yet abbreviated '80s silhouettes! Power shoulders, party dresses, acid wash denim – it inherently feels optimistic yet edgy.
3. Hippy Prints / Tie-dyes and vintage florals: Palm Beach Passover to Ibiza summer, this season's hippy-chic reboot makes me smile. Refined iterations of the boho prints feel so on-point.
Currently coveting: Attico gold python boot, Fendi mesh sandal, Chanel Side packs, Prada Tie Dyes.
Are there any health or fitness secrets you care to share?
A.H. Live mindfully. To me, health is less about achieving a "balance" and more about feeling aligned, mentally and physically. I eat kosher and stick to a clean baseline diet, but don't limit myself into deprivation. Food should be a positive! So much of Judaism is imbued with symbolic fare, I love honoring that with seasonal ingredient and fresh flavors. I shop local Farmers' markets like Union Square Greenmarket and Green Thumb Organic Farm and the humane, health-conscious proteins of Grow And Behold. In terms of fitness, as a Manhattanite with a beautiful son and two precious dogs, my life is my cardio. I do treasure a quiet run in Central Park or the energy of a dance class at Forward Space when schedule allows.  At 36, I value a skilled dermatologist and NY based Dr. Estee Williams (@dresteewilliams) is my secret weapon! Spiritually, Shabbat is our family's safe haven; a necessary time to disconnect to reconnect, to re-align and reset. We love Shabbos!
What are your top kosher restaurants in NYC?
A.H. Noi Due Carne is our neighborhood spot. Buzzy and cozy, the Italian-meets-Mediterranean menu includes pasture-raised proteins, coastal seafood and a notable wine stash of kosher vintages.
By Chloe is a favorite of my son and me. The fast vegan chain serves flavorful salads, burgers and sweets, seasonal cocktails included. We are partial to the indoor swings and sidewalk dining!

Sage Kitchen is expanding from catering company to brick-and-mortar restaurant on Bowery. Chef Jazzie Einalhori spotlights simple, seasonal ingredients with swank dairy-free vegan/vegetarian and meat offerings. Think consciously-crafted Signature Schnitzel Sandwich.

Russ And Daughters does Shabbat brunch! The kosher UES version of the iconic LES deli is a Jewish Museum gem. We pre-arrange and invite friends to indulge in classic Bloody Marys, fish boards and babka post synagogue. Added bonus of touring art galleries after!
I love that you are so spiritual. What words of Torah inspire you the most?
A.H. Torah teaches that emuna, faith, is the cornerstone of Jewish belief and practice. In this transient world, my faith (and my husband) is my rock. Faith in G-d, hence faith in the universe, faith in the journey, faith in myself. It is permission to dismiss doubt and move through any circumstance with peace and confidence. Liberating to trust that once risk is weighed and work is done, no matter the outcome, all plays out for the greater good in the bigger picture. We cannot control what happens to us, but we can control how we interpret the experience and our response. My religious faith is my "cup half-full" and my motivation to purpose forward, even fail forward without fear.
Who are your favorite Israeli fashion designers?
A.H. Israel is energy! And my travels there have inspired interest in the local artisans. There is this incredible cultural and design presence that is largely inaccessible outside of the land. Powerhouse women like Rosa Sinaysky and Kim Heyman are pioneering the space. I have collaborated with fashion brands and am en route to Tel Aviv this month to raise awareness with upcoming projects. Tel Aviv-based designers Sabina, Parle de Vous, Ella Levy and HotCrown (to name a very few) are hustling to grow the local market on a global scale. In 2017, I launched Faith In Fashion, an organization founded to build industry support for the Jewish design community, including Israel. Our goal is engagement, education, and empowerment. The next event will be hosted in NYC on April 3rd at the Fashion Institue of Technology and the topic of sourcing from Israel to be included.
If there is one message you could impart to your followers on Instagram about being  a modern Jewish woman, what would it be?
A.H. Just love your life! And to choose to re-choose it with gratitude each day. Ask questions, identify your values, dare to disrupt and consciously create a world that makes your heart sing. As a
convert to Judaism, my adopted heritage and community provides a path that fulfills and inspires me. Whether spiritually or sartorially, you must celebrate your true self.

Shop Adi's look here:

Shop my look here: