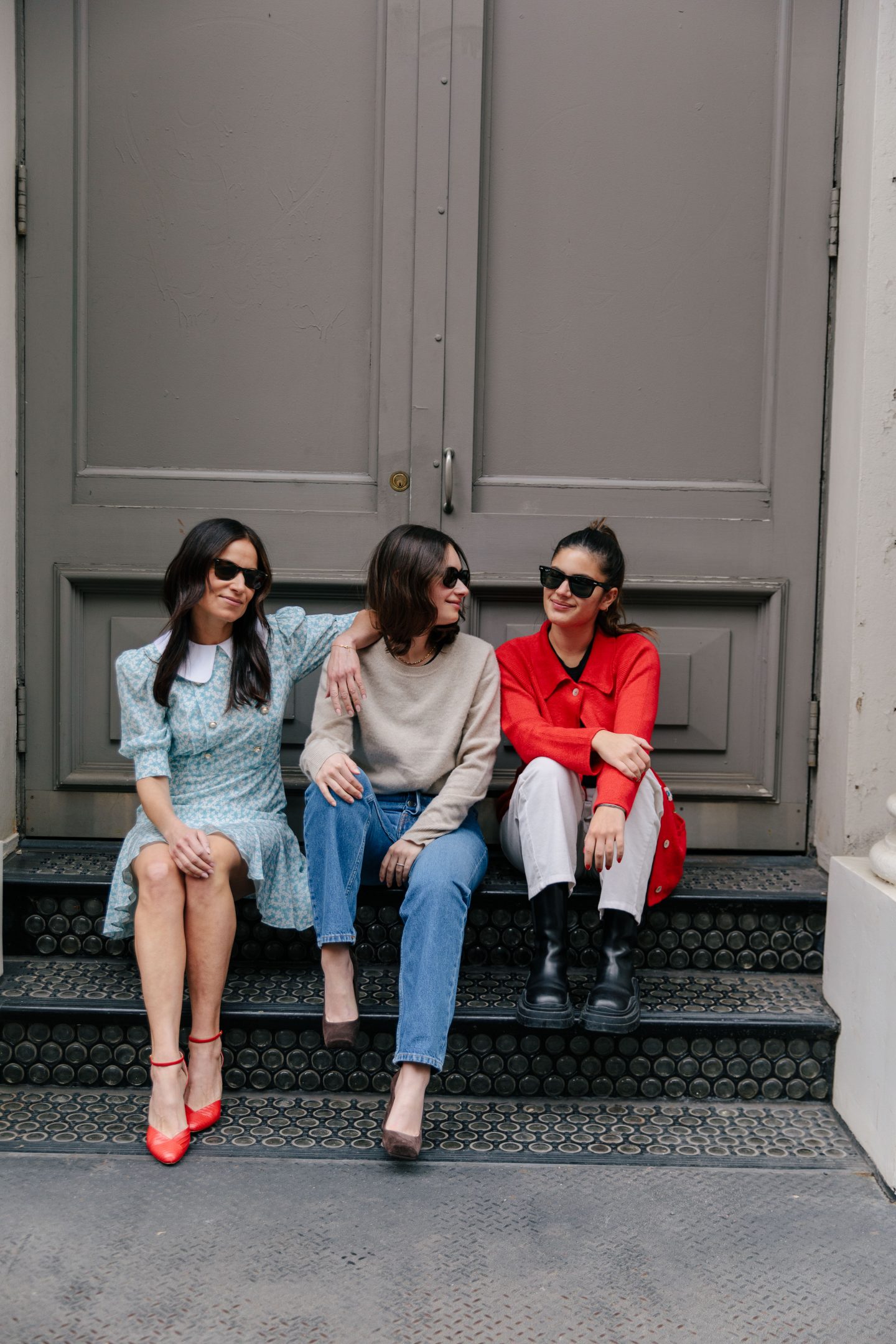 Is it just me or is time flying by faster than ever these days? It feels like yesterday that I was writing my March in review post!
Ok! Well, I'm going to dive right in and share my April highlights. Each month's highlights are slightly different but typically include book and TV show recommendations, recipes, and or restaurants I've visited, new store openings, and recent fashion + Amazon purchases. I also will sometimes share little tidbits about what has been happening in the world of Fortune.
During the first week of April, I hosted a 2-day shopping event with Net-a-Porter at a 2 bedroom suite at the Mark Hotel. This was a super exciting moment, one that I had been discussing with them for a few years and it finally came to fruition this spring! Note to self: timing is everything and never give up on my dreams. There were so many things that I particularly appreciated about this event, ie, the opportunity to curate my very own selection of pieces for spring, aka Fortune's Dream Closet, working with their fabulous team, and seeing my chosen pieces merchandised and displayed in a beautiful setting. I also had my two daughters, Vivian and Sonia, curate their own selection of items that were priced at $400 and below. I must say they did a FABULOUS job!
Here are the top 5 best selling items from the event:
1. Cult Gaia embellished linen-blend halterneck top and linen-blend wide-leg pants.
2. Cult Gaia cropped cutout ribbed-knit straight-leg pants.
3. Cult Gaia pink ribbed knit cardigan and matching ribbed knit straight-leg pants.
4. Hommegirls pinstriped cotton poplin shorts.
5. Isabel Marant Etoile cropped open back floral print cotton.

This past month I had the pleasure of attending a lunch hosted by the uber-luxe Genève-based perfume brand Mizensir at Il Fiorista. It was a real treat to hear the master perfumer and founder of the brand, Alberto Morillas speak and tell his inspiring story about how the brand came to be. He also happens to be quite chic and charming. If you are not yet familiar with this brand, it's worth checking out their site here. We were all gifted a summer candle and a perfume from their newest collection – both smell divine!. The icing on the cake was getting to socialize with other influencers.
Another major April highlight was spending a week at The Faena in Miami with our family and friends for Passover. My mornings consisted of some sort of outdoor workout, afternoons on the beach or by the pool relaxing. On most evenings we took in some sort of fantastic live band at the hotel lounge "The Living Room" and of course, there were beautiful kosher catered meals each day.
One evening I had the pleasure of a Mind Travel experience with pianist Murray Hidary. A mind travel experience is a meditation through music using silent headphones to transport you. People can lay down, sit or even walk around. This particular event took place outdoors in the evening – just picture the palm trees swaying at sunset – literally music to my ears. Murray travels the world giving these live piano concerts/meditations so if you are interested in experiencing this in your neck of the woods, it's definitely worth checking out his site here.

I also had my first hammam experience at the Faena Tierra Santa Healing House. I used their spa almost daily, going from hammam to steam room to sauna and then ending off in their ice chamber. If you are ever in Miami Beach, I highly recommend you experience their gorgeous spa and services.
In terms of books I read, I sadly didn't read much this month. I am in the middle of reading The Magnolia Palace (30 pages to be precise) and so far so good. This month's book purchases include If In Doubt, Wash Your Hair, and Sister Stardust.
TV-wise, we watched the We Crashed miniseries starring Jared Leto and Anne Hathaway which is about the rise and fall of WeWork and I highly recommend it.
Thanks to Fleur Maxwell of Body By Fleur, I began using a Wooden Gua Sha Tool. First I apply a Revitalizing Anti Aging Body Oil by Tata & Harper and then massage my body using this tool. This wooden gua sha is basically a massager for body sculpting, muscle release, and an anti-cellulite lymphatic drainage paddle. Here is a video Fleur sent me that showed me how to use this tool.
Other beauty purchases I made this month were all repurchases of beauty products I love:
1. Frederic Malle L'Eau D'Hiver Travel Perfume
2. Trish McEvoy Light & Lift Color Duo
3. Giorgio Armani Luminous Silk Foundation (5.75)
4. Sun Bum Sunscreen SPF 50
5. R + Co BLEU De Luxe Reparative Shampoo

On to fashion! Here are this month's finds…
1. Veronica Beard Quilted Reversible Jacket
2. Cleobella Block Print Mini Dress
3. Gianvito Rossi Crisscross Block Heel Platform Sandals in Praline
4. Re/Done 90s Crop Low Slung Straight Leg Jeans
5. Chloe Platform Espadrilles
6. P.E. Nation Fluid Leggings
7. Roxanne Assoulin Down To Earth Choker
8. SEA Cropped Crochet Knit Merino Wool-Blend Vest

Last but not least here are the top 5 selling items on Fortune Inspired this month:
1. Nili Lotan Wide Leg Pants
2. SLVRLAKE London Jeans
3. Emilio Pucci Printed Organic Pants
4. Xirena White Button-Down Shirt
5. Alessandra Rich Floral-Print Silk Mini Dress

Hope you enjoyed this month's round-up and see you back here same time next month! Until then, if you live in or near NYC, check out a recent post of mine "10 Things To Do In NYC This Spring"!