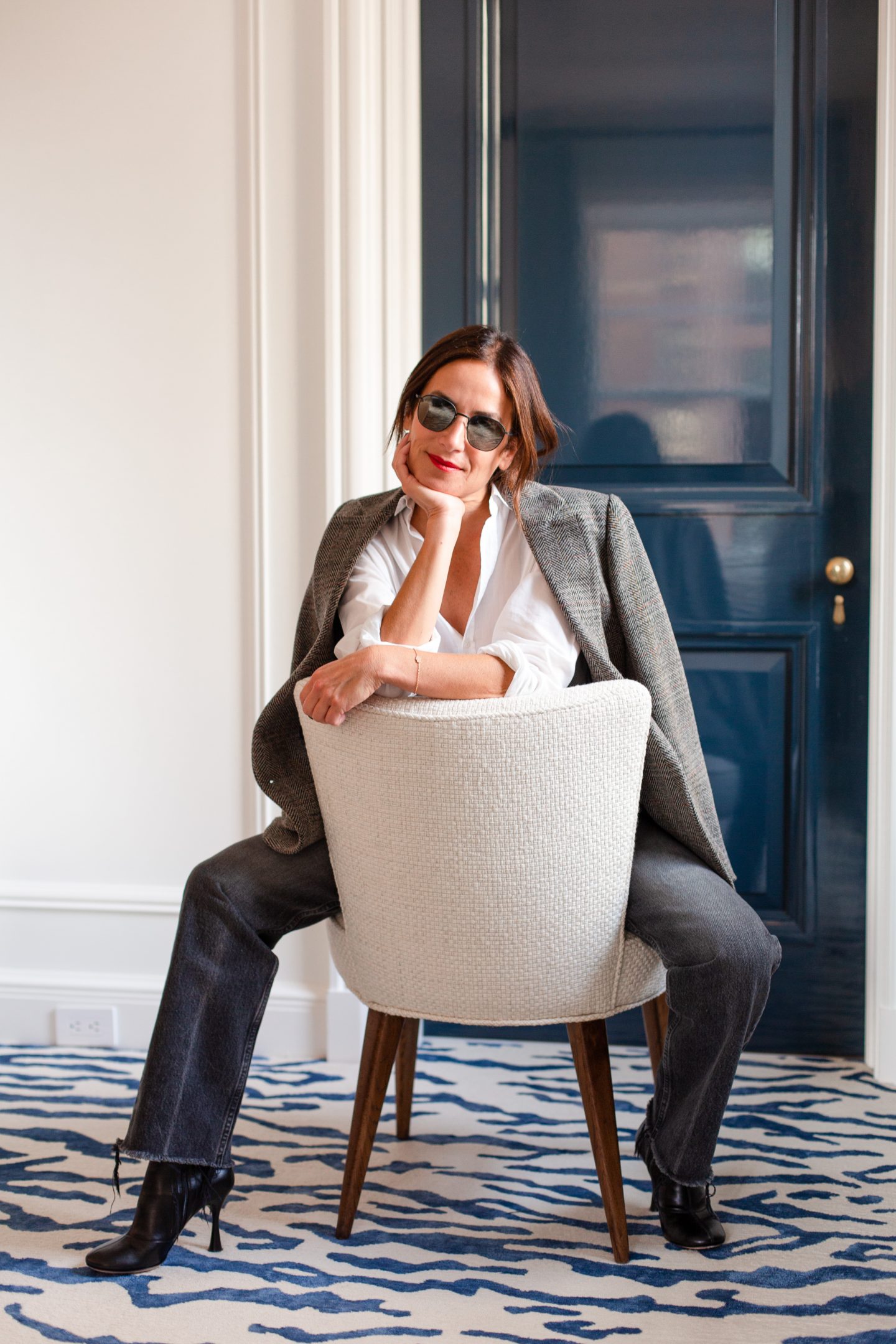 As effortless as it may seem, getting dressed in the morning often takes effort and a bit of a cardio workout when trying on various options before settling on the ideal look for the day (not to mention an embarrassing pile of tangled sweaters left for me to refold in the evening).
One thing is for certain though, when time is of the essence, a white button-down shirt and a pair of blue or black denim jeans never disappoint. It's a classic look that I can always rely on. That being said, I do like to up the ante with some kind of accessory or added layer to up my fashion game.
Here are 5 ways to elevate a basic outfit.
Belt It Out
Belts are an easy way to add style to an otherwise basic outfit. They accentuate the waist and add dimension, not to mention a bit of elegance. The black belt in particular is a wardrobe must-have and a worthwhile investment if you do not currently own one.
The Row makes a classic black belt made of smooth leather and a chic yet understated gold buckle. For those who prefer silver hardware, I'm currently swooning for Khaite's western-inspired iteration.
Lust Have Belts:

Must-Have Belts:

A Turtleneck Is About Sophistication
A few years ago, as I was scrolling through Instagram, a photo caught my attention of a model wearing a thin turtleneck layered under a crisp button-down shirt. It had all preppy and cool vibes and I made a mental note to make this look my own and now yours too if you like.
Next time you are running out the door and pressed for time, try layering a turtleneck underneath a white or a denim button-down shirt. Another easy way to elevate a basic outfit.
Though I'm a fan of all the turtleneck options I rounded up below, my all-time favorites are by Majestic. They are lightweight and soft AF. They also wear pretty darn well.
For a more fashion-forward option, I am obsessed with Etro's retro wool turtleneck sweater with its logo embroidered by the neckline.
Lust Have Turtlenecks:

Must-Have Turtlenecks:

Hats Off To You
Fedoras are statement accessories and another easy way to elevate a basic outfit. They also add character and are easy to rock.
Janessa Leone's minimalist style made from black felt is a wonderful and affordable option.
Maison Michel's hats ooze with elegance and are a favorite of the fashion world. Their soft wool-felt fedora style with its recognizable asymmetrical sculpted crown is designed to suit every head shape.
Lust Have Hats:

Must-Have Hats:

When In Doubt, Throw On A Blazer
How I love a blazer, let me count the ways.
Blazers add style, sophistication, and polish to an otherwise basic outfit. They can be dressed down when worn with denim or sweats, and they can also be dressed up when worn with a pair of trousers or a mini skirt.
Because I love a plaid moment, Isabel Marant Etoile's checkered wool blazer is at the top of my list. I also included Marant's oversized checkered wool coat as it can also work as a blazer.
Lust Have Blazers:

Must-Have Blazers:

Red Lips And Wine Sips
As the saying goes, give a woman the right lipstick and she can conquer the world. A red lip is glamorous, bold, sexy and exudes a certain confidence. I especially love a red lip when worn with a pair of jeans as it gives this basic yet effortless look a wow factor.
Here are 4 of my favortie reds.

Shop my outfit here:
Dior Lipstick/Boho Felt Hat/Soft Touch Turtlenck Top/Leather Ankle Boots/Wide Straight Black Jeans/White Button Down Shirt