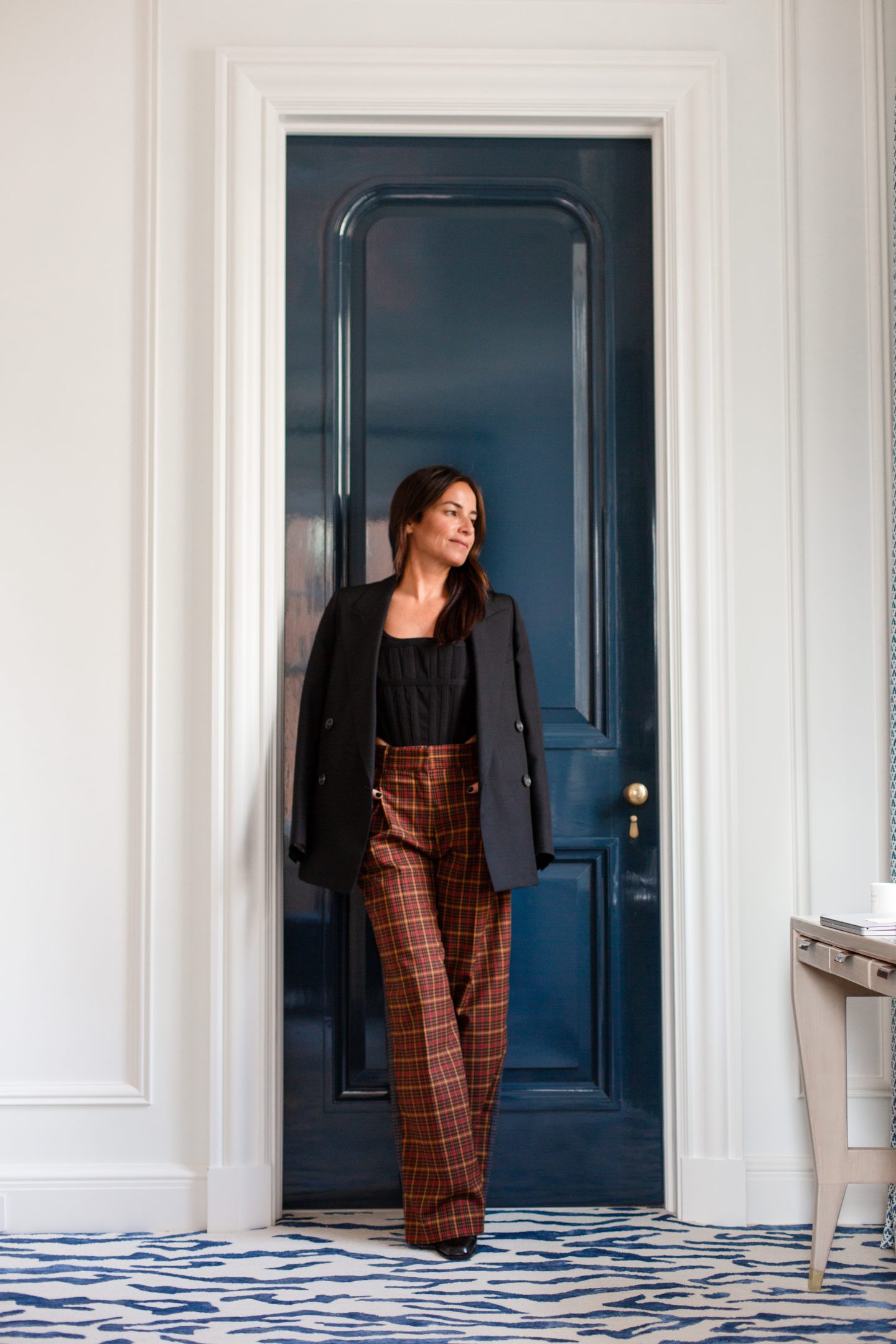 While scrolling through fashion sites and racks at my favorite boutiques, there seems to be an abundance of pant options, so I guess I'll be the one wearing the pants in the family this season! haha. I'm excited to share my favorites, so without further ado, it's time to put your positive pants on, pun intended.
I've also decided to try something new on the blog. Beginning with today's post, I will be sharing lust vs. must options and by that I mean you will find affordable options for most of the runway/ready-to-wear pieces that I highlight. I hope this helps you to find not only covetable but shoppable options on Fortune Inspired. Drop a note in the comments section below and let me know what you think of this new addition and if I should keep the relatively lower-priced options coming your way.
Leather & Lace
Both leather and lace are trending this season and the fashion world can't get enough! Leather is classic, and luxe and will most definitely keep you warm come winter. While I can't say that the lace pant will keep you warm this winter, they will definitely make for an evening statement and are a standout option for any upcoming soirees and holiday season festivities.

I'm all about these VA VA Voom Valentino floral lace leggings. You can style these leggings one of two ways – either with a black oversized sweater (just be sure to layer a booty short over the legging for well, booty coverage) or layer these leggings with a mini skirt and an oversized sweater as this will balance out the pee-ka-boo nature of the bottom half of the outfit.
When it comes to the leather pant, Michael Kors's black leather flare has a killer fit. This is definitely an investment piece but one that will have longevity for seasons to come.
For a more affordable option, these brown straight-leg vegan leather trousers are a smart and eco-conscious option.

All The News That's Fit To Print
I am equally obsessed with all these fun printed pant options from plaid and paisley to houndstooth and floral which definitely add a bit more personality to ones wardrobe.

Obsessed in particular with these wool blend flare pants by Etro which have a 70's vibe to them. I am also quite fond of the matching oversized knit sweater.
These straight-leg plaid pants by Rokh are also uber-cool and are perfect for a day-to-night option. To complete this look, I adore this lace collar cropped shrunken cardigan in grey also by Rokh.
For a must-have plaid pant, these stylish high-waisted wide-leg pants in navy by Something Navy are worth a try.

Striking A Chord
Corduroy pants/jeans are always at the top of my fall fashion wish list regardless if they're trending or not. There is something preppy and classic about them and I'm always here for this '70s lewk.

The Row's brown corduroy wide-leg trousers are soft to the touch, lightweight, and have an effortless style to them. If a tailored look is your aesthetic, I highly recommend these black corduroy high-rise straight-leg pants by Toteme.
Everlane makes a superb corduroy high-waisted wide-leg pant that is priced below $130 and it comes in both navy and taupe grey.

Do It With Flare (And Trousers)
I love a trouser moment or shall I say, trousers are my jam? They're quite flattering, and versatile and can be worn dressed down or dressed up during the day and evening.

Nili Lotan is the queen of the cool trouser and I love both her black pleated wool straight-leg pants and her charcoal grey midweight pleated Dillon trouser.
For the ultimate sophisticate, these Tom Ford velvet flare pants are gorgeous and come in black and red, though I prefer black. They have a flattering high-rise waist, a fit slim through the leg, and a flared hem.
Veronica Beard makes a beautiful velvet flared version in merlot that makes for a chic and slightly more affordable winter moment.

Pretty In Pink
While I'm not a big fan of the barbie core trend, I do appreciate a soft pink tonal pant.

Presently, my favorite pink pant is this cotton blend straight-leg trouser by the Parisian it brand Officine General. These are the perfect shade of pink and the fit looks divine.
Kudos to Banana Republic for making this darling relaxed corduroy wide-leg pant with a modern yet relaxed silhouette. Pssst…these are now on sale for $105.

Stay tuned for more fall style coming your way!