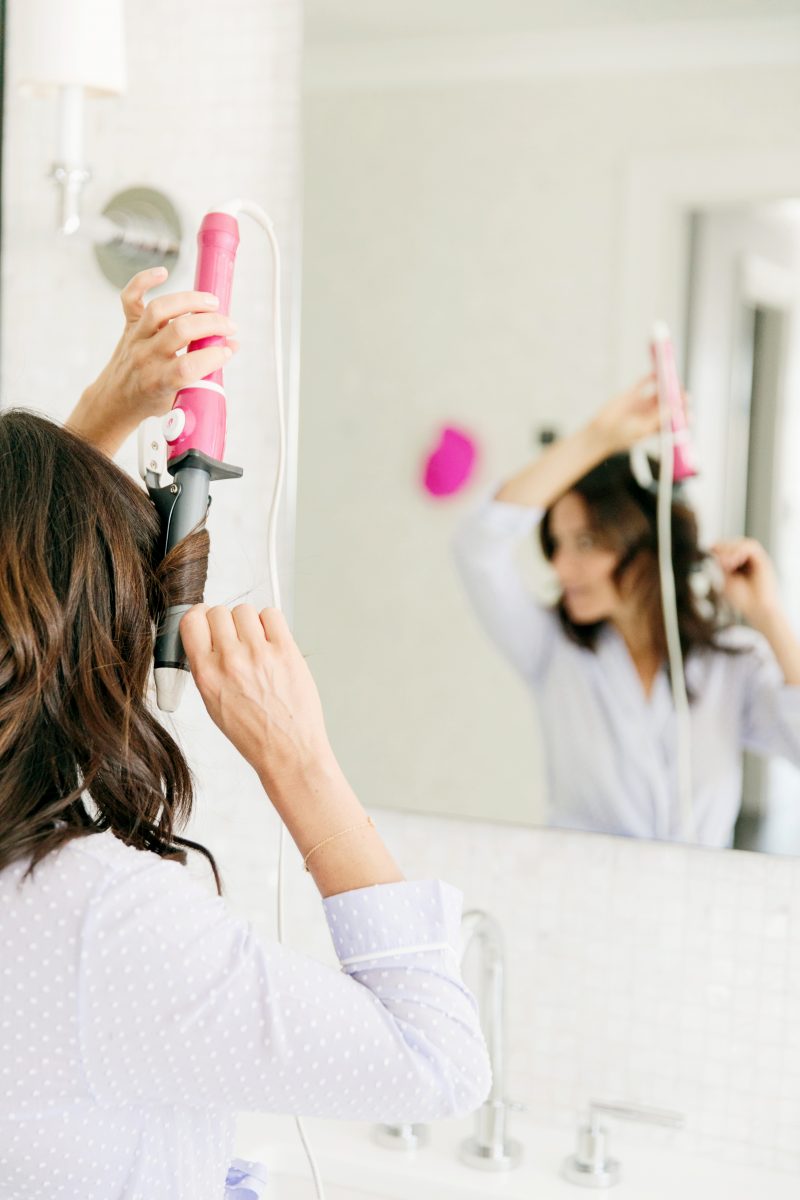 I always love a good beach wave – on my hair that is. A few years ago, a stylist taught me how to wave my hair and this has been a game changer ever since. Don't get me wrong, I always love getting my hair professionally done, but this definitely saves time and money on days when I'm left to my own devices. I use the T3 Pro EverTwirl Curling Iron, but work it like a rod (without the clamp). The best piece of advice this stylist gave me was to point the curler down, wrap small sections of hair around it, and hold for 10-15 seconds before releasing. To finish off, I spritz some Oribe Dry Texturizing Spray.
I'm lucky enough to know some talented and forthcoming stylists, who shared their favorite tools of the trade. Here is what they suggest for the perfect beach wave.
I'd love to hear if any of you have any tips for achieving the perfect beach wave!
1. Which curling iron do you recommend?

Garren for Garren New York and R+Co: I prefer a curling wand to an iron. I would recommend the large barrel Enzo Milano Curling Wand or the Harry Josh Protools medium iron/wand combo. Both come with a heat protector glove.
Vanessa Alcala: Hot Tools make my favorite curling irons. My go-to sizes I use the most are the 1 inch and the 1.25 inch irons. Hot Tools curling irons last forever and if you are traveling overseas they don't over heat when you use them with an adaptor.
Julien Farel of the Julien Farel Salon: Either a small flat iron or a big curling iron, over bent.
Sandrine Bucarelli: I like the brand Hot Tools for curling irons.
2. Is there a product that you suggest applying before curling?
GNY: I would recommend Grid by R+Co. It's a thermal protection and setting spray.
VA: L'Oreal Elnett Satin Hairspray is the most amazing product for getting curls to stay. It leaves the hair still touchable and with lots of movement. If you are not into that old school hairspray smell the unseated version is equally as amazing!
JF: Always apply Julien Farel Inflate Volumizing Balm for fine hair and Julien Farel Flexible Smoothing Balm for medium or thick hair.
It will protect from the heat of the hot tools and will hold the style for a longer period of time.
SB: I suggest any heat protector before curling to preserve your hair from dryness or split ends.
3. Can you share any insider tips on achieving the perfect wave?

GNY: Start at the back of your head, clip your hair up leaving out just the bottom sections. Work your way up the head in sections using a glove to protect your hand. Wrap hair away from your face. The bigger the section you wrap around the wand, the looser the wave. The smaller the section, the tighter the wave.
VA: When I am all done curling my hair I take a few random pieces from the top section (the size of a shoe lace) and wave them separately. This adds more texture and dimension to your waves. This is a quick detail you can add to insure a natural looking wave
JF: Less is more! Do not try to make it perfect.
Do not take identical sections or follow same direction.
Do not over bend the last part of end of the hair.
SB: I suggest using a big curling iron, 1in1/4 or 1in1/2 to get the perfect loose wave. When you start curling, don't start too close from the roots. Leave the ends straight for an unfinished and natural look. When you are done curling, you can spray on the lengths Living Proof Full Dry Volume Blast to texturize and break the perfect curls you just created by checking your hair with your fingers. With the same product you can also spray at the roots for more volume depending of your expectations. If you have dry hair add Living Proof No Frizz Nourishment Oil or any kind of light oil, from mid-length to ends.
It will look like you woke up like this and that's the secret to the perfect beach waves.
4. What are your favorite products to use to finish off and prevent frizz?

GNY: For finer hair I'd use R+CO's Trophy Shine + Texture Spray, for coarser, curlier, frizzier hair, I'd use R + Co Foil Frizz Plus Status Control Spray.
VA: Oribe Impermeable Anti-Humidity Spray is the best. It has that amazing signature Oribe smell. I love to use it after I do a blowout to seal in the smoothness and to fight the frizz.
JF: L'Oreal Elnett Hair Spray. Its  very light and invisible spray.
To prevent the frizz, work with Julien Farel Flexible Smoothing Balm as mentioned above.
SB: I use different brands to prevent the frizz against humidity.
Julien Farel's De-Frizz Shampoo and Conditioner and the De-Frizz Balm as a leave-in which is also a heat protector. Living Proof No Frizz Shampoo and Conditioner and the No Frizz Leave In Conditioner which is a weightless nourishing styling cream.
5. For those who prefer to wash and wear, what products do you swear by that will bring out the natural wave?
GNY: R + Co Analog Cleansing Foam Conditioner. Also R + Co Sail Soft Wave Spray and my Designing Spray Tonic available at garrenny.com
VA: Bumble and Bumble Don't Blow is a must for those wash and wear days. It enhances your natural wave without leaving the hair greasy.
JF: Julien Farel Smooth Crème to be applied after wash and leave on. It will prevent fly away, frizz and it will not weight your hair down.
SB: For natural wavy and frizzy hair I recommend washing your hair first with an anti-frizz shampoo and conditioner that you like, followed by a leave-in conditioner if needed and leave it for a natural dry then on dry hair, apply Living Proof No Frizz Humidity Shield for a perfect and effortless great result. For wavy fine and flat hair you can use Julien Farel Hydrate Shampoo and Conditioner following by Julien Farel Inflate & Texturizing Balm. Apply from roots to ends and leave it for a natural dry.
Shop Products Here: