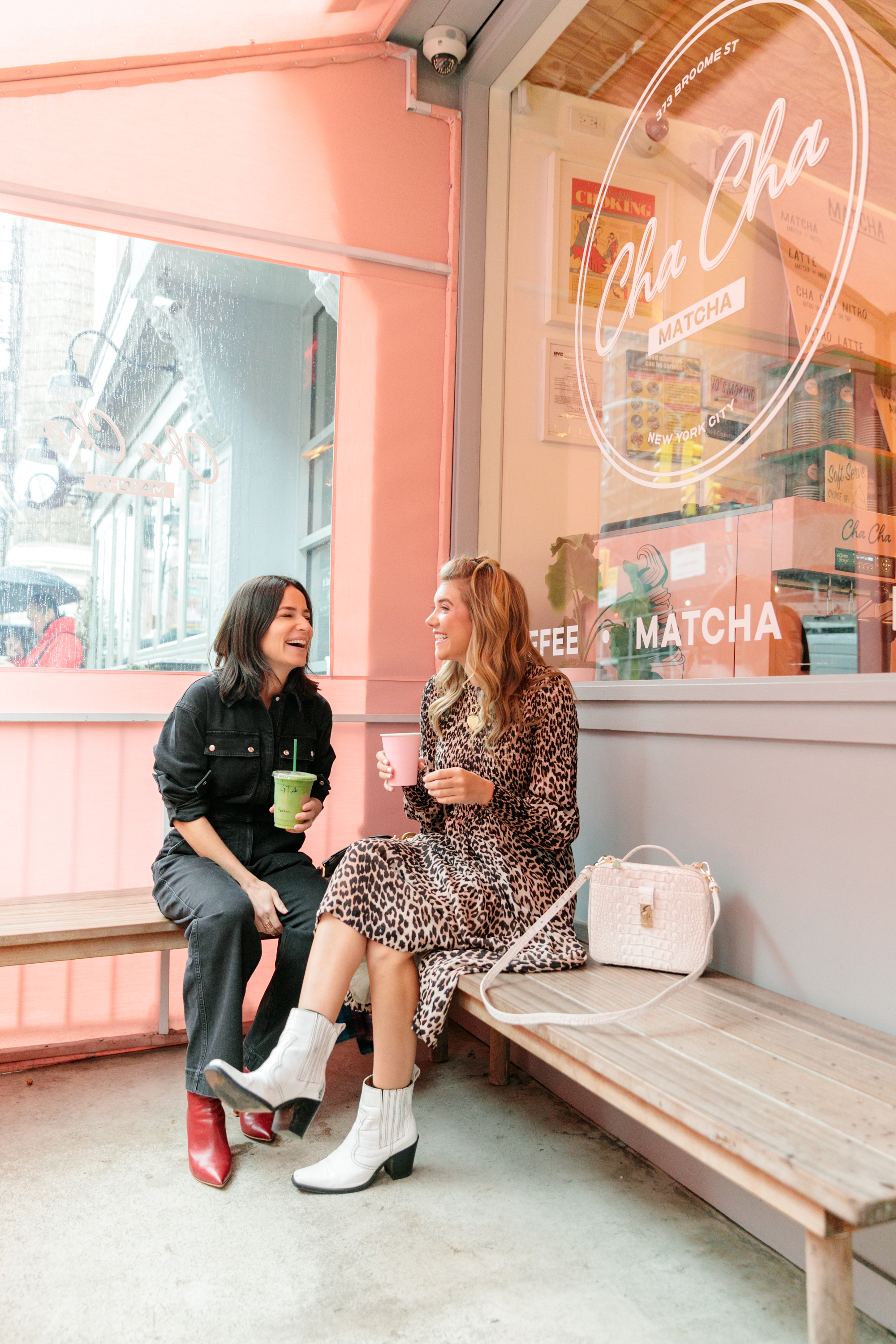 One of the great benefits of blogging is meeting fellow bloggers who I admire for their unique and creative voices, who know how to keep it real.
This month I am launching my monthly Q & A with bloggers who are Fortune Inspired for these exact reasons.
My first interview is with Kate Sands of Honestly Kate who I met this past fall at Instagram headquarters. For me, it was love at first smile – as in she has the sweetest and biggest smile that can light up any room (girl crush? sorta!). I of course, began following Kate on Instagram almost immediately, and have been a fan ever since. In addition to her playful, bold and flirty fashion sense, I  admire Kate's authenticity, vulnerability, confidence and down to earth nature.
I was so excited to catch up with Kate during fashion week where we got to talk all things fashion, beauty and lifestyle – while always keeping it real of course. Here Kate shares her words of wisdom.
1. Honestly Kate is all about authenticity – How do you manage to keep things real?
I named my brand HonestlyKate because I wanted to be someone who stood out in the industry for always being honest and authentic, no matter the circumstance. HonestlyKate was created as a platform for me to be open and real with a variety of mental health conversations, growing pains, relationship advice, and navigating my way around the city as a person who people can relate to – not just for the fashion and beauty trends I found suited my style that I wanted to share with my audience (but that's all part of my brand too)! Also, I try to stray from hiding my mistakes. I make typos on my stories, I'm silly with my friends, I try to eat healthy but there are times when I don't, and I make it known that I'm not perfect. For me, it's important to share those moments, because those are the moments that make us who we really are. At the same time, I make an effort to put my phone down and not try to get caught up in the glamour of it all. It's important for me to give myself a reality check, spend quality time with my family and friends, and take breaks from social media.
2. You seem to have a positive perspective which is catchy. What are some strategies you can share for when the going gets tough?
Like most people, I have low moments. And I've learned not to be ashamed of them anymore. When I'm going through something tough, I always choose one thing to do for myself that I know will make me feel good at the end of the day. Sometimes that means going to acupuncture, and sometimes it means splurging on postmates for my favorite meal. I've learned to listen to my body (and my mind), and to not be afraid to let myself just feel. Another thing I always tell myself when I'm having a down day is that it's all relative. The mind can play tricks on you, and usually things seem like a bigger deal than they really are, so always remember to take a step back and breathe.
3.  I see that exercise is an important part of your routine, what are your top workouts?
I absolutely love to dance. It's the only workout that actually gets my mind off of things because I'm so focused on learning moves and memorizing a routine. I've also recently started going to pilates classes, which I love so far.  P.volve is another great low intensity workout that I've seen really good results from staying consistent with.
4. We officially connected over Instagram when you were on holiday in Turks & Caicos. What are your top 3 travel destinations?
Mykonos is my number one travel destination by far! Something about Greece just makes me feel like I'm home. I feel like I have this deeply rooted connection there, like I was Greek in another life. It's an incredible feeling.
St. Barths would be number two on my list. I know there's a lot of negative hype and stigma surrounding it now, but it's where my parents got engaged so it holds a special place in my heart. Plus, the water there is simply pristine.
I have to include London on my list too. I lived there for a semester in college and would move back in a heartbeat if the opportunity came up. It's a charming city, filled with history and old architecture, culture and spunk. It may just be my favorite city in the world…next to New York of course.
6. What are your 3 top makeup must-haves?
I always carry NARS laguna bronzer with me, it's a must.
Cover FX Pressed Mineral Foundation is my favorite for lightweight coverage – perfect for a more natural look and my go-to on a daily basis.
IT Cosmetics Foundation for full coverage, it does wonders when you're having a bad skin day or just didn't sleep enough the night before.
6. As a successful influencer, what words of wisdom can you impart to those looking for a bit of insight into the brains of Honestly Kate?
Be true to yourself and never stop fighting for what you believe in. Whether you're looking to take the next step in your career, become an entrepreneur, achieve mental health or fitness goals, or maybe you simply want to do something each day that makes you happy – believe in yourself and keep fighting the good fight. That's all that matters. My whole mindset behind creating HonestlyKate was to help women curate their own futures. I hated the idea of being tied down to one single job, or having to fit and mold myself into a specific role. I want young women to know that they don't have to settle. They can be whatever they want, as long as they work hard and believe in themselves.