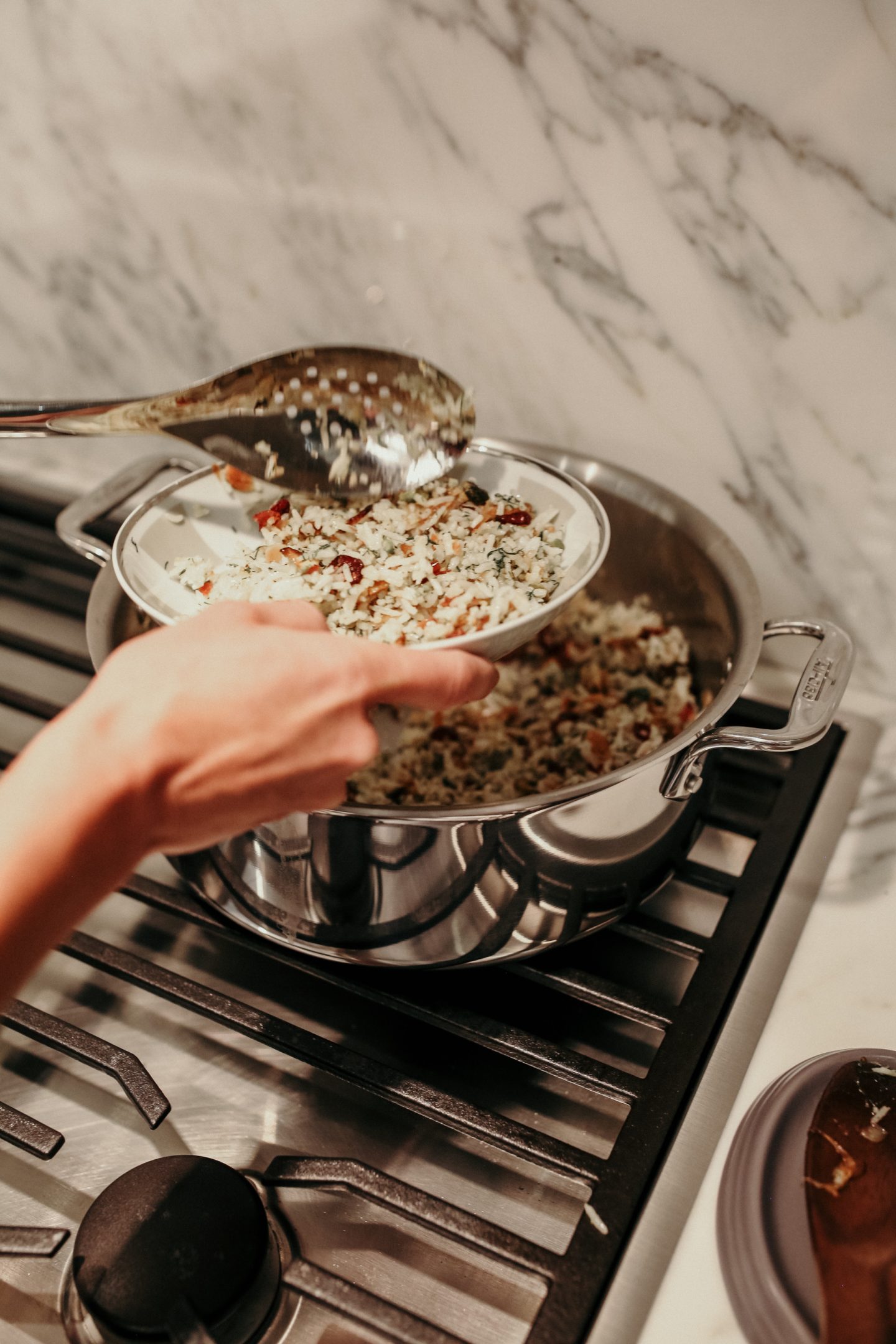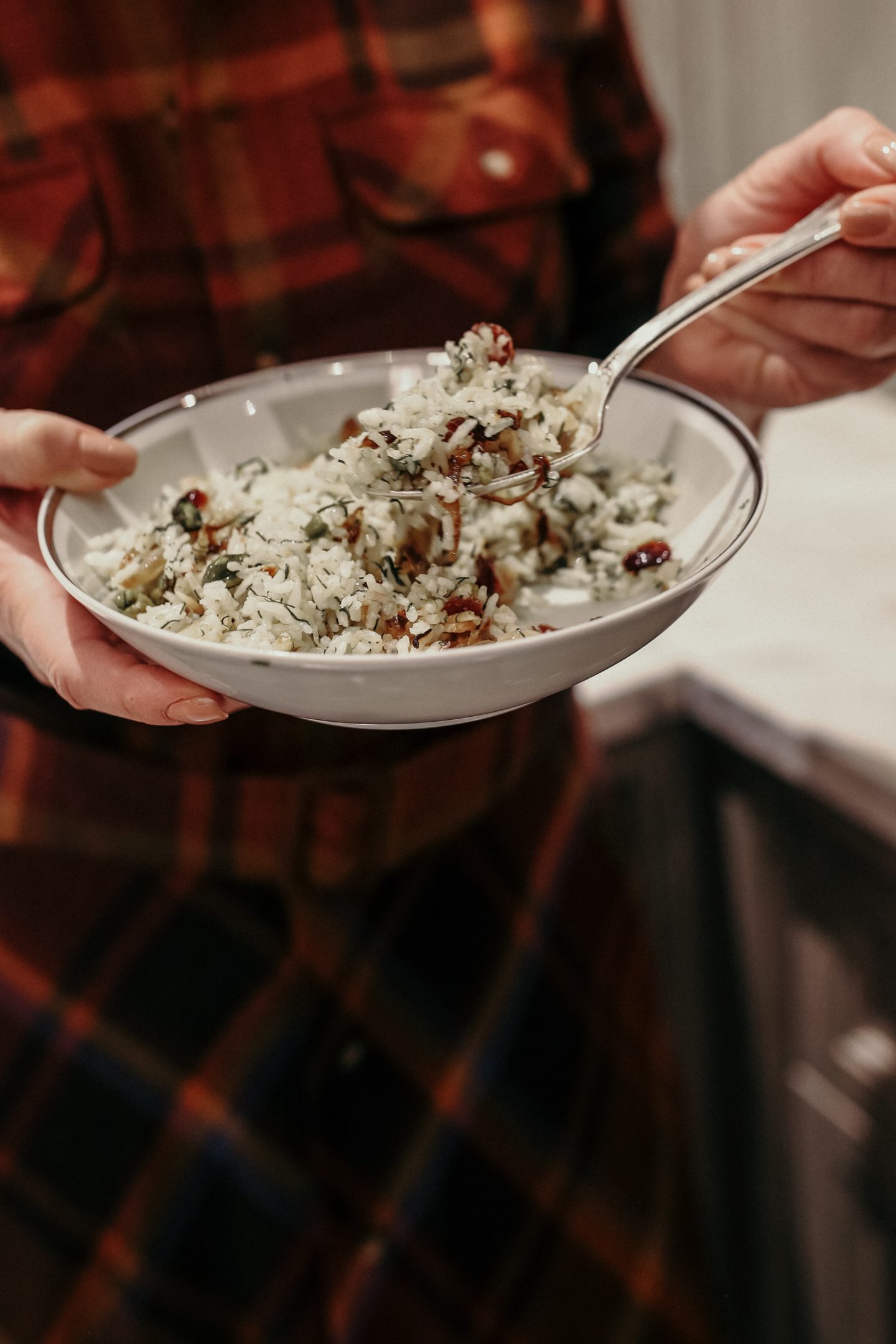 Though I have amassed a collection of various Israeli inspired recipes over the years, I've never owned a cookbook specifically dedicated to Israeli cuisine, so you can only imagine my excitement when I came across this new release.
Israeli cuisine is one of my favorites. All I need to do is hear the word tahini, baba ghanoush, and labneh and my mouth literally starts to water.
If you open my refrigerator at any given time, you will find these sides stacked in plastic containers. You will also find many of the tangy Mediterranean spices Adeena uses in her cookbook already in my pantry which of course makes executing her recipes that much easier.
This cookbook came at the perfect time, just around the Jewish holidays, which is when I am in the kitchen most, prepping meals. I decided to sample 2 recipes for the fam which I also shared below – crispy Sesame Shnitzel and Jeweled Rice.
Though I don't eat fried foods (ok, a nibble here and there), my husband and son do – and I knew they would enjoy a hearty pita sandwich of schnitzel smeared with tahini and diced Israeli pickles, which they absolutely did.
I chose the rice dish because of its sweet and savory flavors. Truth be told, the recipe also seemed easy to make…haha. Think fresh dill, sliced almonds, and dried cranberries. Needless to say, both recipes received a thumbs up!
Some other recipes that you can expect to find in this cookbook which I'm sure will whet your appetite are Zucchini, Dill, and Feta Shakshuka, Lemony Cauliflower over Labaneh, Tahdig, Chard Wrapped Fish with Lemon and Olive Oil to name a few.
What is your favorite Israeli recipe? Please share below!
Shop some of my favorite cookbooks here:

Crispy Sesame Schnitzel
Ingredients:
1 cup dried breadcrumbs
1/2 cup dried panic breadcrumbs
1/4 cup sesame seeds
1 teaspoon fine sea salt, plus more for seasoning
1/2 teaspoon garlic powder
1/2 teaspoon paprika
1/2 teaspoon freshly ground black pepper, plus more for seasoning
1/4 teaspoon cayenne pepper, or more if you like it hot
2 large eggs beaten
1/2 cup all-purpose flour
Four 6-ounce boneless, skinless chicken breast halves
1/2 cup vegetable oil for frying, plus more as needed
Directions:
1. In a shallow dish, combine the dried breadcrumbs, panko, sesame seeds, 1/2 teaspoon of the salt, garlic powder and paprika, 1/4 teaspoon of the black pepper, and the cayenne.
2. Place the beaten eggs in another shallow dish.
3. In a third shallow dish, combine the flour with the remaining 1/2 teaspoon salt and 1/4 black pepper.
4. Season the chicken generously with salt and black pepper.
5. Place each piece between 2 pieces of plastic wrap and pound lightly with a mallet to achieve a thickness anywhere between 1/8 and 1/4 inch.
6. If you prefer your schnitzels to be smaller, this is the time to halve them.
7. Line a sheet with parchment.
8. Dredge the cutlets in the flour, then the egg, then the breadcrumb mixture, shaking off the excess after each step and pressing the crumbs firmly on both sides.
9. Arrange them on the sheet tray as you finish the breading process.
10. If desired, wait 30 minutes before frying (this helps the crumbs adhere better).
11. In a heavy skillet, heat the vegetable oil over medium heat for 2-3 minutes; the oil should be hot but not smoking.
12. Working in batches, lay 2 cutlets in the pan and fry until the underside is golden brown and crisp, 2 to 3 minutes.
13. Flip and fry for 2 to 3 more minutes.
14. Drain on paper towels, season with salt and pepper to taste, and serve hot.
Jeweled Rice
Ingredients:
6 tablespoons extra-virgin olive oil
1 jumbo onion, thinly sliced
1 teaspoon kosher salt
1 1/2 cups basmati or jasmine rice
1/2 cup finely chopped dill, plus more for garnish
1/3 cup barberries or chopped dried cranberries
1/3 cup toasted pistachios, coarsely chopped
1/4 cup toasted sliced almonds
Zest of 1 lemon
1/4 teaspoon freshly ground black pepper
Directions:
1. In a large skillet, heat 3 tablespoons of the olive oil over medium-high heat.
2. Add the onion and cook, stirring frequently at first to prevent the onions from burning, until the onions begin to soften 5 minutes.
3. Reduce heat to medium and cook, stirring often, until the onions begin to turn light golden, another 20 minutes.
4. Reduce the heat to medium-low, add 1/4 teaspoon of the salt to the onions and cook, stirring until the onions are caramelized and deep golden, another 15-20 minutes.
5. In a colander, rinse the rice until the water runs clear.
6. In a large saucepan, bring the rice and 2 1/4 cups water to a boil, reduce the heat to low, cover and simmer until the rice has absorbed all the water and is fluffy, 16-17 minutes.
7. Uncover the rice and stir in the caramelized onions, dill, barberries, pistachios, almonds and lemon zest with the remaining 3 tablespoons olive oil, 3/4 teaspoon salt, and the pepper.