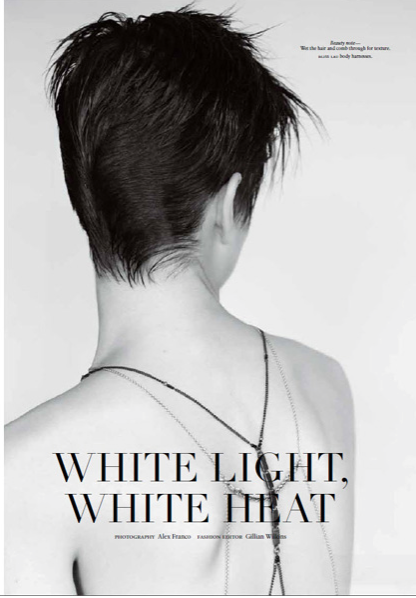 I was introduced to Bliss Lau a few years ago by a stylist friend of mine and immediately fell in love with Bliss's sensual collection of jewelry. Her body chains are like a second skin, finely crafted with great attention to detail.  In addition to the aesthetic component, what I love most about her pieces are their ability to make a woman feel sexy and empowered.  Although her pieces are readily admired, the true pleasure belongs to the wearer.
Bliss is truly talented; drawing much of her inspiration from architecture and poetry.  Her passion, intensity yet delicate demeanor come through in her collection. I am so excited to introduce Bliss.
Bliss, you were raised in Hawaii. Besides your jewelry line being inspired by the Brooklyn Bridge and poetry by Anais Nin, were you at all inspired by your childhood experiences and surroundings?
The intangible element of my jewelry is where the Hawaii-girl comes out. Movement, rhythm, fearlessness, being in touch with you body, all of that comes from being raised in Hawaii.
 How and when did your love and passion of jewelry evolve after designing handbags? What was your defining "aha" moment where you knew this was the direction you wanted to go in?
Yes actually I did have an "Aha" moment! I made my first piece of body jewelry and realized how much I loved the process. The next day I went to my studio, and for almost a week all I did was drape and make what came to be my first collection of body pieces. That was my pivot point!
 Can you describe the aesthetic of your jewelry?
I call it sensual armor.  Each design from my Signature Collection for the body is crafted to celebrate a different part of the form.  Alternatively, the Bliss Lau Fine collection is currently focused on the idea of a wardrobe of jewelry. In the sense that I create one ring from multiple parts, thus allowing the you as the client to design your own ring around a grouping of pieces that I offer. Each season I add to the mix, so rather than buying four new rings you can simply add one to the group and re-create them.
I find your jewelry to be elegant, timeless, and delicate, almost like a second skin.  What do you envision your pieces evoking in your customers?
The placement of each chain or strand of pearls is important to me on the body pieces, it is more than a structure, but a feeling when worn that can evoke an emotion or feeling.
I want to give a beautiful sensual feeling to my customers, from the inside out. I encourage you to wear the sterling and gold chains under your clothing, thus you are wearing the pieces as lingerie, maybe you are the only one who knows that it's is there…..therefore you wear them for yourself rather than for someone else.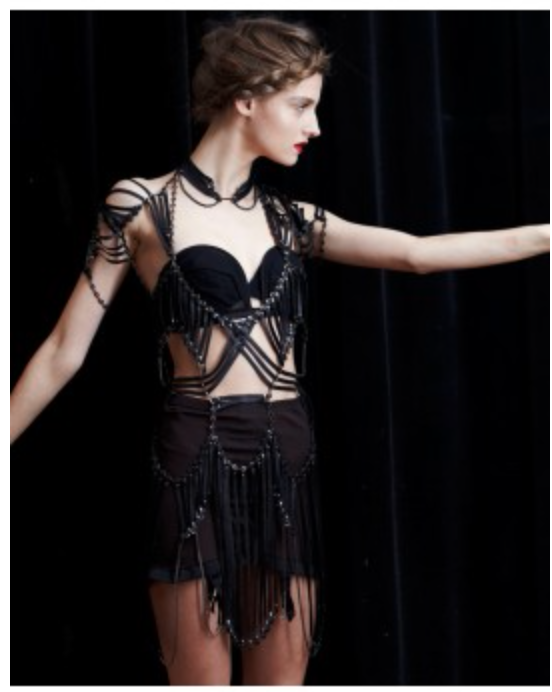 In designing your own jewelry line, what do you take most pride in?
I love creating original ideas that surprise and excite people. I love hearing from my clients what they have experienced in the jewelry, jewelry is a token often it can come to represent a memory that you keep forever. I love that and also take it very seriously when I design each piece.
What are your most exciting pieces of jewelry for this spring/summer season?
This season I am working with texture, using diamonds, rubies and onyx inlayed in various shapes and line to enhance the graphic aspect of the pieces.
I know you have some high profile celebrity clients. Would you care to share some of the celebrities who have worn your jewelry? 
I recently dressed Beyoncé for her album "drunk in love" she is wearing my Bodychain, handpiece and ring, that was amazing. I also dress Chanel Iman in "yonce" but have been dressing her in bodycains for a while, she is so sweet. Other ladies I love who have worn the collection are, Christina Ricci, Mila Kunis, Naomi Campbell, Olympic Gold Medalist Missy Franklin, Rihanna, and more that I can't think of right now!
If you had to choose 3 specific pieces of jewelry that every woman should own, what would they be?
A Bodychain, a piece of one of a kind custom jewelry, and my gold pave ring split ring. If you don't have very much jewelry it is the perfect simple piece to build with.
What are your favorite travel destinations?
Honolulu, Taipei, Kyoto, Paris and on the east coast I love Rhode Island!
 What fashion pieces are your coveting for this Spring 2014 season?
Anything Haider Akermann makes but specifically I love his pants, and I have my eye on an Alaia knit skirt this season for sure!
 Besides your site, where can your pieces be found?
The Fine collection is sold online at Bonadrag.com, Saks.com and in stores at Love Adorned in new york city
I have a great collaboration with Kiki De Montparnasse and they have a variety of exclusive bodychains in the LA, NYC and Miami Stores.