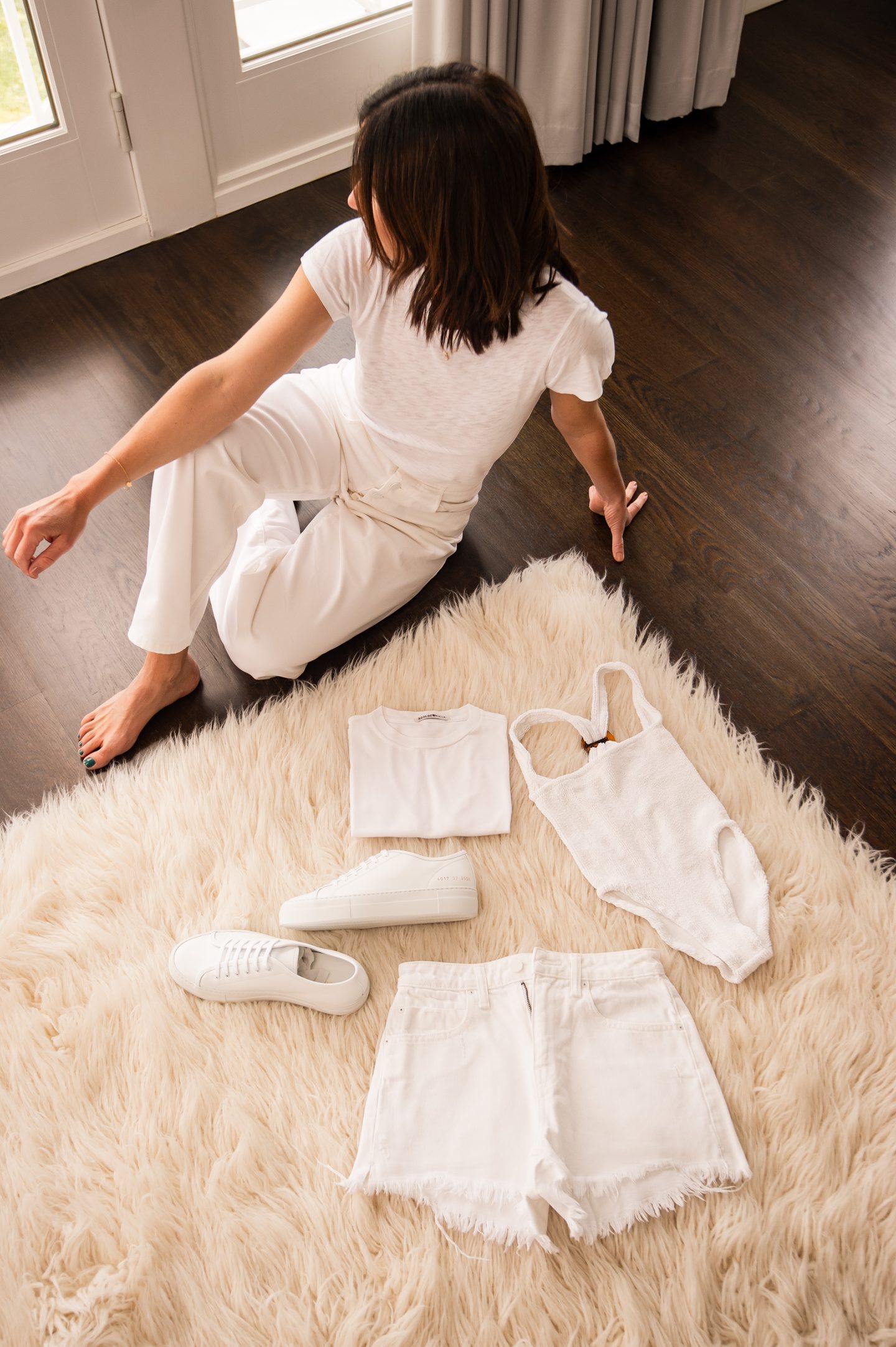 A few weeks ago, while I was wearing my favorite white tee and white sneakers, I got inspired to share all my favorite white pieces and accessories that are in my wardrobe. The color white gives off a certain freshness in a cool crisp sort of way, and with summer just 2 weeks away, the timing couldn't be more perfect to add some favorite white pieces to your wardrobe.
I'm going to start with this Rag & Bone crew neck white tee shirt. I layer this soft, lightweight tee under cardigans and sweaters but obviously, it can be worn on its own. I take a size small because I don't like my tee's too tight.
Come summer, I'm a fan of the cropped white tee. Again, I prefer a boxier fit like this one by X Karla and this one by Re/Done.
Shop tees here:

Next on my list is the white bathing suit/bikini. I am a HUGE fan of French brand Eres and have these two (here and here) bikini versions in both white and black. These well-made swimsuits are forever classics with a flattering fit. For those who prefer a one-piece, I love this thin strap version. A newer addition to my white bathing suit wardrobe is this one size fits all piece by Hunza G. Another great flattering fit with a square neckline and criss-cross apple sauce back.
Shop swimwear here:

When it comes to white button-downs, I have a bunch of favorites, namely by Xirena and Frank & Eileen. You can check out my ultimate white shirt round-up here.
Shop button-downs here:

I recently hit the jackpot with this white turtleneck sweatshirt. It's super stylish in a sweatshirt sorta way and I know that for a fact because my daughters always compliment me when I wear it.
Shop sweatshirts here:

Last but not least are kicks. I feel like I'm on repeat but these two leather Common Project styles are my faves (here and here). I am a fan of the 1.5-inch leather platform and they truly work with everything in my wardrobe.
For a whole lot of old school cool, these white Converse sneakers are must-haves as they definitely add that extra cool edge to any outfit whether it be denim or floral dresses.
Shop sneakers here:

Happy summer and when in doubt wear white!
Shop my favorite white pieces here: