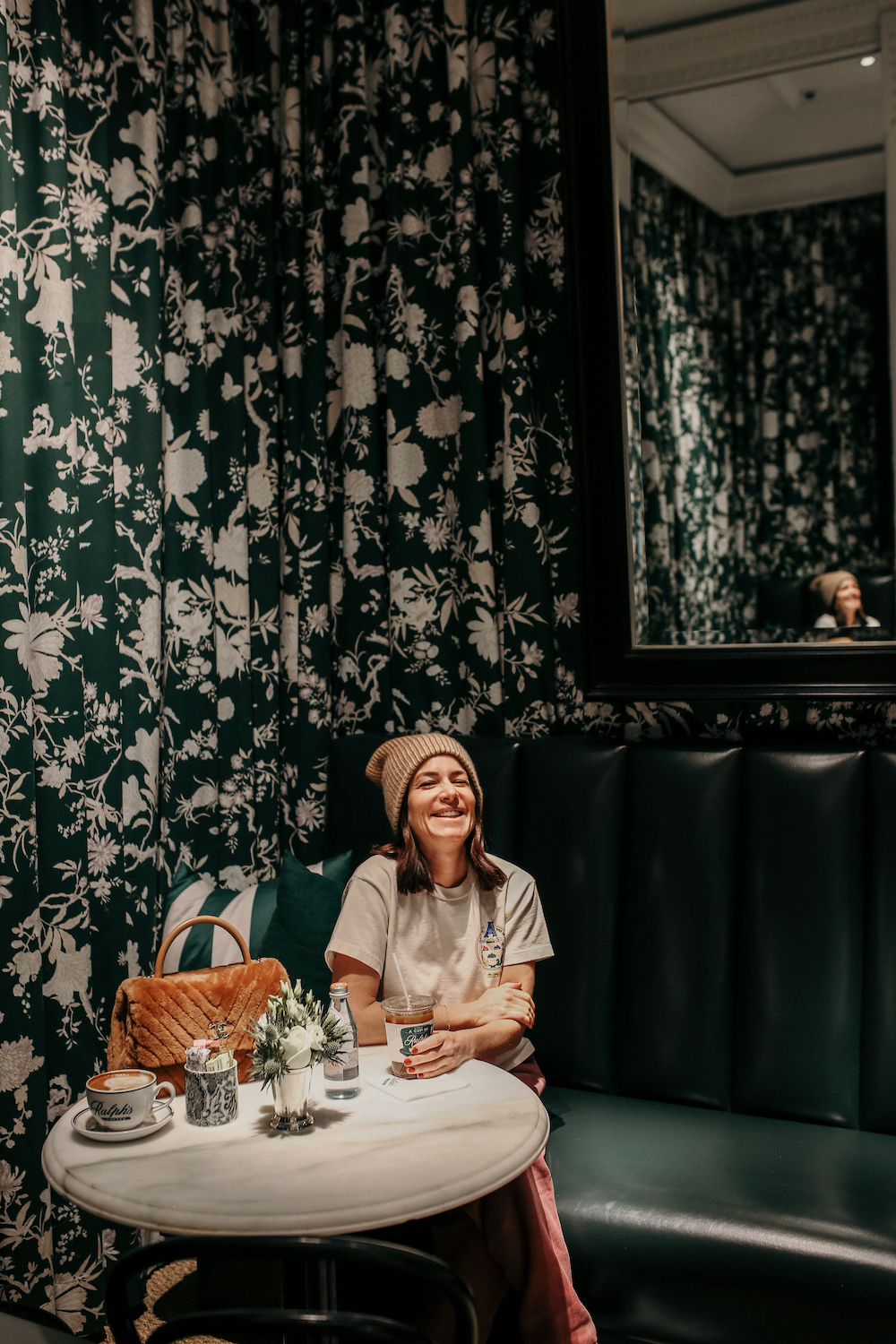 I simply love sweatpants. They're comfy, cozy and what I change into the moment I arrive home after a long day (sorry Dave). Sweatpants are also my weekend uniform when I know that the farthest I'll be going is from the bedroom to the kitchen to the den and back to the bedroom. My at-home sweatpant collection consists of Aviator Nation, Monrow, and Nike – so I'm pretty much set in this home sweatpants department.
On the other hand, my heading out of the house/chic sweats, (ie local coffee and errand runs) is a completely different story that requires a different kind of sweatpant, a fashionable sweat if it can be described it as such.
I was in definite need of updating this elevated kind of sweatpant category as it had up until recently, consisted of just one cashmere sweatpant that I bought on sale from Calvin Klein a few years ago.
After surfing some of my favorite sites, I found a few more chic sweatpants that I was able to add to the latter collection. The first addition is this heather grey sweatpants from Splits 59. They are tapered, have an elastic waist, and are lightweight – the perfect combo. I paired these sweats with a fashion sneaker, grey cashmere sweater, a pair of sunnies and a tailored black wool coat – a street style sweatpant look if you will.
Another new addition is this black merino wool drawstring pair by Ernest Leoty which I literally wore three days in a row. They come with a matching hoodie and makes for the perfect travel outfit – trés chic.

Shop black and grey sweatpants here:

The third pair of sweats that I bought are from the IT brand Madhappy. Every fashionista owns at least one pair and I finally got in on the craze. I chose these heritage sweats in the merlot color. I love the relaxed style, side pocket detail stitching and I'm always a fan of an elastic cuff.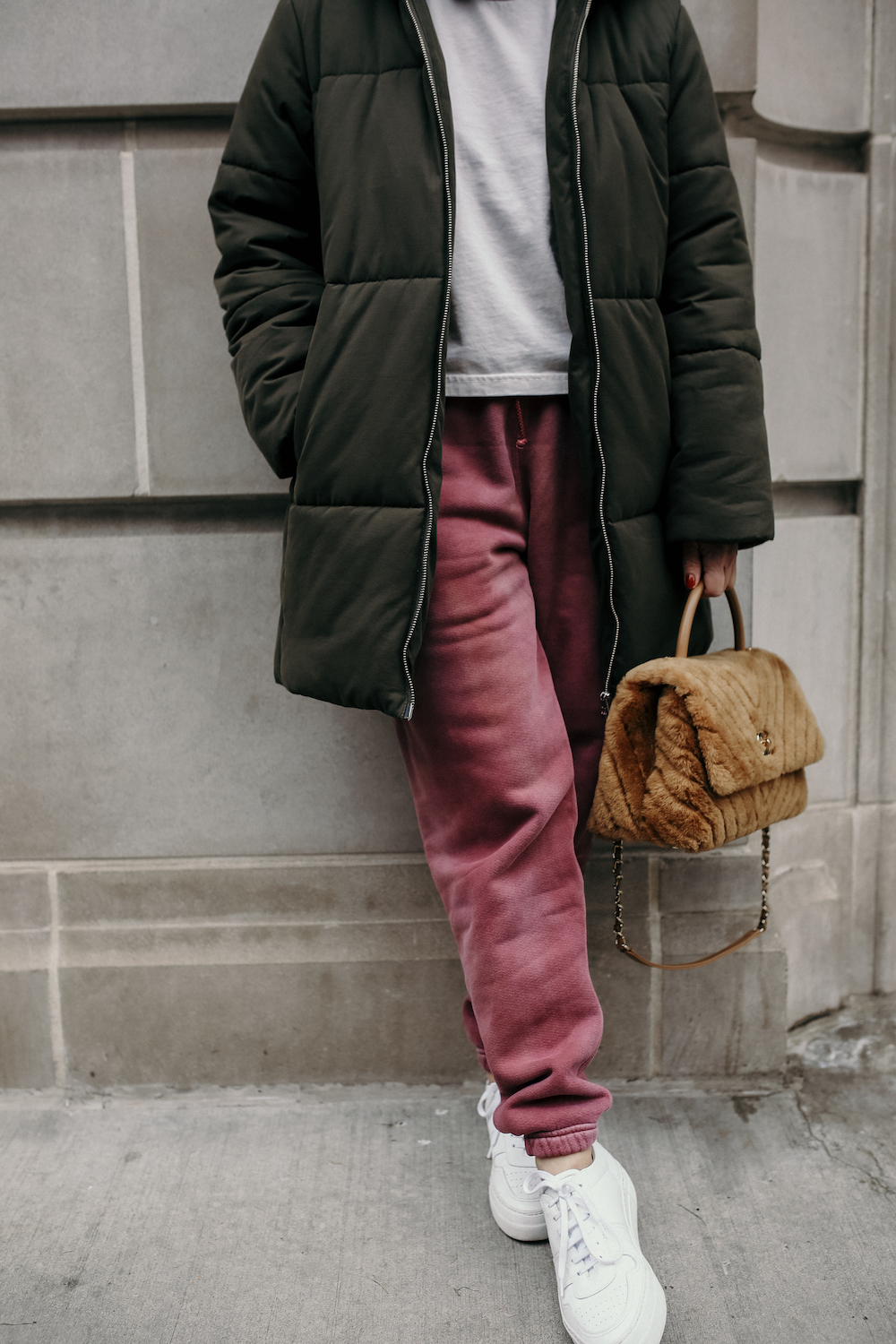 I styled these sweats with non-other than a Madhappy tee, my favorite puffer of the season by A.P.C, this Elder Statesman beanie, and my Common Project kicks.

On my sweatpant wishlist are these cream-colored Theory wool blend sweats which happen to be on sale. There is something so luxe about neutral tones. I would pair these with a fur, faux or real or an oversized denim jacket come spring.

Shop neutral-colored sweatpants here:

Another pair that has me swooning for spring are these pastel multicolored merino wool sweats by Love Shack Fancy with a matching hoodie – very boho. I'm thinking bonfire by the beach perhaps?

Shop spring sweatpant sets here:

Last but not least are these uber cool to dye for sweats by Cotton Citizen. I'd pair them with one of their long-sleeved cropped tees and again, a cool pair of kicks.

Shop Cotton Citizens sweats here:

Here are a few helpful tips to give your sweatpants that street style look.

Layer a nice coat or puffer over your sweatpant
Add a glamorous handbag and a cool pair of shades
Opt for tapered sweatpants for a more polished look. If you choose a more relaxed fit, pair with a fitted or cropped tee.
Choose a nice pair of sneakers
Style your hair – a bun is always a cool look.
Accessorize with a cool beanie and scarf during winter
Opt for a monochromatic look or matching top and bottom
How would you style your sweatpants? Please comment below.
Shop all sweats here: