In a couple of weeks I'll be headed south of the border to the land of tequila and tacos (minus the tacos really, because I observe Passover). I am very much looking forward to spending the holiday with mi familia basking in the sun.
When packing for warm vacations, I follow the rule of fun and whimsy. Think dolphin earrings, Rosie Assoulin geometric colored sunglasses and Lisa Marie Fernandez bikinis. I'm all about accessories as they add character and elevate an otherwise simple outfit. I typically try to make sure that they work well with at least half my outfits. Obviously, if I have an amazing shoe that works well with only one outfit, it will definitely find it's way into my suitcase.
Generally, I travel with one neutral colored beach bag (at most two). I pack 3-4 flat sandals, which is really like packing one pair because they fit into 2 shoe bags (yes, I am justifying the number). Heels are another story – no way to justify how many, nor will I divulge that information – a girl has to have her dignity.
All my outfits are pre-selected to make life easy on vacation. I mostly bring costume jewelry…less to worry about. As for cosmetics and beauty products, more is more.
Check out some vacation style inspiration below!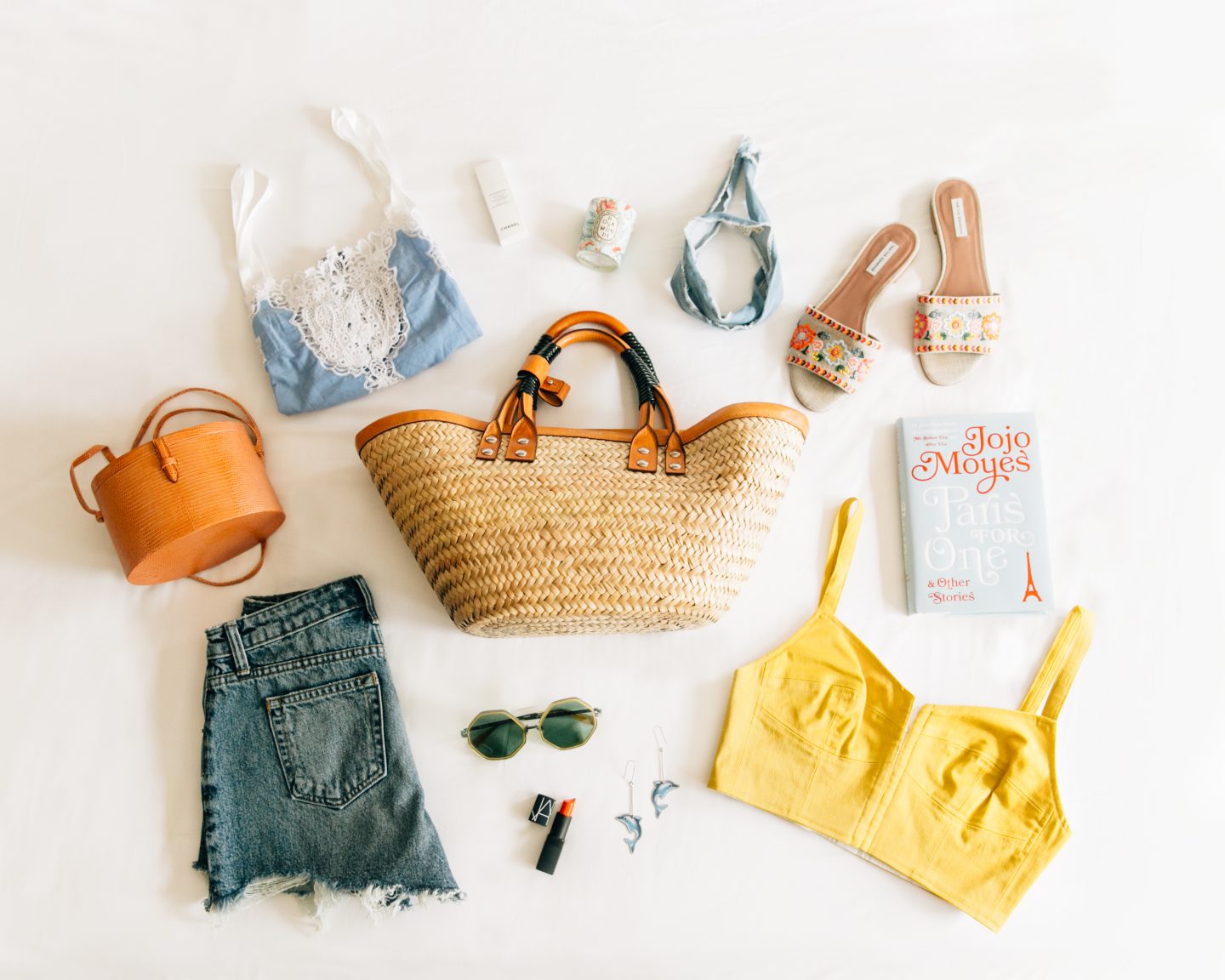 1. Miguelina Cotton Top
2. Chanel Sunscreen SPF 50
3. Diptyque Rosa Mundi Scented Candle
4. Donni Charm Denim Scarf
5. Tabitha Simmons Linen Slides
6. Paris For One And Other Stories: Jojo Moyes
7. Isa Arfen Bustier Top 
8. Celine Dolphin Earrings
9. Nars Heat Wave Lipstick
10. Large Octagon Sunglasses by Rosie Assoulin
11. Alexander Wang Shorts
12. Hunting Season Bag
13. Balenciaga Tote Bag