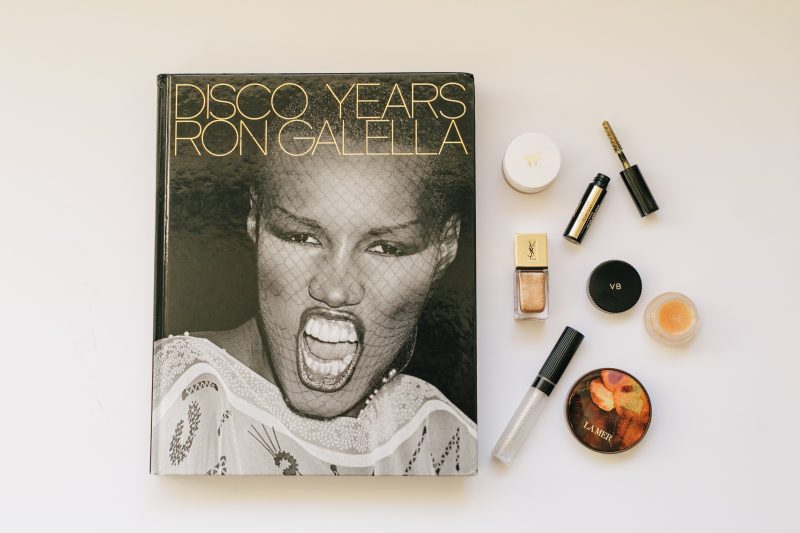 'Tis the season to shimmer and shine! With all the upcoming festivities, I've added a fresh arsenal of beauty products that will up my game with some added sparkle and glitter.
No make up routine of mine is complete without some sort of product that will make me glow.
The holiday season begins right around Thanksgiving time, aka my birthday, and I start by upping my glitter game with nail polish. This nail party of mine lasts through New Years and my favorite way to sparkle are with Saint Laurent's polish. I typically choose ones that are are a bit more subtle yet make a statement. I'm currently wearing Bronze Fever because man I got the feva.
Shop nail polish here:

I came across this gold light lash, brow and hair mascara by Guerlain in numerous magazine editorials. It's a groovy little disco party on my eyelashes. At first I was intimidated by the bold gold color but it really can be as subtle as you like, depending on how you apply it. This mascara can be worn alone or layered on top of any black mascara.
Shop mascaras here:

Next on my list is La Mer's Illuminating Powder. I apply this light weight powder all over my face for a healthy year round glow. Though the salesperson at the La Mer counter recommended applying it before my blush, I prefer using this powder as the finishing touch.
Shop illuminating powders here:

I am obsessed with all of Victoria Bekham's x Estee Lauder products. The first product I ever bought of hers was the Morning Aura Illuminating Creme. Though this cream is considered to be part primer, part moisturizer, I treat it as a primer and blend it with my daily moisturizer and then apply all over my face for a healthy morning glow.
This year, I just bought two new products from her line. I never thought I would wear Estee Lauder products, but Victoria has most definitely upped their cool game. The first product which I incorporated into my daily routine is the Aura Glass – Honey. I use this gel like product to highlight my cheekbones and also apply it to my brow bone. They also recommend this for the bridge of the nose and lips. Lastly, I bought her Crystal Lip Gloss. I always a appreciate a clear lipgloss that is not sticky and this one has a bit of shimmer so naturally I had to have it. I wear this on its own but you can also layer it over your favorite lip shade. Pucker up!
Shop Victoria Bekham x Estee Lauder products here:

This Tom Ford Cream and Powder Eye Color duo has been part of my collection for a while now, but I thought to include it in this round up because the powder portion has a bit of metallic sparkle.
The first part is cream based. I am attracted to products that I can apply with my finger which is easier than rummaging through my brush collection looking for the right one. This golden peach color reads as a neutral while brightening up my eye simultaneously. I typically apply the creamy eye shadow all over the eyelid, and for nights out, I'll add the sparkly powder in the center of my lid for added drama.
Shop Tom Ford shadows here: