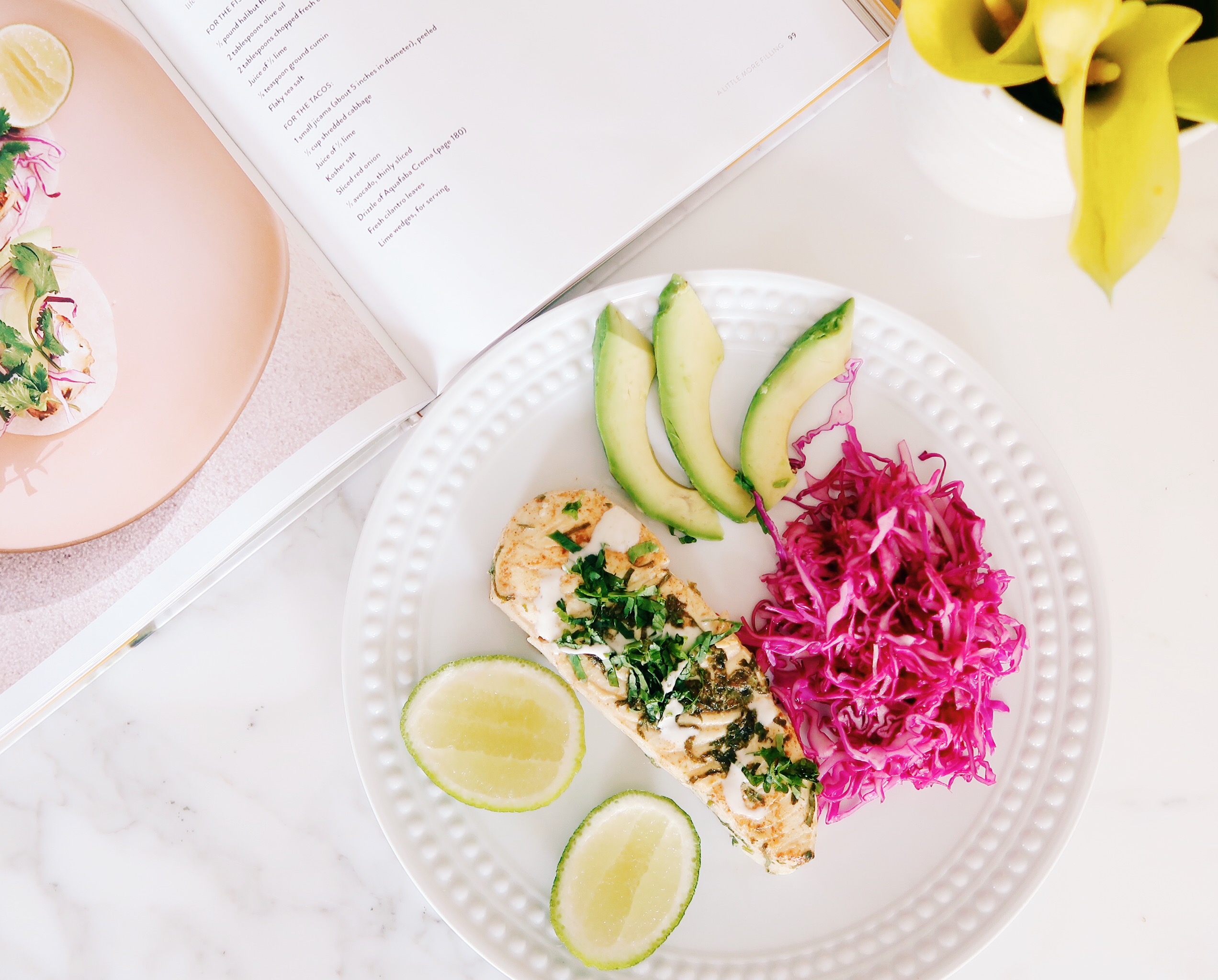 I love Gwyneth Paltrow's recipes and I just keep coming back for more. I recently purchased her newest cookbook, The Clean Plate and as the name suggests, her recipes are clean ( how clever am I?), easy to prepare, and 100% delicious proof.
While I choose to share many of her recipes, I do so because they are always a hit with family and friends.
We are big taco lovers and so naturally, the first recipe I tested, was the Halibut Fish Taco on Jicama "Tortillas".  Not only did we devour this fish taco recipe, but I must say that it's is very colorful and therefore Instagrammable.
Every time I say the word halibut, I think of a recipe I once made that was called just for the hell – a bit.
Now on to the recipe… This Mexican inspired fish taco dish is bursting with flavor and in lieu of the traditional flour tortilla, they substitute it with a round thin slice of jicama. If you prefer the real deal, by all means, go for the tortilla!
Ingredients:
For The Fish:
1/2 pound halibut fillet, skin and bones removed
2 tablespoons olive oil
2 tablespoons chopped fresh cilantro
Juice of 1/2 lime
1/2 teaspoon ground cumin
Flaky sea salt
For The Tacos:
1 small jicama )about 5 inches in diameter), peeled
1/2 cup shredded cabbage
Juice of 1/2 lime
Kosher salt
Sliced red onion
1/2 avocado thinly sliced
Drizzle of Aquafaba Crema (see below)
Fresh cilantro leaves
Lime wedges for serving
Directions:
To make the fish, cut the halibut into 4 equal strips. Place in a bowl and toss with olive oil, cilantro, lime juice, cumin and a large pinch of flaky salt.  Cover and set aside to marinate for a few minutes.
To make the tacos, use a jumbo mandoline to slice 4 1/8-inch-thick "tortillas" from the jicama. (If you don't have a mandoline, do this carefully with a sharp knife.)
In a small bowl, toss the cabbage with lime juice and a pinch of kosher salt and set aside.
Heat a small nonstick pan over medium-high heat.  Add the halibut and cook for about 2 minutes on each side, or just cooked through.
Place one piece of fish on each jicama "tortilla" and top with shredded cabbage, red onion, and avocado. Drizzle with aquafaba crema and finish with cilantro.
Serve with lime wedges on the side for squeezing.
Aquafaba Crema:

Aquafaba Mayo
1/2 cup aquafaba (liquid from a can of organic chickpeas)
1 teaspoon fresh lemon juice
1/2 teaspoon kosher salt
About 1 and 1/2 cups neutral oil (such as sunflower seed or grapeseed oil)
Combine the aquafaba, lemon juice, and salt in a small bowl. Using an immersion blender on a medium-high speed, pour in the oil in a very slow, steady stream. The aquafaba should begin to stiffen and expand-this will take a few minutes; it will be smooth and thickened.
Aquafaba  Crema
1/2 cup Aquafaba Mayo
1/4 teaspoon ground cumin
Juice of 1/2 lime
Kosher salt
Combine all ingredients in a small bowl and gently mix. Cover and store with a lid in the fridge for up to 1 week.
I served this fish taco recipe with some roasted vegetables and a chopped salad with roasted corn. What's your idea of the perfect side dish with this Mexican inspired meal?
Please share below!