Winner winner chicken dinner!
In case you didn't know, I am a creature of habit as in when I find a recipe I like, I make it on repeat. Case in point, a few years ago I came across a recipe for a spicy chicken burger on Gwenyth Paltrow's lifestyle site, Goop.
This is why I was so happy to come across a new mouth-watering chicken burger recipe on the Healthy with Nedi blog site. I was happy to give my family a much-needed break with this yummy Middle Eastern-inspired version. The best part is that it's super healthy to keep you lean, mean and green (think zucchini).
Because I don't mix milk and meat, I substitute the yogurt sauce with a tahini dip. I cooked it on an indoor grill pan and the results read summer barbeque.
In Neda's recipe, she calls for chicken breast that she grinds at home in order to be certain it's completely white chicken. I, on the other hand, take that leap of faith with the goal of shortening the prep process and ask the butcher for ground white chicken.
Below are both chicken burger recipes. They're winners so don't be a chicken and try them!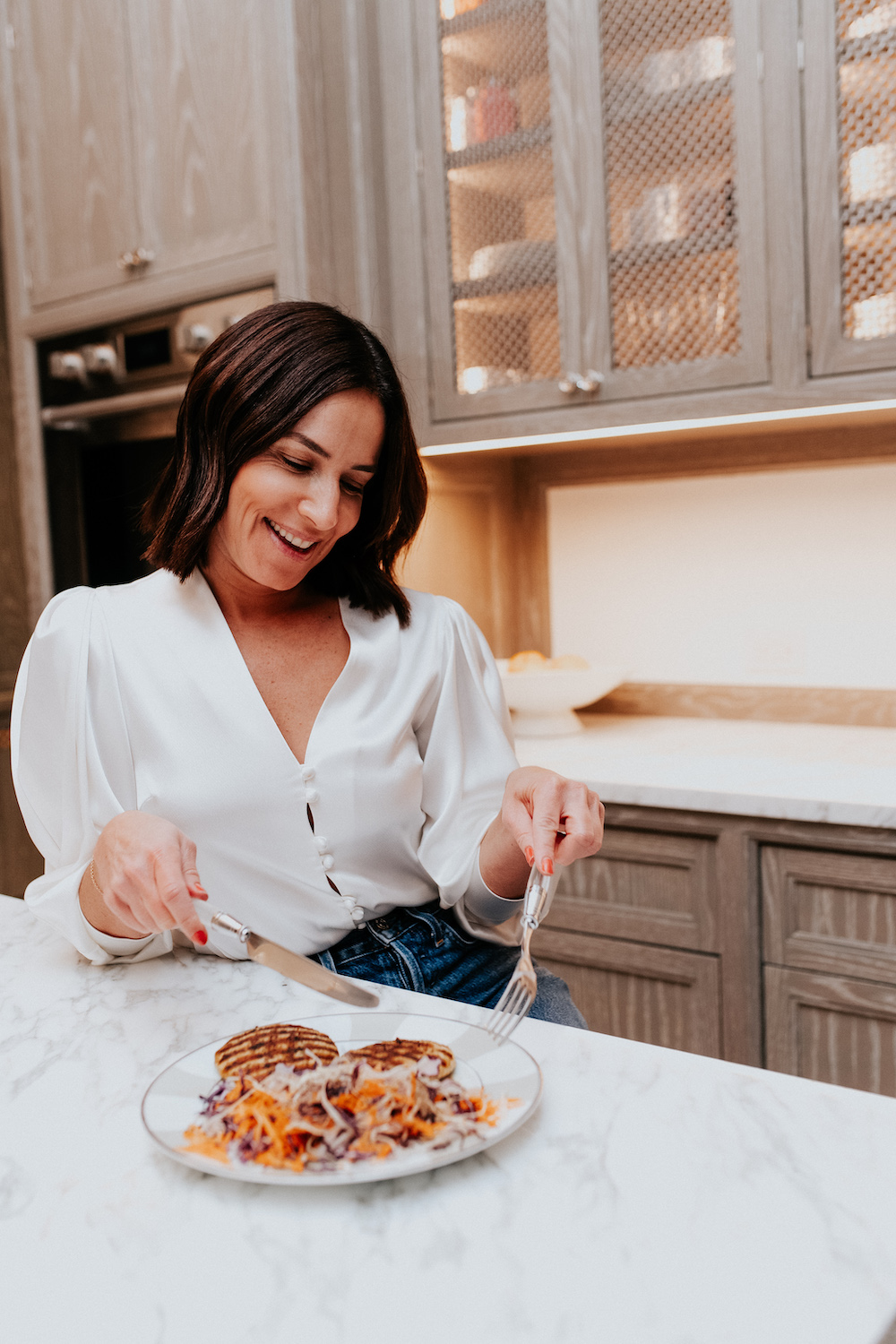 Healthy With Nedi's Grilled Chicken Burger With Yogurt & Sumac Sauce
Ingredients for the burger:
1 large chicken breast skinless
1 large zucchini, grated and salted
1 egg
1 tbsp parsley chopped
3 green onions, chopped
1 tsp curry
1 tsp curry
1 tsp chili powder
1 tbsp oats
1 seranno pepper if you like it spicy (optional)
Ingredients for the sauce:
1 cup plain, non-fat yogurt
1 garlic clove grated
1 tsp sumac
2 tbsp mint, chopped
1 tbsp fresh lemon juice
salt & pepper to taste

Directions:
1. Grate the zucchini and sprinkle with salt.
2. Squeeze out ALL the excess water from the zucchini. The zucchini should look like the size of a tennis ball after the excess water is squeezed out.
3. Blend the chicken breast in a food processor and mix it with the remaining burger ingredients.
4. Mix the meat well and form 5 well-rounded burgers.
5. Place parchment paper on a cutting board and grease it with extra virgin olive oil.
6. Place each burger on top of parchment paper and cut each one so it can be transferred to the grill easier.
7. Grill the burgers for 4-5 minutes on each side. If they need extra time, place them in a well-heated oven for a few extra minutes.
8. Chop the fresh mint for the sauce and mix it with yogurt, sumac, garlic, and lemon juice. Add salt and pepper to your liking.
9. Serve the burgers with sumac sauce and enjoy!


Goop's Chicken Kefta Wraps
Ingredients for kebabs:
1 medium zucchini
1 lb. ground dark meat chicken
2 whole scallions, thinly sliced, about 1/3 cup
2 tbsp chopped cilantro (about 8 whole stems)
1/3 cup chopped mint
3 garlic cloves, finely chopped
2 tbsp very finely chopped ginger
1 tsp ground cumin
1 tsp ground coriander
1/2 tsp ground cinnamon
1 1/2 tsp salt
2 tbsp tahini
12 small wooden skewers, soaked in water for 20 minutes
safflower (or other neutral) oil
To serve:
whole cleaned romaine or buttered lettuce leaves
1/2 sliced cucumber
16 whole cilantro stems
1 cup whole mint leaves

Directions:
1. Grate zucchini, combine with 1/2 teaspoon salt and let sit 5 minutes. Squeeze out as much as possible.
2. Mix together zucchini and next 11 ingredients in a large bowl. Divide the mixture into 12 pieces, then with damp hands, shape around 12 soaked skewers.
3. Heat a grill or grill pan to medium-high, brush the kebabs with a bit of oil, then grill for 8-10 minutes on each side, or until cooked through.
4. Serve on a platter with whole lettuce leaves, cucumber, cilantro, and mint.