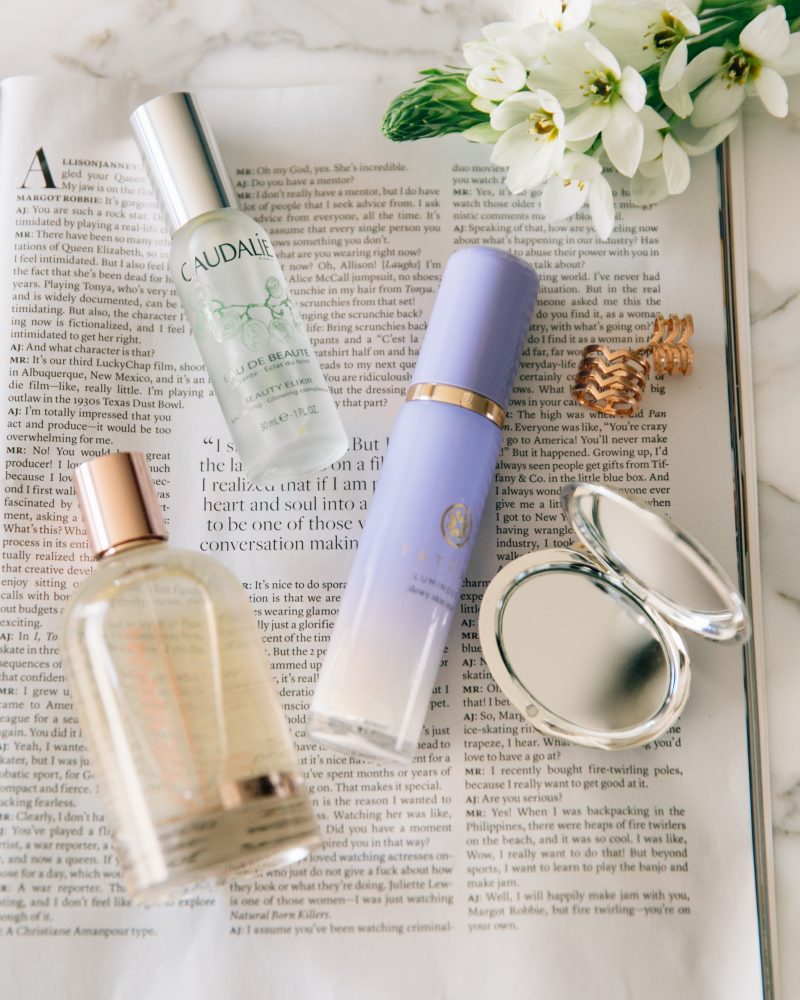 One can say that my mornings and evenings are quite misty thanks to skin mists which are a part of my beauty arsenal.
I was first introduced to the Tatcha Luminous Dewy Skin Mist about 3 years ago in Barney's and have been glowing ever since. This formula, which contains red algae is hydrating, refreshing and light, so it can be used year round. It is the last step in my beauty routine. I can't tell you how many times I've repurchased this magic in a bottle. As the name suggests, this luminous mist is a must have.
My daughter Sonia recently recommended I try Caudalie's Beauty Elixir. Just one spritz and you are transported to a spa. This plant based formula is refreshing and I think I might use the travel size in the friendly skies and on the beach for additional hydration. This product is also used by make up artists to set make up.
On a recent field trip to Sephora, I came home with Josie Maran's Nirvana Hydrating Treatment Mist. This came highly recommended because it's organic, natural and the product delivers. I'm not so sure about the scent and the spritzer appears to be on the fritzer which I found annoying. It seems one line reviewer confirmed this. On a bright note, it comes in a pretty glass bottle which makes for a nice accent on your vanity.
As I mentioned above, I use the mist as the last step in my make up routine and when traveling but they also have additional uses.  Professionals suggest a spritz or two before moisturizing to help better absorb the moisturizer. Another suggestion is to spritz it upon waking for an instant refresh. Some mornings, I'd probably need the entire bottle. For those who go from work to dinner and have no time for a make up redo, a facial mist will add new life.
Note: Be sure to close your eyes and hold bottle at least 6 inches from face. 3 spritzes should suffice. Some brands suggest shaking the bottle before use.
Shop the post here: