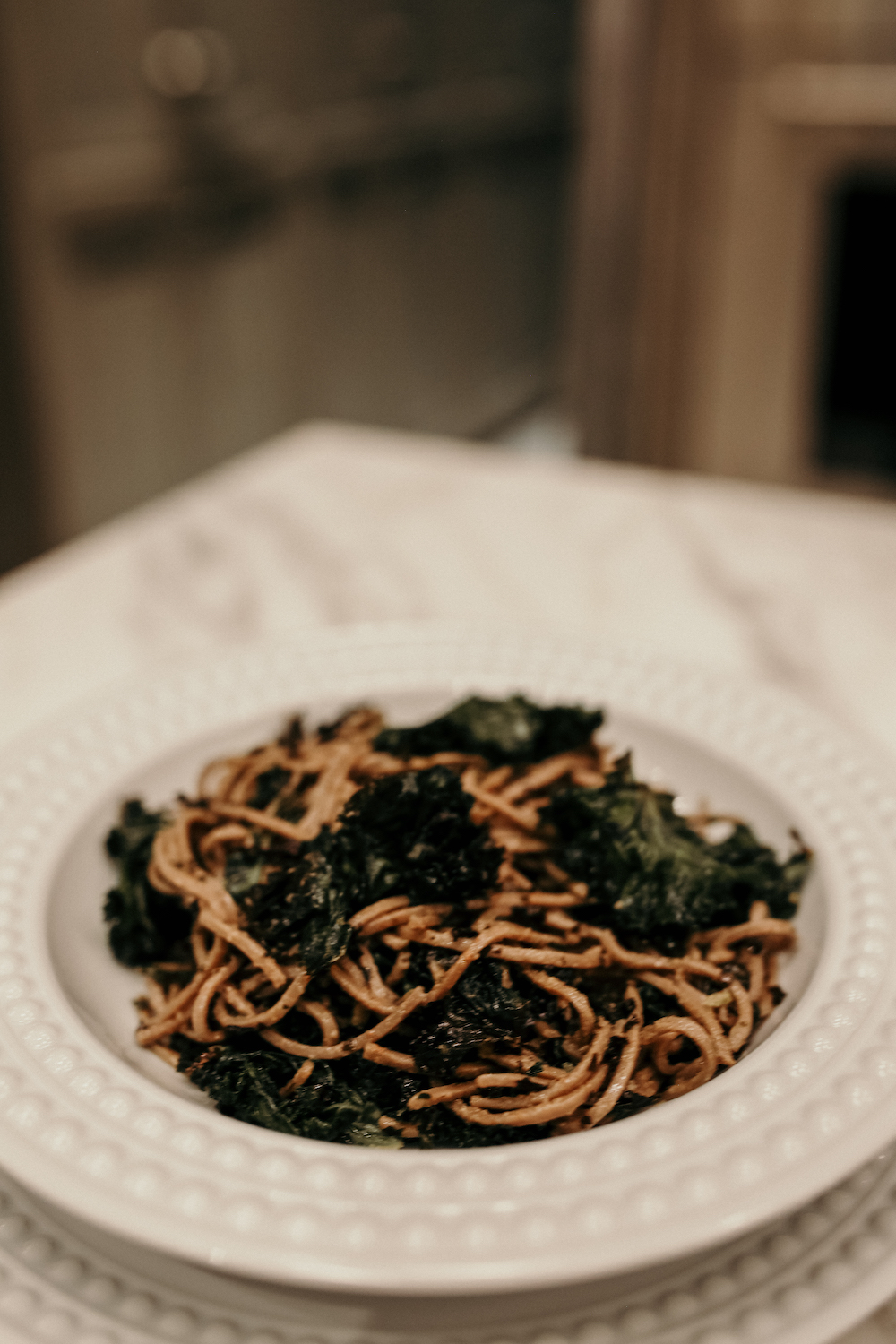 The first time I ever tried soba noodles was back in 1994 at Angelica Kitchen in the East Village. David often took me to this organic vegan joint on our dates. He was a big fan of their soba noodle with tahini sauce as well as many of their plant-based delights. I too became hooked and often frequented this spot solo during the day in between classes at NYU. It was also the first time I had ever been to a restaurant with a communal table. I was enamored with the idea of dining with a bunch of strangers, some of whom I engaged in conversation, and other times I just kept to myself but the idea of not eating alone even if I was, I found comforting.
Fast forward to a few months ago, I was flipping through Bon Appetit magazine, (am I the only one who still reads magazines?) and I came across this recipe for Soba Noodles With Crispy Kale.
The memories of our dates at Angelica Kitchen instantly came flooding back. It was definitely a nostalgia moment and I smiled with delight (and an appetite) as I tore out the page with this recipe.
I was so excited to make this hearty dish for the both of us and to introduce this Japanese noodle to our family.
Let me just say that this dish is out of control delicious!!! The crispy kale with nutritional yeast can be eaten on its own. I did so while I was waiting for the noodles to cook (dangerous as I almost ate half the tray) and I am a sucker for Asian inspired dishes – think soy sauce and sesame oil.
The first time I made this dish, my husband liked it but asked me to prepare it the next time without the coconut so that's what I did. I'm not a big fan of coconut flakes in food but I do love coconut milk and coconut ice cream which is a completely different story.
In any event, I made this dish twice in two weeks and we are all obsessed. I'm definitely going to be adding this recipe into my rotation but often when I find a new one that I like, I have a habit of making it on repeat so as per my family's request, I'll try and hold back.
Here is the recipe. I hope you enjoy this as much as we do!
Soba Noodles With Crispy Kale:

Ingredients:
1 medium bunch curly kale, ribs and stems removed, leaves coarsely chopped (about 4 cups)
1¼ cups unsweetened coconut flakes
⅓ cup nutritional yeast
½ tsp. kosher salt, plus more
2 Tbsp. plus ½ cup extra-virgin olive oil
8 oz. dried soba noodles
3 Tbsp. tahini
2 Tbsp. plus 2 tsp. soy sauce
1 Tbsp. honey
2 tsp. toasted sesame oil, plus more for drizzling
½ tsp. crushed red pepper flakes, plus more for serving
1 lime
Directions:

Place racks in upper and lower thirds of the oven and preheat to 375°. Toss kale, coconut, nutritional yeast, ½ tsp. salt, and 2 Tbsp. olive oil in a large bowl to coat. Divide mixture evenly between 2 rimmed baking sheets and roast, tossing and rotating baking sheets halfway through, until kale is crisp and coconut is golden brown, 15–20 minutes.
While kale is roasting, cook noodles in a large pot of boiling water according to package directions. Drain and rinse under cold running water. Shake off any residual water and place noodles in a clean large bowl.
Combine tahini, soy sauce, honey, 2 tsp. sesame oil, ½ tsp. red pepper flakes, and remaining ½ cup olive oil in a small bowl. Finely grate the zest from lime directly into the bowl; halve lime and squeeze in juice (about 2 Tbsp.). Whisk dressing until smooth, then pour about half of it over noodles; toss to coat.
Add half of the kale mixture to noodles and toss to incorporate. Drizzle in more dressing as needed, tossing until noodles are creamy; season with salt. Pile remaining kale on top. Drizzle with additional sesame oil and sprinkle with more red pepper flakes.