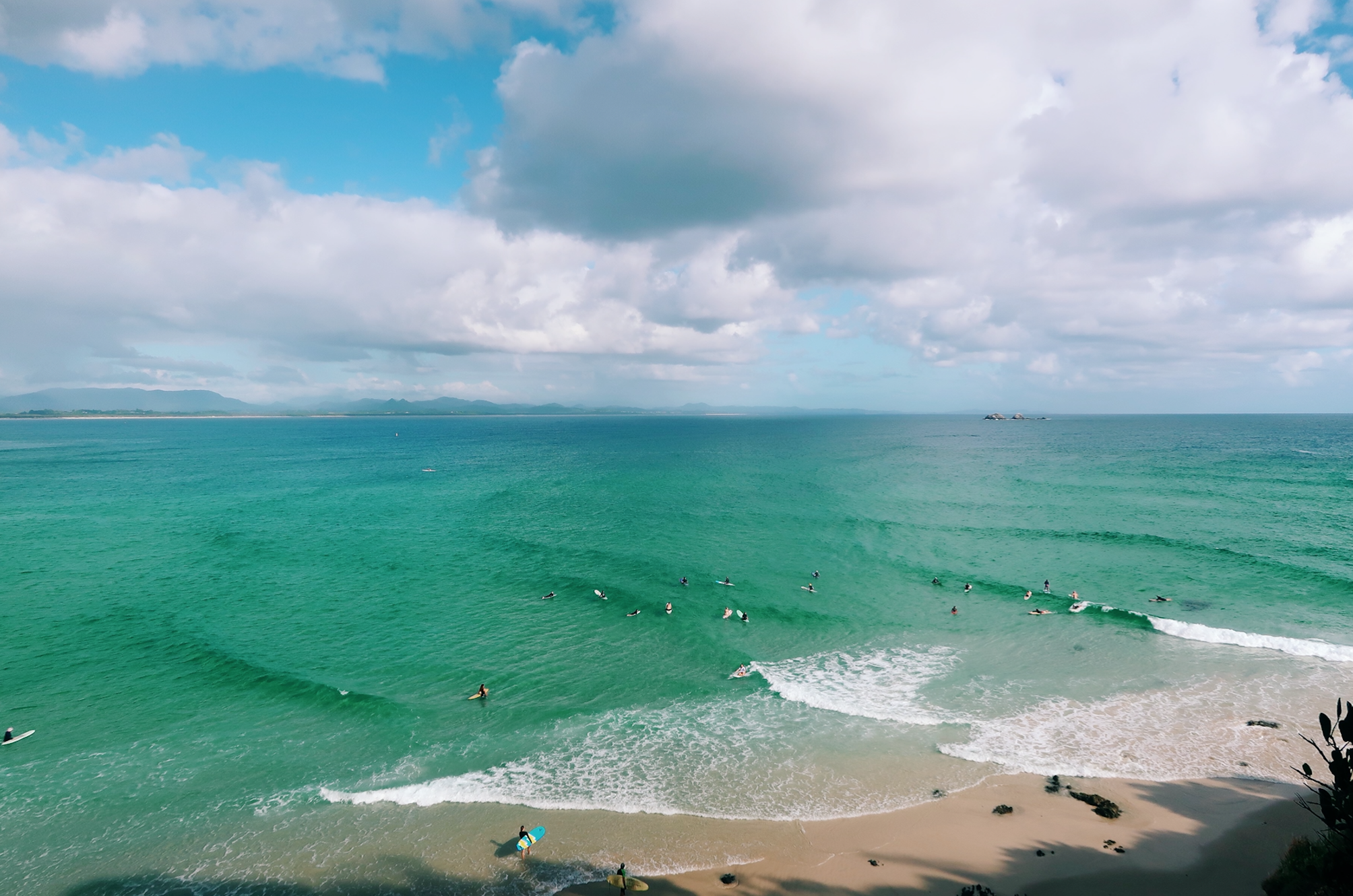 Last week my family and I returned from a two week vacation from Australia. The impetus for our trip was an invitation to my first cousin's wedding and the festivities were the absolute highlight. It was so heartwarming to spend three days with my closest cousins and celebrate a couple who are so warm, kind and gracious.
I must thank my cousin Lee for inviting me to his wedding in Australia, otherwise I most likely would not have made the trip to down under. Actually, now that I'm thinking, I must thank his new wife Nicola for marrying Lee because Nicola is an Aussie and that's why they held the wedding there. 
The wedding took place in Byron Bay over a three day dreamy weekend but we extended our stay to a week and took the time to explore, relax, celebrate and recover from the 30 plus hours of travel. 
As a family, we all fell in love with this hippie bohemian surf town. The beaches are unspoiled, the sea is sparkling shades of green and turquoise, and the people are so warm, welcoming, and have such a relaxed vibe. 
Where to Stay
Though there are many places to stay, we chose the Bower at Byron Bay and it was absolutely lovely. We rented a 5 bedroom cottage but it really felt like a secluded home. To note – they do offer daily cleaning services but there are no amenities such as spa, gym, restaurant or room service. This worked out to my advantage because each morning I went on a beautiful hike along the coastline to the famous Light House. It was great to get out, and explore the seaside instead of sweating it out indoors. The hike is a must do and also felt like more of a nature walk with the most incredible views. After my hike, we all met for breakfast. Each day we tried a different,  unique and quaint eatery.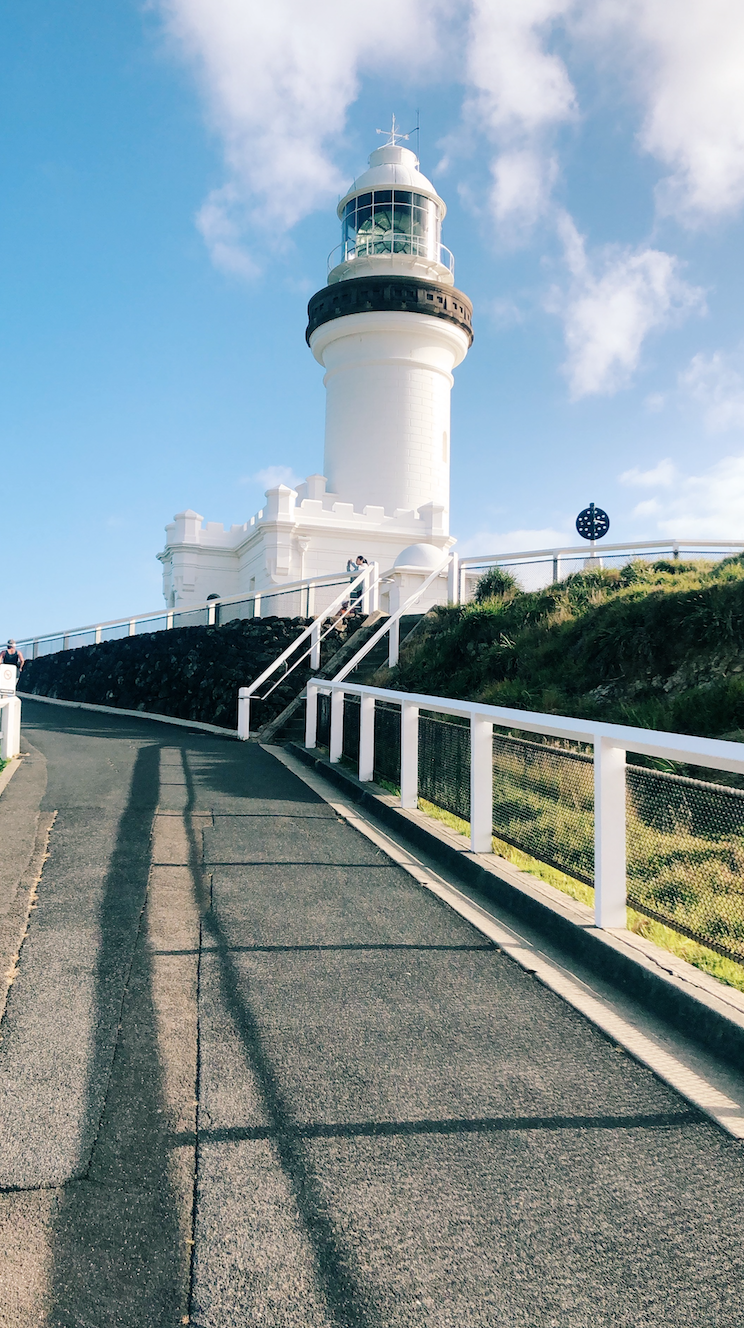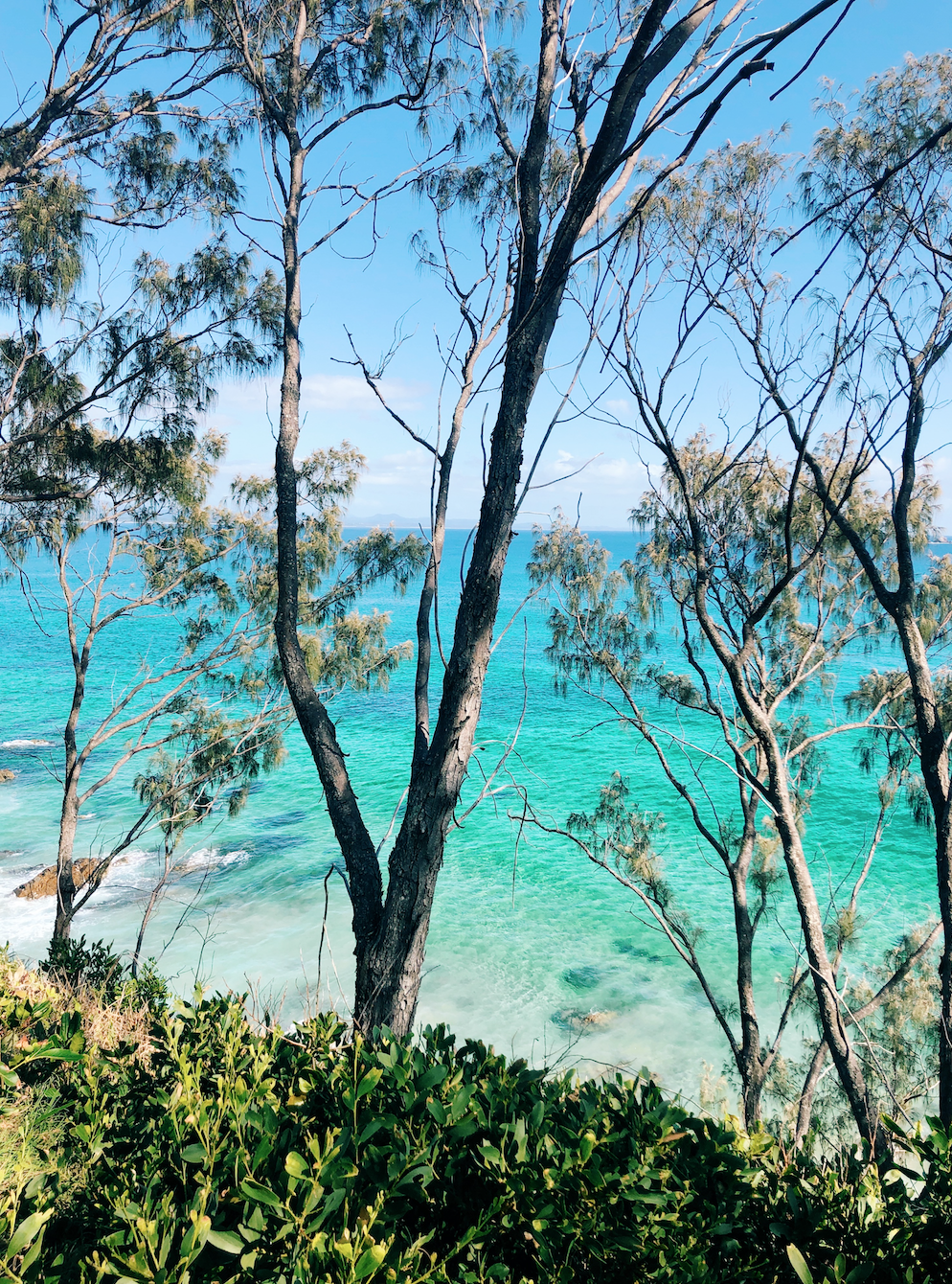 Where to Eat:
There is a huge breakfast culture here which literally begins at the crack of dawn. It was great fun to indulge in delicious yet healthy options – think avocado toast with eggs, acai bowls, banana bread (ok not so healthy but so damn good), and chia pudding to name a few. I also tried something called vegemite which is a spread that is very popular on this side of the world. Just as impressive as the food, is the way they serve their meals. Everything is done in an effortless and organic style. Drinks are served in mason jars, and food on ceramic and wood plates. Outside of some of the restaurants, are blankets spread across the front lawn where you can find the locals lounging picnic style. It's just absolutely charming.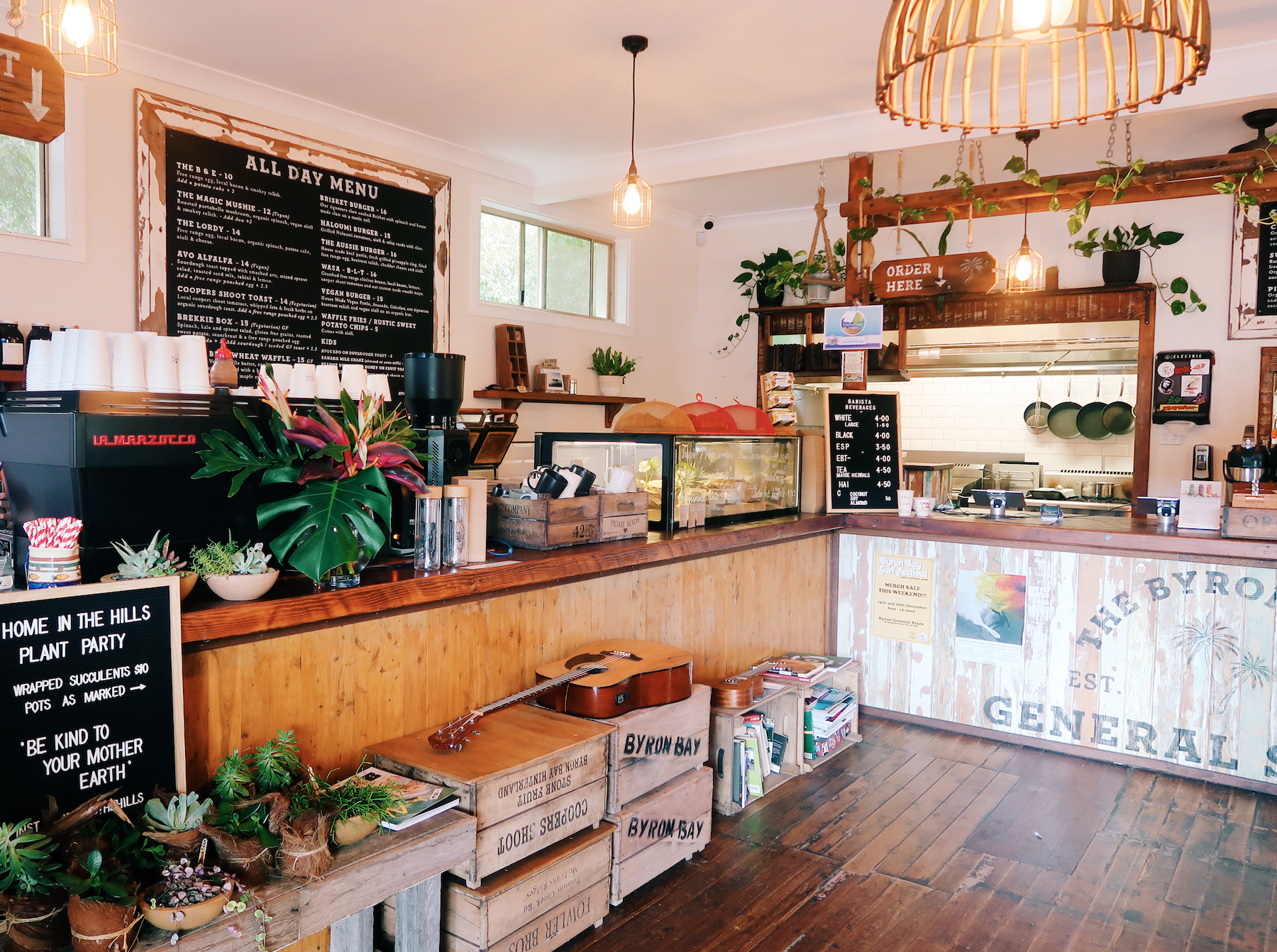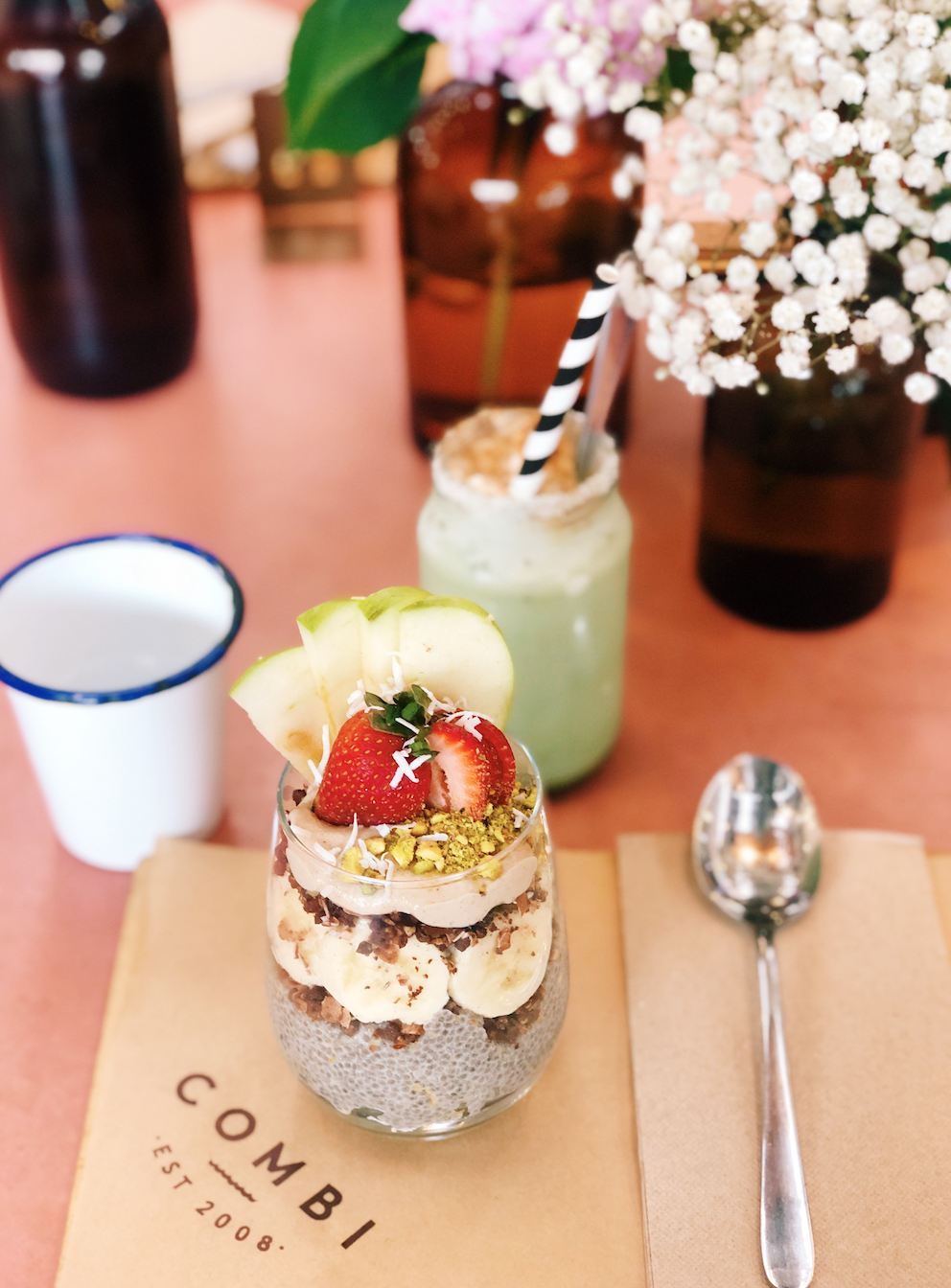 Breakfast
The Top Shop
Bay Leaf Café
Combi
The Byron Bay General Store
After breakfast, we headed to the beach where our kids surfed and we relaxed in the sun. Our favorite beach was Watego which is a popular surfing spot but we also favored this beach because it was situated near our favorite lunch spot, Raes at Watego Bay. This is also a hotel that does offer amenities and is on the beach, so something to consider if you do plan to travel to this part of the world.
We ate lunch here most days -as the setting is idyllic with views of the sea amidst a cool decor – Greek/Mediterranean influence.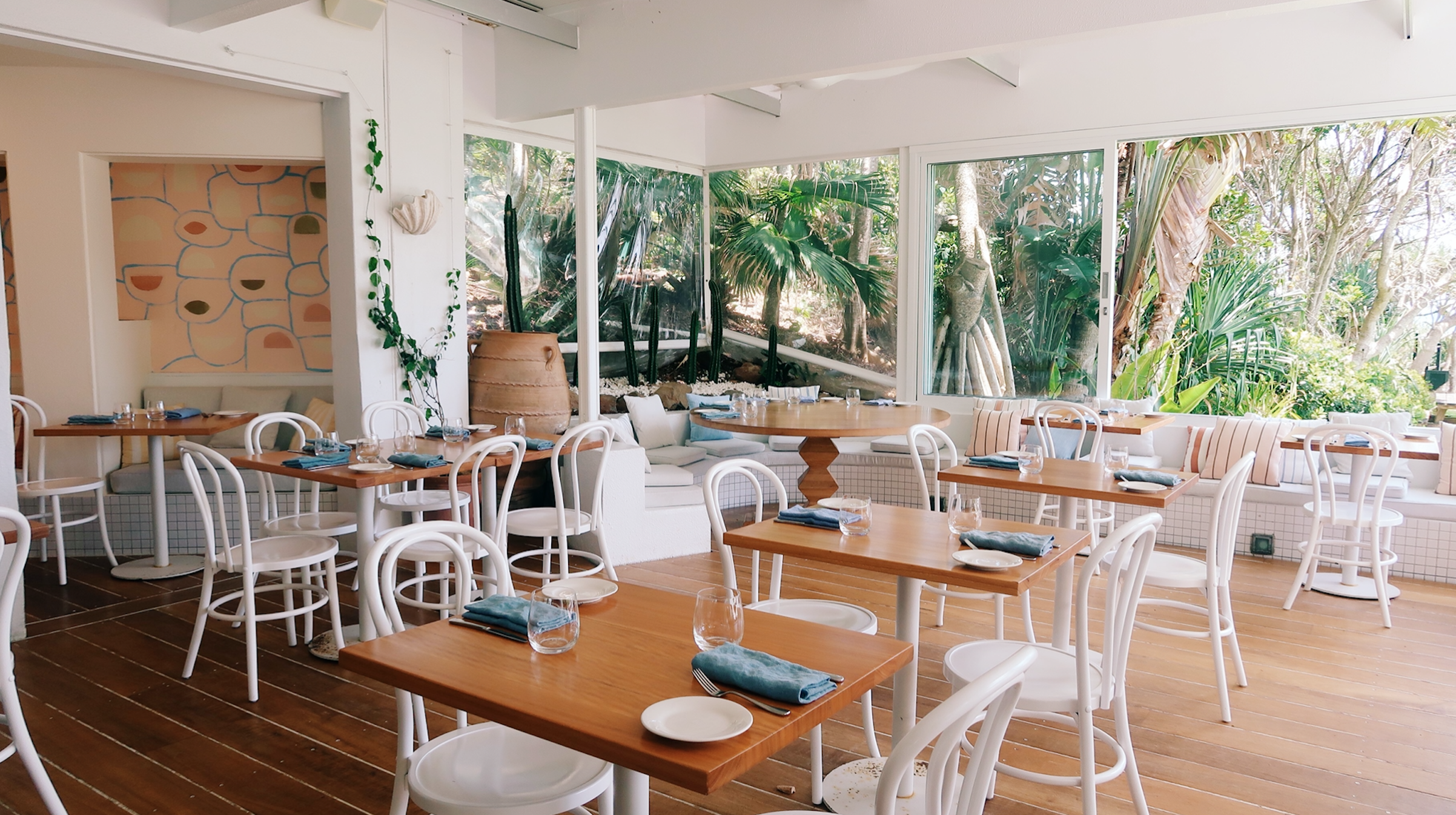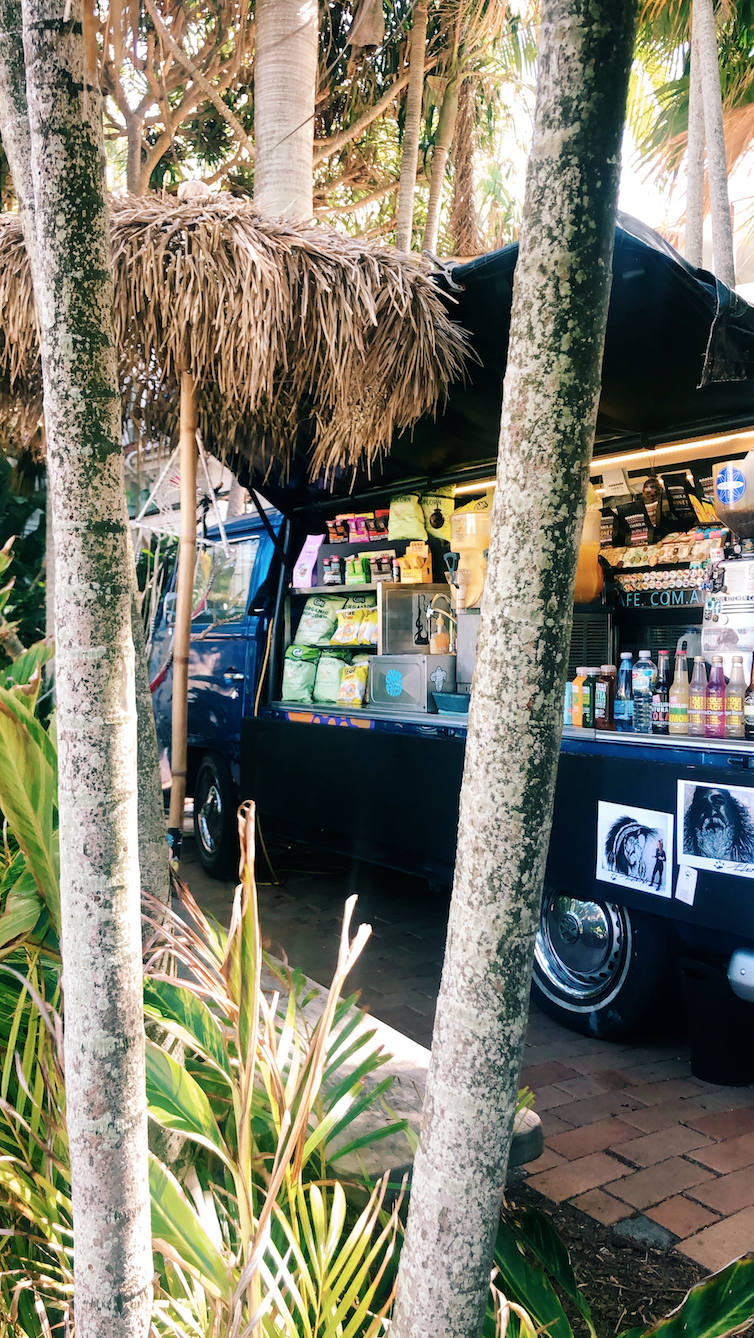 Some fun activities we did were a kayaking tour where we engaged in dolphin and sea turtle sightings. Another day we took surf lessons which was super fun.
Dinners were also super casual. Ideally, I enjoy experiencing different local restaurants but we ended up dining three nights in a row at Orgasmic Falafel, an Israeli falafel joint partially because I messed up a bit on dinner reservations and partly because many restaurants were closed over Christmas and Boxing Day. No matter, because it was the best falafel sandwich I ever ate -think falafels, pickles, tahini and hot sauce. Each night we were in bed by 10:30 and I was up at 5:30 thanks to the roosters that served as my daily alarm clock. It was actually perfect because it got me up and out and on my hike early each morning.
Dinner
The Roadhouse
Orgasmic Falafel
Beach Byron Bay (make sure to get there for sunset)
The Farm
St. Elmos
Di Vino
Where to Shop:
After lunch, we typically headed into town for some shopping. As relaxed as the Aussies are by nature so is their style, relaxed. Think lots of linen, draw string pants, button down shirts and thin gauzy sundresses. Flip flops or  barefeet are de riguer here so you can imagine how out of sorts I felt walking into dinner my first night in heels. I found their effortless style super refreshing.
Shop
Rowie
Tigani Lux
Spell & The Gypsy Collective
McTavish Outpost
I am so grateful that I had the opportunity to experience a week in Byron Bay. It was truly magical. Some say that that this town sits atop a bed of quartz which is said to emit positive energy. This must be true because there is something so unique and powerful about this town.
Should you find yourself traveling to Australia, and I do recommend a visit to Byron Bay, important to note that 5 Star Luxury does not exist here. With that said, I appreciated this low key, cool experience but know ahead of time. 
Stay tuned for my Sydney Australia travel guide!
Beaches
Main Beach
The Pass
Wategos Beach
Belongil Beach
Nearby Towns to Visit
Newrybar
Bangalow
Federal
Nimbin
Shop beach wear here:

Shop evening here: