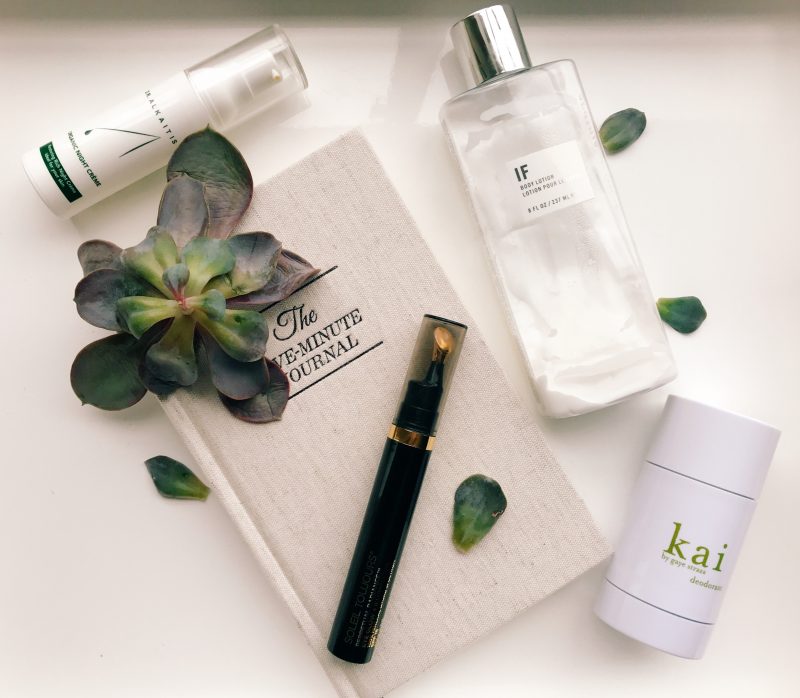 Over time I have been making an effort to purchase organic skincare and body products though I'm not 100% there yet. I mean, how can I possibly give up my La Mer moisturizing face cream?
Going natural seems like one step in the right direction and by avoiding products with questionable chemicals like parbens, sulfates, mica and aluminum, I feel cleaner and it's a way to honor my body.
I have been using aluminum free deodorant since I'm a teen, thanks to my father who educated me on the dangers of aluminum. I have since graduated from Tom's of Maine and have been a devotee of Kai Deodorant for the past couple of years. It's effective and fresh, it has a subtle light scent and its ingredients are chemical free. Keeps me on the dry road all day long and I love the simple organic packaging.
For the time being, I'm sticking to La Mer moisturizing cream for day but I have switched to Dr. Alkalitis Organic Night Creme. This was highly recommended to me at the cool Cap Beauty boutique in the West Village. I thought this would be a nice transition to organics. It even smells herbal and healthy, if you know what I mean. When I read the ingredients it made me feel like I was in a field of flowers. This lightweight dream formula is said to reduce the appearance of fine lines and moisturizes and smooths skin. I have been using this product for over a month now, and so far so good.
I was recently introduced to Soleil Toujours Eye Cream and have been using it religiously.
First and foremost, I am a sucker for any product that contains the words glow and illuminate. This clean product brightens and hydrates the under eye area and as a bonus, it contains a SPF of 15. The applicator is quite fancy as well. Check it out here.
Soleil Toujours also makes a Set and Protect Micro Mist with an SPF of 30. It sets make up, leaving skin looking oh so fresh. I love that there is an added benefit of protection. This
beachy fragrance reminds of vacation when I'm pounding the city streets. After my make up is complete, I will finish with a couple of spritzes, et voila. A healthy glow and I'm ready to go.
I had been using Kiehl's Coriander Body Lotion for as long as I can remember. I always thought that this was a natural cream as it boasts animal free testing but I recently read the ingredients and such is not the case. What is else is a girl to do but head straight to Barney's to find an all natural replacement. Say hello to Apothia's If Body Lotion, my new favorite body cream. I love the non greasy and light weight texture and the scent is absolutely divine. So much so, that friends keep asking me what perfume I'm wearing which is when I stick out my arm for them to smell for themselves. While I'm not certain this product is 100% organic, it is paraben free and contains botanicals and aloe.
Cosmetics are a totally different animal. Haven't gotten there yet but let's see what 2018 has in store for me in the cosmetics department.
Shop products here: