Summer entertaining equals good friends to share laughs with, chilled rose, tequila on the rocks and savory lite bites to accompany the cocktails.
Crudités, cherries, sliced peaches, nuts, olives and cubed parmesan are always my easy entertaining go- to's. I always like to add a few extras for munchies to the mix.
One of my longtime favorite recipes for summer entertaining that are always a hit are my Herbed Goat Cheese Balls. Actually, they're not mine, but my sister's, thanks Cella!
They are super easy to make and so damn tasty. I like to serve these with crackers or crisp baguette slices. You can even barbecue the bread for a fancy factor.
Herbed Goat Cheese Balls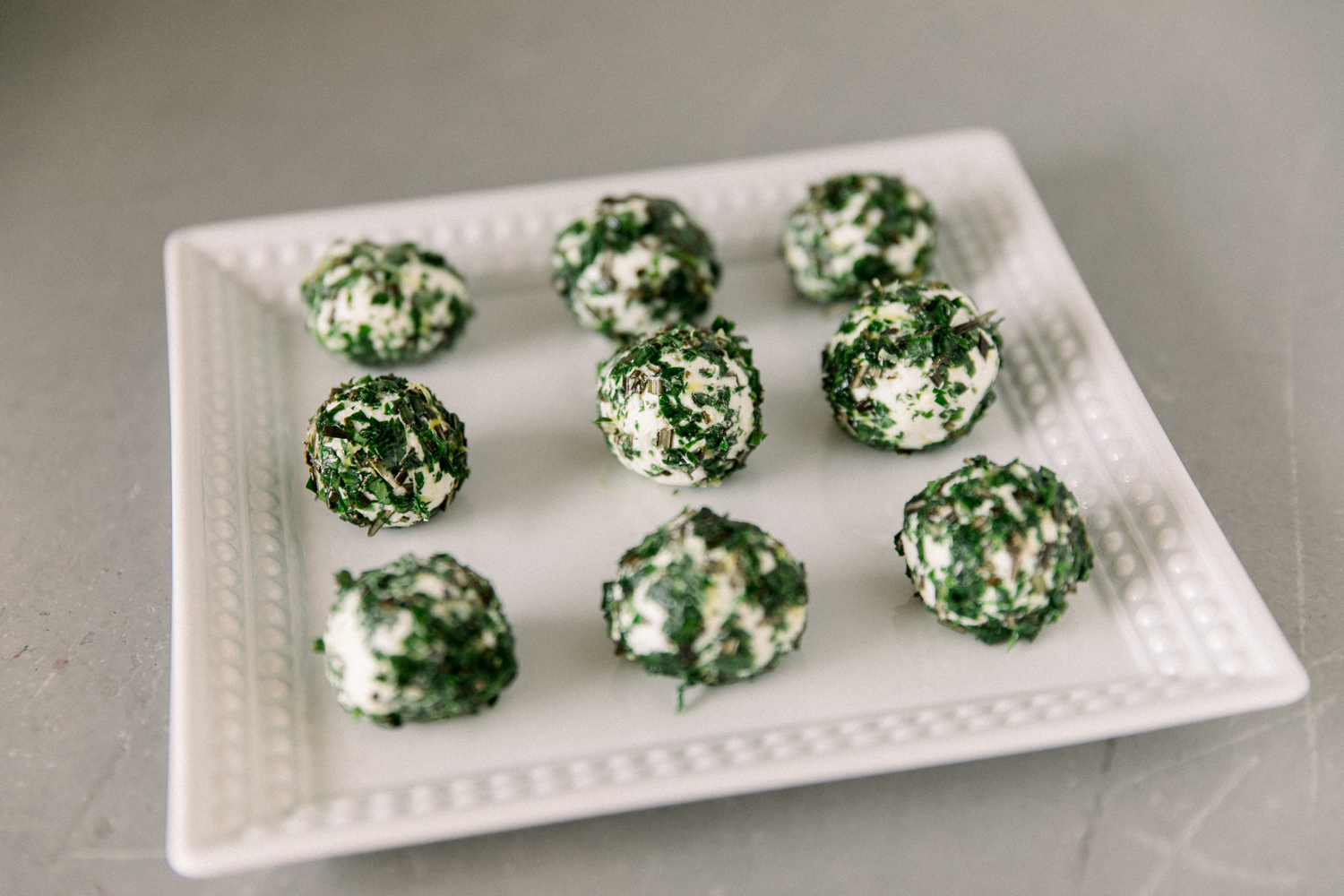 Ingredients:
3 tablespoons parsley
2 1/2 teaspoons chives
2 tablespoons rosemary
1 teaspoon lemon zest
1 teaspoon pepper
1/4 teaspoon salt
1 1/2 tablespoons extra virgin olive oil
2 logs of goat cheese
Directions:
Finely chop herbs and mix together with olive oil.
Prepare goat cheese into balls, about 2 tablespoons each.
Roll balls into herb mixture. Cover and refrigerate until ready to serve.
Pea & Ricotta Toast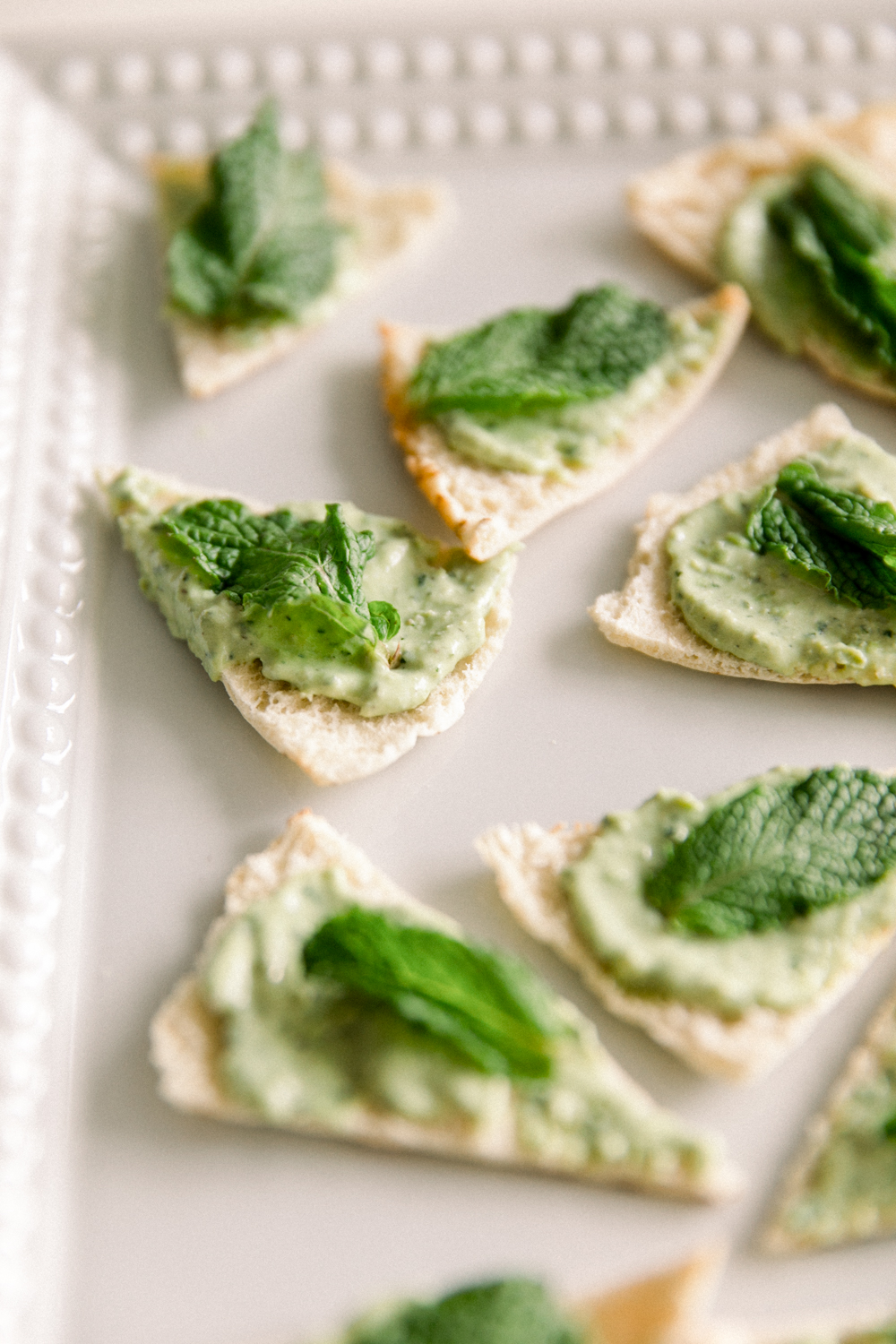 There is something so refreshing and satisfying about a pea, mint and ricotta mixture come summer. This spread can be served on toast but I prefer to serve it on little bite-sized crackers. I made this appetizer this past weekend and it was a hit as well visually appealing. Be sure to garnish with a sprig of mint for that little extra touch. This recipe also calls for topping with a dollop of ricotta but I didn't have any fresh cheese on hand so I omitted this garnish.
Ingredients:
6 slices of white bread, crusts removed
1 1/2 cups fresh or frozen peas
1 clove garlic ( I omitted this, who want's bad breath?)
1/4 cup fresh ricotta ( I used store bought)
1/4 cup lightly packed fresh mint plus small leaves for garnish
2 tablespoons finely grated Parmigiano-Reggiano
2 tablespoons fresh lemon juice
1 tablespoon extra virgin olive oil
salt and peper to taste
Directions:
Preheat oven to 375 degrees.
Put bread on large baking sheet. Bake for 8 to 10 minutes, until crisp but not brown. Let cool.
Meanwhile, in a sauce pan of boiling water, blanche peas and garlic until peas are bright green and tender but not overcooked, 3-5 minutes.
Drain well; transfer to a blender. Let cool.
Add ricotta, mint, Parmigiano-Reggiano, lemon juice, and olive oil to blender; puree until nearly smooth. Season with salt and pepper.
Spread puree on toasts, then cut into quarters on the diagonal; transfer to a platter.
Garnish with a dollop of ricotta and mint leaves.
Last but not least are homemade toasted almonds with rosemary and sleur de sel. This is a no-brainer and sure to impress your guests. Until I read this recipe, I thought I needed a degree to prepare.
Toasted Almonds with Rosemary and Fleur de Sel
Ingredients:
3 cups raw almonds
Fleur de sel
Extra Virgin Olive Oil
Fresh rosemary or thyme leaves, about two tablespoons (if using rosemary, chop very fine)
Directions:
Preheat to 325 degrees.
Combine salt, rosemary and oil.
Toss almonds in herb mixture and place in single layer on baking sheet.
Bake at 325 degrees for 20 minutes or until lightly toasted.
Cool and serve at room temperature.
Always on the hunt for easy hors d'ouvres for summer entertaining. If you have one, please share.