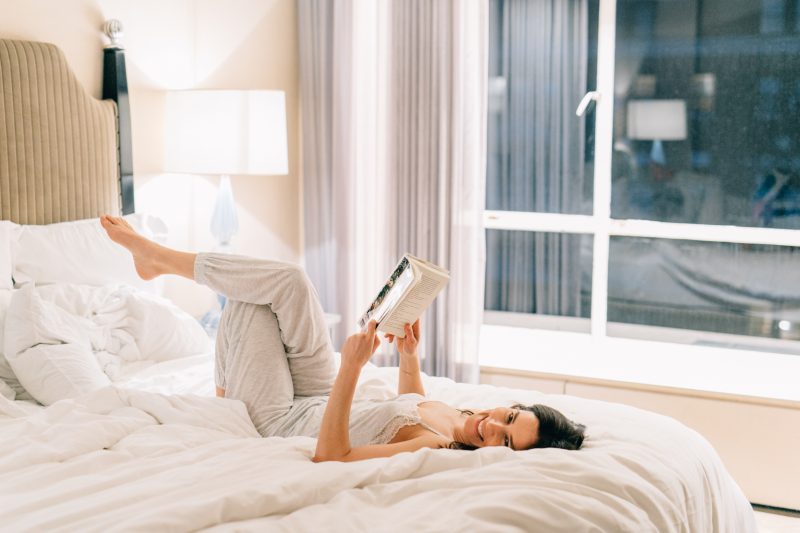 A couple of weeks ago I posted on how to stay comfortable in winter and enjoy the indoors. A good read is always at the top of my list so I asked around, did a bit of my own research and came up with this list that I plan to read. I tend to steer clear of violent books and find comfort in novels that transport me to beautiful locations, human interest stories, interpersonal relationships and self help. In the past, I did most of my reading during summer and on vacation but I am making an effort to read more this winter. That being said, I haven't cracked open a binding yet but this varied list is a motivator. Right now I have purchased Fitness Junkie by Lucy Sykes who I am a fan of. I read her other book, The Knock Off. Her books are easy breezy with a touch of fashion and high drama and in this case, fitness.
A French Wedding is another book sitting on my night stand. I purchased this novel at Barnes & Noble when I was on the hunt for some jigsaw puzzles. I know they say not to judge a book by its cover but when I came across A French Wedding, the image was captivating, I picked it up off the shelf, read the insert and it was mine.
Though most people I know buy their books on Amazon, I am old school and love browsing for books in Barnes & Noble. It's an old fashion (I hate to say it) non tech experience that allows me to escape for a while. Who doesn't love the scent of books?
What books are on your list to read this winter? Please comment below.
Amanda Wakes Up The Devil Wears Prada meets Primary Colors in this breezy summer read, as seen in The New York Times, People, and O Magazine.

The Misfortune of Marion Palm  A wildly entertaining debut about a Brooklyn Heights wife and mother who has embezzled a small fortune from her children's private school and makes a run for it, leaving behind her trust fund poet husband, his maybe-secret lover, her two daughters, and a school board who will do anything to find her.
Wanderful- Traveling in Style Wanderful is a stylish lookbook and travelogue for the adven­turous and nomadic at heart. Follow in Andi's footsteps as she travels the United States to discover some of its most effort­lessly chic destinations—and the fashionable free spirits and wanderers who live there.
Class Mom Laurie Gelman's clever debut novel about a year in the life of a kindergarten class mom—a brilliant send-up of the petty and surprisingly cutthroat terrain of parent politics.
Two by Two #1 New York Times bestselling author Nicholas Sparks returns with an emotionally powerful story of unconditional love, its challenges, its risks and most of all, its rewards.
Still Me From the sensational #1 New York Times bestselling author Jojo Moyes, a new book featuring her iconic heroine of Me Before You and After You, Louisa Clark.
Everything I Know About Love A Spot-on, wildly funny and sometimes heart-breaking book about growing up, growing older and navigating all kinds of love along the way.
Fitness Junkie From the bestselling authors of The Knockoff, an outrageously funny novel about one woman's attempt–through clay diets, naked yoga, green juice, and cultish workout classes–to win back her career, save her best friend, and lose thirty pounds.
A French Wedding A French Wedding is a delicious novel about six college friends reuniting on the coast of Brittany to celebrate one of their own's fortieth birthday. With sumptuous food and plenty of wine, the table is set for tricky romantic entanglements, fiery outbursts, and a range of secrets. Readers who loved The Vacationers and The Little Paris Bookshop will devour this irresistible novel.
The Clarity Cleanse A liberating 12-step guide to recognizing the emotional issues that hold us back, with strategies to increase our energy and help us reach our potential by the health and spiritual advisor to Gwyneth Paltrow.
Shop books here:

Complete book reviews/synopsis can be found on Amazon.