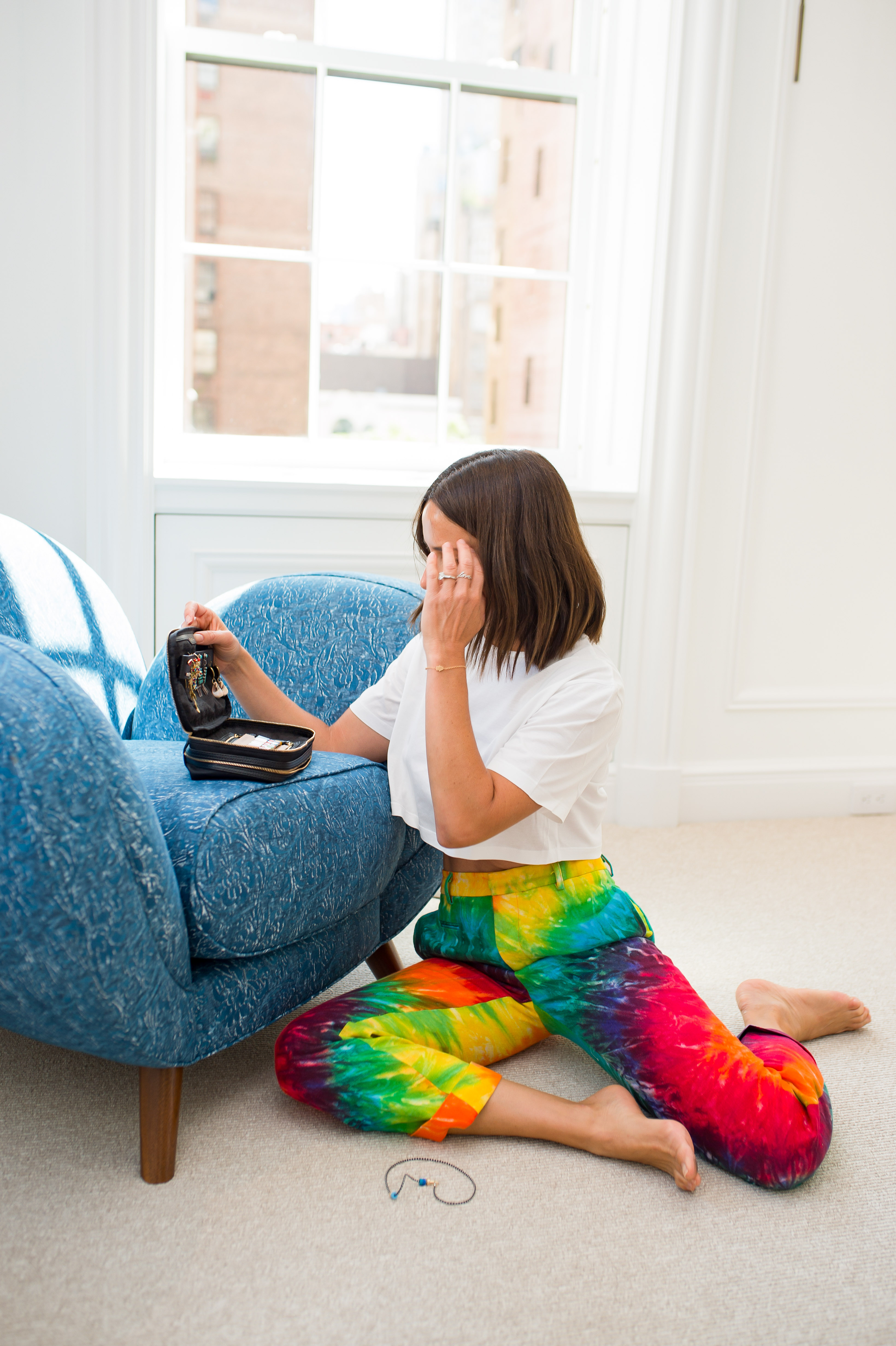 Last week, my husband and I traveled to Anguilla, located in the British West Indies.
I have to say, I am quite proud that I was able to pack efficiently all my belongings into 1 duffle bag, pretty impressive considering I had 6 events to pack for, plus 3 days and nights prior to the festivities – no easy feat for a fashion lova like myself!
I thought I'd share 10 tips to help you pack efficiently for your next beach vacation.
Clothing and accessories
1. I always try to pack a couple of dresses and/or tops that can be worn out for dinner and for a day at the beach. Most beach destinations are casual enough that with a simple swap of accessories, you can change the look of the outfit from day to evening.
This past vacation I packed this linen floral yellow maxi dress by
Zimmermann
.
As this dress had buttons going from top to bottom I left the buttons open during the day, save for one at my midsection to give it more of a "cover-up" look.
My only suggestion is to wear the outfit to dinner before you wear it to the beach, as my cover-ups always end up smelling like sand and suntan lotion by the day's end.
Shop day to night dresses here:

2. Speaking of nude sandals, they are a neutral and will work with most, if not all, of your outfits. I've mentioned my affinity for
TKee
and
Carrie Forbes
sandals before, but I can't say it enough – they are the perfect beach sandals and are well – beachy! These Gianvito Rossi
evening sandals
are also essential to my vacation wardrobe. They elongate the leg and are always my summer wardrobe go-to. Seriously, these sandals all you need if you are looking to keep your packing on the lighter side.
Shop nude sandals here:

3. Create your outfits ahead of time. I always do so before every vacation which definitely prevents overpacking. I do pack 1 extra day and night outfit just in case, and this formula seems to work like a charm. Bonus… ding… ding…ding…when you pack less, you leave a little extra space to bring home a unique find or two. I don't know about you, but I never met a boutique on my travels I didn't like:)
4. When it comes to pajamas, I used to pack 1 pair per night until I realized that it's so unnecessary. Now I pack 1 pair and rewear it for 2-3 nights. I always pack short sets to keep things cool on warm-weather travels and I especially love these soft pajamas by
Eberjey
and these lightweight cotton ones by
Desmond & Dempsy
.
Pack pajama short sets here:

Beauty Products
5.
Travel-sized skincare products
are a must in order to fit them into one toiletry case. As long as the brands you use offer a travel-friendly option, go for it. I find mini travel-sized options so cute. Here are some of my essential travel-sized beauty products:
Shop travel-sized products here:

6. This past summer, I purchased this adorable toiletry case by
Stony Clover
which I'm obsessed with. I had so much fun making it my own with their wide array of decals. It's also the biggest toiletry case I've come across to date.
Shop Stony Clove here:

7. Leave your hair blower at home. I can't tell you how many times I've packed my blower and it came home unused. Most hotels provide hair blowers plus I find blowing my hair a waste of time on vacation as it frizzes the moment I walk out the door.  I also like to spend as little time as possible in my hotel room as I want to eke out as much time on the beach as possible. If I do have an event to attend, I will indulge in a blowout that can be handled through the concierge at the hotel I'm staying at.
Get Organized
8. I always use this
packing checklist
.  It includes a detailed list of all packing essentials and keeps the packing process a breeze.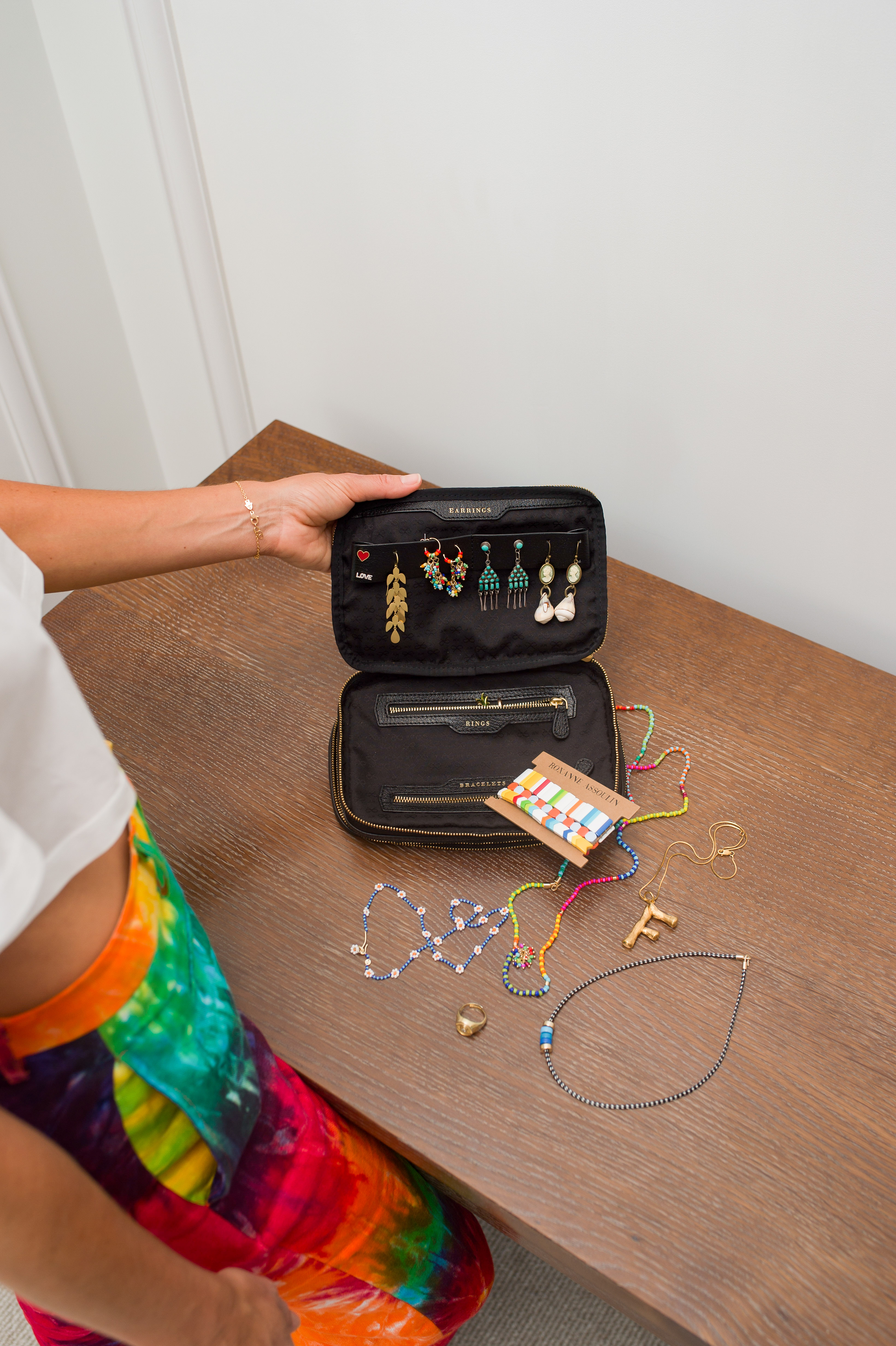 9. Last year I was gifted an
Anya Hindmarch jewelry case
by a dear friend of mine and it's one of the most useful gifts I've received. It's not too big, yet spacious enough to fit my jewels and baubles. It comes with several compartments for earrings, rings, bracelets, and necklaces and it comes with me on all of my travels. I never check my jewelry with my luggage so this case is the perfect size to fit in my carry-on bag or backpack.
10. Last but not least, be sure to bring along some
pleasure reading
. This past vacation I was hesitant to bring a book along because I didn't think I'd have enough time to delve into one. Thank goodness I brought one along because we had one cloudy day and it was the perfect way to pass the time until the sun came out.
Any tips for packing efficiently you care to share? Please comment below