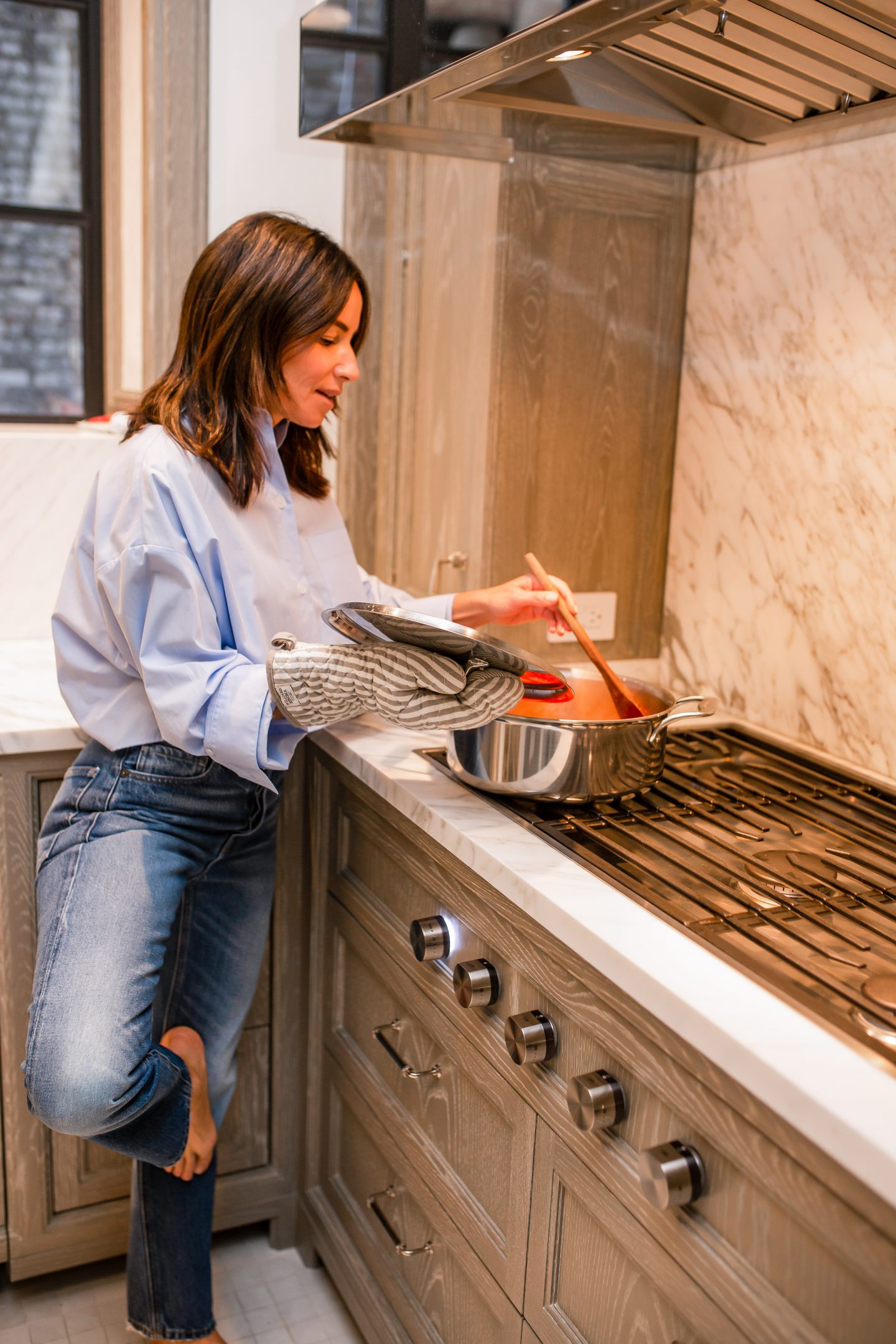 On occasion, I get asked to share what I eat in a day. I find this question hard to answer because each day is so different and depending on my schedule, my mood, and cravings, what I eat in a day varies.
I would say I follow the 80/20 rule which is, I eat healthy well-balanced meals a majority of the time, and 20% of the time includes mindful and sometimes… not so mindful indulgences.
That being said, I thought I'd share a sample of what a typical meal plan looks like as no two days are ever the same.
I began drinking coffee a few years ago but before that, I was all about hot water with lemon and honey first thing in the morning. When my daughters were in high school, they began drinking coffee, so naturally, my husband and I jumped on the caffeine bandwagon.
I now look forward to my morning cup of joe. My husband and I are big fans of Rook's New Orleans Style Cold Brew. I always add a whole lot of unsweetened almond milk and a dash of Splenda because I like my coffee on the sweeter side.
This past summer, I was turned on to Barbara's Spoonful Multigrain Cereal and have been eating, more accurately slurping it, almost every day since. I measure 1 cup of this cereal, otherwise, I'd probably finish the box in one or two sittings. On occasion, I will have a piece of Ezekiel bread with a sunny side up or 3 egg whites with some sprinkled feta, 1/4 avocado, chipotle aioli sauce, and red hot pepper chili flakes. Oatmeal or overnight oats are another go-to breakfast option.
To complete my morning meal, I will have a small portion of fruit. Lately, I've been on a yellow kiwi/Asian Pear kick. During the summer months, I typically opt for watermelon and nectarines.
When I'm on the go or don't have time to stop and eat a proper lunch meal, I'll usually have a bar of some kind.
Otherwise, it's typically a mixed green salad with tuna, eggs, or a legume such as chickpeas or lentils. Leftovers from the night before, are always an easy go-to lunch meal.

I also go in and out of my Mexican spiced turkey phase. I'll usually have a few slices with avocado, mustard, and tomato on a piece of toast. I'll also do my breakfast eggs and toast concoction for lunch when I'm in the mood.
At about 3 pm, I always like to have a little pick me up drink. These days it's either a hot chai tea latte with almond milk from Bluestone Lane or Ralph's Coffee or… an iced ginger turmeric matcha latte with almond milk from Chacha Matcha.
In addition, I like to have a light snack. Lately, that's been a handful of nuts or a snack pack bag of skinny popcorn. I've been really into the cheddar flavor lately.
Dinner always includes a protein and a veggie, sometimes a legume. I eat a lot of organic chicken prepared in many different ways – think kabobs, burgers, grilled, roasted, and shredded – the options are endless! I always like a little spicy sauce or tahini on the side. I make lots of fish tacos too and roasted branzino -mostly with herbs or some kind of tomato, olive, white wine sauce. Sometimes, there's a lentil salad involved or a yummy brown rice and tempeh dish from the Hungry Hippo's cookbook. Definitely worth checking out some of my menu ideas and go-to recipes here.
I definitely have a post-dinner sweet tooth. Lately, it's been a few dark chocolate covered almonds or raisins but the snacks vary depending on my mood. It could be a few dark chocolate squares one night, and a Yasso yogurt bar another night.
Throughout the day, I try to drink lots of water. I'll typically add lemon or orange slices. This past summer I often added strawberry slices and mint and that was quite refreshing too.
There are days when I eat one too many cookies or slices of cake, (usually over Shabbat) and days when I enjoy the occasional pizza slice or two, and as I mentioned at the beginning of the post, what I eat in a day varies. There are days when my plan goes out the window, ie emotional eating, nervous picking, and even a potato chip binge or two is involved… but I do strive for moderation and mindful eating, and of course, enjoying a meal well made.