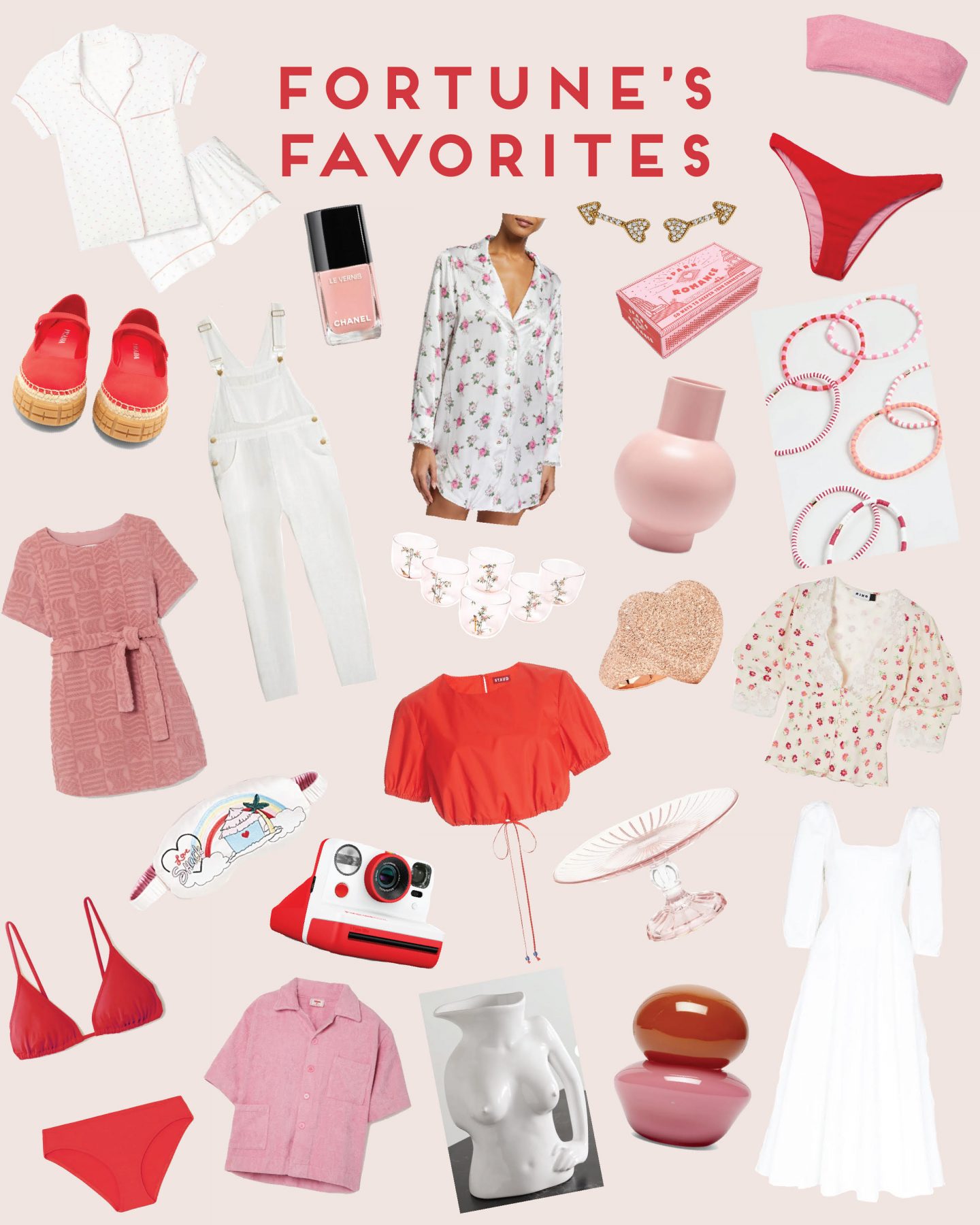 Love is in the air!
Yes! Valentine's Day is less than 2 weeks away which is exactly why I've decided to dedicate this month's Favorite Finds to all things red, pink, and white.
I'm going to start off with 2 floral favorites of mine. I was inspired to buy this Morgan Lane x Love Shack Fancy washable floral silk pajama shirt after binge-watching The Crown and let's just say I'm in love – with the pajamas. They feel silky smooth on the skin and are just really pretty.
This Rixo floral silk blouse with lace trim detail is another très romantique favorite fashion find. I like this vintage-inspired piece tucked into a pair of high waisted blue jeans.
Next up on my favorites list is this jersey heart print long pajama set by Eberjey. My heart tells me I need to add this sweet print to my collection. They are sooo soft, wear well over time and they drape beautifully on the body.
Complete this pajama look with this adorable Morgan Lane x Love Shack Fancy silk tropical print eye mask. I don't usually wear eye masks but after seeing this one, I just may – a modern Audrey Hepburn moment if you will.
Shop clothing here:

Jewelry – because roses die and chocolate goes straight to the hips – just saw this quote on Instagram. Truth is, I'll take any gift, thank you very much, but thought I'd highlight a few baubles for some Valentine's Day gift inspo.
First up is this set of 7 pink cheerful elastic bracelets by Roxanne Assoulin. This color therapy set is said to inspire compassion, love and intuition – LOVE it!
I'm a big fan of these dainty heart arrow 18K yellow gold diamond earrings by Ashley McCormick. This pair is lovely to wear on its own or as part of any ear party.
Shop accessories here:

I must also make mention of a couple of houseware pieces.
I really like this feminine pink glass cake stand by Italian designer Luisa Beccaria. It looks like a unique gem one would score at a vintage boutique.
Who doesn't fancy a nice pair of jugs haha? This playful white Jugs Jug ceramic vase is sure to add a bit of whimsy to your home.
Shop home here:

Sending everyone love this Valentine's Day and always.
xoxo,
Shop the post here: