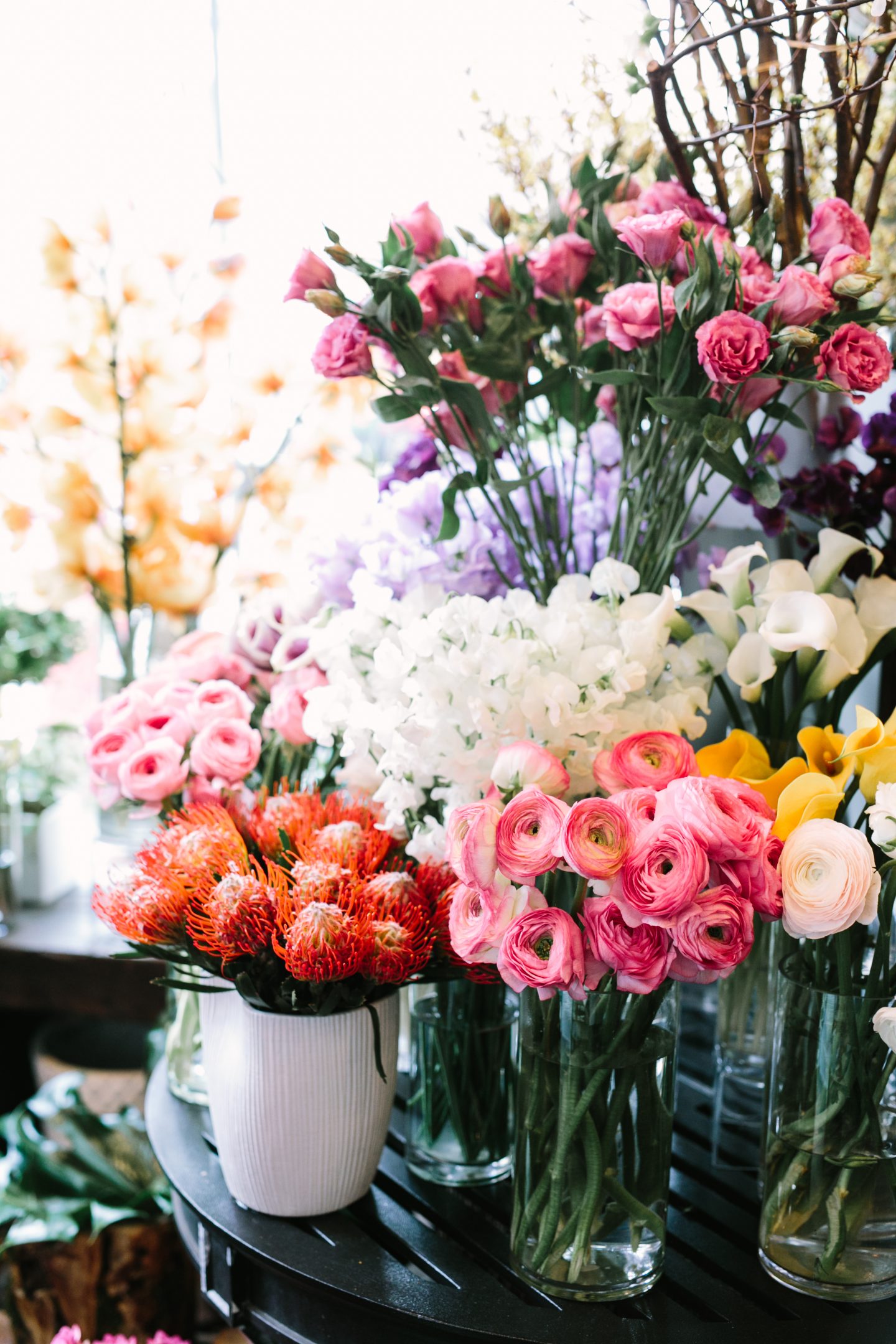 Though my hubby and I don't technically celebrate Valentine's Day, I'll never say no to a Valentine's Day gift and more importantly, I appreciate what this contemporary holiday represents – a celebration of romantic love, friendship (aka Galentine's Day) and admiration for someone significant.
Ideally, it would be wonderful if we all showed our love and appreciation for each other every day but we get caught up in our day to day lives – that is why it's nice to have a special day set aside for exactly that purpose. Valentine's Day is a call to action to stop and (literally) smell the roses – tell that lover, partner, friend, child that they mean the world to you.
There are so many ways to express love and appreciation that don't require a trip to the ATM machine. These 2 suggestions are from my Instagram followers who said that the best gifts they've ever received were homemade cards by their kiddies and love letters from their partners. Another cute idea that a follower wrote in that does require some $ but totally adorable and romantic, is an early morning knock on the door (as in 7am) with an abundant bouquet of red roses – now that's amore.
That being said, there are those that love to give and receive actual gifts on Valentine's Day – ain't nothing wrong with that – so I rounded up some Valentine's Day presents that range from flirty and fun to sexy and sweet. I can assure you that whatever you choose, your special Valentine will be charmed. The best part of this roundup is that most of these gifts are in the $500 range and below!
Try a take off on the traditional bouquet of a dozen roses with this Hanky Panky Thong Rose Bouquet of 12. If thongs aren't your thang, consider this Venus Et Fleur suede heart-shaped box of 36 fresh roses that can maintain their appearance for up to a year.

Jewelry is always the way to a woman's heart, neckline, wrist, and ear – you get the picture. This Merci Maman sterling silver necklace comes with charms that you can engrave with your special one's names and is called The Duchess after Kate Middleton.
For a bit of fun and a pop of color, these Roxanne Assoulin Darling Hoop Earrings are as the name suggests.


Can a woman ever have enough shoes and bags? I think not. With my heart set on spring, I am obsessed with these Jacquemus strappy white leather squared toe sandals and these barely-there bright red sexy sandals by Zimmermann.
Mansur Gavriel makes this fantastic mini pleated leather bucket bag which I've actually had my eye on since early fall. I chose the red and pink options in keeping with the VDay theme but I also think this brown option is quite chic.
How sweet is this satin rose bag by Staud? So feminine and charming and funnn!

I always love a bit of whimsy in my life. This Baccarat snoopy with heart figurine would make me smile – who doesn't love snoopy?
Last but not least is this heart-shaped Aerin faux shagreen heart box. This would be the perfect accent on any night table.

For those who want to dig a little deeper into their pockets, check out the small pouches by Bottega Veneta, and any piece of jewelry by Retrouvai, or Anita Ko.
And… before I sign off seal it with a kiss with the finest luxury stationery by Dear Annabelle. They are so kitchy yet elegant!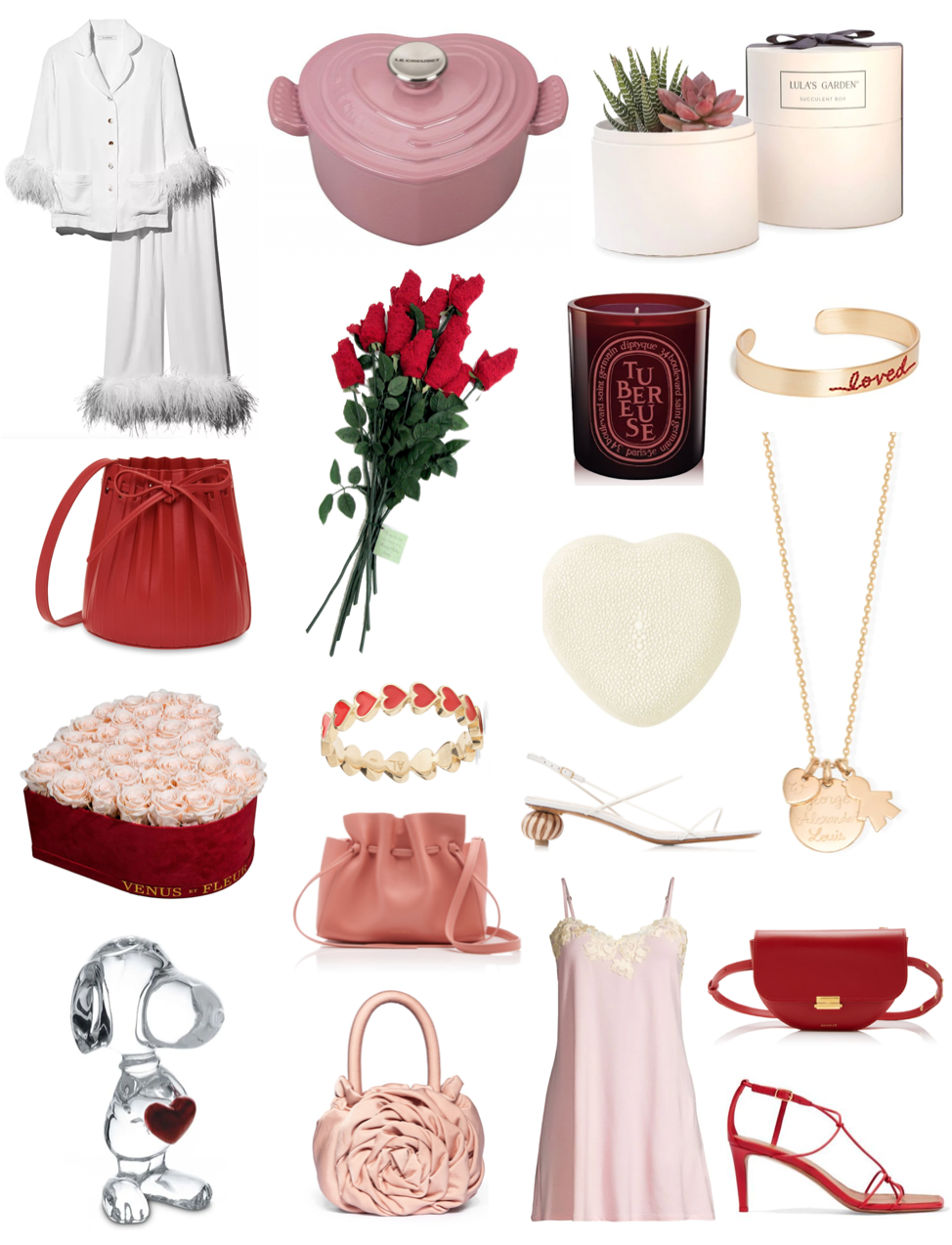 Happy Valentine's to all!
Shop all Valentine's Day gift ideas here: