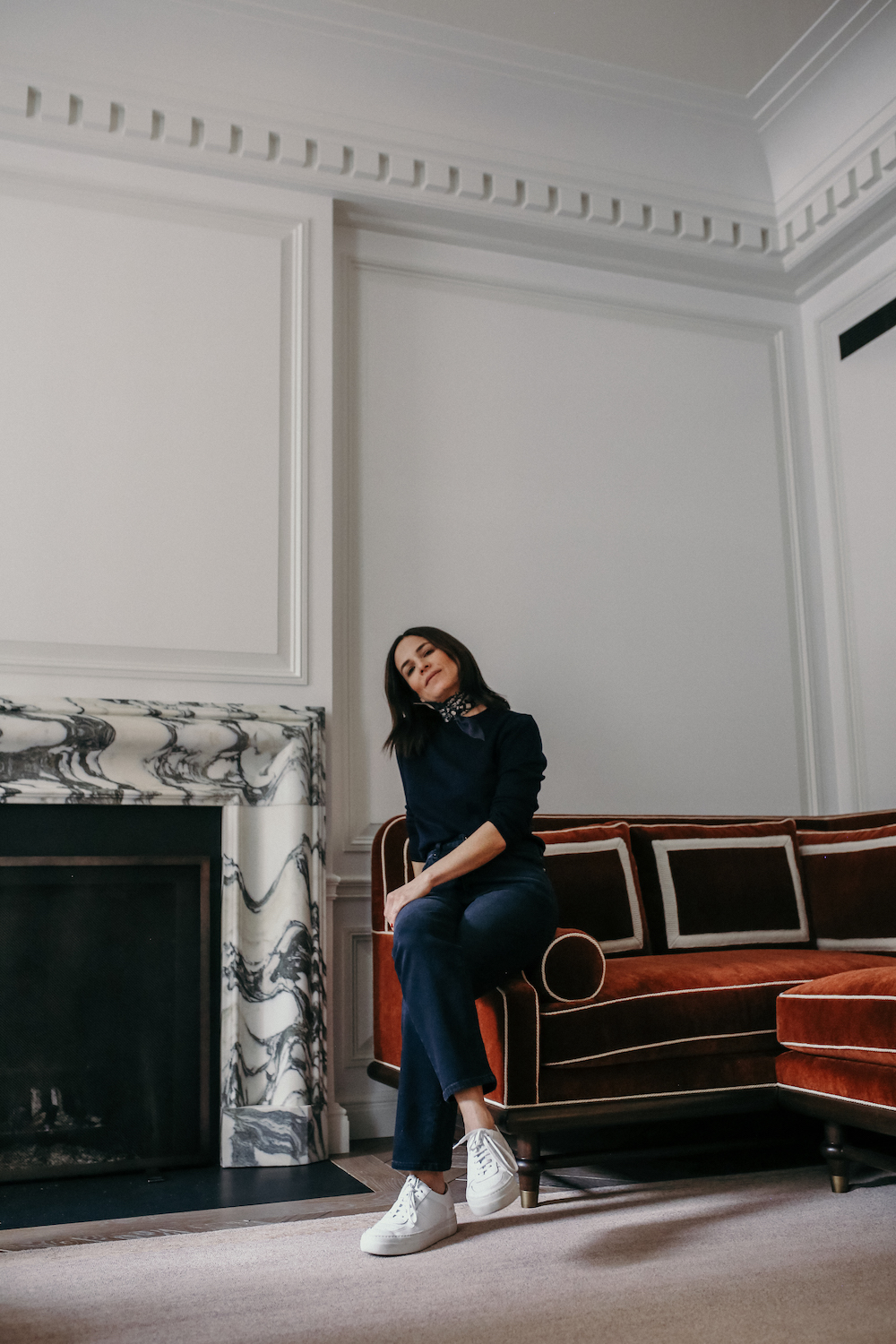 I recently got to thinking recently about what items in my closet get the most wear and believe it or not, they are these navy and grey lightweight wool sweaters by A.P.C. I consider these 2 basic lightweight wool sweaters necessary and essential to one's wardrobe.
Shop A.P.C. sweaters here:

I have been a big fan of French brand A.P.C. since my college days. Their pieces are classic, well priced, well made and well trés Francaise of course. I typically throw on these lightweight wool sweaters with a pair of jeans be it a light or dark wash, skinny or flare, ankle-length or tapered and you have a complete classic neat look for every day. This is what I call my base layer. From here you can elevate the look by adding accessories like a silk scarf as seen in the image below. I love the idea of a scarf because it allows you to introduce some fun prints or color and there are so many ways to style a scarf so you can have fun with it. Adding a belt or even a statement necklace or pendant is another fun way to accessorize this everyday look.

Shop accessories here:


A boyfriend blazer is a great piece to layer over a thin sweater like these and is a great look when transitioning from one season to another. I love the boyfriend blazers by Acne. Definitely worth checking out if you are on the hunt.

Shop Blazers here:



I will also wear these A.P.C. sweaters with dressier bold printed bottoms that I have in my wardrobe, like these Gucci cherry printed pants or this Rosie Assoulin plaid skirt to make the look a bit more relaxed.
When wearing a solid-colored navy or grey sweater and jeans, it also allows you to have fun with your shoes. I did opt for Common Project sneakers in this look but a fun colored pump, ankle or knee-high boot would dress this look up for night. I would also choose a statement coat for a night out et voila, your look is polished. One more thing before I sign off, when you're wearing a casual laid back look like a basic sweater and jeans, adding a statement red lip can add a nice pop of color. Check out my favorite red lip shades here.
Shop the post here: