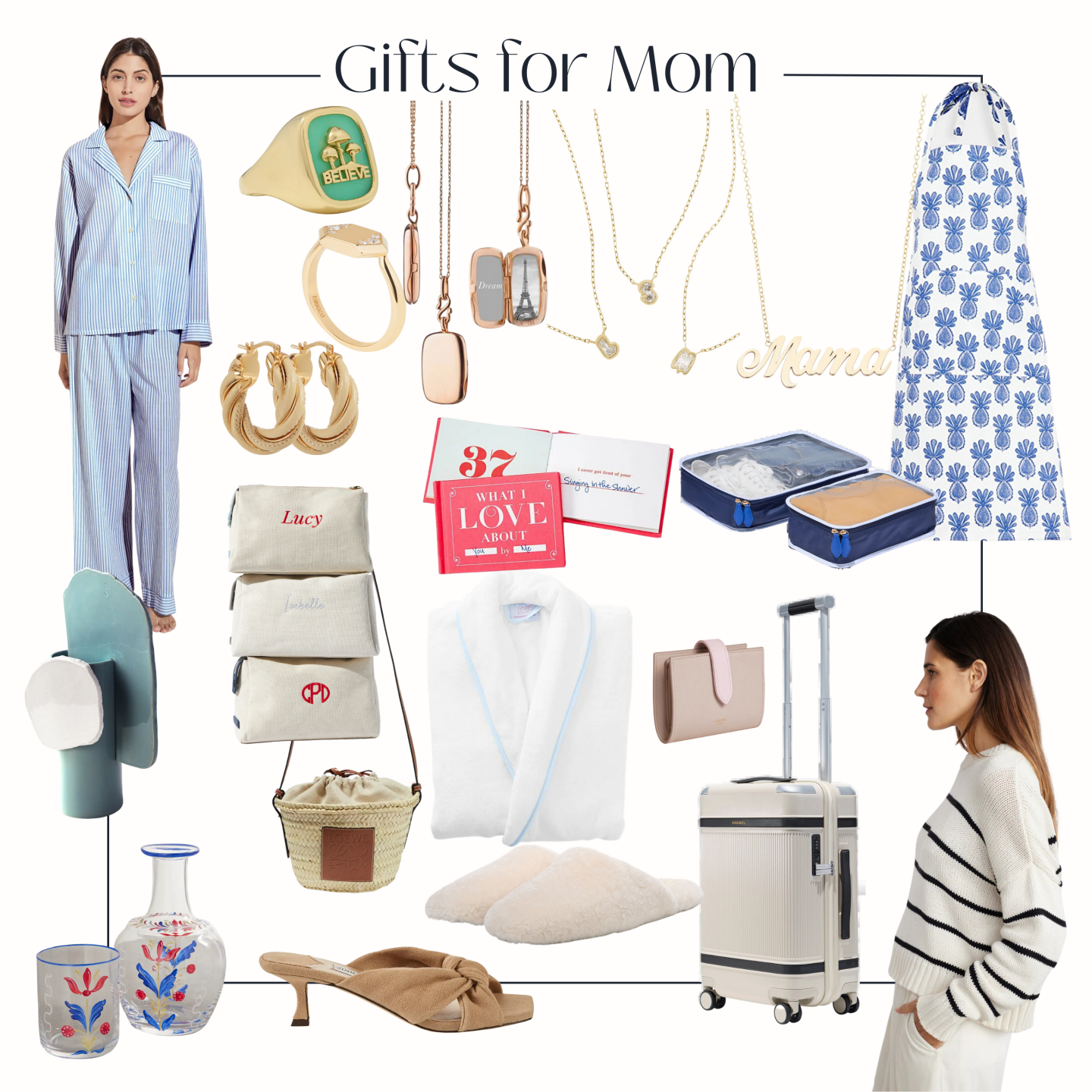 Mother's Day is almost upon us – a special day that I look forward to spending with my family.
If you're not sure what to gift mom (or that special mother figure in your life), I've compiled a few of my favorites. Some of these can be purchased, others are from the heart. I want to note that some of the most special Mother's Days I've experienced were when I planned something special for myself – a massage, breakfast in bed, a morning workout, or a trip to the movies solo. Do the thing that brings you joy and most importantly, know you are loved and appreciated.
Jewelry Always Fits

I curated some of my favorite jewels like this classic and cool 18-carat gold bubble letter necklace with pear-cut diamonds by Gemella and this bohemian rainbow star necklace with an enameled 18-karat gold locket by Marie Lichtenberg.
For those looking to gift more affordable baubles, I'm a big fan of these Bottega Veneta twisted gold-plated and beige leather hoop earrings. This Mama necklace is also a charming gift option.
Accessories Make Everything Better

When it comes to accessories, I'm obsessed with Loewe's newest woven beach bag that comes with an adjustable shoulder strap and a drawstring top – perfect for the beach lover babe.
This Celine leather small strap wallet in calfskin leather has been my go-to for as many years as I can remember. It's the perfect size and comes in 3 different colorways but the soft pink one is my favorite!
Eat Drink & Sleep Pretty

Loungewear is always a winner. Which Mamma doesn't love lounging in bed in the mornings, especially on Mother's Day?
No one does a terry robe like Weezie. I absolutely adore the piping detail and appreciate the attached tie. If you don't currently own a terry robe, even consider gifting yourself one this Mother's Day. I'm currently the proud owner of their long signature robe with light blue piping and their French terry robe in pink and red. The icing on the cake is that all their robes and accessories can be personalized. Be sure to purchase asap so it arrives on time by May 14th!
I love a good stripe moment and this cheerful yellow and white pocket shorts set by Lake Pajamas is at the top of my wish list! If you like a longer PJ pant, consider this lightweight organic blue and white striped set by Eberjey.
Home Is Where The Heart Is

Can't leave out home & decor! Check out this darling suede heart-shaped frame by Aerin Lauder. If time allows, consider placing a photo of or with your loved one inside the frame.
This Cabana painted carafe and water glass set with a delicate floral pattern is equally chic. My daughter recently received this as a hostess gift and I swooned when I saw it.
For those with wanderlust, consider this customizable Paravel carry-on in domino and jet black. This past year, I began using Paravel's packing cubes which make packing (and unpacking) a total breeze. These can also be personalized.
Lastly, here are some easy experiential Mother's Day gift ideas that will do the trick!
A flower arrangement is always a thoughtful way to brighten your loved ones' day
Massage at a local spa or salon
A framed photo or an album of photos
Anything monogrammed
A poem
A heartfelt written or homemade card
Breakfast in bed and their favorite coffee or tea
A reservation at their favorite restaurant
Sign up for a class together that you'd both enjoy
Let them know they're appreciated and loved

Happy Mother's Day!!!