My travel skincare routine is just as important to me as my skincare routine at home.
It's easy to want to ditch your skincare routine while on vacation, but it's super important to maintain your regimen, especially with the drying effects of flying, long days in the sun, or out on the snowy slopes.
Putting in the effort to keep my skin looking hydrated, moisturized and replenished on vacation requires packing all the necessary travel beauty products to keep my skin looking healthy – with a little extra glow of course.
With travel on the horizon these next few months (I'm actually on the plane en route to Cabo San Lucas, Mexico as we speak!), I thought I'd share the travel beauty products that never leave my side.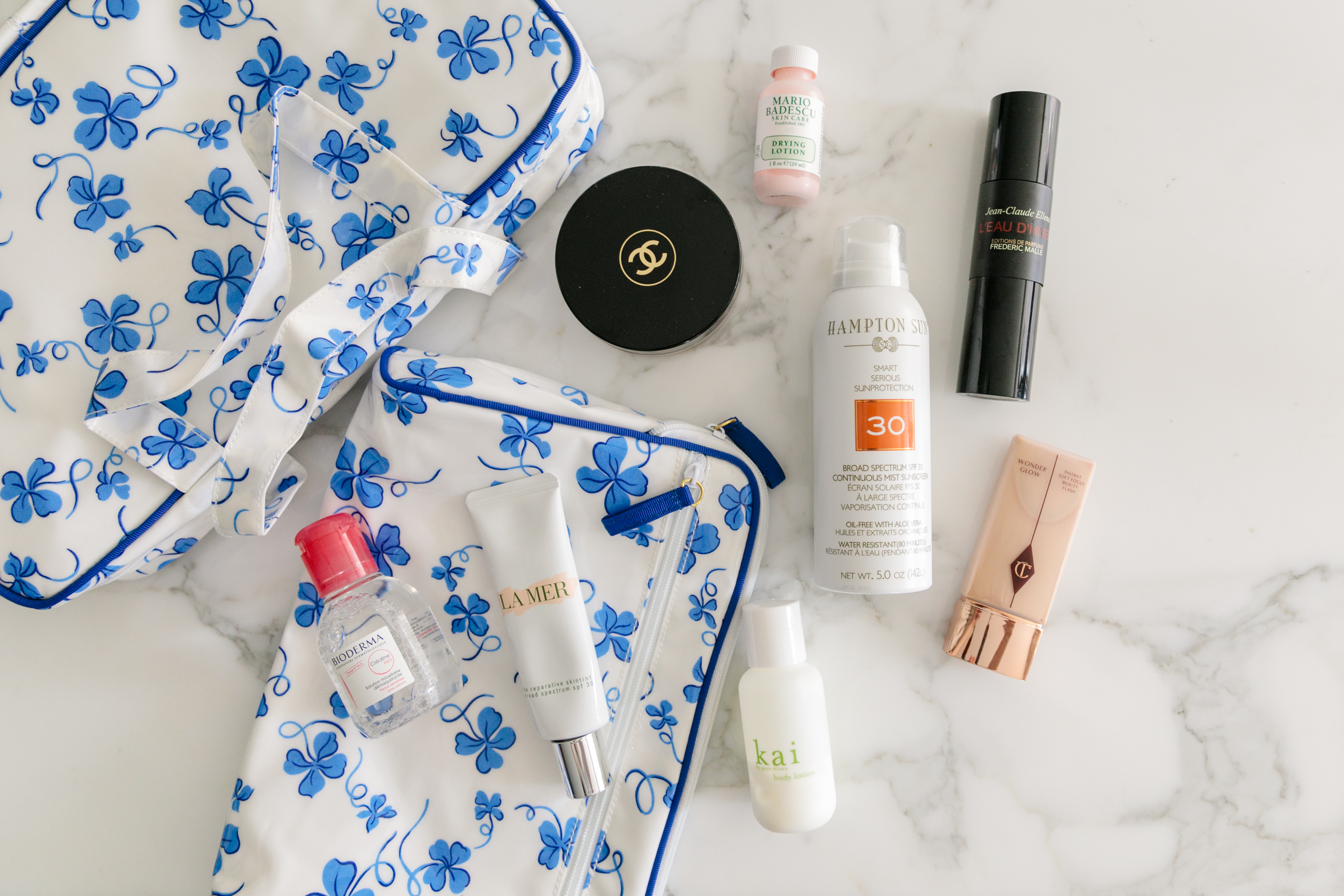 My absolute favorite makeup remover is this one by Bioderma. I know it's a bold statement to make but it really is the one makeup remover that actually removes makeup effectively and completely. This oil-free remover also comes in the cutest travel size version as well as a wipe option too.
I always travel with my travel size Diptyque candle mini candle. My favorite scent is the Feu du Bois which always makes me feel at home no matter where I am vacationing.
I am a big fan of La Mer's The Reparative Skin Tint.  I always wear this light coverage with an added 30 SPF over my sunscreen. I like the extra color it gives me and it's light enough for the beach.
Pimples are bound to pop up here and there so my Mario Badescu Drying Lotion is always a
must-have for keeping things at bay.
My favorite body cream is by Kai and I'm a big fan of the rose scent. I go through more bottles than I can count and find that it keeps my body well moisturized. This all natural travel beauty product has the perfect consistency as I really don't like creams that are too heavy or oily. And, of course, it comes in a travel size version.
Hampton Sun is my go-to for body sun protection. I honestly bought this initially because of the packaging but it definitely has had staying power after all these years. It provides the proper protection and I love the scent.
I typically use Sisley sunscreen for my face but was turned on to this sunscreen by Revive in Cabo and I love it just as much!
For a little apres sun glow, I always bring along my Charlotte Tilbury Wonder Glow. I either blend this with moisturizer and apply all over my face or I dab a bit along my upper cheekbones, down the bridge of my nose and above my lip.
This Chanel bronzer is a newcomer to my makeup repertoire and I haven't gone a day without it applying it. It gives me that perfect  touch of color in the most natural way.
Face and eye masks are something that I always travel with. My go-to for face masks are by Joanna Vargas and  Patchology, and Shiseido for eye masks.
Last but not least, I'm never fully  dressed without my favorite scent: L'eau D'Hiver by Frederic Malle. This comes in multiple approved travel size options.
How many toiletry bags do I travel with you may wonder? Two big ones that bulge at the seams, plus another with my makeup products. What can I say? All in the name of beauty.
Shop some favorite travel products here:

Shop travel size beauty products here:

What are your must-have travel beauty products? Please comment below!