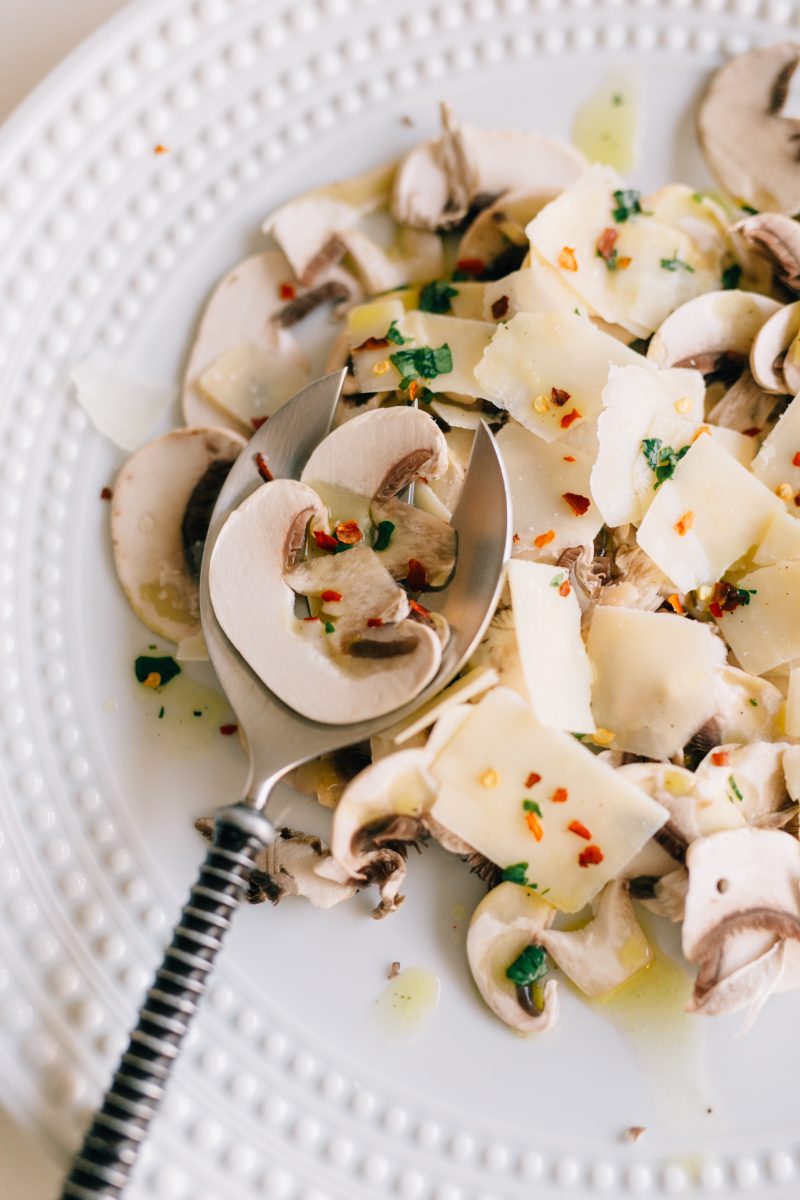 I recently came across 3 mouthwatering recipes that also happen to be healthy and I am so excited to share them with you. With Spring right around the corner, salads and veggies are especially on my mind.
Believe me when I tell you that you will have no left overs, not even a leaf of lettuce, when you try out this Antipasto Chopped Salad.  The mix of fresh herbs, olives, pepperoncini peppers, chick peas and greens, will leave you salivating for more. I first tested this recipe for the fam and it was a hit and then again for guests a few weeks ago. It almost tastes like a tuna sub without the tuna or the sub, if you will. We literally scraped the bowl. As a host, it doesn't get better than that!
For this salad, I suggest finely chopping each ingredient which allows for a superb savory experience. Trust me when I say this is a winner!
Antipasto Chopped Salad:
Ingredients:
3 Tbsp. extra-virgin olive oil
1 Tbsp. white wine vinegar
1 Tbsp. chopped parsley
1 ½ tsp. fresh lemon juice
½ garlic clove, minced
1.2 tsp. dried basil
½ tsp. crushed red pepper
Pinch of dried oregano
Kosher salt and pepper
One 15-oz. can chickpeas, drained
1 heart of romaine sliced
½ small head of radicchio sliced
1 small English cucumber chopped
4 oz. black olives, pitted and chopped
½ small red onion chopped
¼ cup chopped pepperoncini peppers
¼ cup chopped celery leaves
Directions:
1. In a large bowl, whisk the olive oil with the vinegar, parsley, lemon juice, garlic, basil, crushed red pepper, and oregano.
2. Season with slat and pepper.
3. Add the chickpeas, romaine, radicchio, cucumbers, black olives, onion, pepperoncini, and celery leaves.
4. Toss to coat.
Last week, I was introduced to a new cookbook author I had never heard of before, Pamela Salzman, on Mama & Tata's Instagram feed. I immediately purchased Kitchen Matters which is filled with more than 100 wholesome and nourishing recipes. Let's just say, I can't wait to sample each and every recipe. The first recipe I tried was her Spaghetti Squash with Cherry Tomatoes, Mushrooms and Spinach and I literally hit the jackpot. It is insanely delicious! There are just no other words to describe this recipe.
Now for some of you, this may sound more healthy than delicious but we actually fought over the last bite! The mix of shiitake mushrooms, garlic, cherry tomatoes, basil and spinach spooned over spaghetti squash is absolute heaven. Just wait until you take that first bite and then you will thank me. For those who don't favor spaghetti squash, you can serve this vegetable medley as a side dish. I added this on top of an egg white omelet and it was bursting with flavor.
Spaghetti Squash with Cherry Tomatoes, Mushrooms and Spinach
Ingredients:
1 spaghetti squash (about ¾ pounds)
¼ cup cold-pressed extra-virgin olive oil, plus more for drizzling the squash
Sea salt and freshly ground black pepper
½ pound shitake mushrooms, stems removed, caps wiped clean with a damp paper towel and sliced.
6 garlic cloves thinly sliced
Pinch of crushed red pepper flakes
1 pound of cherry tomatoes, stemmed and halved
2 big handfuls baby spinach leaves
½ cup fresh basil leaves
Grated Parmesan or Pecorino Romano cheese (optional; omit for vegan/DF)

Directions:
1. Preheat the oven to 375F. Line a baking sheet with parchment paper and set aside. Cut the spaghetti squash in half length wise and remove the seeds. Rub the inside of each half with a drizzle of olive oil and season with 1 ½ teaspoon of salt and black pepper to taste. Arrange cut side down on the prepared baking sheet and bake for 30-40 minutes or until tender. Check doneness by inserting a fork between the skin and flesh. If it is tender and you can start to create strands with the fork, then it's done.
2. Flip them over (otherwise they'll keep cooking) and set aside until they are cool enough to handle.
3. Heat the olive oil in a large saute pan over medium heat. Add the mushrooms and saute until caramelized and just tender, about 3 minutes.
4. Add the garlic and red pepper flakes and saute until fragrant, 30-60 seconds. Add the tomatoes and two big pinches of salt, plus black pepper to taste. Cook the tomatoes, stirring, until they start to lose their shape, about 5 minutes.
5. Stir in the spinach and saute until wilted, about 3 minutes. Tear or slice the basil leaves and stir into the mixture. Check for seasoning and remove from heat.
6. Using a fork, pull the strands of squash crosswise (the short way) from the peel so that is resembles spaghetti. Place the strands into a serving bowl and add the sauce. If you cook the spaghetti squash in advance and it is no longer hot,  add it to the sauce in the saute pan and saute over medium heat until warmed through. Add the Parmesan or Pecorino, if using, and toss to combine. Taste for seasoning. Since spaghetti squash is rather bland, you will need to add extra salt and black pepper.
On many a Sunday night, you can find my husband and I dining by the bar at Elio's restaurant. I always order my favorite Mushroom, Parmesan and Fennel salad as my appetizer. You can only imagine how excited I was when I found this Shaved Mushroom and Pecorino Salad recipe that was quite similar in Gourmet Magazine. Though the main ingredients in this recipe are parmesan and mushrooms, you can get creative and add celery, fennel, frisee or leave as is. This tasty dish is easy to prepare and light in calories. While the recipe suggests slicing the mushrooms with a mandolin, I'd say it is mandatory in order to make for a nice presentation.
Shaved Mushroom and Pecorino Salad
Ingredients:
1/3 cup extra-virgin olive oil, plus more for drizzling
¼ cup fresh lemon juice
2 Tbsp. chopped parsley
¼ tsp. crushed red pepper
Kosher salt and pepper
1lb.  fresh white button mushrooms, very thinly sliced (preferably on a mandoline)
2 oz. pecorino cheese, shaved.
Directions:
1. In a small bowl, whisk the olive oil with lemon juice, parsley, and red pepper. Season generously with salt and pepper.
2. Spread half the mushrooms on a larger platter. Drizzle with half of the dressing and sprinkle with half of the cheese. Repeat with the remaining mushrooms, dressing, and cheese. Drizzle with olive oil and serve.
What are your favorite healthy dishes of the moment? Please comment below. I'd love to hear!
Shop the post here: