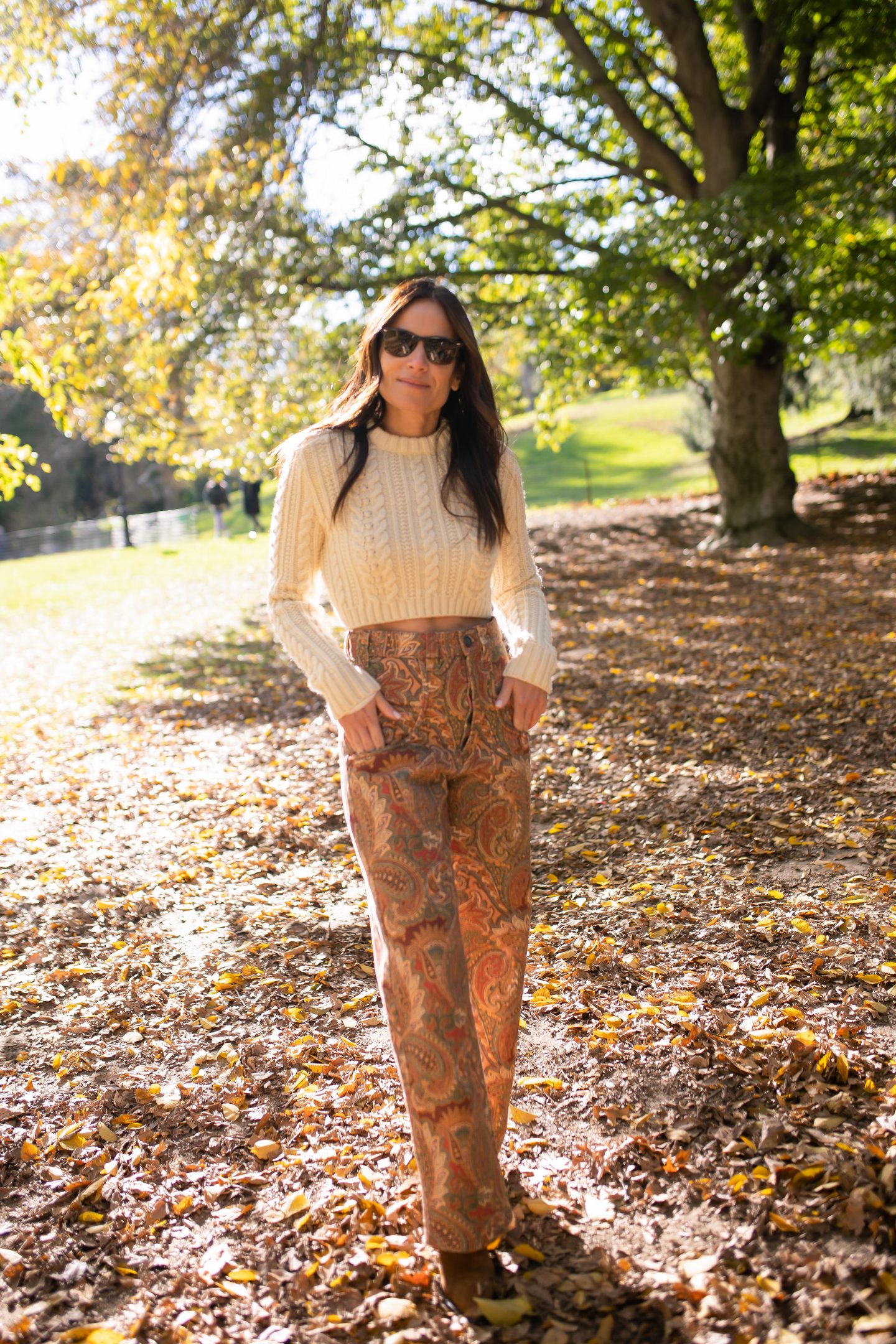 For all you dreamy creamy sweater lovers, I got you covered with this week's blog post. I've rounded up my favorite cream/ivory/beige sweaters of the moment from your classic turtleneck and crewneck style to your fruity and cropped must-haves. If you don't already own a sweater in this neutral tone, there are many fabulous options to choose from. If you do already own a creamy dreamy sweater, well, you can never have too many!
At the top of my creamy dreamy sweater list is this padded shoulder cable knit cropped sweater by Philosophy de Lorenzi. I bought this sweater back and in August and I've already worn it a bunch of times. I love a strong shoulder and the fit is super flattering. For those that are sensitive to wool, this sweater comes with a mesh lining that is soft on the skin.
Another favorite sweater of mine is this Kule crewneck "Bananas" sweater. I seriously love any article of clothing that has an actual fruit/veggie print or verbiage. Call me fruity?
This fit is more relaxed and a whimsical alternative to your basic cream sweater.
Next up is this classic, minimalist cozy lightweight cashmere sweater both in a short sleeve and long sleeve version by Theory that can be worn all year long. In theory, they're also the perfect transitional sweater.
Shop crewneck sweaters here:

When it comes to cashmere turtleneck sweaters, I am a huge fan of Reformation's styles. I own this cream ribbed, slightly cropped turtleneck sweater as well as in grey and they both come in handy and wear really well. The fit is relaxed and the sleeves are a blouson style which adds a bit of drama to the look. Reformation also makes this cashmere button-back sweater in cream that has a bit of an open back which makes it a bit dressier/elevated if you will.
If you're on the hunt for a classic cream turtleneck sweater, I really like this lightweight brushed jersey funnel neck sweater by Vince. It looks super comfortable and cozy and… thin enough to tuck into your trousers or skirts or whatever.
Shop turtleneck sweaters here:

As I mentioned earlier, I appreciate any article of clothing with a fruit print and/or embroidery, and this playful fruit applique wool-blend sweater by Sea is simply darling. I love a high neck and again a blouson sleeve always makes for a great statement.
Pretty please, with a cherry on top?
Bode makes this 60's style cream cardigan with a cherry motif. Besides the fact that I'm obsessed with this brand, It looks like the kind of piece I'd live in all winter long.
Last but not least is this sophisticated faux pearl-embellished cable knit sweater vest by Rochas. I have been eyeing this piece for a while now and know it would make an elegant addition to one's wardrobe. You can wear this vest on its own or style it over a button-down.
This jewel of a sweater (pun intended) also comes in a long-sleeved version with a nipped waist and balloon sleeves. Yes, please!
Shop printed/embellished sweaters here:

Though this isn't in the sweater category, I am a fan of these off-white tapered baggy high-rise jeans by AGolde so…in case you'd like to be a creamsicle from head to toe, these are jeans for you!
The End
Shop all creamy dreamy sweaters here: