There is nothing like clean white sneakers. They are a definite fashion statement and can be worn winter, spring, summer, and fall. I wear mine with jeans, trousers, little skirts and dresses and shorts of course – and I'm not talking about my tennis whities either. These street fashion whites are urban cool and will up your fashion game on and off the courts.
My current favorite of the moment are the Saint Laurent Court Classic sneakers. I wear them almost every day and am already on my second pair. They're cool and the double sole gives my petit frame a little extra height…I'll take it!
The Common Projects are another classic sneaker that I've been wearing for years. They're as chic as a white sneaker can allow and comfortable as well. On my wish list are the Vans which will definitely add a lil "prep" in my step. And the Puma x Kooples? They are just so lit. I've been eyeing the Veja sneakers for a while now. They're definitely trending and seem to continue to hold court. Not easy to choose when you "love" them all!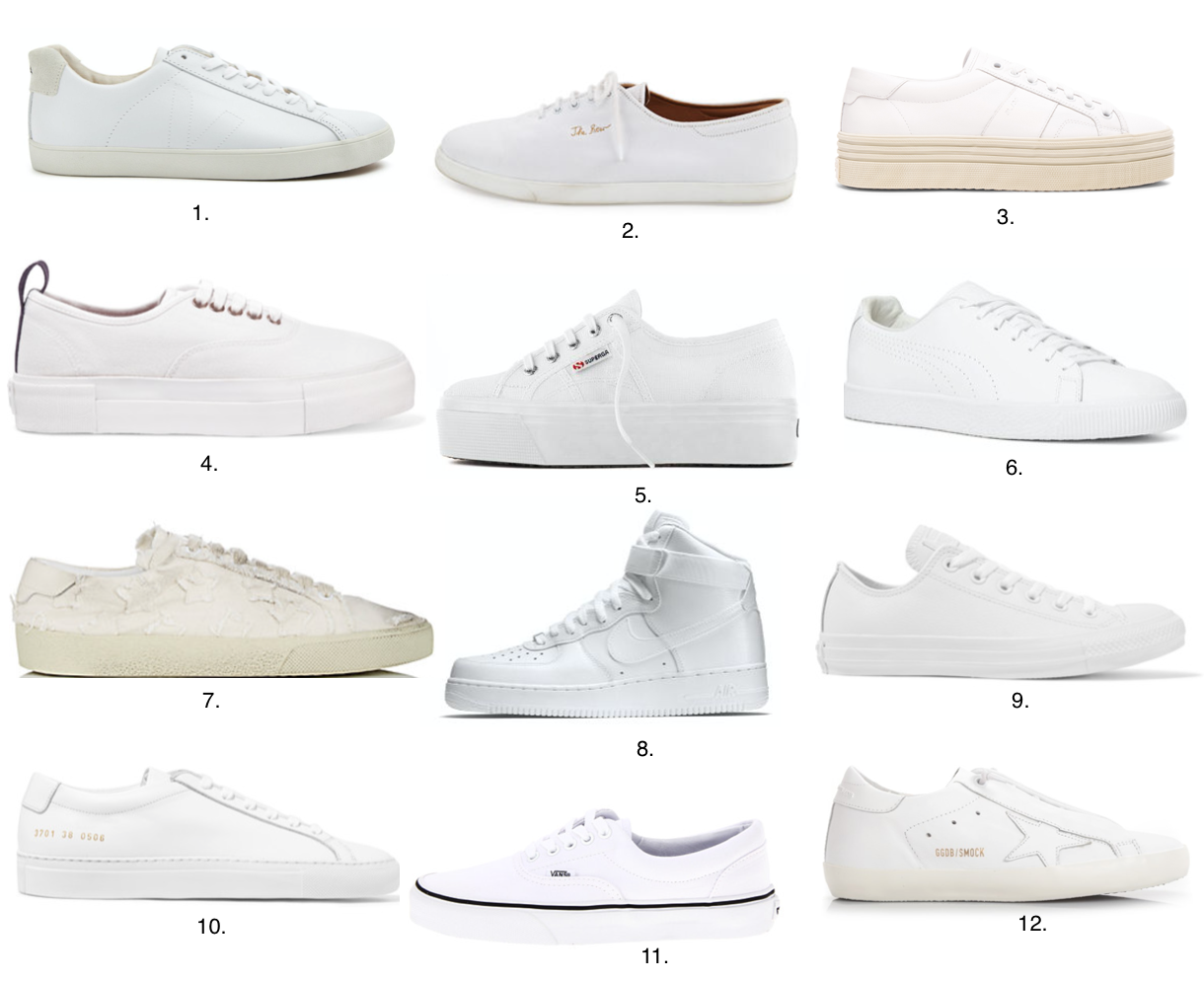 Veja Esplar Sneaker
The Row Dean Canvas Tennis Shoes 
Saint Laurent Court Classic Leather Sneakers
Eytys Mother Cotton-Canvas Sneakers
Superga Linea Platform Sneakers
White Puma x Couples Clyde Sneakers
Saint Laurent Distressed Canvas Sneakers
Nike Air Force 1 Sneakers
Converse Chuck Taylor All Star Sneakers
Common Projects Original Achilles Leather Sneakers 
Vans Era Core Classics
Golden Goose Superstar Low Sneakers