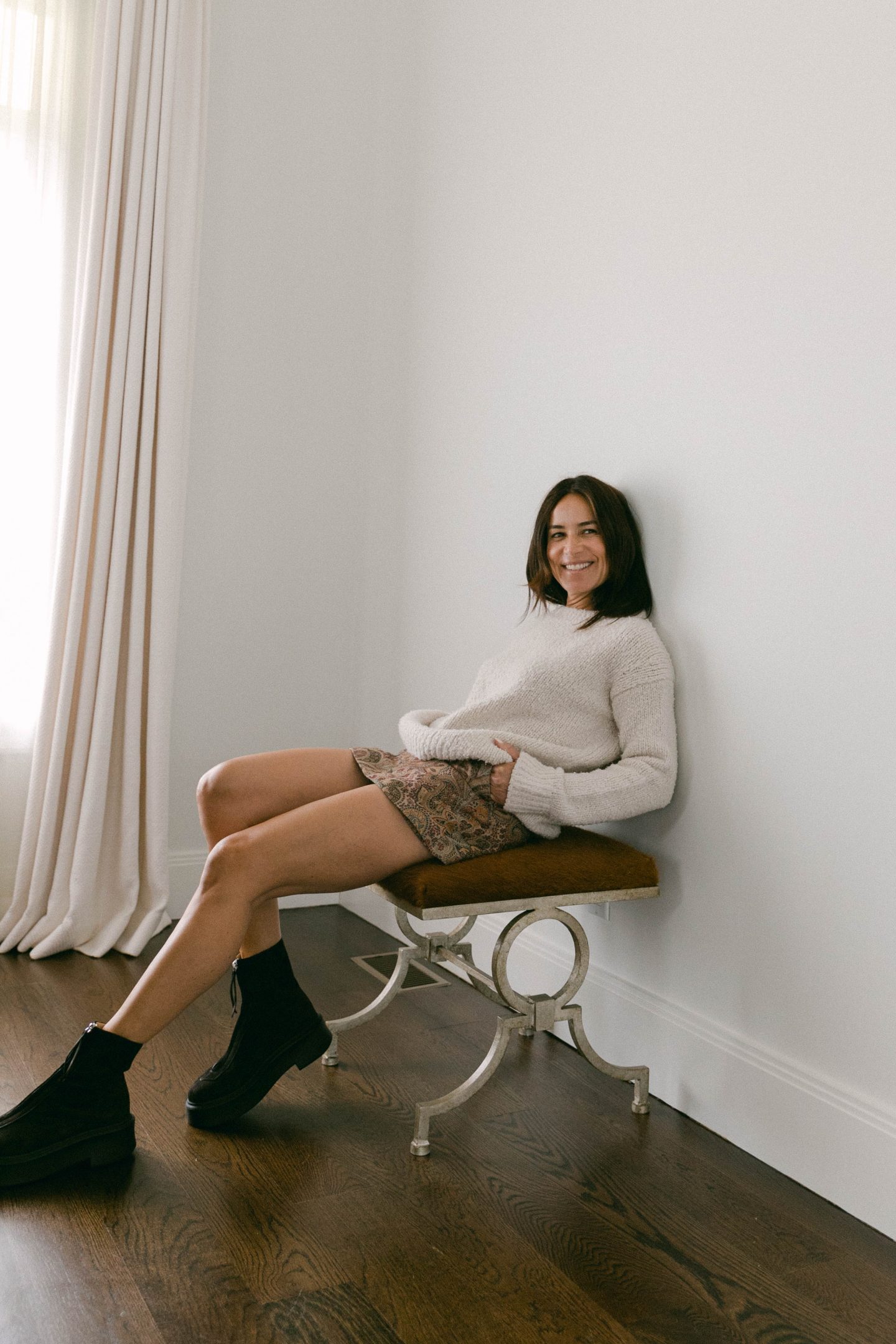 Calling all booty lovers… I've curated my favorite fall/winter ankle boots, and knee-high boots, and…just for the record… this is the only kind of booty call I'll ever respond to.
This season there are so many styles to choose from, ie chic and timeless, western-inspired, as well as an array of heel heights "to boot".
Boots, both ankle and knee-high, are wardrobe staples and versatile too. Most can be worn over or under jeans and with mini or maxi dresses. The options are endless.
When it comes to the flat black knee-high boot, I have my eyes on these Khaite leather lace-up knee boots. These actually remind me of a favorite canvas lace-up pair I used to own back in the '90s by designer Stephan Kelian. These can be worn with a mini skirt, maxi skirt, or with black leggings or skinny jeans.
This black leather knee boot by Saint Laurent is a classic option for those looking to reach new heights, via the 4-inch heel. This style also comes in black suede (see here).
Shop black knee-high boots here:

There is something so luxe about the brown knee boot. I am swooning for these Saint Laurent rich brown-colored leather knee boots with a 4.5-inch heel which is basically identical to the black leather and suede heel I mentioned above, but… with a slightly higher heel.
Being that I love all things western-inspired, these Etro light brown suede cowboy boots are at the top of my list and make for a statement shoe. This cognac Marion boot by Gabriela Hearst is another fantastic option – an elevated take on this rugged element if you will. I'm such a fan of Hearst and anything she does, she does to perfection.
One last knee boot I'd like to make mention of is this killer Victoria Beckham leather knee boot in a rich red tone. I can so see myself wearing these with dark blue denim jeans and a plaid boyfriend blazer.
Shop brown knee-high boots here:

On to the ankle boot… Last season, one of the best investments I made was the black chunky leather Chelsea boot by Gianvito Rossi which I wore A LOT. These classics are available this year too and are super comfortable, the most elegant of Chelsea boots, and they wear well.
The Bottega Veneta black leather chunky ankle boot continues to be all the rage so I thought to include these in the round-up! They also have a 3-inch heel for those who prefer "a little pick me up"
Shop black ankle boot here: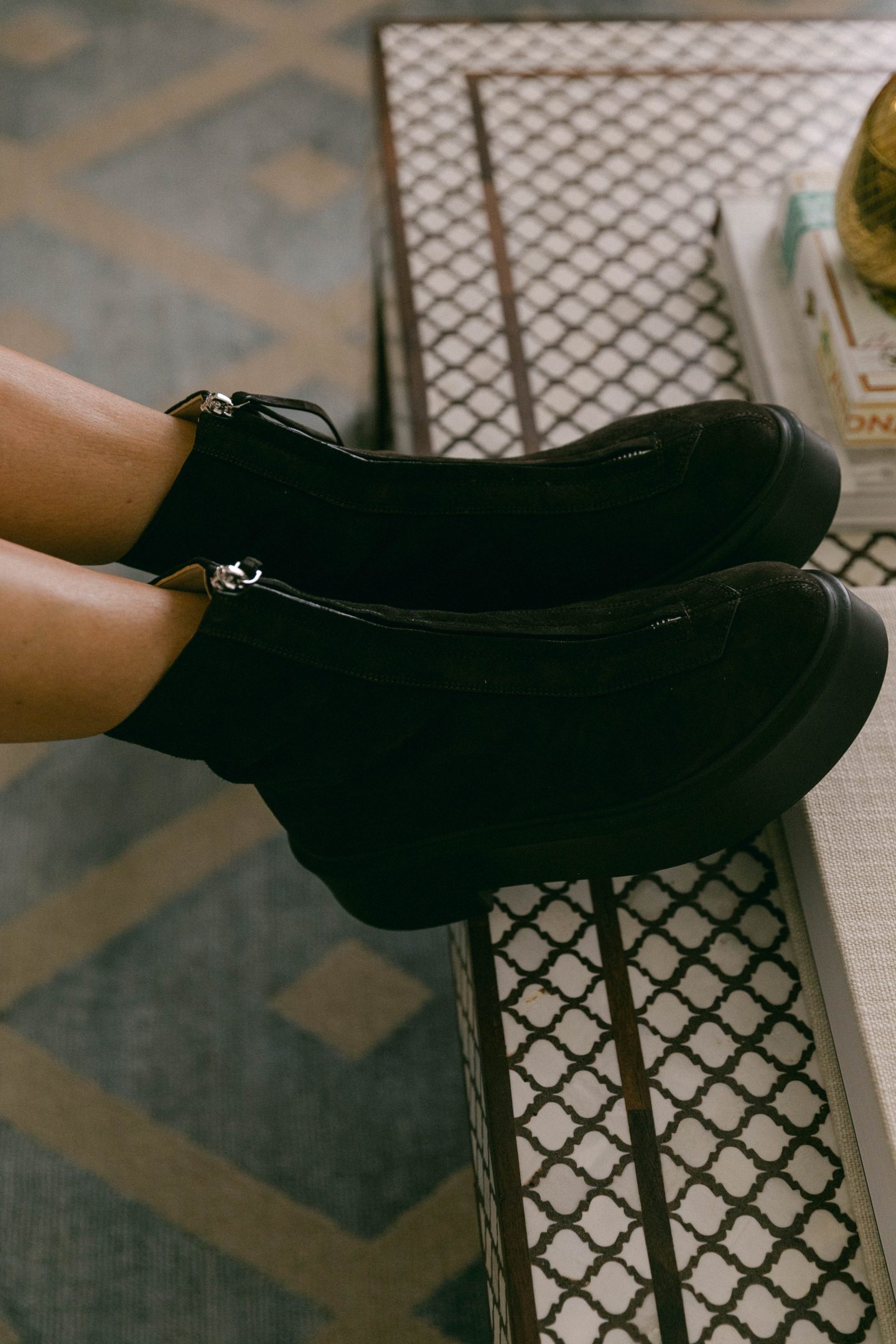 There are so many brown ankle boots to choose from this season, I don't even know where to begin. Actually, I do know where to begin and it's with these freakin' amazing brown zipped suede ankle boots by The Row which I recently purchased from My Theresa. I appreciate the clean aesthetic, the dark rich brown tone, and I'm all for the rubber sole which happens to add an extra 2 inches to my petit 5″3 frame plus… these are super comfortable. The first time I tried them on, the zipper was a bit stiff but it quickly loosened up so don't let this deter you if and when you try them on.
Another fab ankle boot I invested in last year that has been reintroduced this season are these Chloe brown leather ankle boots with a sock-like wool panel. I received so many questions about this boot which ended up selling out so quickly, so if you're a fan, I would jump on this one!
One last shoe that I'd like to highlight is this cafe-colored suede ankle boot with welt stitching, another favorite by A.P.C., and one that I own in leather from last season. This is another western-inspired ankle boot that I wore quite often and it's just so cool.
Shop brown ankle boot here:

Hope you enjoyed this fall/winter boot round-up and remember…good boots take you to good places!
Shop the post here: