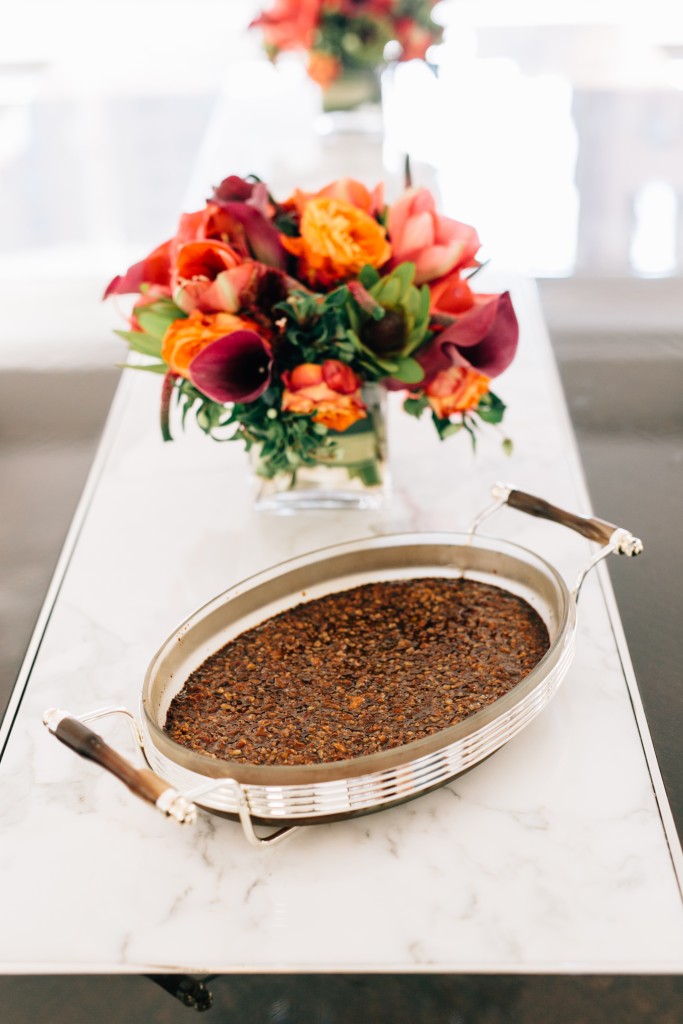 With Thanksgiving around the corner (just two weeks away!), I have begun to play around with pecan pie recipes, as dessert is the most important part of the meal, of course!
This dessert symbolizes the true beginning of fall and conjures up images of families gathered around the fire place eating this mouth watering sweet delight. This year, I plan on baking pecan pie bars. I find shortbread crust easier and less intimidating to prepare than a pie crust.
The most gratifying part of baking this dessert is watching it sizzle and ooze as it comes out of the oven. The sweet scent sends me over the edge. I literally have to stop myself from devouring the entire dish. Well not really, but almost, and the candied crunchy pecans? OMG. Simply heaven.
Note: Though I have been eliminating most sugars out of my diet, pecan pie on Thanksgiving does not count!
Below are 2 recipes to make your holidays a little sweeter. A happy ending if you will.
Pecan Pie Bars
Makes 2 dozen bars
For the base:
1/2 sticks unsalted butter, cut into 1/2 inch pieces
2 cups all purpose flour
1/2 cup packed light brown sugar
1/2 teaspoon salt
For the topping:
2 cups pecan
1 stick unsalted butter
1 cup packed light brown sugar
1/3 cup honey
2 tbs. heavy cream
Make the shortbread base:
Preheat oven to 350 F and arrange rack in the middle of the oven.
Combine all ingredients in a food processor and pulse until mixture begins to form small lumps.
Sprinkle mixture into a greased 13 x 9 inch baking pan and press evenly on bottom with a metal spatula.
Bake shortbread until golden, about 20 minutes.
Meanwhile prepare the topping
Coarsely, chop pecans in a food processor.
Melt butter in a 2 quart heavy saucepan over moderately low heat.
Stir in brown sugar, honey and cream and bring to a simmer stirring occasionally for 1 minute, then stir in the pecans.
Remove from heat (take a nice lick with your spoon at this point. mmm and shhhh)
Pour pecan mixture over shortbread and spread evenly.
Bake until bubbling, about 20 minutes.
Cool completely in pan on a rack, then cut into 24 bars.
Here is a recipe for the best pecan pie ever!
gimmesomeoven.com/best-pecan-pie-recipe
I asked my dear friend Kim Kushner and author of the New Kosher and Modern Menu cookbooks for tips on how to bake the perfect pecan pie.
• A good tip is to slightly undercook- center should not be wobbly.
• It should be soft to touch because the filling will harden as it cools so check 10 minutes before cooking time is up.
• A pecan pie is not the type of cake recipe you should test for doneness with a toothpick because you want the filling to be slightly soft. If you wobble the pie a little bit, the filling should not move all over like a soup, but if you gently press your finger into the top, it should spring back a little bit -that's how you know it's ready to come out of the oven.