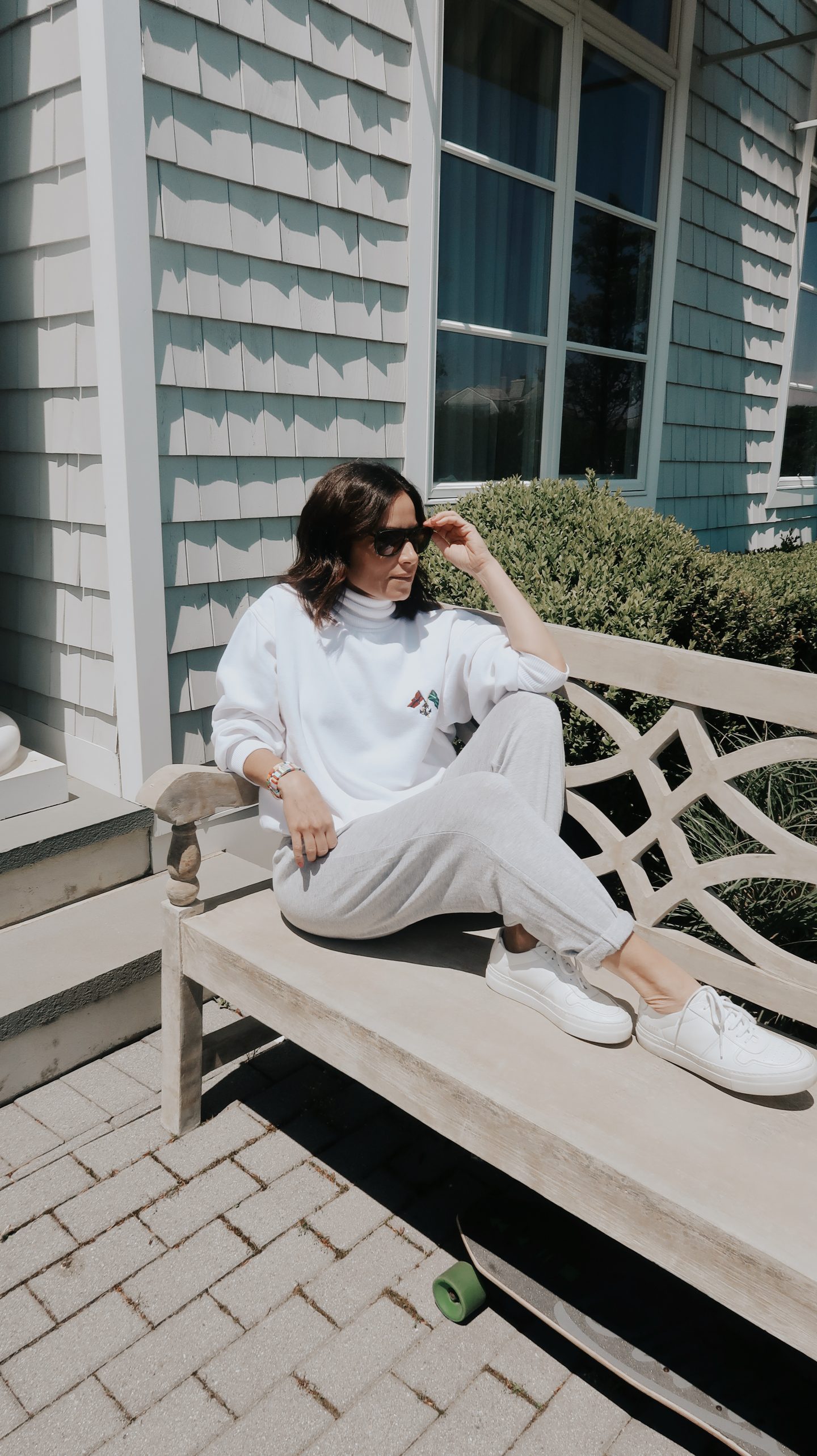 Who would have ever thought that sweatsuits would be our daily uniform come spring 2020? While the younger set seems to be ahead of this cool-girl style, I am not…which is why I thought I'd curate a selection of spring/summer sweats and sweatpants that well, suit my style and will hopefully suit yours as well!
With May in full swing and June upon us, I'm drawn to the clean and crisp white sweatshirt.
I found three cute styles that I'm very into… This subtly cropped turtleneck style by Cotton Citizen which seems to be trending majorly, this adorable Frame classic crewneck style with the cutest little embroidered cloud on the upper left corner and then this oversized sweatshirt with an attitude by Outdoor Voices.
Shop white sweatshirts here:

For those who prefer a bit of color, and sweatshirts that are to-dye for, there are so many cute ones! I'm always drawn to preppy so the first sweatshirt I'd like to highlight is this chevron hoodie by Tory Sport. I'm a big fan of Tory Burch's activewear line and if you have never visited one of her Tory Sport boutiques, you must – such a cool retro vibe. Lacoste, the French sporty tennis label, is another brand that reminds me of my teenage years and twenties, and I will always be loyal to. Check out this terry navy option here – très classique.

For a subtle tie-dye option, I love these two colorways in baby blue and grapefruit by AGolde. I've also included this Beachboy's sweatshirt by Madeworn because I'm obsessed with their music. It makes me happy and has me dreaming of the California coast – therefore I know this sweatshirt will make me happy too.

Shop colored sweatshirts here:

When it comes to sweatpants, I'm also a die-hard fan of Tory's style. I find them quite flattering and comfortable.
For a super comfortable, lightweight, yet cool style, I would suggest this pair by Splits59 which also happens to be on sale. You will live in these. I roll them up by the ankle to add a bit of an attitude and they also happen to be a little long on me haha.
Shop sweatpants here:

Lastly, for those who want an instant outfit here are some cute, clean classic options by Alo Yoga, Outdoor Voices, Cotton Citizen, and The Great.
Shop sweatsuits here:

Oh yeah, I asked my daughter Sonia who is very much in the know, to recommend some of her favorite sweatshirt/sweatpant brands, and here are her recommendations:
MadHappy
Pangaia
Aimé Leon Dore

Happy shopping and remember to try and not sweat the small stuff!