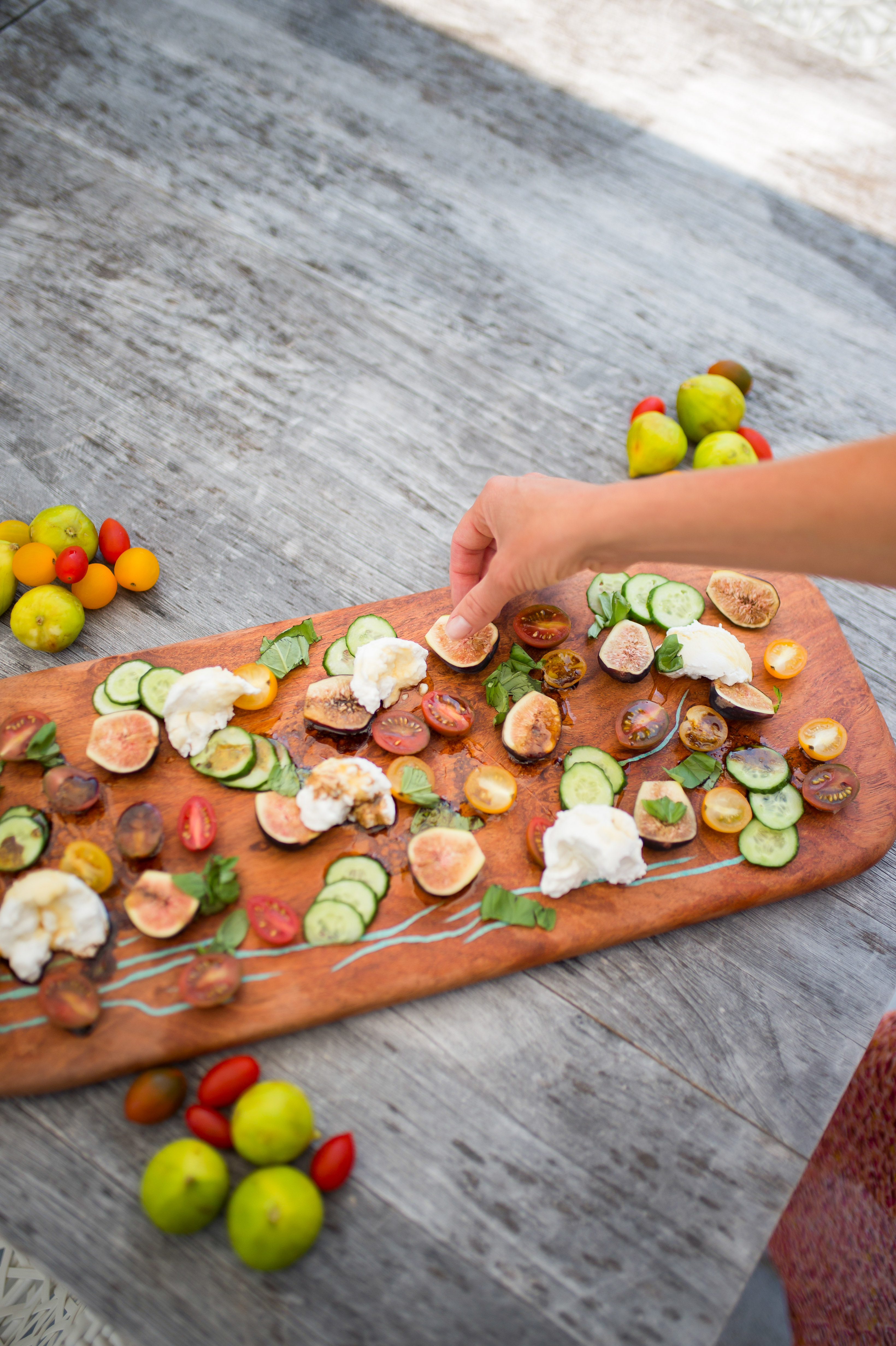 Summer is synonymous with salads. Well, to be completely honest so is rosé, blueberry pie, and soft-serve ice cream but let's just keep it at salads for the purpose of this post. Ok?
I always appreciate a summer salad recipe that is unique and tasty with directions that are easy to follow and that presents beautifully, of course.
One such summer salad recipe that fills all these criteria is the Fresh Figs, Baby Tomatoes, Ricotta and Truffle Honey Salad from Kim Kushner's highly anticipated cookbook, I Heart Kosher. If you don't already own this cookbook, it should be a must-have in your culinary arsenal.
I first made this summer salad recipe in June for the family (they're always my guinea pigs) and it was a smashing hit. The combination of fresh juicy figs, colorful sweet tomatoes, both of which just so happen to be in season, creamy ricotta and truffle honey, is simply mouth-watering. The preparation for this salad recipe requires minimal time and the way Kim artfully assembles the salad on a black slate is so stunningly artistic in a rustic sort of way.
I didn't have a black slate as shown in her cookbook photograph, so I opted for a cheese board instead and received many oohs and aahs. Of course, I took total credit for the presentation.
I think one of the best takeaways from this salad recipe was the introduction to truffle honey, something I never tasted before and which we all now use to dip our cheeses into (ie parmesan and pecorino).
Bon appétit and happy summer!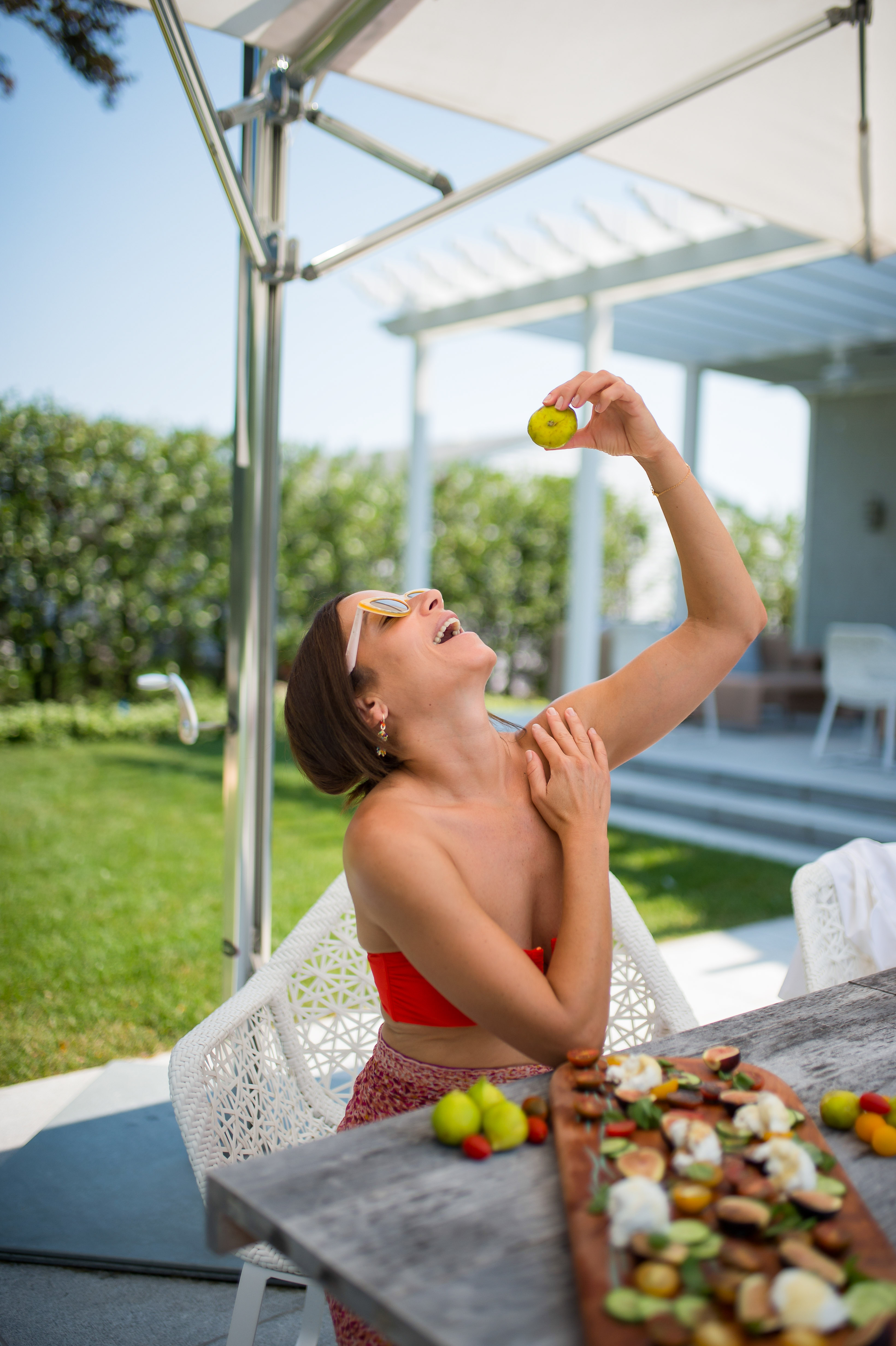 Fresh Figs, Baby Tomatoes, Ricotta & Truffle Honey
(Makes 4-6 servings)
Ingredients
10 ripe, fresh figs, black or green
2 cups baby tomatoes, any variety, halved
2 Kirby cucumbers, sliced into thin rounds
10 fresh basil leaves, roughly chopped
3 tablespoons extra-virgin olive oil
2 teaspoons balsamic vinegar
Kosher salt and freshly ground black pepper
3/4 cup ricotta
Truffle Honey
Directions
1. Using a pairing knife, gently remove the stems from the figs, and halve the figs lengthwise.
2. Scatter the figs on a platter and add the tomatoes, cucumber rounds and basil.
3. Drizzle with oil and vinegar, and season with salt and pepper to taste.
4. Toss all together.
5. Use a tablespoon to dollop mounds of the ricotta over the top of the platter. Drizzle the ricotta with truffle honey, and serve.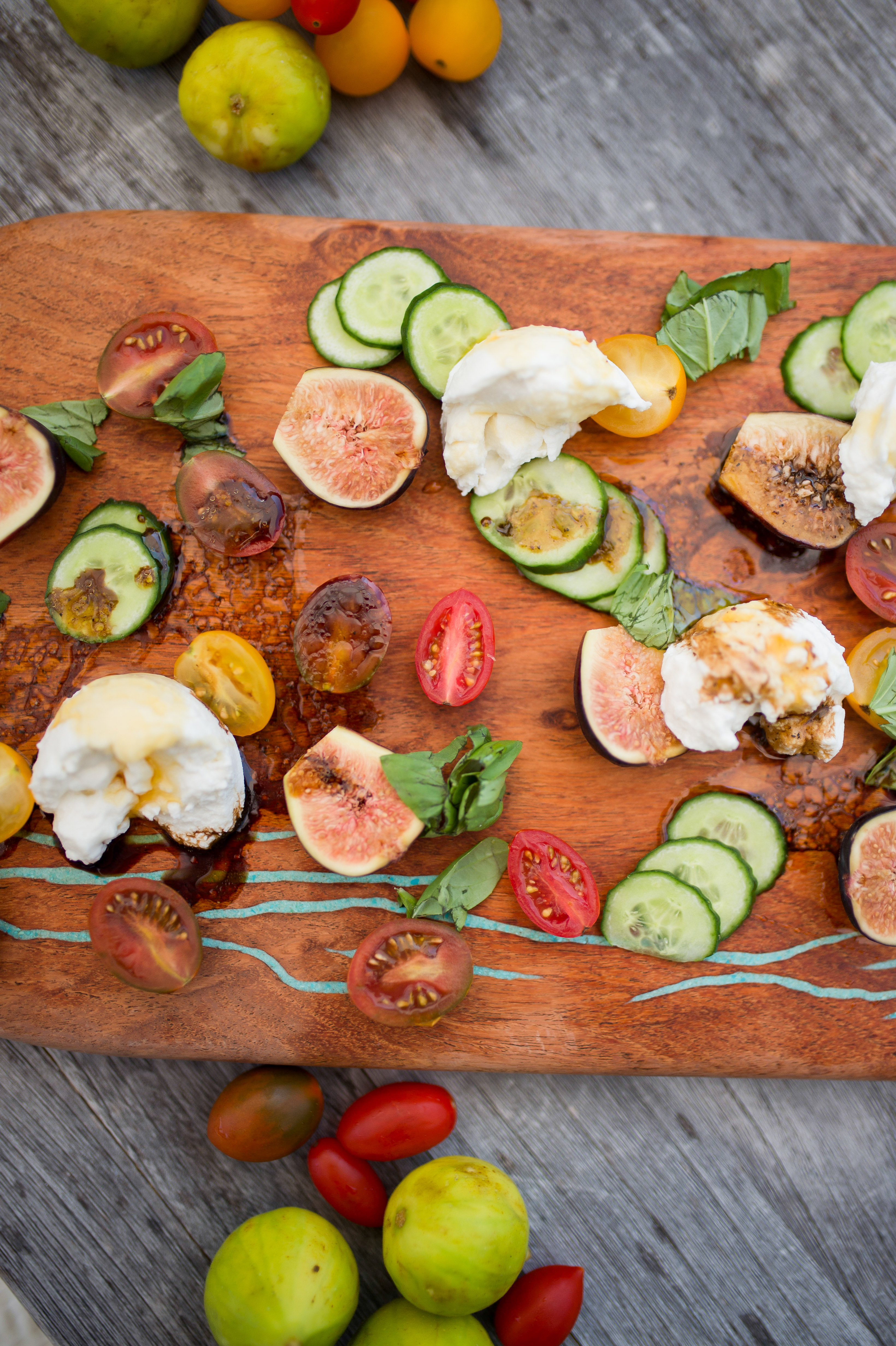 Make-Ahead Tip
The figs, tomatoes, and cucumbers can be prepared up to 8 hours in advance and stored separately in airtight containers in the fridge.
Chop the basil, assemble the salad, and drizzle with oil, vinegar, cheese, honey, and seasonings just before serving.
Shop cheeseboards here: