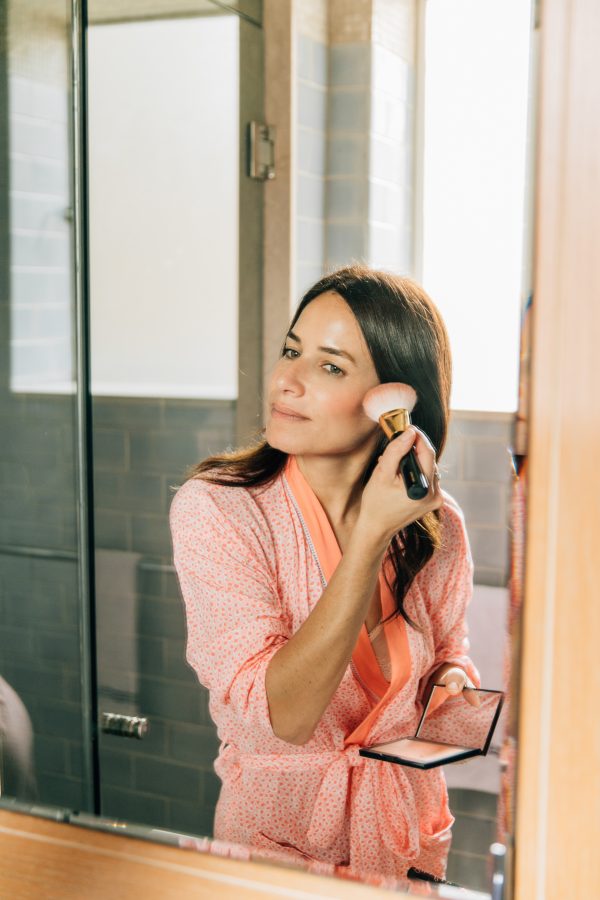 As a blogger, I am motivated to research beauty products I love and ones I think my readers would appreciate. Though beauty products are always on my radar, those who know me well might think otherwise as I tend to keep things natural – that's the beauty of my no-makeup makeup look. There are always quite a few products involved, and this month I am excited to share my top 6 summer beauty buys I've added to my arsenal.
I am most excited about Tom Ford's Eye Gloss. It basically looks like a lip gloss but it's really an eye gloss that can be applied to the upper lid and underneath the brow bone. This product adds a nice sheen to the eyes and is worn in lieu of eyeshadow. Let me be clear, I appreciate a subtle wet look, it's easy to apply and surprisingly enough, it's not sticky. The perfect addition to my easy makeup morning routine.
While I was at the Tom Ford counter at Bergdorf Goodman, I asked the beauty rep if he could show me his #1 best selling product. As a side note, I find this strategy a good way to cut to the chase at beauty counters. This avoids trying on everything but the kitchen sink and honestly, who has the time? The beauty rep showed me 2 products. The first product was Tom Ford's Lip Lacquer. Since lip gloss is my every day go to, I was curious to test it out and quite pleased with the subtle shimmer thanks to the pulverized pearls, a bit more sophisticated than your average glitter. He must have been spot on, as the product was sold out when he went to retrieve it. Good sign!
The second product is Tom Ford's Shade and Illuminate Glow Stick. I'll never pass up on a 2 in 1 product so I was immediately intrigued. Of course, I got even more excited when he mentioned the word illuminate and I got really hot when he mentioned the coral cream blush color. First I applied my Kevyn Aucoin The Neo-Bronzer that I apply all over my face and then I swiped the coral blush stick directly to my cheekbones which I then blended in with my fingertips. I finished off the lewk with the rose gold highlighter which I applied to the top of my cheekbones, for the perfect summer radiance. The highlighter can be used (almost) anywhere for a bit of glow.  Definitely a summer beauty buy essential.
As you know, I have been making the switch to all natural skincare products (see post here) but I held on to La Mer's The Reparative Skin Tint with an SPF of 30. This is one of my favorite products because of the perfect skin tone and light coverage it gives me. I finally found an all natural replacement by True Botanicals with their Everyday Sheer Coverage Medium Tint that contains an SPF of 20. I am a big fan of True Botanical's skin care products so this is the perfect addition to my routine. It always feels good knowing I'm nurturing my skin with a clean product.
No beauty routine would be complete without a scented candle to enhance the mood – burn baby burn. Whether I am taking a shower, slathering on moisturizer, or applying makeup, I always like to add a scent to the room. Diptyque's Feu de Bois is typically my go to, but I recently added 2 new favorites – Cotton Poplin by Byredo and The Webster Joys x The Webster's Custom Candle. I can't describe The Webster's scent as I completely burnt this one out, but Byredo's scent is a clean, welcoming scent that is a blend of chamomile, white cedar and a sweet musk. I can't really tell you what all this means but this scent evokes memories of charming boutiques I've visited on vacation.
It's very rare that I come across a perfume I like as I find most of them too strong, irritating and offensive. Actually, it's not unusual for me to wind up with a headache from odors. That being said, my all-time favorite is Frederic Malle's L'Eau d'Hiver (see post here). While I never thought I'd discover yet another perfume, last week I read about Creed's Virgin Island Water, the name alone had me hooked. While at Bergdorf's, I tested out this scent and it was quite appealing. It is a bit pricey so I am going to test it out once more before committing. I definitely recommend giving this a spritz if you're on the hunt for a summer perfume, think hints of lime and coconut, a wearable cocktail if you will.
Have you made any recent summer beauty buys? Please share below!
Shop the post here: