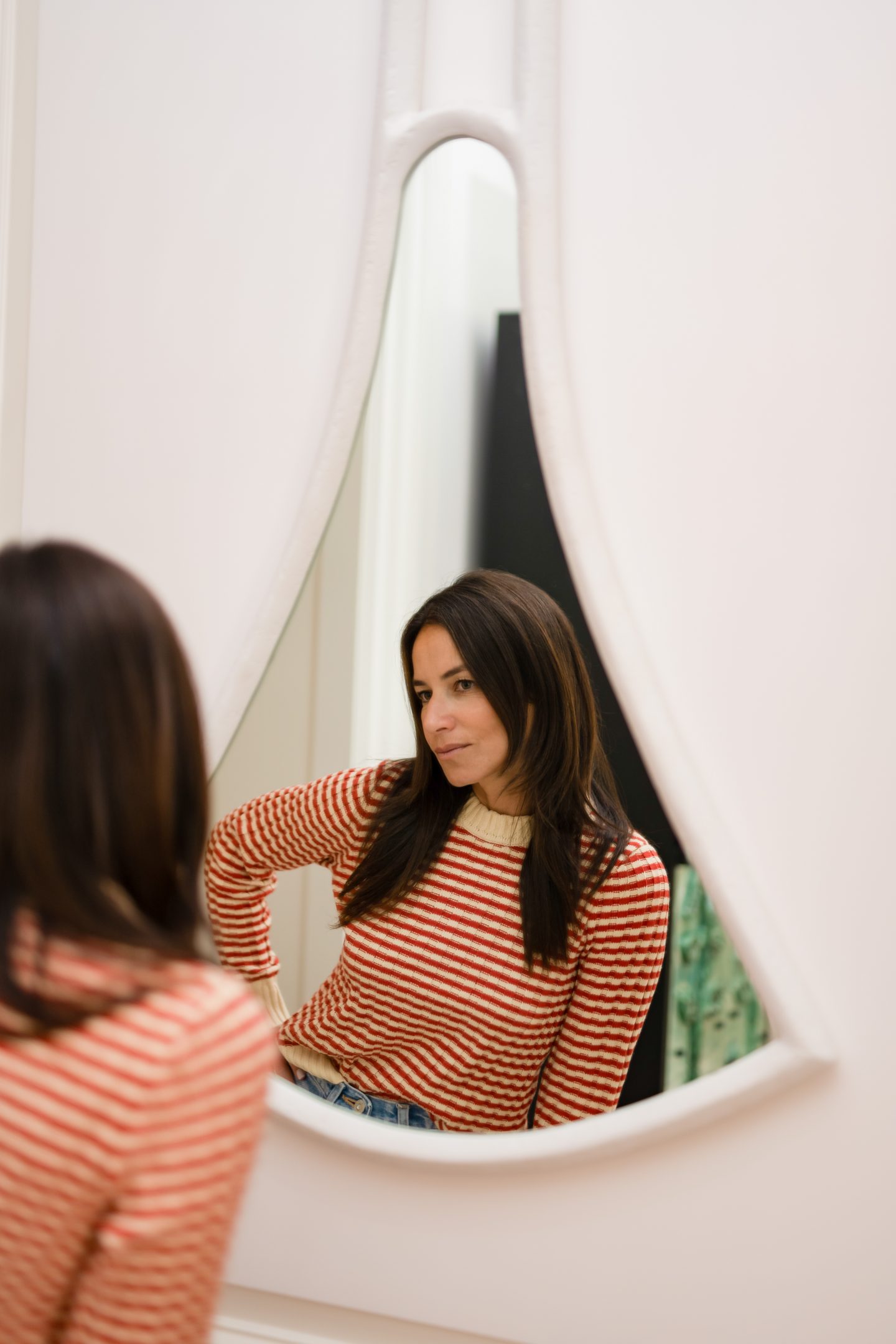 Last month I purchased this red and white striped sweater by The Great which was my inspiration for this month's red hot color crush. I love to add a bit of this passionate pop of color to my wardrobe, especially during the winter months when we tend to get lost in a sea of greys and blacks.
Ok…back to this soft cotton-blend sweater…Though I paired it here with a pair of blue jeans, I also styled this top with a pair of beige jeans and loafers. It's one of those easy go-to casual sweaters that are sure to bring joy to your days.
Love is in the air with this red balloon sleeve rib knit wool-blend sweater by Allude. I love the voluminous silhouette which makes it a bit more fashion-forward.
Sometimes a rose is just a rose but this Rodarte black floral print silk crepe de chine blouse and matching pants are so much more. I'm all about this red rose print pajama-style which is the perfect lightweight outfit for dinner and/or hostess entertaining. Add a bold red lip and oh the places you can go… I also like the blouse worn separately with jeans.
Another option is to leave it unbuttoned worn with a bralette. For those who prefer a dress to impress, check out this darling midi dress in the same print. The blouson sleeves and delicate ruffles at the shoulders are swoon-worthy.
This Forte Forte floral print blouse with a blue pipe detailing and mandarin collar (my fave collar style) is at the top of my wish list. I am a sucker for anything Western-inspired and so basically this lightweight cotton-blend blouse has my heart.
Shop ready-to-wear here:

On to accessories…
A few seasons ago, I purchased a pair of red ankle leather boots. I didn't wear them much until this fall and they're definitely having a moment. Lately, I haven't really had time to get creative with my daily uniforms so it's been a lot of white button-downs and jeans but when I throw on a pair of red ankle boots – it gives my outfit a bit of life and a whole lotta attitude. Each time I've worn them, I received many compliments. These red Saint Laurent leather ankle boots have a similar vibe and are definitely worth a try. FYI…They also come in a flattering knee-high boot version. Another amazing knee-high boot option are these rich red ones by Victoria Beckham that come with a block heel.
I had to include these fame retro red leather ankle boots because they're by one of my all-time shoe designers Michel Vivien and whatever Michel does, he does well.
When it comes to the sexy stiletto, no one does it better than Gianvito Rossi. These red suede open-toe sandals are everything and look AMAZING on. I tried these on in black and they're simply perfect.
Last but not least I must give a shout-out to these red Marni mushroom crystal-embellished earrings. I always love a bit of whimsy, especially when it comes to accessories and… I also have a thing for mushrooms so these are definitely a winner.
Shop accessories here:

Stay tuned for next month's color crush! What color should I crush on? Orange for Thanksgiving perhaps? Please comment below!
Shop the post here: