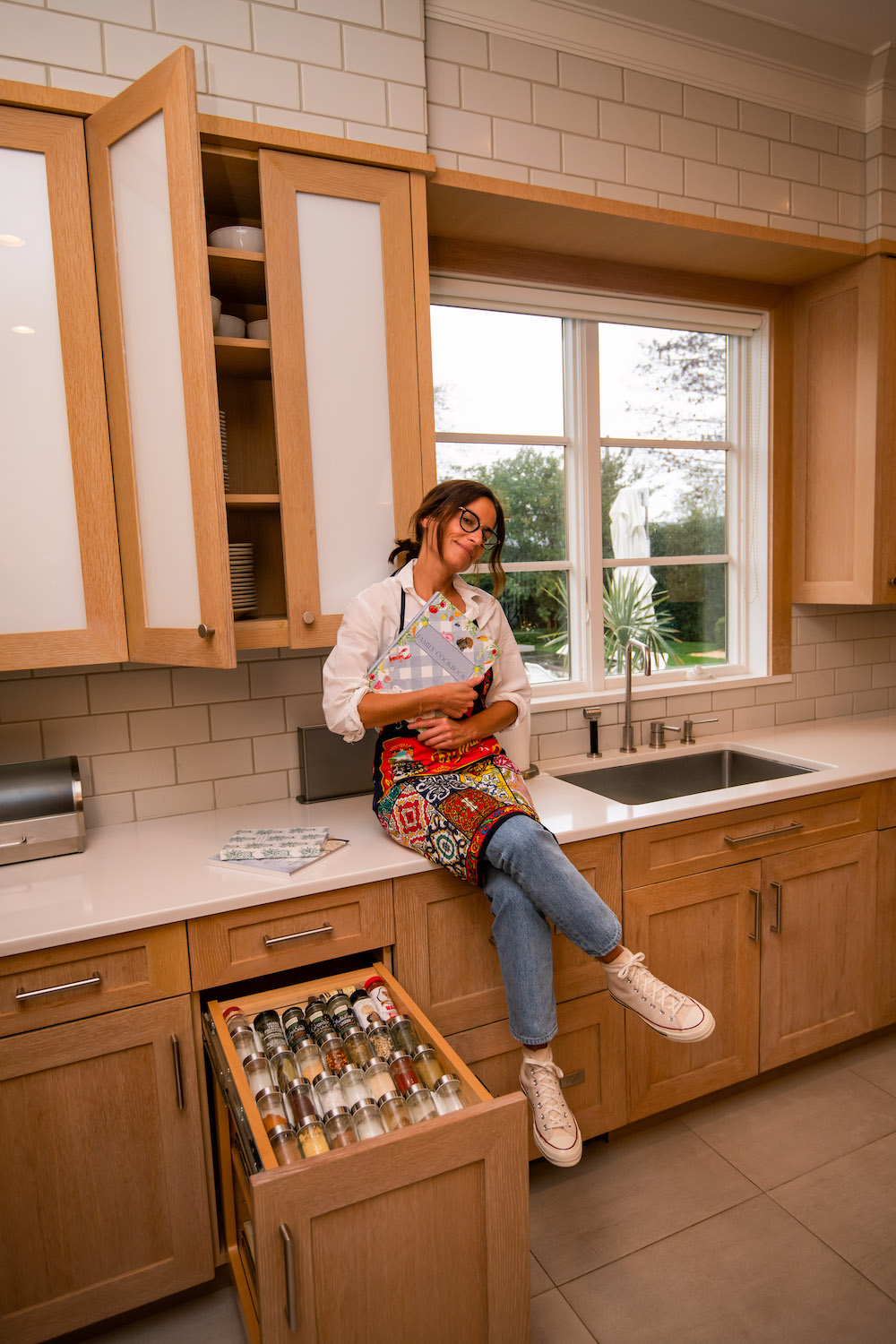 Trying to come up with interesting, well-balanced, and family-friendly nightly menus can be challenging and on occasion, overwhelming. There is much to think about when planning weekly meals ie, coming up with different recipes, and making sure you have all the necessary ingredients on hand when it's time to prep.
I thought I'd dedicate today's post to 5 helpful tips for planning weekly meals, and having the answer to the daily question, "what's for dinner?"
A Goal Without A Plan Is Just A Wish
My best advice for staying organized when it comes to weekly meal prep is to plan out your menu a week in advance, ideally on Sunday. It may seem tedious at the time but it will be worth the effort when you have one less thing to think about come Monday.
A Recipe Is A Story That Ends With A Good Meal
When you are at loss for what to make, it's worth checking out food blogs/Instagram channels for inspiration. I'm currently having a major @hungryhippos moment. She just released a user-friendly cookbook and so far, all her recipes are all winners. Bonberi and Goop are 2 other fabulous sites where I'm guaranteed to find yummy menu ideas. I also refer to my favorite cookbooks, ie Quicker than Quick, Sababa, I Heart Kosher, and It's All Easy to name a few.
I still purchase Bon Appetit and Food & Wine magazines on the monthly, and tear out the recipes that whet my appetite. What can I say? I'm old school! Another suggestion is if you have an idea of what you're in the mood for but you just don't know where to start searching for recipes, google "best (insert food)" and you will find great recipes.
This may sound like a bit much, but I've done this a few times over the summer for hamburgers and dip ideas and it worked like a charm.
Last but not least, friends and family members are always good resources for recipe ideas. I've been calling on my sister a lot lately and boy does she have an amazing repertoire.
Be sure to note down your nightly menus in this charming Papier journal, or even in the note section of your mobile phone. I can't tell you how many times I referenced past menu ideas and repurposed them. Sometimes you can be your very own inspiration.
The Most Important Ingredient In Your Kitchen Is Love
Once you have your menu written out for the week, I suggest going through each recipe and creating a list of all the ingredients that need to be purchased. There is nothing more frustrating than being smack in the middle of cooking and realizing you ran out of a certain item. Once you have your list, call your local market, and if delivery is an option, it's a real time saver. Otherwise, make sure to get to the market early and do your shopping. I personally don't mind a trip to the market when I have the time. I find it relaxing and true confession- I have a thing for supermarket music.
Happiness Is Homemade
When it comes to cooking, I suggest doubling or even tripling the recipe if the item freezes well. I do this often when it comes to veggie burgers, chicken burgers, and even pesto sauce. I'll also triple salad dressing recipes that I use throughout the week.
Recipe Organization Ideas
Last but not least, I suggest keeping all your recipes in one place. I have 3 binders filled with torn out/printed recipes. I slip them into plastic sleeves and divide them by food category, ie appetizer, fish, meat, etc…
I was recently gifted a really cute recipe journal from Lou Lou Baker and I've been using it to paste recipe printouts. Having one designated place to refer back to, beats rummaging around for scattered recipes all over the place.
Hope these tips help make your weekly planning process go that much smoother. If you have any tips that make your weekly meal prep a breeze, please share below!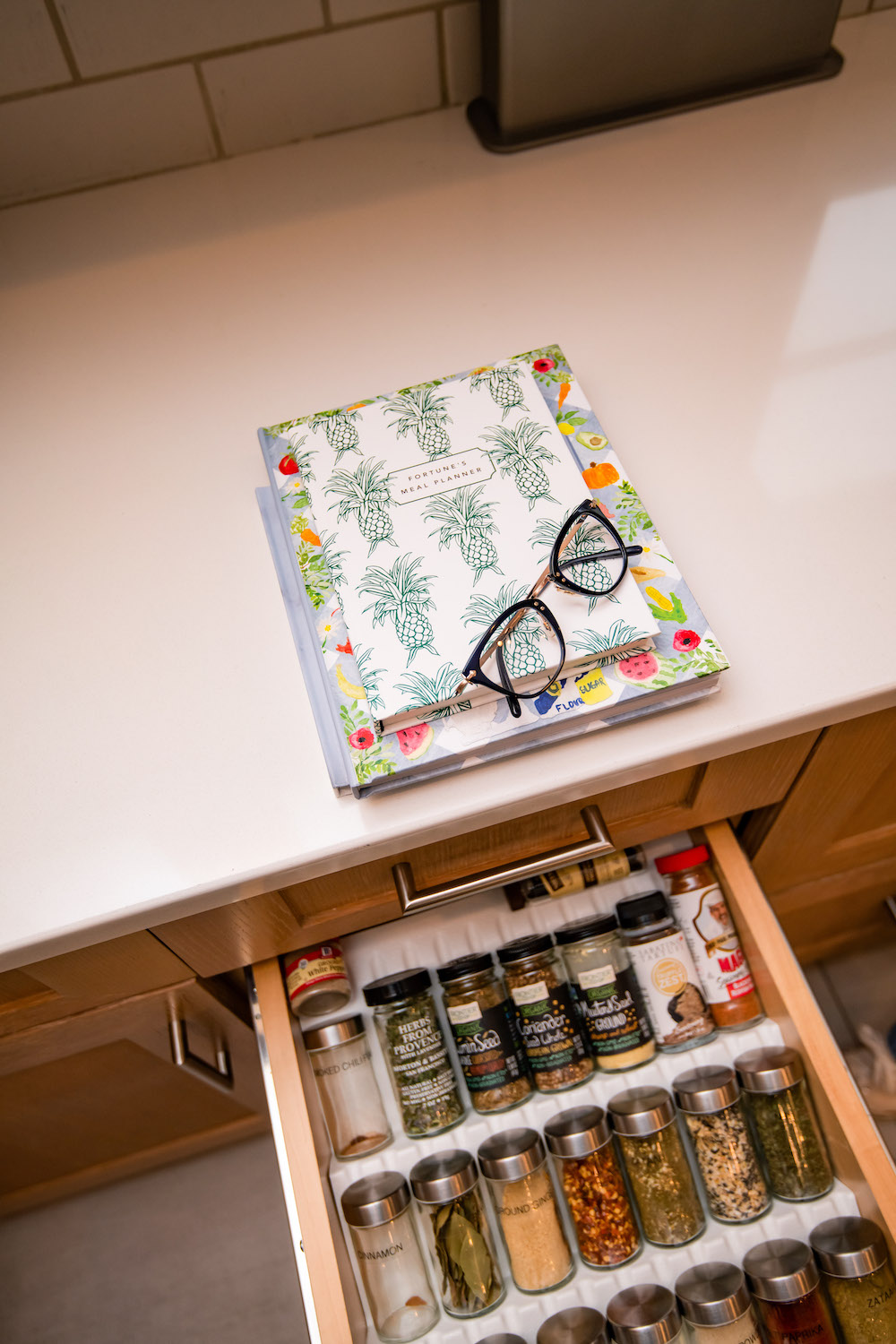 Shop the post here: