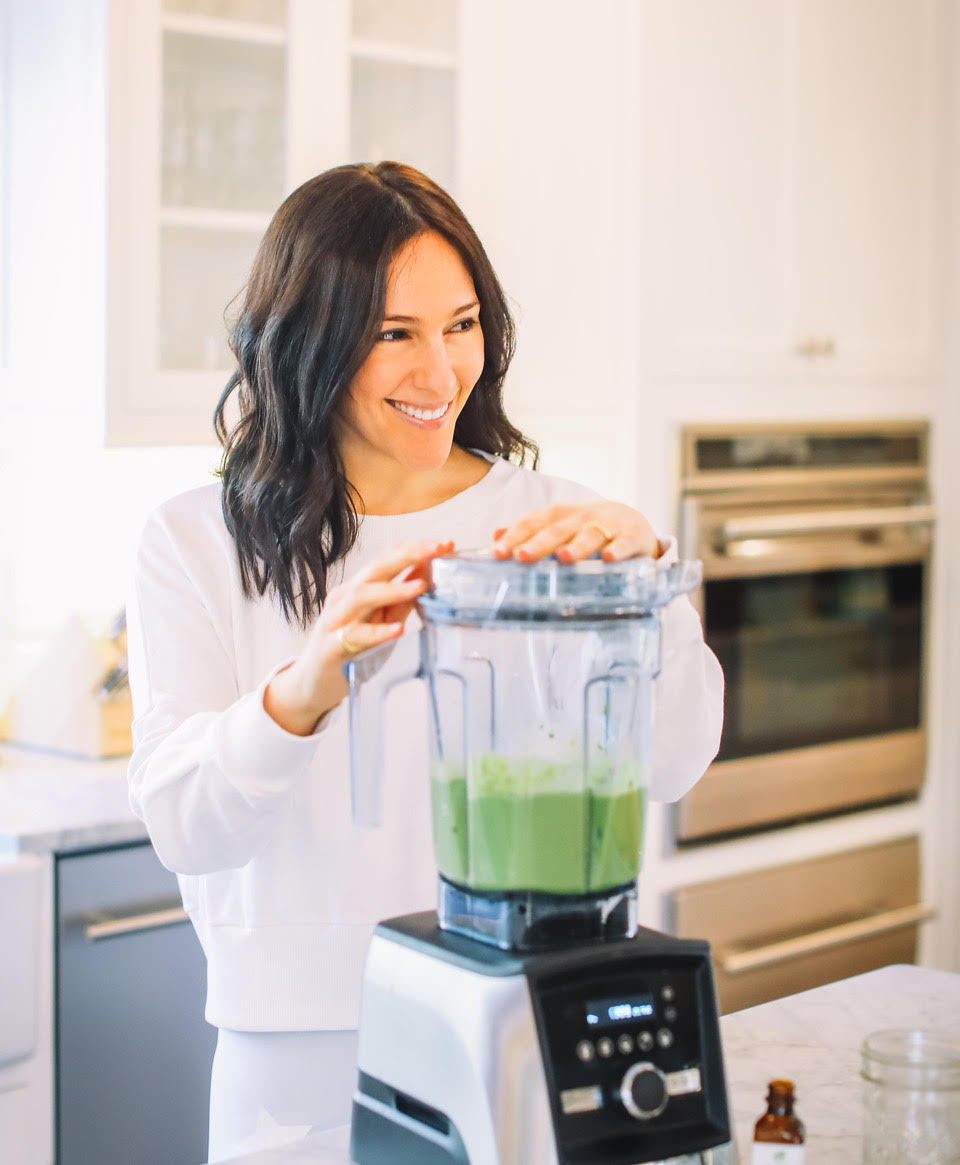 Wellness influencer Laurie Lloyd is always on my radar and with good reason.  I love her re"fresh"ing feed, Liv Light, that incorporates healthy, delicious recipes, fitness, style and real-life mom on-the-go moments, plus some fun and fantastic vacations which I live vicariously through.
She's chic as hell, and I'm not only talking about her fashion sense.  It's how she lives her day to day life and how she presents herself, her food and travel on social media. She's approachable, relatable, and as all influencers I highlight on my blog – she keeps it real.
I'm not sure how we became insta-friends but I'm thinking it was probably through our mutual friend and health guru, Tanya Zuckerbrot.
I came across her delicious and decadently healthy chocolate chip cookie dough balls on the liv-light site and became a fan of hers ever since.
We first met in person last year at a lunch at Le Bilboquet where we talked all things health over a salad Nicoise. As they say, the rest is history.
I recently posed a few questions to Laurie hoping she'd shed some "light" on her Liv-Light style.
1. Have you always led a healthy lifestyle?
Laurie Lloyd: I have gone through phases just like anyone else, but for the most part I have always led a fairly healthy lifestyle. Believe it or not, my grandmother was a vegan when I was growing up (she is still thriving at 93!) and my mom was always on a diet (think blueberries and cottage cheese for dinner), so I always had a good understanding of different ways of eating (not necessarily healthy though!). In my adult life, I have learned to absolutely love vegetables and eat as many as possible. I always try to bulk up my meals with greens and non-starchy veggies in order to feel full and satisfied. I'm not a huge sweets person, so that's never been hard for me to resist them, but will always have a few bites of a delicious dessert. Wine and cheese are probably my favorite indulgences, and I continue to eat them mindfully!
I also love to healthify favorite foods. As mentioned, I'm more of a savory person and I love Asian, Indian, and Mexican food. I've found that, for example, cauliflower fried rice, tacos in lettuce wraps, and healthier curries really satisfy my cravings for these favorite cuisines.
When it comes to exercise, I enjoy movement, but definitely struggle with the commitment aspect. I can always find something I "need" to do in place of working out. I love to walk outdoors and try to do some kind of strength and resistance exercise a few times per week.
2. What does a day in the life meal plan look like for you?
LL: Breakfast:
@livlight_ Mint Mocha Smoothie with @ffactor powder
OR
Egg white omelette with veggies on GG crackers and hot sauce
Lunch:
Huge chopped salad filled with tons of non-starchy vegetables and 3-4 ounces of lean protein
Snack:
Usually a high protein and high fiber bar (RawRev Glo or Kirkland), because I'm always on-the-go!
Dinner:
Fish, shellfish or chicken (and occasionally red meat) with tons of veggies and a glass (or two) of wine.
3. I saw your before and after photo on Instagram. First of all, congratulations on reaching your goal, putting yourself out there, and keeping it real! Can you tell us how you got there?
LL: I used to be mostly plant-based… eating lots of sweet potatoes, quinoa, lentils, chickpeas, rice, etc., and found it wasn't working well for my body, and I was slowly putting on weight. When I reduced those foods and added more lean protein, I was finally able to reach my desired weight. I also cut back on fats, even the "healthy" ones. I was just eating too many (think coconut oil in my coffee and smoothie, entire avocados, tons of EVOO, tahini, etc). While the healthy fats are great for our brain, skin, and so on, they need to be eaten in proper portion sizes.
 4. What are your top 5 superfoods?
LL: More categories than foods, but…
1.      Non-starchy vegetables
2.     Lean proteins
3.     Cauliflower Rice
4.     @LivLight_ Signature Smoothie
5.     Wine (JK)…actually water (we all need to hydrate more…I shoot for 3L per day)

6. As a mother of two, influencer and traveler, how do you keep the balance?
LL: Honestly I love the way that I eat and find I can easily do it anywhere. I basically follow the F-Factor way of eating, which allows me to travel, dine out, drink wine, and enjoy the foods that I love. I have a good amount of discipline and try to have a few bites of indulgent foods rather than an entire pizza or order of fries.
 7. If such a thing exists, what are your favorite healthy guilty pleasures?
LL: Wine, cheese, and dark chocolate. However, I truly believe that a few mindful bites of anything are not going to keep anyone from reaching their goals.
8. I love following along on your travels. Where will your travels take you this summer?LL: We absolutely love to travel and explore new places, cultures and, of course, food. We are excited to visit Provence, London, Capri, and Sardinia this summer before our big move to Miami in July.
 9. What are 5 travel beauty essentials you can't live without?
LL:
1. it Cosmetics-Your Skin But Better CC+ SPF 40
2. Peter Thomas Roth-Oily Problem Skin Instant Mineral brush sunscreen
3. Charlotte Tilbury (I love all her products)-Filmstar Bronze & Glow
4. W3LL People-Bronzer Stick
5. Cle de Peau-Concealer Stick SPF 25
6. Kevyn Aucoin-The Volume Mascara
7. Kevyn Aucoin- Eyelash curler
8. Pacifica-Enlightened Lipgloss in Beach Kiss
Sorry, that's eight!
 10.  With summer and cocktail hours on the horizon, how do you avoid temptation?
LL: Honestly I don't! I think there is always room for our favorite mindful indulgences. I love a crisp glass of white wine, a spicy (no sugar) margarita, or an Aperol Spritz, and I'm not willing to sacrifice enjoying them. I look at my diet sort of like a bank account…if I know I'm going to indulge in the evening, I will have a really healthy breakfast, lunch, and snack so I don't go into the evening ravenous, but have no guilt eating or drinking the things that I love.
Shop Laurie Lloyd's favorite's here: