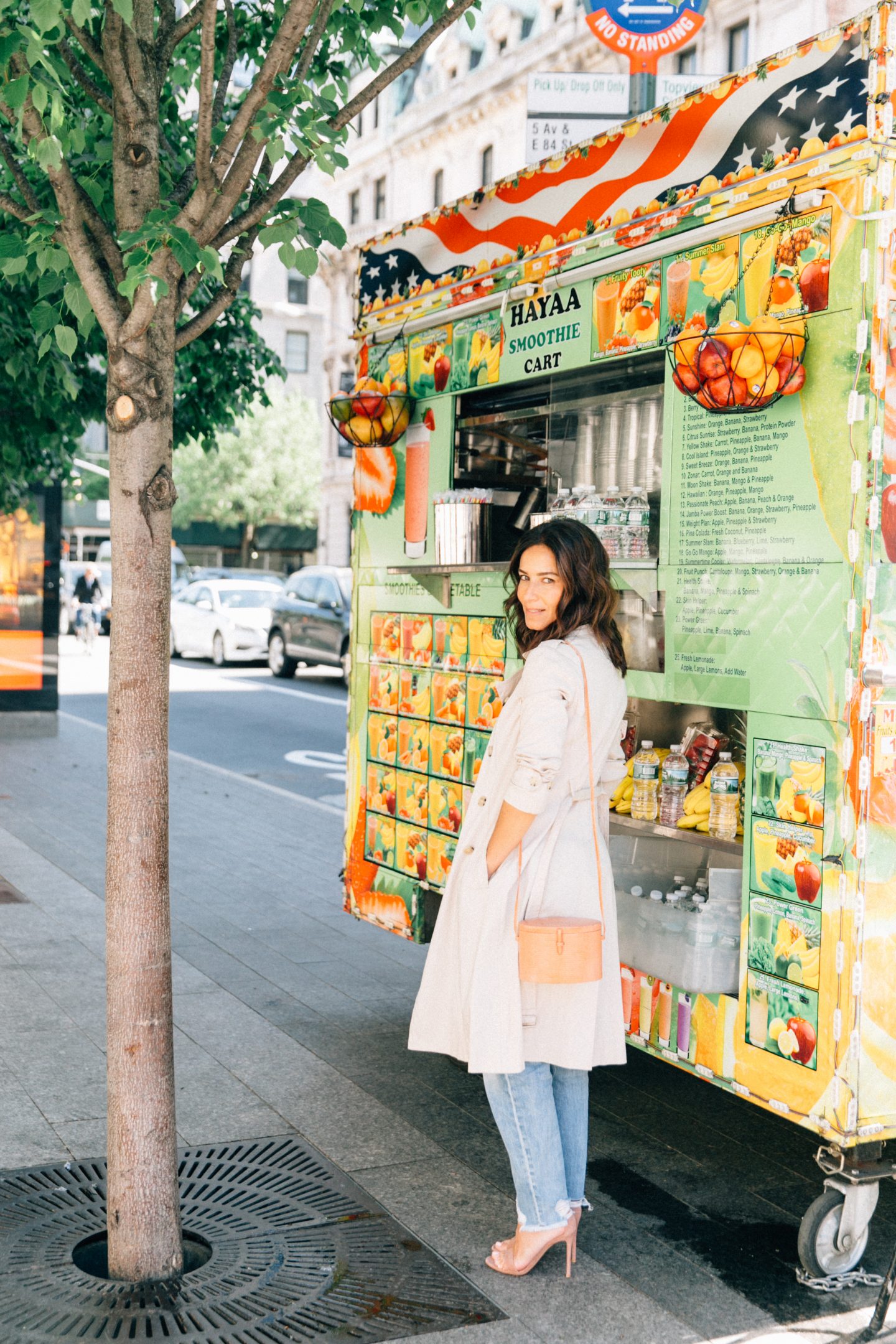 I was in Kirna Zabete a couple of weeks ago and an exotic skin bag by Hunting Season caught my eye. I needed to have this because of its unique rounded shape and its rich neutral peachy color. Does one really need a reason for a new bag?? This will definitely be my IT bag for summer!
After my purchase, I did a little research into the brand and found an appreciation for their aesthetic. Their bags are classic, have a refined elegance and come in a perfectly curated array of colors and designs.
I recently caught up with designers Danielle Corona and Lena Baranovsky for a close look behind the brand.
Can you tell us the story behind the name?
We define Hunt as a search for something until it is found.
The brand was created because of my personal hunt for beautiful pieces and when creating a collection, my favorite part of the process is the hunt for beautiful materials, colors and craftsmanship. I enjoy collecting beautiful things whatever they might be, I hope someone experiences this pleasure when acquiring a Hunting Season piece.
Your handbags come in unique shapes. Where do you draw inspiration from?
I find inspiration everywhere. For example, our trunk bags where inspired by the baskets my mother-in-law brings us from Bali. I loved the shapes and dimensions and applied it to my collection. Its been a hit.
Who do you have in mind when you design?
Myself. I think about what I like to wear and how it works in my life and wardrobe.
Where do you see your brand in terms of product growth?
I would love to grow into home accessories.
Was there a defining moment in your career? 
Barney's was the first retailer to buy my collection, seeing my collection on their main floor on Madison Avenue was the defining moment for me.
Where will your bags be taking you this summer? Which ones will you take along on your travels?
I will be in Europe this summer with my family:, Provence, and later Ibiza for a wedding. I will take my straw trunk bag as they are easy to pack and they work for day and evening. The long shoulder strap makes it easy to be hands-free so I can handle my two baby boys.
What are your 5 top "hunted" spots in NYC? 
Omen Sushi on Thompson –neighborhood Japanese always delicious
San Ambroues for Italian and wine
Fivestory is a fun stop to check out the latest in new designers, I love Claire's playful selection.
Lifethyme Market on 6th Avenue
Greenwich Hotel – This is where I stay when in NYC now that I do not live there. I love it and the spa feels like you have been transported out of the city.
Tell us what essentials can be found in your bag?
Here is what is always in my bag: Sunblock, Passports, Hunting Season credit card wallet, baby wipes and lipgloss.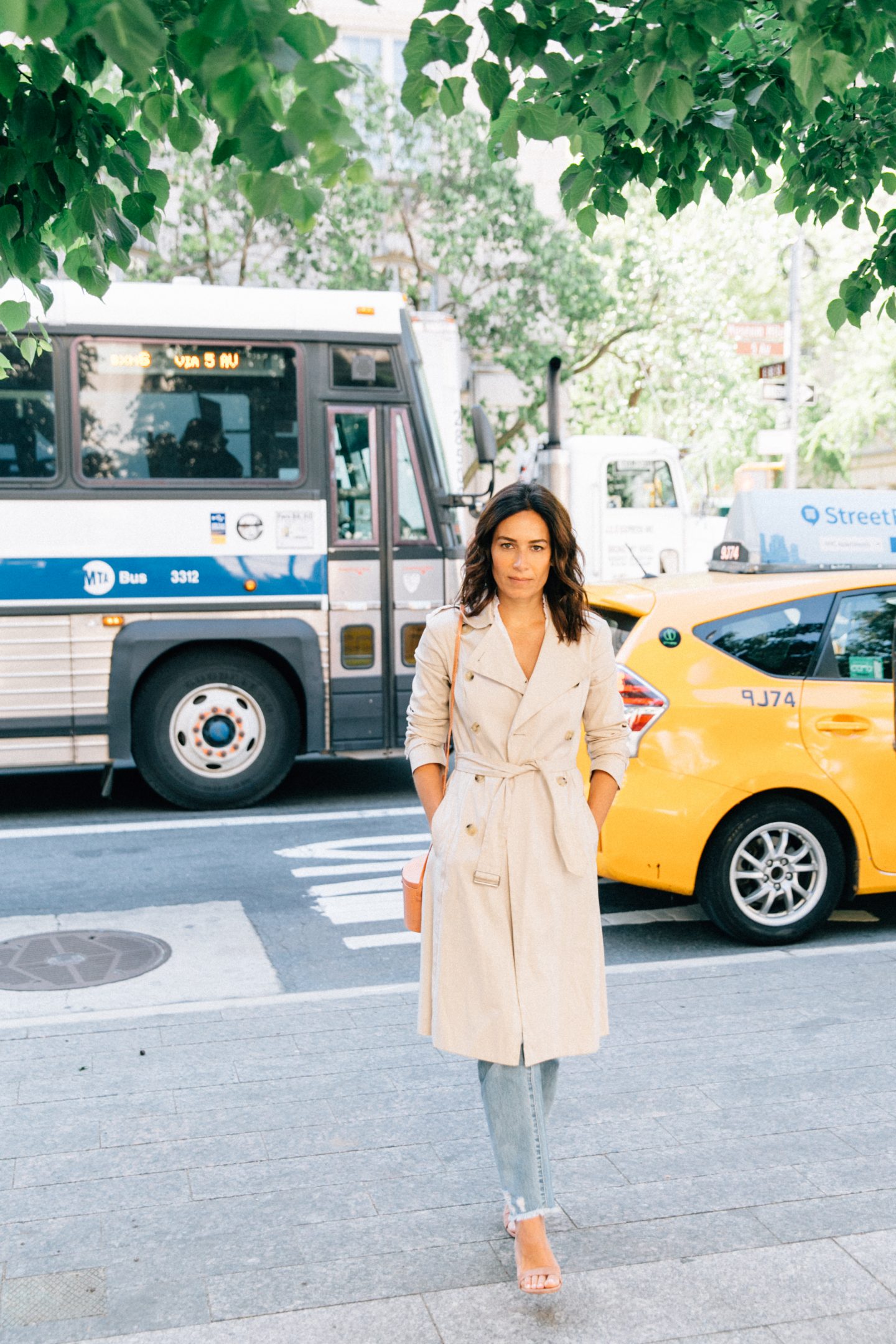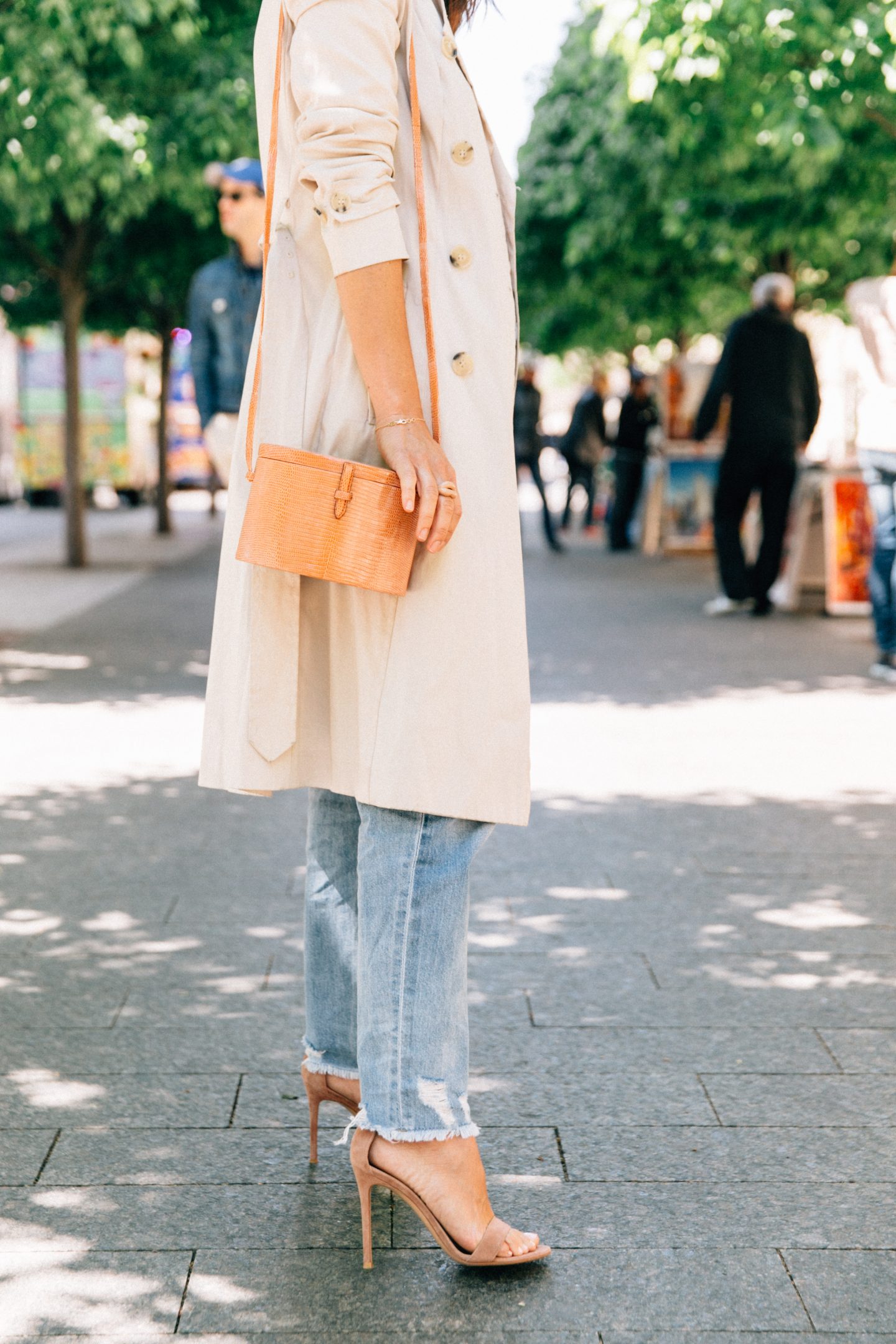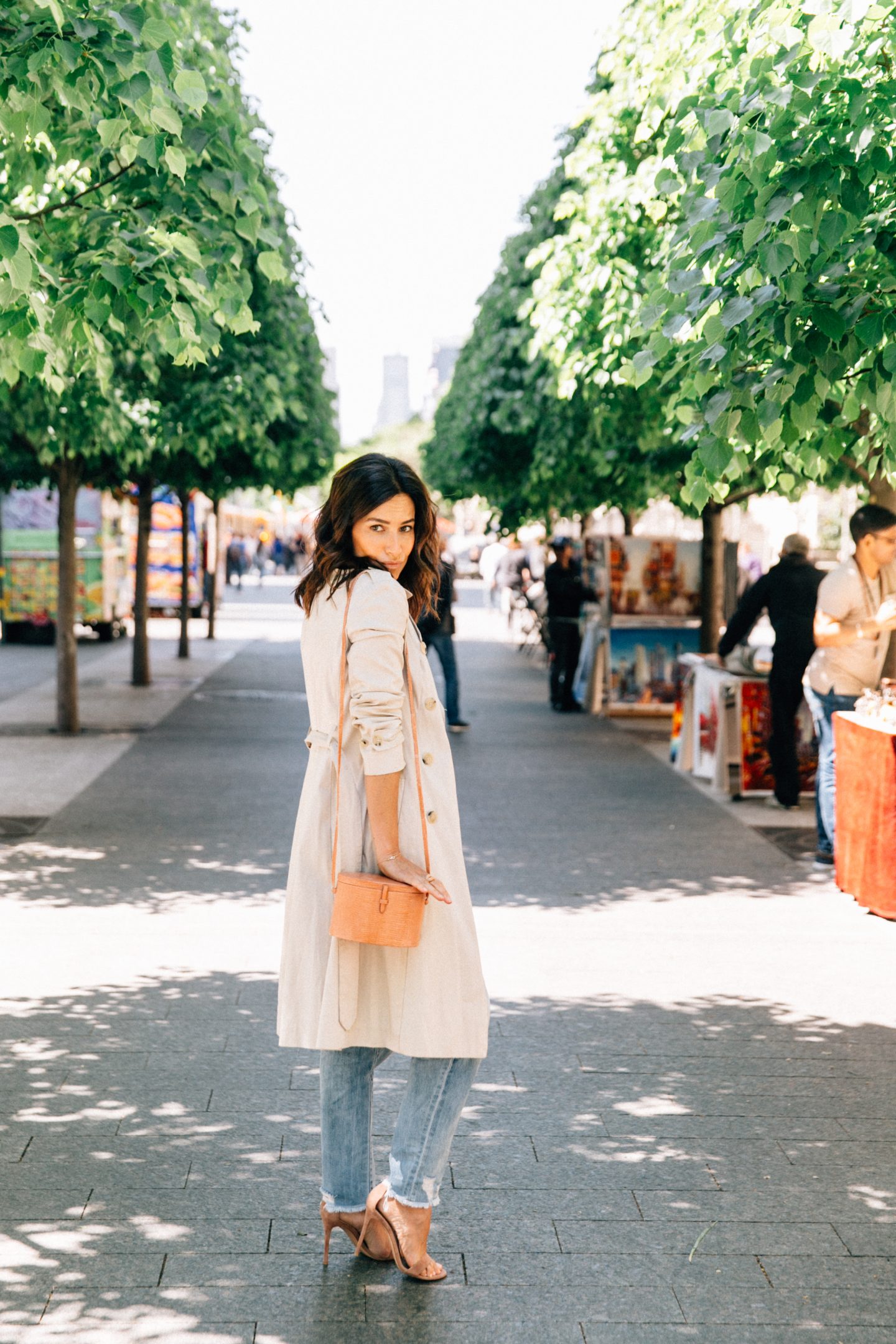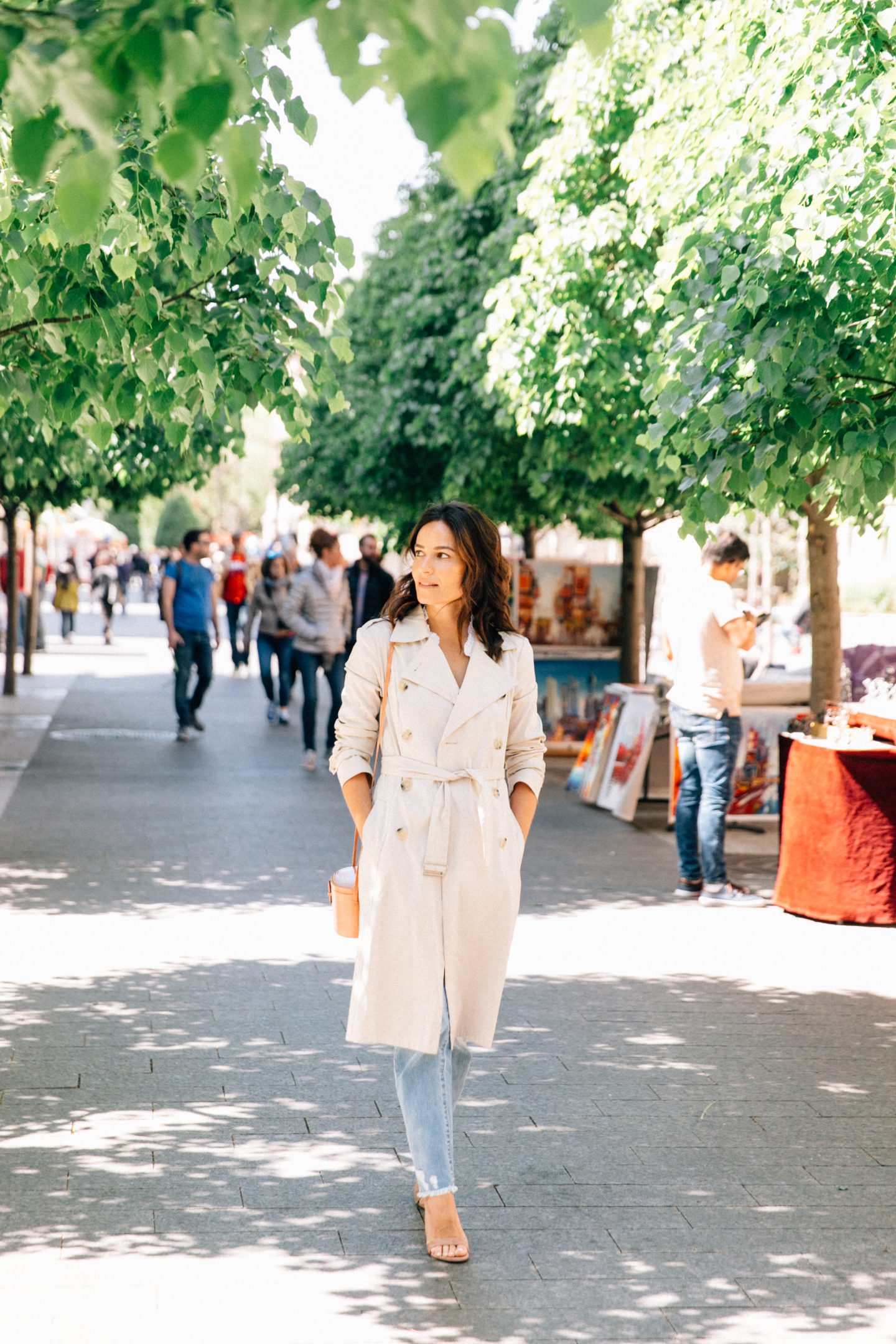 Trench Coat: Theory|Jeans: DL1961|Bag: Hunting Season|Shoes: Gianvito Rossi