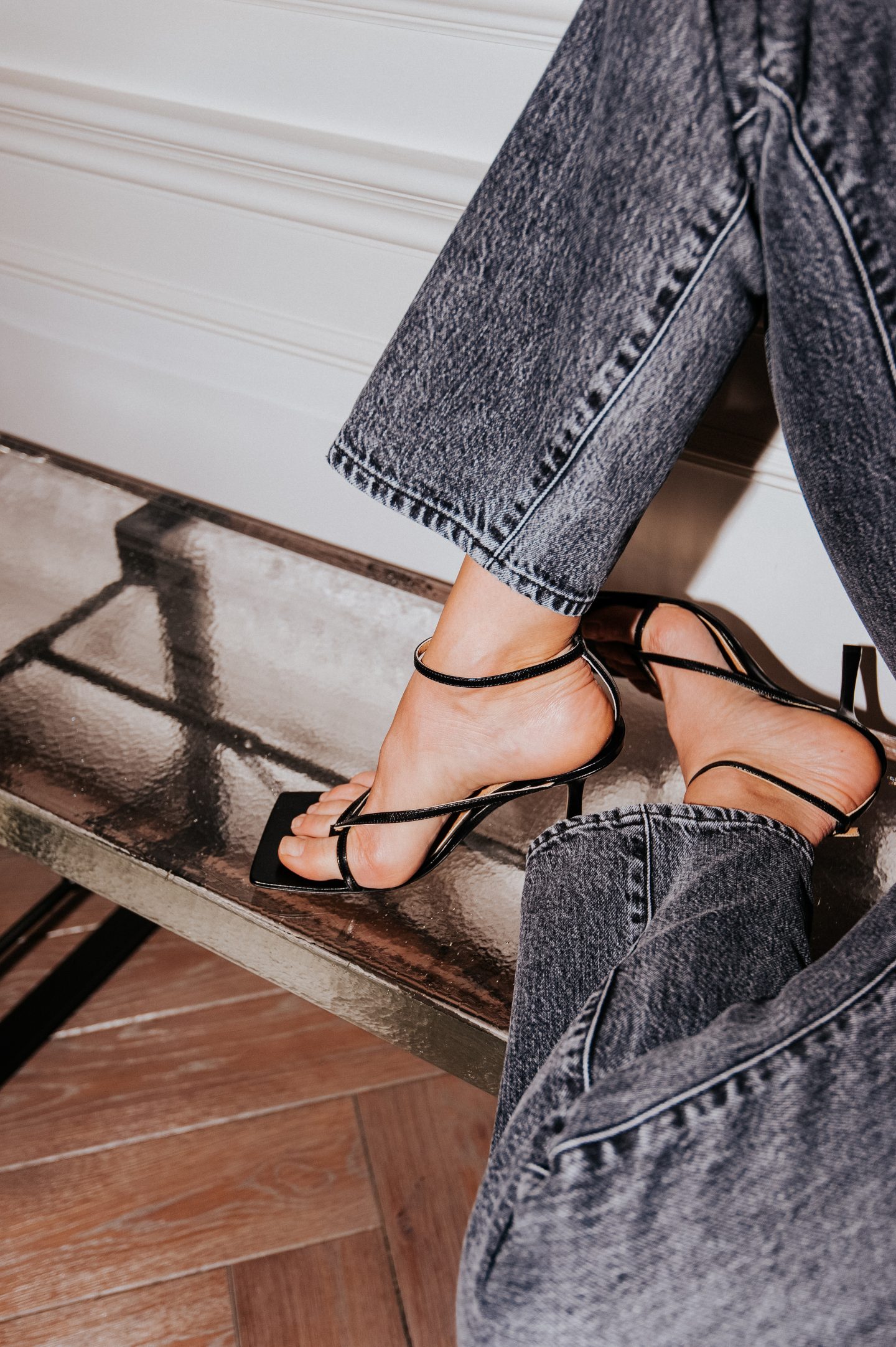 When it comes to shopping for spring/summer shoes and sandals, both the flat and high-heeled variety are always at the top of my list. I guess to be more specific, anything that has an open-toe situation is also at the top of my list, so I guess clogs are included.
This season, I came across a variety of summer sandal styles that I can't wait to share with you.
Let's start off with these beyond amazing printed cotton thong sandals with a wrap-around tie by Etro. I love the paisley print and this style has me dreaming about sultry summers in Capri. I haven't shopped Christian Louboutin shoes in a while but this Liberty printed satin sandal version might have me clicking add to cart.
Shop wrap around tie ankle sandals here:

I'm definitely a clog kind of gal. They have a 60's vintage style to them, they're comfortable and have their own unique style. They can be casual enough to wear during the day and cool enough to wear in the evening.
I recently bought these Swedish Hasbeens natural wooden clogs and plan to wear them with cropped wide-legged jeans, mini skirts, and cover-ups too. Another sweet option is this floral printed clog by Loeffler Randal. For those who are willing to splurge, these brown leather Gucci ones are worth considering.
Shop clogs here:

I'm loving all these mid and high-heeled sandal options, I seriously don't know where to begin. Actually, I do. I am going to start off with Bottega Veneta's sandals. There are so many good ones!
Back in January, I bought this woven raffia sandal and I love em! Well, first of all, I love a neutral, they happen to look great on the leg and I know they're winners because I wore them a bunch when I brought them with me to Miami at the beginning of February.
I am also a huge fan of these Bottega Venete pistachio leather sandals with a gold-tone chain-link detail that my super stylish friend Adi Heyman pointed out to me. As a side note, pistachio is the color of the season.
Another shoe that has my heart is this color-blocked red, pink, and orange sandal by Pierre Hardy. I happen to be a fan of Pierre Hardy and these pop of color sandals will surely brighten anyone's day (and feet).
Another fun and colorful sandal that I'm fawning for are these disco-esque cone-heeled sandals by Saint Laurent. Hopefully, we'll be able to dance the night away soon enough!
Shop mid & high heeled sandals here:

When it comes to flat sandals, I have my eyes on these brown leather Grecian leather sandals by Saint Laurent. For a black option, I'm into these woven ones by Souliers Martinez. As an FYI, they also come in tan.
These criss-cross leather tie-dye slides by Isabel Marant are a fun and casual option. They come in 2 shades – pink and blue so take your pick.
Shop flat sandals here:

Happy almost spring and hopefully we will all be sliding into warmer weather soon!