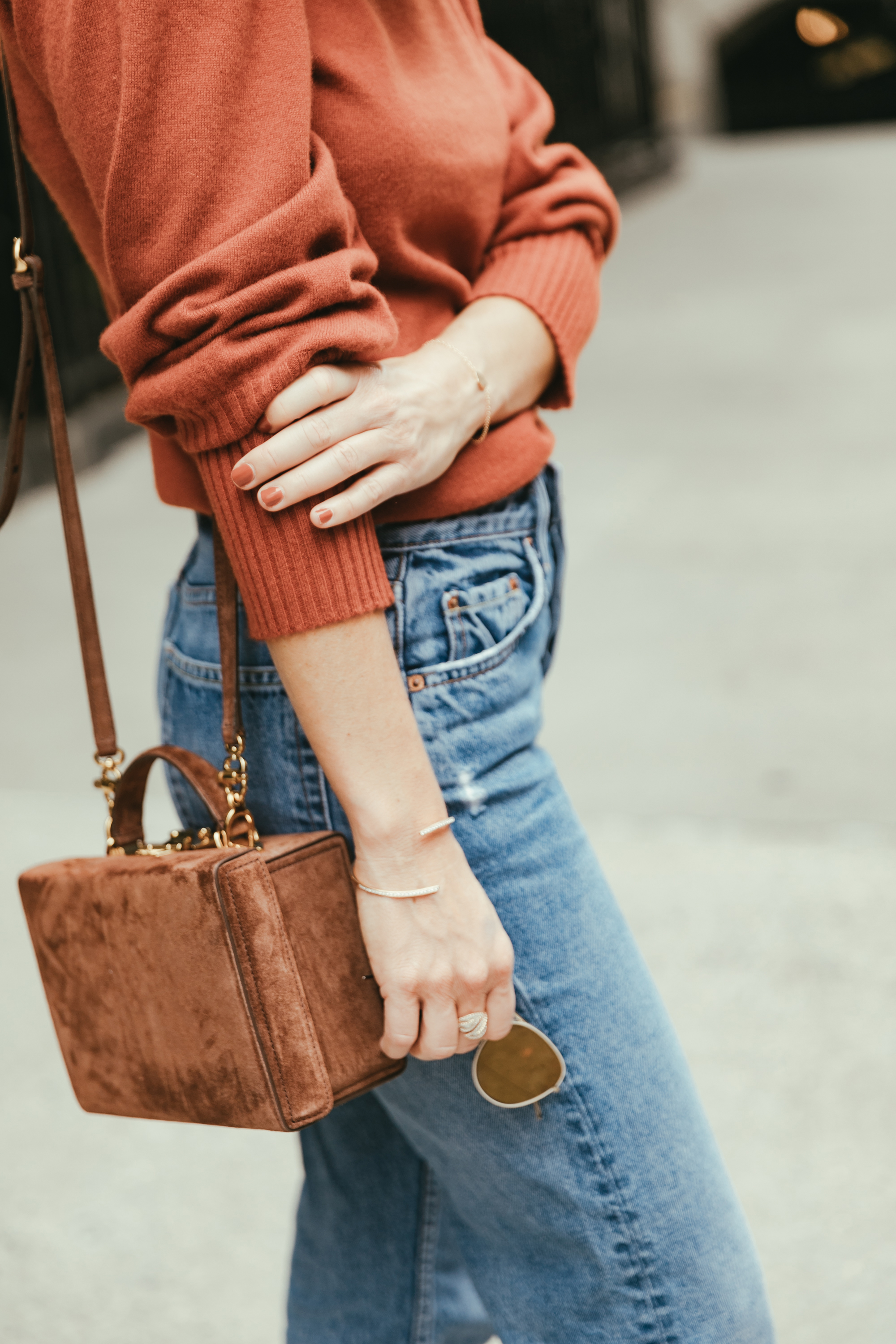 I once read somewhere, that the tale-tell sign of a well-dressed woman is a good handbag, great coat and a well-made pair of shoes. I couldn't agree more with this quote as these are what make a first impression.
This season there are countless bag trends and options to choose from. There is the 2 bag option – no thank you, there is the oversized trend – not for me, and on the end of the spectrum there are the micro minis – as in honey I think shrunk the bag. I seriously wonder if even a lipstick could fit in one of these.
The options I'm sharing with you today are ones I gravitated towards regardless of trend.I seem to have chosen many structured ladylike ones in the brown, caramel, mustard tones.
Mark Cross is my go-to and I've been investing in one per season with no regrets, and neither will you. They are so chic, well made and timeless. This season I'm coveting their Uptown bag in acorn suede, their Lexington bag in acorn leather and this Grace small velvet gold shoulder bag named after none other than Grace Kelly herself. Chloe, Prada, Bottega Veneta and Loewe are other designer brands that have found their way onto my radar this season. Bottega has gotten hotter thanks to their newish designer who came from Celine. This wrinkled gold pouch clutch is everything and can be found here. Also loving this rich medium brown shoulder bag in their signature woven leather. It comes with a gold chain which just so happens to be trending this fall. Their belt bag is also a winner and comes in the same color and woven leather – at least I'm consistent!
For those who wish to nail 2 trends in 1 (a la embossed and chain shoulder strap), check out this Chloe 3 toned embossed croc and lizard shoulder bag.
This past spring I purchased a yellow bag by Prada and have had fun with this particular style. This coming season they have introduced it in your essential basic black or a pop out red.
For those looking for bags at a lower price point without sacrificing style, I love Staud and Wandler this season.
Whichever bag you choose remember…bags are like friends….you can never have too many (just don't tell your husband I told you so)!
Shop designer bags here:

Shop Staud and Wandler bags here: