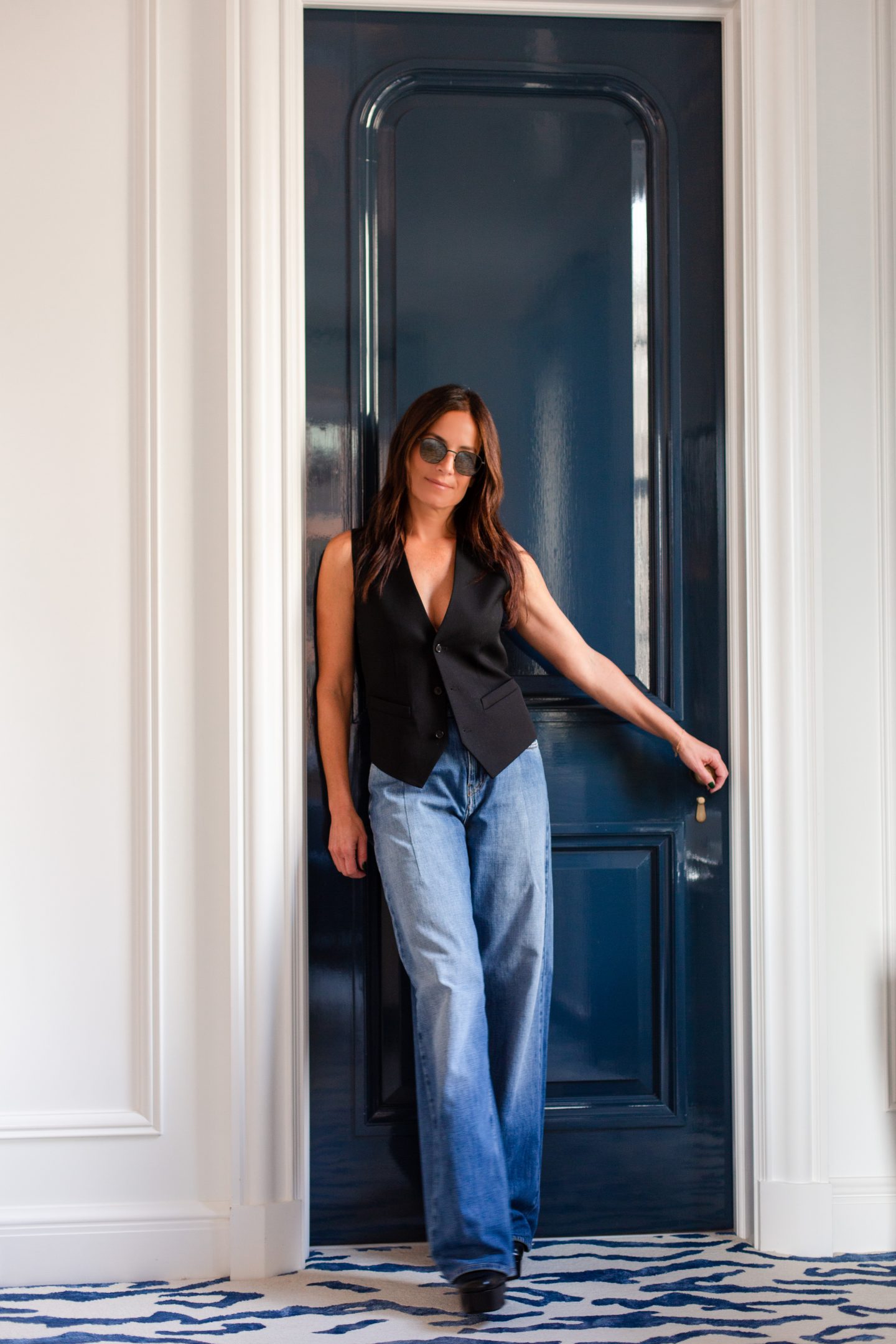 Fall fashion alert…A classic vest is a major trend this season and I am so here for it! There are various silhouettes, including the menswear-inspired button-up vest, the knit pullover vest, and the tried + true outerwear vest -all of which I am a fan of.
Check out my favorite vest picks in each category including 3 ways to style them. For those who are new to Fortune Inspired, I have selected lust-have (designer) and must-have (more affordable) options.
The most simple and dare I say sexy way to wear a vest is on its own. Pair your vest with wide-leg denim jeans and high-heeled booties for a night out on the town.
Wear your vest layered under a blazer for a cool but casual menswear-inspired look.
Pair your vest with a lightweight thin turtleneck. Another classic go-to is to pair the vest over a tee shirt a la Ferris Bueller or over a white button-down shirt a la Annie Hall.
Hope you are invested in this look as I am!
The Classic Vest
Shop the lust-have classic vest:

Peter Petrov's classic black wool vest is timeless. With a tailored fit, it will remain au courant season after season. Dress it down with a pair of denim or with a pair of black wool or velvet trousers for an evening out.
Speaking of velvet, I'm obsessing over this Etro plush velvet vest with cross-over straps. This can be worn layered over a blouse, however, I prefer to wear this vest solo, as a statement piece. So good!
For those looking to take the plunge (pun intended), this structured vest by Et Ochs gets the job done with its deep-cut neckline. The hourglass silhouette promises to flatter all shapes.
Shop the must-have classic vest

The Knit Vest
Shop the lust-have knit vest

Take your pick with the '70s-inspired knit vest, retro vest, and preppy vest. Yes please to all 3!
I am swooning over this preppy argyle sweater by Nili Lotan in a cashmere/wool blend. Re/Done also makes a preppy plaid knit vest that has more of a vintage vibe to it. Both are a win-win!
If you prefer solids over prints, it's worth checking out Kule's cashmere/wool blend v-neck shell and this darling light blue bouclé sweater vest by Maison Margiela.
Shop the must-have knit vest:

The Outerwear Vest
Shop lust-have outerwear vests:

Lastly, the outerwear vest.
Rick Owen's oversized asymmetric hooded shell-down vest in forest is so freakin' cool. I'd pair this with a chunky knit and a chai latté. Another outerwear vest on my wish list is The Row's oh-so-luxe camel hair and silk vest. Bring this on your next ski vacation out west.
For a classic wool vest, Max Mara's is at the top of my wish list. A smart alternative to the classic blazer and I adore the relaxed fit.
Shop the must-have outerwear vest:

Which style vest is your favorite and how do you plan to style it this fall/winter season?