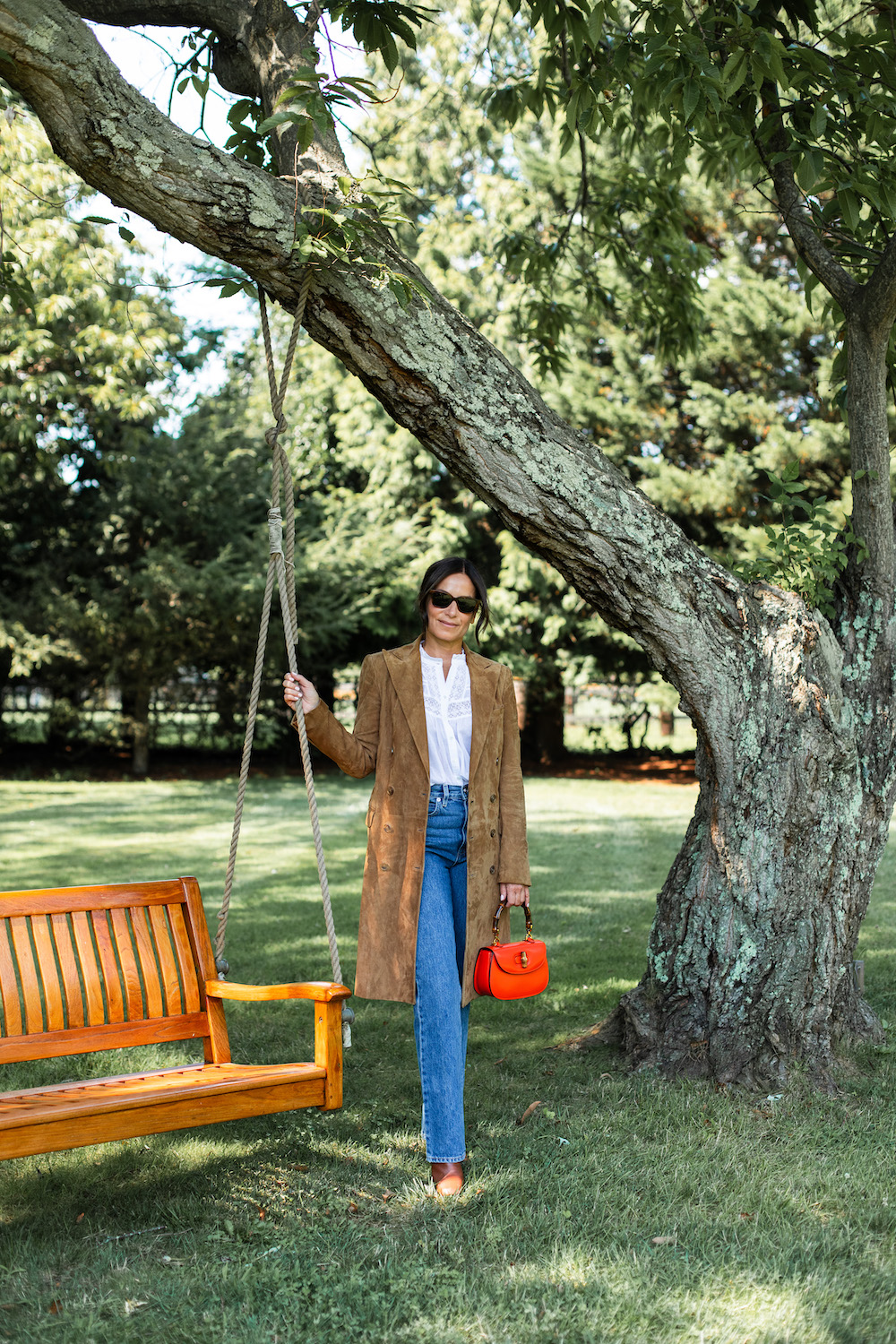 Happy-almost-September and welcome to this month's 'Fortune's Finds'!
I'm in the midst of getting my son off to college this week (tears have been flowing), so I'm going to keep this post short n' sweet.
What I'm eyeing (and buying) this month:
Celine Sunnies – The rectangular shape of these shades is very fashion-forward. Usually, I'm a cat-eye girl, but these are a welcome change for fall. Both of my daughters asked if they can borrow these so that's always a nice confirmation!
MM6 Maison Margiela Cropped Sleeveless Top – This grey wool top will definitely get great use this fall/winter. A classic go-to for high-waisted trousers and jeans.
Dries Van Noten Corset Top – Meet your new "going out" top – perfect for cocktails and dinners. This effortlessly chic style comes in black, brown, metallic gold and a grey option with gold abstract detail.
Le Kasha Cashmere Sweater – Sweater weather will be upon us before we know it. This moss green cable knit cashmere is simply divine.
Splits59 High Waist 7/8 Leggings – I'm a fan of all things Splits59, including these graphite leggings that feel like a second skin.
SLVRLALKE No Waistband Jeans – Say hello to the newest addition to my denim collection. A flattering style with cool deconstructed details.
Demylee Knits – I came across this knitwear brand at a local Jersey Shore boutique, Twist, and added this mock neck merino wool cardigan to my wishlist. Their sweaters seem well made and are priced, relatively speaking, affordably. You can also shop their fall collection on Shopbop.com. My top picks are this heather brown turtleneck sweater and this red and beige striped polo knit sweater.
Etro Fall Collection – Ok, I'm OBSESSED with Etro's fall collection. This cotton blend jacquard skirt, blue velvet jacquard mini skirt, v-neck jacquard mini dress, all of their cord and velvet pants and this double breasted velvet jacquard coat are at the top of my wish list – ha!
Gucci Black Leather Platform Pumps – These 5-inch platform pumps are a staple for fall.
Sea Embroidered Top – Add a bit of romance to your wardrobe with this black velvet tie-front top with a scalloped detail.
Victoria Beckham Brown Leather Ankle Boot – Sometimes the most simple shoes are the most difficult to find. Case in point, these chic understated 4-inch brown leather ankle boots with a square toe. A score, not to mention a fall fashion essential.

In the beauty department, I've done a lot of restocking this month on my favorites including this Kai Body Lotion, Aesop Herbal Deodorant Spray, R + Co Bleu Conditioner for color treated hair, Surratt Brow Pencil (Brunette) and Surratt Contour Blush Grisaille). I also added this Walk Of No Shame Lip Blur and Lip Cheat lip liner by Charlotte Tilbury and this Christian Dior Lip Glow Oil in cherry (thanks for the recommendation Sonia) to cart.

Wishing everyone a wonderful start to September!