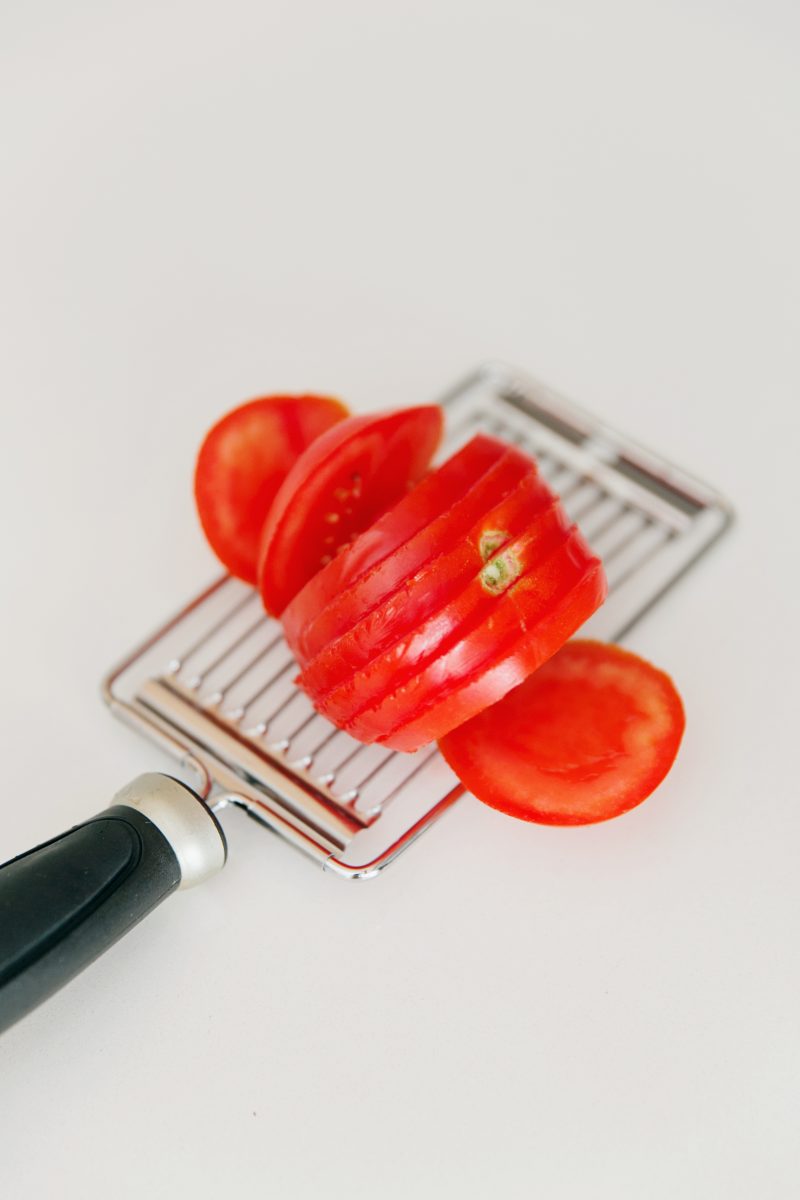 I can always appreciate a new kitchen gadget to add to my collection. They make prep time easier and presentation more professional looking. With so many gadgets on the market, it can be hard to choose which ones are best. I personally love my tomato/soft cheese slicer as it makes each piece perfectly uniform. The vegetable and fruit chopper is another fave – perfect for chopped vegetable salads.
I reached out to some of my favorite food bloggers for an inside scoop on their favorite tools of the trade. Here's what they use to make magic in the kitchen. So excited to share!
Grace Cayre Shalom of @SweetSweetCity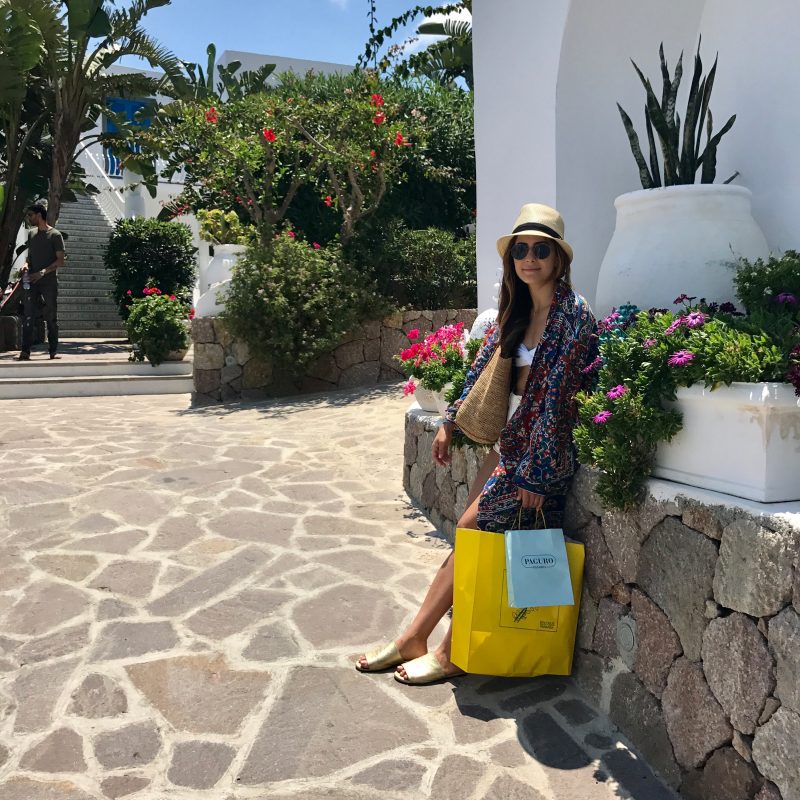 1. An Immersion Blender for making the creamiest vegetable and split pea soups. This goes right into the pot so you don't have to transfer hot liquids into a blender.
2. I love a Microplane Zester for zesting lemons, limes and oranges. I use zest in all of my cakes, salad dressings and marinades. This zester works best.
3. Pre Cut Parchment Paper for sheet pans makes clean up so easy and they fit the pan perfectly.
4. A chef's knife. No need for fancy gadgets when you have an amazing sharp knife. It's the backbone of any kitchen. I love this Japanese vegetable clever.
Kim Kushner of @KimKushnerCuisine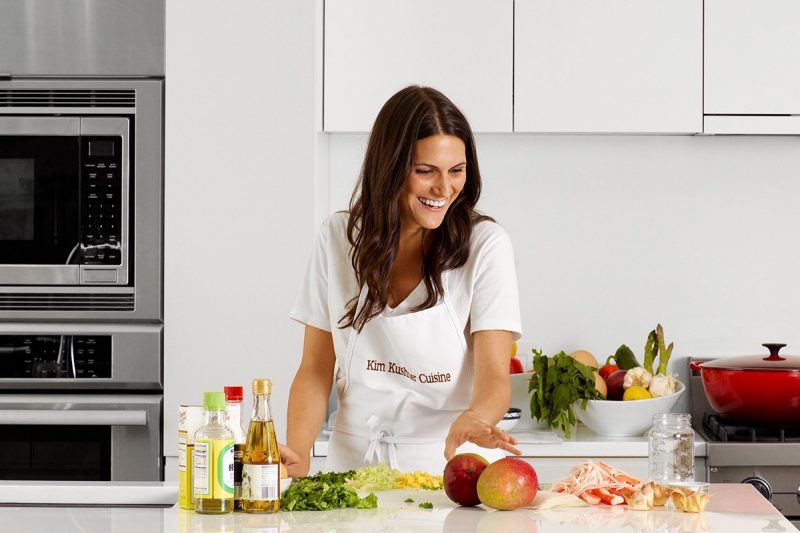 1. Mini Cuisinart Food Processor for homemade hummus in 5 minutes.(recipe in The Modern Menu)
2. Giant Peeler – This is great for quickly shredding cabbage, and for beautiful, thin slices of beets, potatoes, watermelon radishes etc.. You might be able to find some online but the truly best ones are available only in Israel.
3. Lemon Squeezer – This gets the lemon juice without any waste or seeds (lemon seeds are a pet peeve of mine!) I also use this gadget to crush nuts in a snap. Just place some nuts in a ziplock bag, seal and use the lemon squeezer as a mallet.
4. Pastry Bowl Scraper– For under $5 a pop, this is my absolute favorite gadget. Instead of using your fingers to scrape up dough or batter and get every last bit of goodness, you can use this flexible scraper. I also use it to divide up my dough evenly, cuts easily into challah or bread dough, allowing for even separation. Next time you're making a batch of chocolate chip cookies and there's a little batter left in the bottom of the bowl, just use this handy scraper to get to every last bit!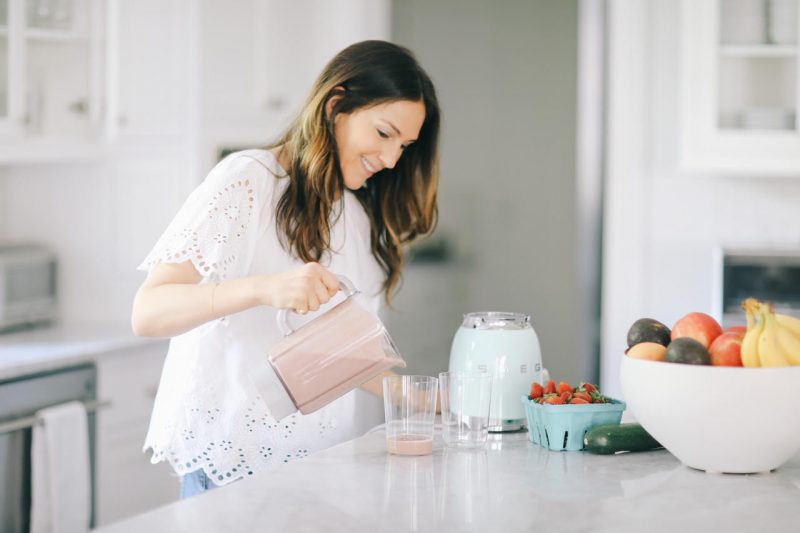 1. Smeg Blender – I love the Smeg b/c it works as well as the other high-speed blenders (i.e. easily blending greens and ice into smoothies and/or soups) and looks so good on your countertop.
My green one matches my kitchen perfectly and the retro design makes me happy 😉
2. Not really a gadget, but I absolutely love these tumblers from CB2 because they are so reasonable, look great, and despite being paper thin, I've never had one break on me. I love to use the Marta Cooler for a water or smoothie glass and Marta Double Old-fashion for rosé!
https://www.cb2.com/marta-barware/f1249
3. Individual Citrus Juicer – This is great if you get tired of plain water. You just pop it on top of any water bottle and squeeze the citrus in! It has a little thing to block the seeds, which is great!
4. Rice Cooker – We are a huge rice family (even when carbs are out of fashion ;))) and I love my Neuro Fuzzy Rice Cooker. Any type of rice or other grains comes out perfectly every time!
Every chef also needs a high quality chefs knife that is very sharp. It is so much safer and makes prep that much easier!
Neda Varbanova of @HealthywithNedi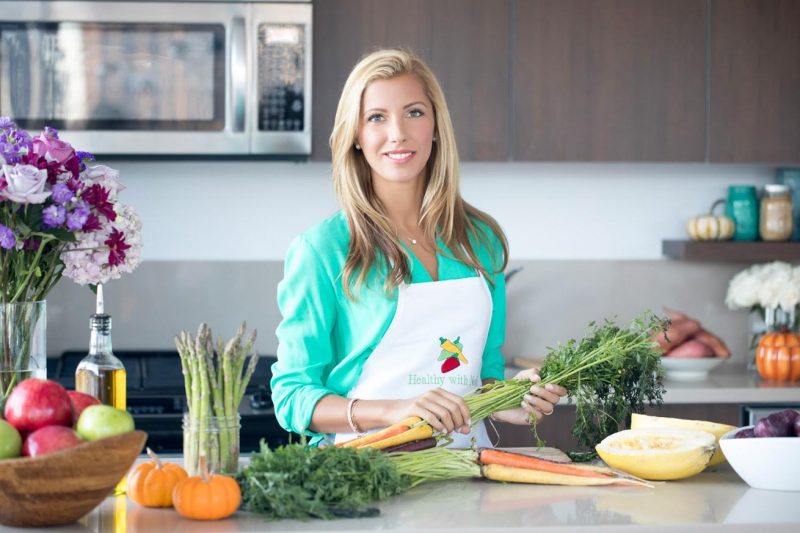 1-2. My two top kitchen devices are a food processor and a blender. These important pieces of equipment are essential to creating a healthy diet and, as a result, are used in most of my recipes. It's important to understand the difference between a blender and a processor. A processor has a larger blade, making it easier to chop products like nuts, dates, and lettuce leafs. A food processor makes using fresh, natural ingredients to produce dips, sauces, hummus and nut butters at home a breeze. A blender will make everything super smooth, perfect for smoothies and soups, whereas a processor will produce a rougher chop. My favorite brand for a blender is Vitamix and Breville for a food processor.
3. Zoodle Spiralizer – This little gadget will change the way you see spaghetti; you won't want to go back to regular pasta! It will quickly become your new favorite kitchen tool. This gadget allows you to spirilize any vegetable into a noodle shape and get creative in the kitchen – perfect for those who are gluten-free or cutting down on carbs! I use a Paderno as well as a Vegetti and both are available for purchase on Amazon.
http://healthywithnedi.com/zoodles-lentil-bolognese/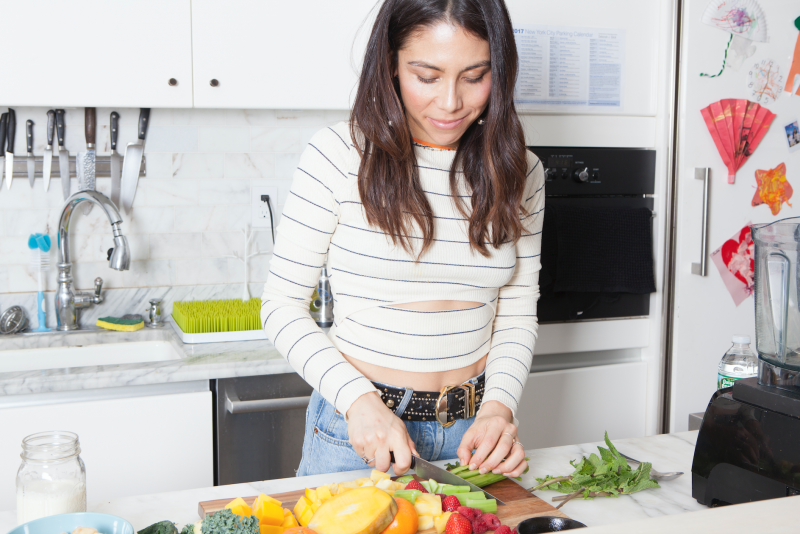 1. I Iove the Cuisine Art Mini Vitamin for creamy dressings and for making hummus.
2. The Baeba Babycook is great for steamed veggies and then as a blender to make pestos and smoothies for my son Jude.
3. Microplane for zesting lemon and limes and also grating ginger and garlic for guacamole or curries
4. The Breville Juicer for me and Jude's daily green juice
5. The Zojirushi Rice-Cooker for making sticky or coconut rice!
Sasha Salamon of @cooking_chic
1. Spiralizer – This is a great tool because it takes something very ordinary (zucchini, beets, etc.) and turns it into something so interesting! My usual go to is pesto zoodles.
2. Waffle maker – I love my waffle maker because I can make lots of healthy waffles that you cannot buy in a store. For example, I often make almond flour waffles (some recipes on my Instagram page) and they're amazing!
3. Mini Muffin Tins – Not to be confused with regular muffin tins! I just love the versatility of the mini size. Everything tastes better – mini frittatas come out with a crispy edge and muffins come out a great size for portion control. One of the most used things in my kitchen!
4. Nutri Bullet – I use this basically every day to make smoothies. I have a regular blender as well, but these are great for smoothie consumers. They can go in the dishwasher and are so easy to clean, use and store.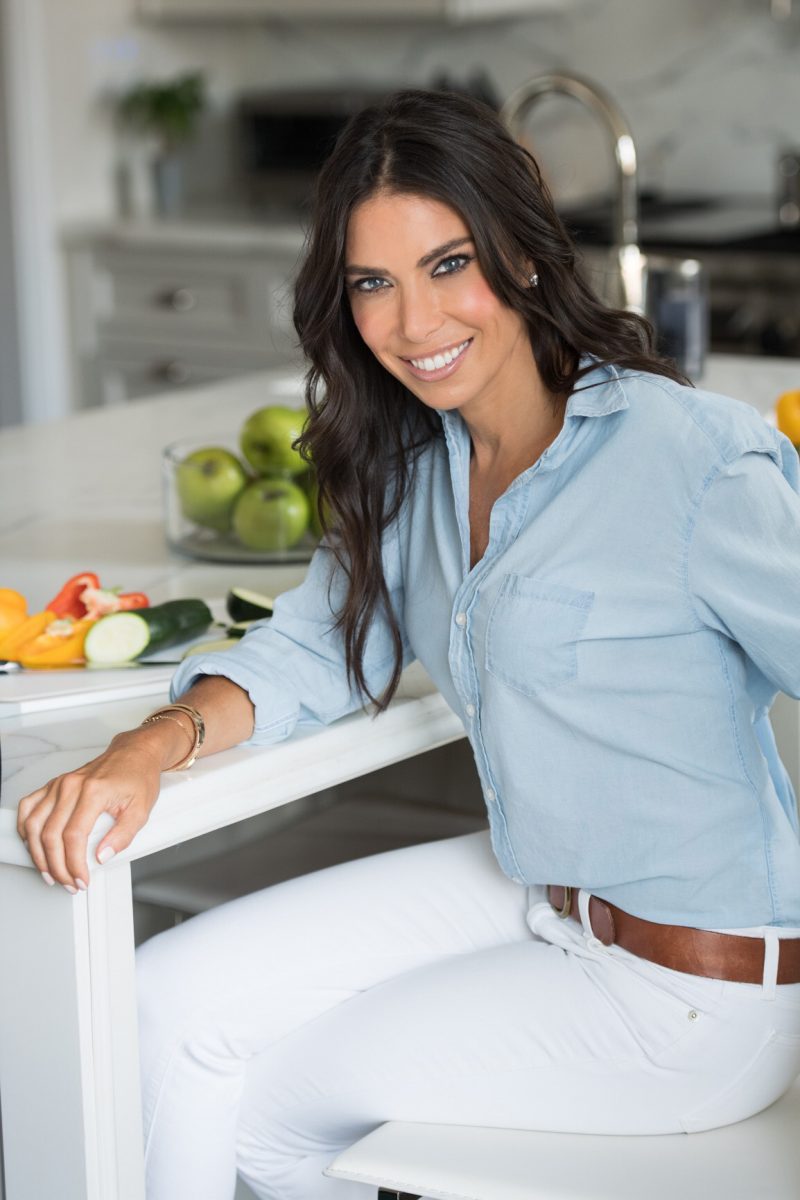 1. Rabbit Vertical Corkscrew – One of the best things about F-Factor is that you don't have to give up alcohol—you can drink from day one and still lose weight. If you know me, you know I love my wine, which is why I love this gadget. The Rabbit Vertical Corkscrew makes opening a bottle of vino quick and easy because let's be honest…there's nothing worse than ruining a perfectly good bottle while trying to open it!
2. Aerolatte Milk Frother – A grande skim latte from Starbucks is 130 calories, with 20 grams of carbs. The same size coffee with a splash of milk is 20-25 calories with 1-3 grams of carbs. Why? The milk. I know there's no way my day can begin without a cup of coffee, or two, which is why I love having a milk frother in the house–it mimics the foamy texture of a latte but without the excess calories and carbs from the steamed milk. You can customize your coffee anyway that you like; double win!
3. Immersion Hand Blender – When healthy eating is made simple, it becomes effortless to stay on track. The immersion blender allows me whip up an easy cauliflower mash or a refreshing gazpacho in seconds–and all in one bowl…Mr. Clean, who?
4. Mandolin Vegetable Slicer – Vegetables are a staple in my diet, and this cutter is the perfect tool for getting my fiber fix in creative ways. The best part is I can include my kids in the fun, using the five different types of blades to make various shapes and sizes that they'll enjoy. Whether I'm slicing cucumbers or grating carrots, the mandolin slicer helps me create meals that are not only appealing to the taste buds, but to the eyes as well.
5. Hand-Held Garlic Twist – Whenever I mince garlic, I feel like my hands reek for days! The garlic twister is so quick and handy; now I never have an excuse not to use fresh garlic, which is packed with blood-sugar regulating and anti-fungal properties. This is a must.
6. Fruit Infusion Water Pitcher – I recommend that my clients drink 3 liters of water per day; water is especially important for F-Factor dieters because of the high amount of fiber they consume (fiber needs water to work its magic!), not to mention it's involved in nearly every bodily function. But it's often hard, not to mention boring, to get in that recommended daily dose of H2O. That's why I love and recommend a water infuser. Adding fresh ingredients like lemon or mint or cucumber to water tricks the mind into thinking it's a new drink, which encourages more drinking. Getting that 3 liters isn't so daunting with this pitcher.
7. Melon Cutter – Summer is the perfect time to indulge in your favorite refreshing fruits. One of my favorite choices to stay hydrated is watermelon, which is packed with vitamins and antioxidants. However, cutting this fruit can get a little messy and difficult. Luckily, I have this tool, which makes slicing–and serving–simple and quick!
8. Vacuum Sealed Storage Containers – Properly storing fruits, veggies, and even (F-Factor approved) fiber-rich crackers can extend their shelf-life drastically. Sometimes food waste is overlooked, but by storing your foods properly, you can enjoy them longer and cut down on food costs. Healthy eating doesn't have to be expensive.
Shop Here: