My neighborhood is surrounded with many juice joints. I have frequented Organic Avenue and Juice Generation to name a few, but Juice Press had me at hello.
I appreciate the quality and purity of their products, their variety, and their overall presentation which makes eating healthy seem fashionable. Their staff is friendly and they aim to please.
I had the pleasure of meeting and speaking with Alex Jay, model, certified health coach and product specialist for Juice Press at one of their events. I was impressed by how passionate and knowledgeable she was about  Juice Press and was able to catch up with her for this Q and A.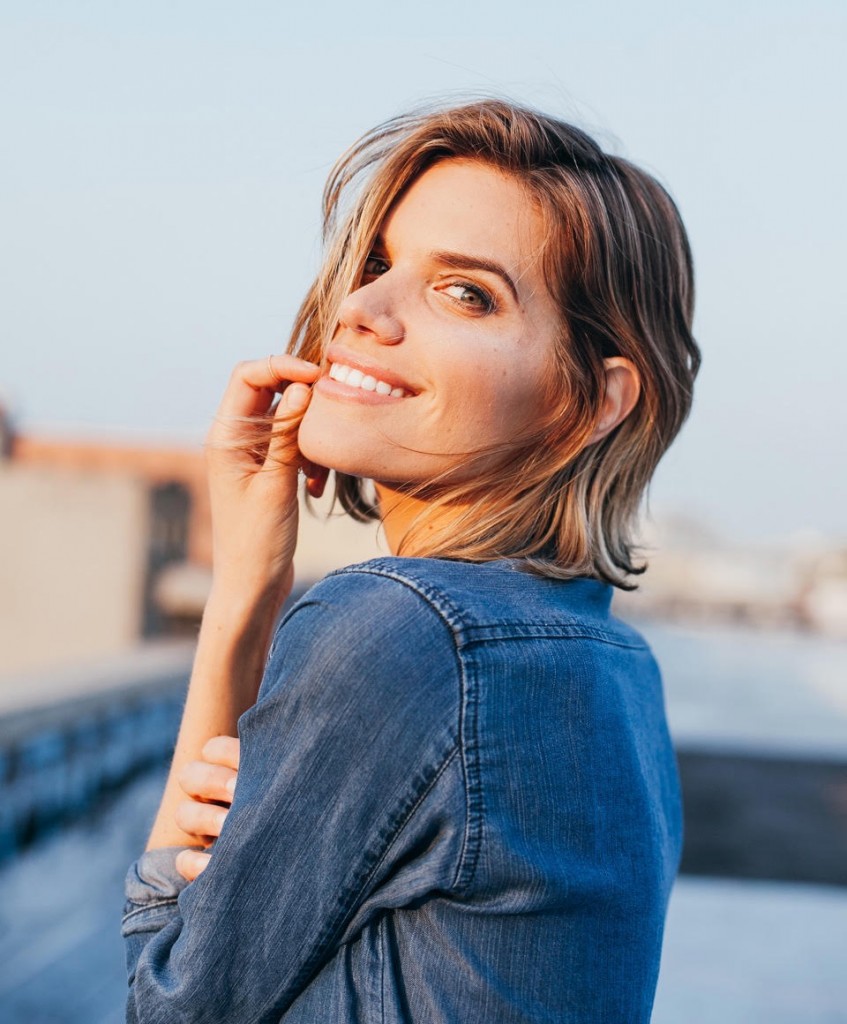 How was Juice Press born?
AJ: Founded in 2010, the team at Juice Press shares a vision to bring a healthier, cleaner, more transparent lifestyle brand to the marketplace. Juice Press is designed to introduce consumers to a more nutritious eating lifestyle in a delicious and comforting way. It encourages customers to avoid processed foods with the goal of improving health by eliminating dietary mistakes.
What are the health benefits of juicing?
AJ: Introducing raw juices to our diet as an everyday habit is a fabulous antidote to the toxins we encounter. Green juices neutralize acids and all raw juices make it easier to maintain blood alkalization. Drinking juice and maintaining a sensible diet that excludes processed food is a step towards optimal health. 
There are varying opinions, some swear by it while others question its positive effects. What is your take?
AJ: I believe cleansing is very beneficial. It is a way to rid your body of toxins and rebuild your immune system.  Cleansing is a great way to restart the body physically and mentally. A three day cleanse is a great starting point. If juice is intimidating, a raw food/ juice and smoothie cleanse is also beneficial. Anything to avoid processed foods is a step in the right direction.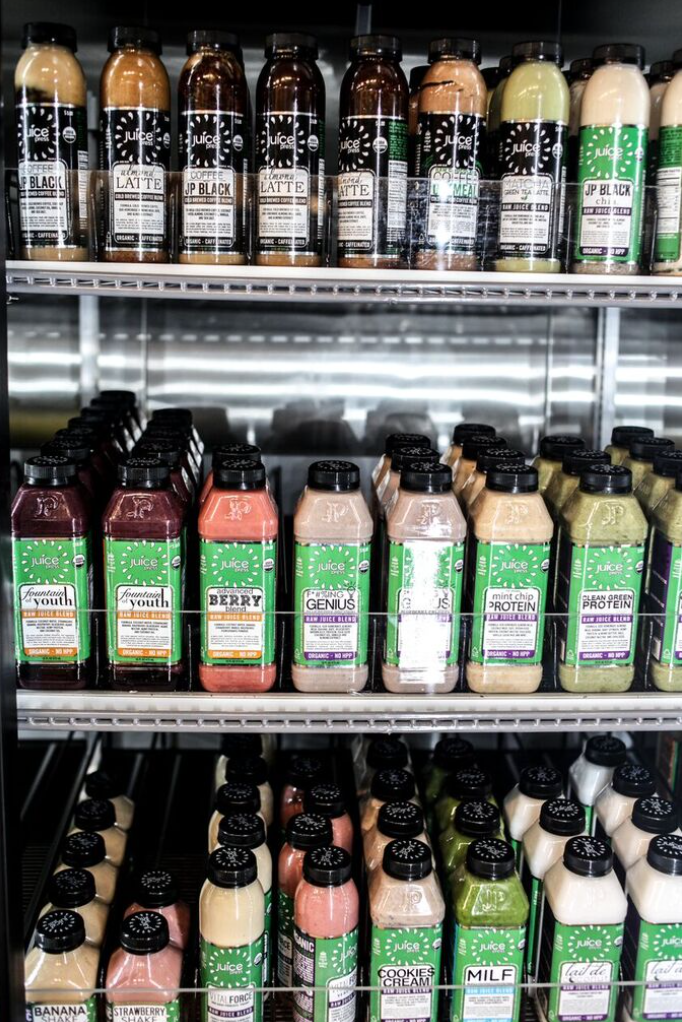 Do you collaborate with professionals when developing products?
AJ: Juice Press Founder and CEO, Marcus Antebi leads our innovation process. Marcus founded Juice Press in 2010, because as a consumer, he was dissatisfied with the commercial juice and raw food industry. As a competitive Muay Thai boxer, Marcus could not find a one-stop-shop that met his high nutritional standards. Six years down the line, and Juice Press is now the leading cold pressed Juice Company with a footprint of 30 stores (and rapidly growing) and an unparalleled product selection. Juice Press meets consumer demand for non-processed food and clean living. We are on a mission to become the most trusted wellness brand on the planet!! Our head chef, Daniel Ceballos, is very passionate about creating plant-based meals that are nutritious, wholesome and delicious.
 
What sets Juice Press apart from Juice Generation, Organic Avenue and the likes?
AJ: I decided to work at Juice Press because they are completely transparent about the quality and production of their epic selection of products: organic, cold pressed juices and smoothies, raw foods, soups and dried goods, nutritional and and more. All Juice Press products are produced with the utmost transparency and integrity at the Juice Press Commissary; a central super kitchen located in the historic Falchi Building in Long Island City. Juice Press is USDA certified organic (meaning all ingredients are organic) and free of processed ingredients, preservatives, and refined sweeteners. In addition, our selection beats anyone. We have the largest selection of fresh juice, smoothies, food, and dry goods (over 130 choices)!!
What are some of your fan favorites?
AJ: Dr. Green, Mother Earth, Ginger Fireball, Clean Green Protein Fountain of Youth, Raw Oatmeal, and Roasted Veggie Salad
 
What are some of your unusual products that my readers should know about?
AJ: I love JP Black Chia, it tastes like melted vanilla ice cream. You get healthy fat from the coconut oil, which will fuel your body and nourish your skin. Chia seeds are full of protein, fiber, omega 3s and calcium.  Pink punk is great too!  It contains, pineapple, beet, strawberry, and ginger. It tastes like a virgin strawberry daiquiri with a kick of ginger. It's a great alternative if you are feeling under the weather and cannot handle one of our spicier ginger drinks.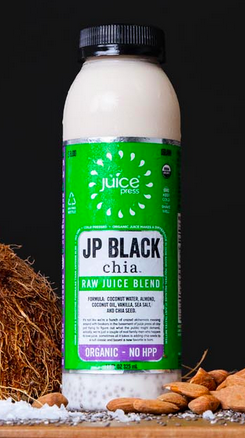 If I ate/drank from Juice Press's menu for 1 full day to de-bloat for an event, what would be an ideal breakfast, lunch and dinner?
AJ: Start your morning with some rose water–rose supports digestion and stress relief. For breakfast, I recommend a light smoothie with ginger– Nurse Ginger Green or Hawaiian Healer are great options. For lunch, I would have our Raw Ravioli–it's light and delicious. As an afternoon snack choose a green juice: Doctor Earth and Love Me are my favorites.  For dinner I like For the Love of Kale because it contains quinoa, a complete protein. Then at night, I like to  CocoV, which contains our probiotic, which supports a healthy immune and digestive system . If you're still hungry don't be scared to add in a chia pudding or raw oatmeal!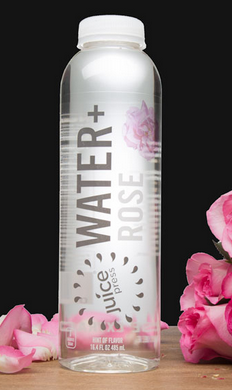 I am obsessed with your soups. Can they take the place of a meal? (for me they do)?
AJ: Of course! They are a filling, balanced meal. In the winter they are especially great because your body is craving warm and grounding foods.
How many locations does Juice Press have? Are you only located in NY?
AJ: We have twenty-nine stores open in NY and one in Greenwich, CT. However, we are opening soon in Boston!
What is next for Juice Press?
AJ: We are constantly working on new projects. We are currently developing nutrition bars and expanding our water line!
For more on Juice Press – please visit: juicepress.com…and tell them Fortune sent you!