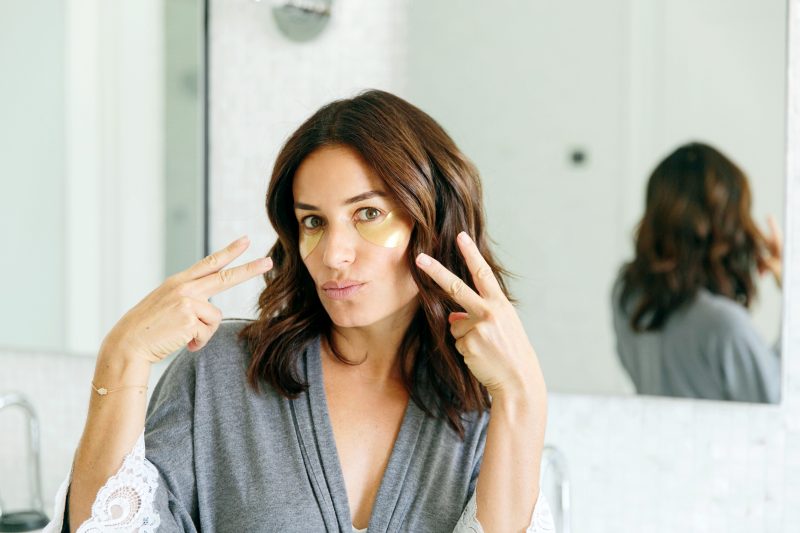 If my eyes could speak, they would confess how much I have invested in eye masks. Though I have been a fan of the face mask for quite some time, especially for travel, over the past six months, I have been turned on to the eye mask and am so pleased with the results. They're simple to use, deliver instant gratification, and make for interesting pillow talk. I've tried a bunch of different masks that came recommended and here is my 411.
Peter Thomas Roth makes a 24 karat gold hydra-gel eye patch. Doesn't get more decadent than this! In just 10 minutes, quick and easy, I noticed a brightening in the eye area as well as a hydrating effect without the extra goo. These individual masks are delicate as they can tear easily so handle with care. As an added bonus, the gold tone blends in with the skin so not frightening to others.
On the other hand, when I got into bed with Peach & Lily's Shangpree Gold Black Pearl Eye Mask, my husband told me that I looked like a football player and he was spot on. Like those from Peter Thomas Roth, these are also delicate so again, handle with care. These, in addition to having gold, also contain black pearl – super fancy. Though I did see reduction in lines, I botox the eye area so I don't have many lines there to begin with. Hydration was also noticeable but the texture was a bit too wet for my taste. If you speak Korean, you're in luck because the packaging came with no English instructions. I did check on line and they recommend 20 minutes per application.
Nanette de Gaspe makes an eye mask that according to Barney's is its best seller (fyi the priciest). This is literally a mask that wraps around your ears, perfect for any adult looking to channel their inner bat woman.I personally do not favor a dry mask, I didn't see any results and though my husband commented the mask itself was fancy, I did manage to frighten him. The packaging recommends using 3 times over a week for maximum results but I gave up after round one because there was something creepy about it.
My favorite of all is the Shiseido's Wrinkle Resist 24 Eye Mask which contains pure retinol. I definitely noticed the disappearance of whatever fine lines I have and a glow around my upper cheek bone area. I appreciate the individual packaging which make it convenient for travel, liked the texture and directions were clear. They also recommend using around the mouth area which I must try.
For all out glamour and mystery, Starskin makes the most elegant lace eye mask. This Korean eye mask was the prettiest of them all, offered maximum hydration and though it is only for a one time use, I would definitely try this again.
Eye masks have become a part of my beauty routine once or twice a week and if you have never used an eye mask before, don't let this extra step in your beauty routine intimidate you. The application is simple and can be worn while drinking your morning coffee or around the house at any time or in bed, morning or night. Make sure your face is squeaky clean before using and remember, never underestimate the power of the eye.
Do you have a favorite eye mask? Would love to hear!
Shop eye masks here: